Maintain Your Ideal Weight with Pilates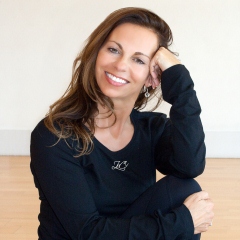 by Angie Newson
A Yoga and Pilates Expert
Pilates isn't often described as something to do in order to lose weight - to lose those excess pounds, you're more likely to be told to get your pretty booty in the gym, do a combat class, go jogging or work up a sweat in a spin class. However Pilates' benefits are multi-fold and practising the method enhances a deeper awareness of how you feel on the inside - which is where our weight issues often start! 
In my personal opinion, when you eat for health - the best, most nutritious food you can afford, and you eat mindfully, chewing each mouthful slowly, savouring the taste and with no distractions like the tv, or the radio or a newspaper - you will learn to recognise when you are full, as well as being grateful for the food we are fortunate to have. Often in our fast-paced lives, we devour our meals on the run, grabbing whatever we can at lunchtime from the high street, eating a high-fat sandwich at our desks goggle-eyed at the computer.  If there are no healthy eating places close by to your place of work (as is often the case), get up 10 minutes earlier to lovingly prepare something healthy - your body deserves the very best you can afford to give it. 
There are so many fad diets out there today - it's a multi-million pound business - but the best one is a sensible, healthy, nutritious, preferably organic and preferably meat-free  eating plan and drinking lots of water. Combine this with your favourite exercise and before you know it, you'll have sensibly and gradually dropped surplus weight safely and you'll maintain a natural, healthy weight with very little effort but with enhanced awareness.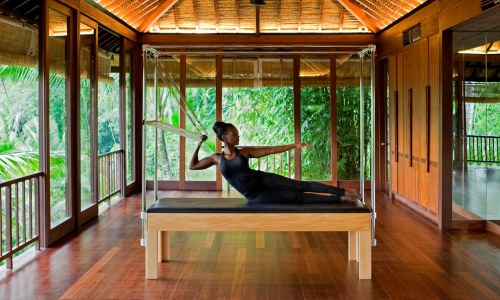 Pilates is an amazing exercise method - the repertoire of matwork exercises targets every part of your body - initiating each movement from your abdominals, your stomach becomes flatter, your posture will improve, you'll feel taller and as you take your body on holiday with you, there's no excuse as you can do it anywhere!  Often thought of as a method to help bad backs (yes it most certainly can) but not often regarded by the gym bunnies as a workout for them. A classical Pilates matwork class can be tough, putting you through your paces, leaving you thoroughly worked out with improved muscle definition and flexibility, and most importantly - mental clarity.  You will notice the breath and the quality of it, your powerhouse (core) strength and stability and your placement and precision. 

Combine all this with wholesome and delicious food - and you'll be as beautiful on the outside as you are on the inside and at the ideal weight that's right for you!
---
Angie Newson
Angie Newson has been in the health, fitness and well-being industry for over 21 years and has taught all aspects of fitness. She is fully qualified to teach Pilates with The Pilates Foundation UK and is a certified Iyengar Yoga teacher. You can follow her on Twitter @AngieNewson and visit her website - 
www.exploreyogapilates.com