Adam's Review of Grayshott Spa
08 April 2013

08 April 2013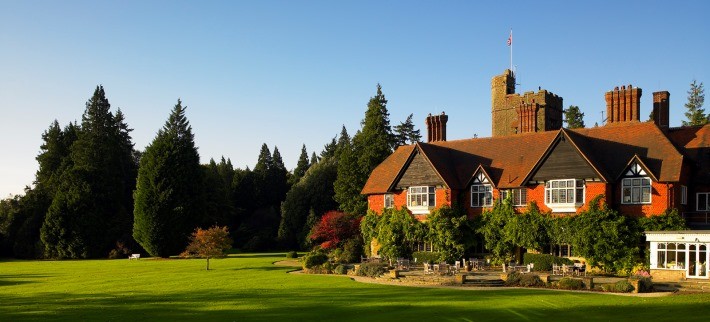 Pax intrantibus; Salus exeuntibus. These are the markings in stone above the entrance and exit to Grayshott Spa in Latin, translating to Peace on Arrival and Health on Departure.  
Grayshott Spa is just a short 15-minute taxi from the local train station, Haslemere, connecting directly into London Waterloo. As soon as I arrived I was shown a tour of the grounds whilst I waited for my room to be ready and took the opportunity to relax in the Drawing room.
My room was a beautiful Junior Suite overlooking the gardens and trees. The room was spacious with its own lounge area, king size bed and a very warm and cosy bathroom with separate shower and bath - almost twice the size of a standard classic room. You'll find in all the rooms a gown that guests can wear anywhere, including sittings for breakfast and lunch. It's a relaxed environment with no pressures on what you wear. Speaking with other guests, they said how it was wonderful for them to be able to not worry about how they look and walk around feeling comfortable.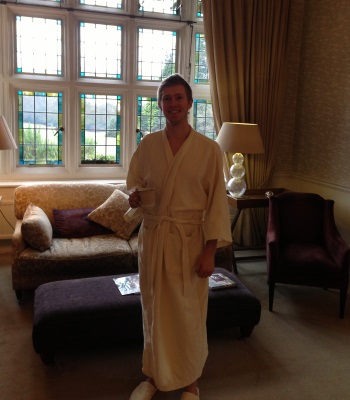 Grayshott Spa has a unique air of tranquillity to the grounds and the rooms, one that emanates a sense of 'this is me time', and that you're there to focus on your health and clear your thoughts. It's surrounded by nature, and during the day you can hear the sounds of birds tweeting.
As a guest of Health and Fitness Travel, yoga, Pilates, Tai Chi and Body Inline classes, usually £6, are all complimentary for our clients - something as a specialist tour operator we pride ourselves on offering. All other exercise classes from stretching, circuit training and breathing are also included. The classes are never empty and take a maximum of between 8 and 12 persons per class, making them intimate but not overcrowded. There were always between 8 and 12 different classes daily and a range of talks were held from nutrition, pranayama and well-being every day around lunchtime and 8.30pm in the evenings.
I went to two lectures, one on carbohydrates, and the second on which fats are good for you. All talks are held in the cinema by health experts who all work at Grayshott Spa and specialise in their areas of expertise. The cinema is also the place to find films which are usually shown in the evenings.
One of the best things about Grayshott Spa is its grounds. They are simply and naturally stunning. With 47 acres of private land backing on to over 700 acres of National Trust Park (see map here), there are daily opportunities to explore them privately or with one of the 3 daily group walks - Power Walk, Gentle Walk or the one I did, the Grayshott Walk. The walks go ahead in all weather - even if it's raining, and the pace is always matched to the pace of the group.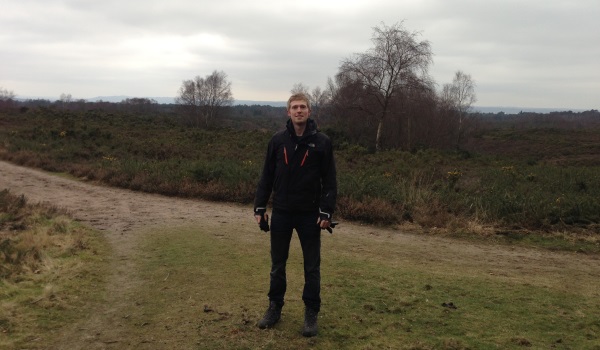 Adam exploring the grounds at Grayshott Spa

I did a Fusion Fitness programme for 4 nights. My arrival day began with two consultations; the first an overall health consultation with one of the consultants, Barbara, to share any important medical points and anything I wanted to share that would assist the whole team in offering the best personalised service possible and also to bring awareness to the table. I personally hold stress and tension, especially around my eyes, so I decided to go forreflexology, an aromatherapy face massage and an Indian Head massage. My first treatment was with Pam, a lovely lady, as were all the Grayshott Spa therapists I had, and changing my treatment was no problem at all - if there was space and a therapist (specialist if need be) was available, even at fairly late notice, it would be arranged. A nice touch was a waiting area accessible all day and night (typically before going in for a treatment) where you can make yourself a cup of herbal tea. There are separate male and female spa areas, both with showers, sauna, steam room, (cold) plunge pools and changing rooms. My favourite part was the dedicated relaxation area with curved reclining loungers and magazines and newspapers to read in complete tranquillity.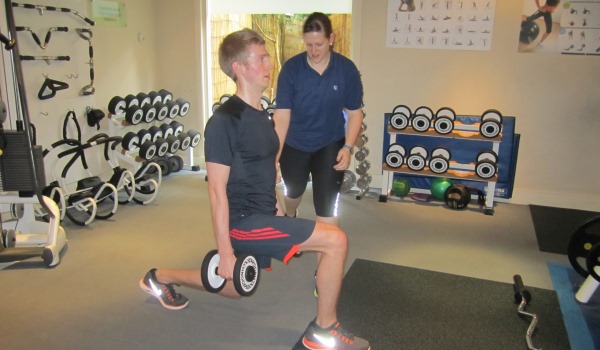 Adam during his interval training session with personal trainer Charlotte

The gym is well-equipped with a separate weights room, and there are usually between four and five personal trainers, one of whom, Ravi, has been there for over 20 years.
As part of my health programme, I opted for an Interval Training session, but prior to that I had a Body Composition analysis which showed I lacked muscle in my upper body, so Charlotte my personal trainer, had me doing specific weights combined with interval training on the bike. It was tough and I was exhausted by the end of it - but a good exhausted. After, I retreated back to the men's spa relaxation area to rejuvenate in the sauna, steam room and the cold plunge pool with a cup of camomile tea.
Breakfast and lunch are both buffets with a good selection of healthy foods to choose from, whilst dinner is from a 3-course set menu with the choice of 3 starters, 3 mains and 3 desserts. There's one main spacious dining room which caters for breakfast, lunch and dinner, with extended dining areas into the conservatory and on warmer days on to the long and spacious terrace. One of the many aspects of Grayshott Spa that makes it a single friendly holiday is the 'Sharers' table that gives the opportunity for solos to sit and meet the other spa-goers. I met a few really friendly ladies where we all shared our experiences of the different spa treatments and classes.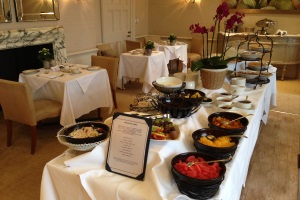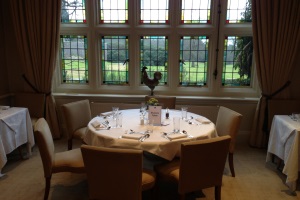 The buffet breakfast and dining room at Grayshott Spa

The menus differ almost every day; the chef gets fresh produce and works on inspired variety so what's on the menu one day, isn't on the menu the next. Best of all, the food was extremely tasty and satisfying. Bundles of food wasn't piled up in front of you, they were portions that persuaded an attention to the taste and appreciation of the quality; emphasis is on health, so large portions, especially at dinner time, were not encouraged.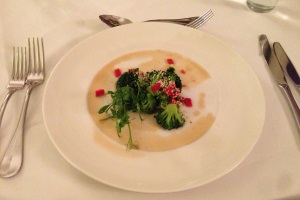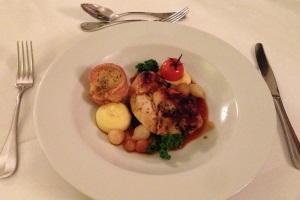 Two delicious and healthy dishes at Grayshott Spa

If you fancy a nibble, the tastiest canapés are available in the 'Bubbles' room from 6pm every day. If you felt like eating a bit more for dinner, I recommend stopping by for a few just before dinner! There's also a 'Drawing' room which offers the perfect place to sit in comfortably and read a book or magazine at your own leisure any time of the day, with a fire place radiating warmth and cosiness in the evenings. 
I also got to experience a personal Pranayama session with Smittha, who explains to me it's the 'science of breath' and the control of the vital force in the air we breathe. Pranayama consists of slow, regulated deep breathing which helps to calm the mind, balance the emotions and reduce stress and anxiety. Smittha took me through three stages; beginners Pranayama, complete breath Pranayama and Nadi Shodhana Pranayama. By the end I was nearly asleep and felt so calm, since I've returned home I'm now doing 10 minutes before I go to bed which is really helping me to sleep well. I highly recommend you try it.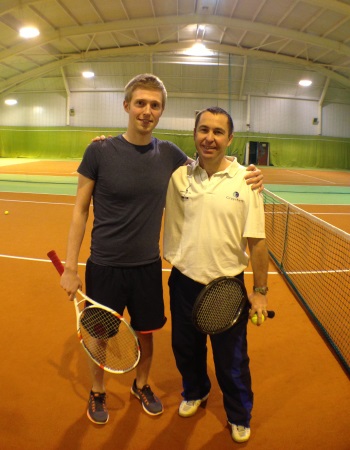 Adam with head tennis coach Danny in the indoor courts

Grayshott Spa has superb indoor and outdoor tennis facilities. The indoor courts are first class and great to play on and accessible almost any time of the day. Groups can easily be organised to play games and knockabouts. Danny, the head tennis coach, was a straight-forward talking personal coach. He told me exactly what I needed to know straight away to improve specific aspects of my game that translated into making me a better overall player during my two private tennis lessons. Danny is an ex-Wimbledon professional player - with this I knew I was in good hands.
Watch a short video of my tennis lesson at Grayshott Spa here
For somewhere that's seemingly small, chic and has a warm cottagey feeling to it, Grayshott Spa is a wonderful example of just how a complete health and fitness focused short or long spa break should be. Scale is deceiving here, with so many rooms offering different functions and facilities, it really is a wonderful place to unwind, clarify your life's health goals, and leave with a fresh outlook of knowledge in good health from the support of so many professionals in many different disciplines. There was always a member of staff never more than a few footsteps away to ask for some assistance, and all of whom were very helpful. It's a wonderful place to visit for a short healthy break of 3 or 4 days, or take advantage of the newly established Optimal Health Programme to renew your health and well-being.
How to Book
To request a quote or for more information visit our Grayshott Spa page
Talk to one of our Travel Specialists on 0203 397 8891 or contact us here to discuss tailor-making your perfect wellness holiday.