How to Have a Healthy Holiday
11 June 2013

11 June 2013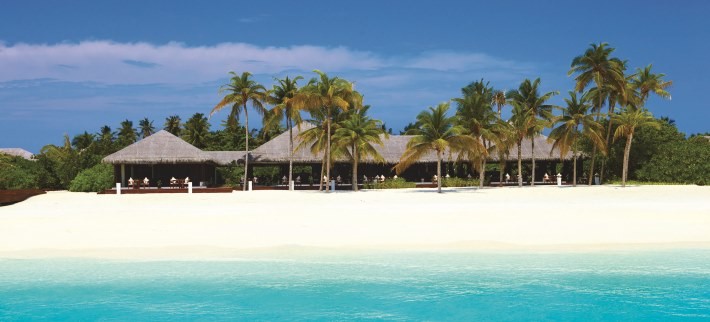 If you are lucky enough to soon be enjoying a summer holiday break abroad, you will no doubt want to make the most of this well-deserved time to relax, revitalise and replenish. By taking into account our tips on how to
stay healthy on holiday
you can guarantee that you'll return in good physical shape, ready to jump back into everyday life with a more enthused attitude.
Eat a healthy, substantial breakfast each day
Breakfast is the most important meal of the day for kick-starting your metabolism so there's no excuse for skipping it. A protein-rich breakfast can set you up perfectly for the day ahead, especially if you're planning on working up a sweat with any fitness-based activities. Stick with a low-fat omelette or wholegrain cereal such as muesli with natural yoghurt and fruit. Accompany your meal with a fresh fruit juice to take advantage of all the vitamins and healthy anti-oxidants.


Drink plenty of water
If you're taking your holiday in a hot country, there is a chance that you will be vulnerable to becoming dehydrated in the heat. Make sure you have a large bottle of water with you and get your recommended 2 litres a day, especially if you plan on keeping fit and active. Staying hydrated and healthy whilst travelling is also important; spending long hours in a plane full of passengers with the re-cycled air conditioning could dehydrate your system.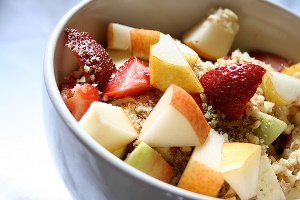 Eat a healthy and filling breakfast each day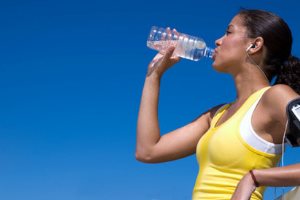 Stay hydrated, especially when exercising in the heat
Appreciate sleep

It is recommended that we sleep at least 8 hours a night to keep as healthy as possible, so why should our sleeping patterns change on holiday? Whether you're flying long or short-haul, it is important to stick to the new time zone to avoid jet lag and to keep your body ticking over. It may be tempting to arrive at the resort and take a nap in your room or on the beach but avoid doing so as this will only disrupt your body clock further.


Keep active with yoga
Yoga is a great stress-reliever and a fantastic full-body and mind workout. It has been found that routine physical exercise can drastically improve mood and overall happiness, so keeping active on holiday can be a great way to develop overall wellness. Basic poses such as the downward dog and the tree pose help core balance and flexibility along with creating a pure sense of calm and relaxation. Perform a circuit of different 'asanas' in the morning to prepare your body for the day ahead.


Digital detox
Leave your laptop at home, and switch off your mobile to avoid unnecessary distractions on your holiday. Escape from the monotony of our technology-fuelled lives, and get back to nature. Learning to live without digital influences can vastly improve emotional health and prevent stresses building up. When on holiday, we should remember exactly that, and forget about the things that do not matter at that moment in time; commuting and spread sheets are meaningless when we're sitting on a sunny beach.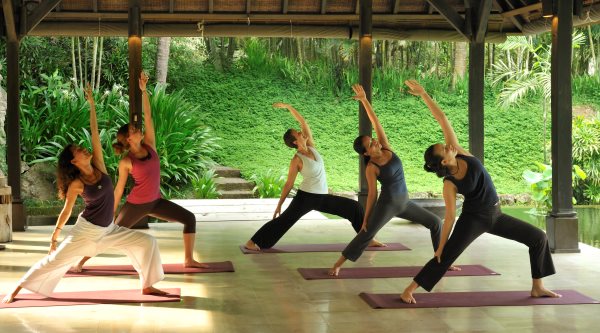 Keeping active on holiday with holistic activities such as yoga can be a great way to stay healthy


Take advantage of fresh local produce
Eating on holiday should be about trying new culinary experiences and indulging in the best cuisine on offer, not surviving off burgers and chips for a week! If you're heading on a beach spa holiday, take advantage of the location and enjoy local seafood to benefit from healthy omega-3, alongside fresh and nutritious fruit and vegetables. The more colourful the food on your plate; the more anti-oxidants and nutrients you are providing your body with, so you can improve your health without feeling like you are missing out.


Be safe in the sun
The Vitamin D we get from sunlight allows us to absorb calcium and phosphate that makes our bones healthy. But rather than spending hours lying in the sun, expose yourself for short periods and never let your skin get burnt. Choose a sun cream that protects against both UVA and UVB rays to make sure you protect fully against skin cancer. Vitamin D can also be found in foods such as oily fish, eggs, cereals and spreads so try to incorporate these into your holiday diet.


Don't be afraid to cheat
The occasional burger or chocolate pudding can, contrary to belief, help shift the pounds. A cheat meal can increase serum leptin levels (increasing overall thermogenesis) and basal metabolic rate; meaning you will burn more calories for at least another 24 hours. Not to mention that a bit of indulgence will improve your mood and let you enjoy your holiday without feeling 'overly' healthy. So take advantage of the fantastic cuisine on offer and treat yourself to a few glasses of wine and an indulgent meal, your body will thank you.


Stay safe in the sun
Early morning exercise will set you up for the day ahead
Explore before breakfast
Doing cardiovascular exercise in the morning is a great way to burn off fat, and will make you appreciate your breakfast just a bit more. Usually when you exercise, your body uses carbohydrates as its energy source. However, just after you wake up, your insulin level is at rock bottom, which means due to the lack of carbs in your body, you will burn off fat instead. A 30 'fasted' minute walk down the beach can burn off more fat than 90 minutes of steady exercise on a full stomach.


Relax!
A final top tip for staying healthy on holiday - relax! Away from day-to-day life, you can focus on the important things in life, and spend your free time re-energising and doing whatever makes you happy. It is important to keep active, but just as important to sit-back and unwind. A healthy holiday is the perfect opportunity to combine relaxation, eating well and keeping fit all in an idyllic location; so make the most of it!


If you haven't organised your summer holiday yet, then take a look at our top five healthy holidays this summer for inspiration. You won't have any trouble staying healthy on one of these holidays!
Our top 5 healthy holidays for summer 2013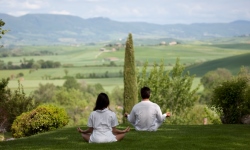 Adler Thermae, set in the beautiful Tuscan landscape on a former travertine quarry, is home to a state of the art thermal spa and fitness centre, providing the perfect oasis for a luxury wellness getaway this summer. Take advantage of a detox, fitness or
yoga holiday
programme to revitalise your mind and body and enjoy the benefits of the outdoors with opportunities for hiking, walking, jogging and biking excursions in the fascinating natural scenery of Tuscany.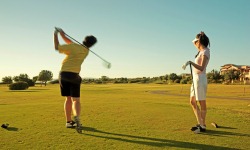 Fly to Cyprus for an active and healthy holiday at this traditional Mediterranean health and fitness resort. With five different programmes available you can target your personal goals in a way that suits you. What's more, if you want further flexibility you can opt for our exclusive
Fusion Fitness holiday
. Work on your tennis skills with a pro at the tennis academy, enjoy a round of golf on the championship course, practice yoga with a one-to-one lesson and unwind with a therapeutic massage or a re-hydrating facial.
Enjoy a health and fitness boost at the Aguas de Ibiza Lifestyle & Spa with a specialised retreat run by 38° North. Choose from a fitness, weight loss or detox retreat and work towards your healthy goals this summer. Enjoy a full schedule of group exercise classes from scenic walks and mountain biking to rooftop yoga classes, as well as beach fitness sessions and relaxing spa treatments. Return home feeling fit and more motivated to take on the challenges of everyday life.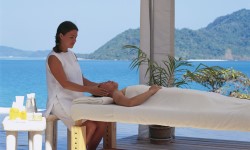 Kempinski Barbaros Bay in Bodrum, Turkey, looks out over the Aegean Sea from the hillside above the bay, set in an area of unspoilt natural beauty. Enjoy a wide range of holistic activities, including yoga and Pilates, and spa treatments to harmonise your body's energy. Choose from a
detox holiday
that will improve your mental clarity and increased energy levels, or a
fitness holiday
that will provide the perfect opportunity for you to achieve your summer fitness goals without any distractions.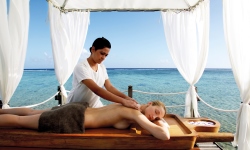 This beautiful resort on the Mauritian south coast spreads across 35 acres of tropical gardens and
pristine white sands
. At Shanti Maurice, experienced therapists will help you take control of your body in order to de-stress, detoxify and rebalance, and also offer lectures and classes for a fresh approach to long lasting health. You will be able to pursue activities as diverse as cooking classes, water sports, jogging, yoga and kite surfing, amongst others. A healthy
spa holiday
to Shanti Maurice this summer will leave you feeling refreshed and energised.
Talk to one of our Travel Specialists on 0203 397 8891 or contact us
here
to discuss tailor-making your perfect
Fusion Fitness
holiday.