23 November 2013

23 November 2013
Susan d'Arcy
Susan d'Arcy has been writing for the Sunday Times for over 20 years, about luxurious spas and travel. As a spa expert she enjoys sharing her tips and insights about the best therapists, spas and treatments, on her very informative, yet entertaining blog, Spa Confidential.
---

Interview with a Spa Expert
As a spa expert, what do you like about medical spas and why do you think they are becoming more popular?
Relaxation used to be the prime reason to visit a spa and most of us were impressed if the therapist simply lit a scented candle but these days we're becoming much more results driven, which is why medi-spas are gaining such a fan base. Medi-spas are under the supervision of qualified doctors which means they can use prescription drugs not available at other spas and so treatments can be much more effective. Sometimes you can wave goodbye to wrinkles and cellulite after just one session - what woman in her right mind isn't going to like that? However, while that thought is appealing, personally, I draw the line at their more extreme procedures such as microdermabrasion, Botox and fillers. I don't think you can call yourself holistic and offer such invasive therapies - although many renowned spas such as Chiva Som and SHA Wellness Clinic do both. I've tackled them on this point and know their argument is that guests want them so spas have to offer them. I want ten tons of chocolate every day, Pizza Express on speed dial and a date with Brad Pitt but they don't mind telling me those things aren't on the menu.

I have to concede, though, that if you have problem skin or a particular medical ailment; a medi-spa can be a godsend so I give them a qualified thumbs up and certainly think they are well worth considering.

Do you feel spa destinations are just a woman's domain?
Not anymore. The best destination spas are definitely broadening their offering to incorporate male grooming treatments and even barber services; while the trend for dedicated fitness and anti-stress programmes feel suitably masculine, even for the most macho sceptics. Many spas have toned down their decor to appeal more to a unisex audience too and the fluffy cushions and fluttering muslins are losing out to a more generic, cooler minimalism that men find more acceptable. I think the fact that Daniel Craig is well known for going to spas such as Parrot Cay in the Caribbean and Como Shambhala in Bali to beef up pre-shoot has helped too. I mean if it's good enough for James Bond.

With so many detox and weight-loss spa holidays to choose from, how do you decide which one is right for you?
Hippocrates said that it was more important to know what sort of person has a disease than to know what sort of disease a person has. The sound bite is equally true of spas. Make an informed choice and the experience can be life-changing; the wrong one and it can be a disaster. This is particularly true of the detox. What is your personality? Do you respond to a more regimented approach which the most extreme detoxes tend to offer, or do you prefer a lighter touch in which case, a more nurturing style might work better. 
Most people think about taking a detox holiday because they want to lose weight and they want to lose it yesterday but, unfortunately, although the marketing blurb always sound enticing, the most effective, long-term weight loss is not the dramatic "I lost 10 kilos in seven days" variety, it's the slow, boring, sure, boring, steady boring kilo a week option. Did I mention this method is boring? I know there are places that will only let you graze on beansprouts and fresh air and, therefore, you record amazing weight reductions but this is not true loss, most of it will just be water. If you feel the purge is part of some sacred ritual that you need to go through to declare your intent, fine, consider somewhere like the Mayr Clinic in Austria, which is very strict. I think for most of us this sort of symbolic gesture is not really necessary.
If your response to the last paragraph is "Yeah, yeah, but I still want to lose weight - any weight will do - even a haircut could help." I'd choose somewhere like Kamalaya in Thailand. Its detoxes are brilliantly balanced but nurturing and the focus is very much on re-educating guests about general health and habits so that you change your lifestyle on a permanent basis rather than simply see success in terms of grams and kilos. They have excellent motivational lectures that get behind the reasons people may not lead healthy lives and give you useful books to take home to keep you on the straight and narrow. It also helps that the detox food at Kamalaya is delicious and that the diet is combined with fabulous therapies so that you are guaranteed to head back to the airport with less excess baggage than when you arrived.
Personally, I prefer an active detox. Firstly, you are given much more food on these programmes - I really don't like being hungry - and they don't use laxatives (I really, really don't like the lizard-eyed anxiety that comes courtesy of those harmless-looking little tablets). But mainly I really like an active detox because they emphasise the importance of exercise, I think that keeping fit is the key to sustaining weight loss, flushing out toxins and generally having a happier, less stressful, healthier life. Six Senses spas have some great functional fitness programmes with detox-lite dining options. You may not lose quite so much weight during this type of detox holiday but you will have a much nicer time and, long-term, will reap more benefits.
I'm also keen on the new-style emotional detox retreats that concentrate on a mental spring clean. It's the old cause and effect argument. I think getting to grips with the triggers and stumbling blocks that prevent you from achieving your goals can be more useful than simply tackling the end result of unhappiness which, for many of us, manifests itself as weight gain. The British skincare range Ila is pioneering this style of detox and I'm sure it will quickly become a trend.
Whatever style you choose remember any detox will be more effective if you pretox first by cutting down on caffeine, meat, dairy and, sorry, but definitely alcohol in the fortnight running up to your trip. If you don't, you risk having headaches, stomach cramps etc while you are away which is never much fun.

Are there any new fitness workouts or sports that you have recently encountered on your travels?
I'm really keen on CrossFit. It's a high-intensity training regime that's already big in the States but is only just making its mark in the UK. Reebok, the company that foresaw the aerobics craze of the 1980s, is tipping CrossFit as the next big thing. Fortunately, CrossFit doesn't require those hideous Jane Fonda, hungry-bottom leotards and stripey legwarmers. Basically, you perform intensive circuits, so you might be asked to complete five rounds of 10 press-ups, 20 sit-ups and 30 squats as fast as you can. Routines might incorporate weightlifting, gymnastics, skipping, balance work. You never do the same routine twice so workouts remain constantly fresh and challenging. CrossFit is all about community so you're meant to post your results on its website. Frankly, I'd rather suck the sweat from the fat guy's shorts than admit how pathetic my times are but it's awesome and inspiring to look at the times some CrossFitters achieve.

I'm also very keen to try hand planning this summer. It's a turbo charged version of bodysurfing. You hold a mini surfboard in your hand (it's only about 30cm long) and wear fins to power you through the waves. As I am hopeless at surfing but love the rush of riding the waves, I think this kiddie version will suit me just fine.

What are your favourite spa destinations and why?
You cannot beat Asia. Bali is my all-time favourite destination. The Balinese are just wonderfully artistic people - they even make putting out the bin seem like a ballet performance. The care they take over every aspect of a treatment will make you want to weep with gratitude. Balinese massage techniques are utterly fantastic and they have created some of the most indulgent rituals available, like their wonderful bathing ceremonies. Thailand is another great place and produces the most miraculous therapists, it's as though massage is in their DNA. Another noteworthy spa element in Asia is that blind people here are encouraged to take up massage as a job. The theory being they can use their heightened sense of touch to find your knots intuitively rather than just robotically moving across your body, following the points they have learned from a chart. I've had massages with blind therapists in China and Cambodia. They were unforgettable. If you ever get the chance, definitely book on.

What spa treatments are the most desired and which ones do you like the best?
Massage is not just an indulgence; it has genuine health benefits and is, undoubtedly, the most popular spa treatment. I recommend hot stone because the introduction of heat makes it much more effective than a conventional massage. I also love Chinese tui na, it just seems to have almost magical abilities to relax my body. If I have been on a long flight, I will always book a Thai massage as the stretching within it is the best way to counteract any stiffness. If you are worried about cellulite, I'd go for a deep tissue massage and ask for plenty of lymphatic drainage to help flush out toxins. As a general rule, whatever style you prefer, take a hot shower beforehand to warm your body up and make it easier for the therapist to work into your muscle tissue.

My own favourite spa treatment is watsu - that's short for water shiatsu. You are in a pool and the therapist gently keeps your head bobbing just above the surface and then manipulates your limbs through the water, gently bending and stretching your body. It feels amazing, like a cross between being Darcey Bussell and being back in the womb. Afterwards, you will feel the most relaxed of your entire life.

With so many beauty products and treatments being developed, which new ones have grabbed your attention and why?
I think this is a very exciting time for the UK. We are producing some top new ranges. I love Oskia. It's very much about nutritional skincare, which makes sense as what you put into your body is so important to your complexion. Its ingredients are natural, pure and paraben-free. Its spa treatments are incredibly indulgent - they use melted beeswax candles for massage, the wax is deliciously warm on your skin and leaves it feeling super soft. Its products are also super-effective - nothing brightens my complexion quite as brilliantly as its Renaissance Mask and it smells wonderful too.

I've also recently discovered Elemental Herbology. This may sound like a module on a botany degree course but it is actually a smart new skincare range that, again, is about combining scientific advances and holistic sensibilities. It uses premium grade bio-active ingredients, supports sustainable methods of production and does its bit to be environmentally friendly. I love its Purify & Soothe Facial Cleansing Balm. It's half the price of the revered Eve Lom cleanser and, in my opinion, just as good.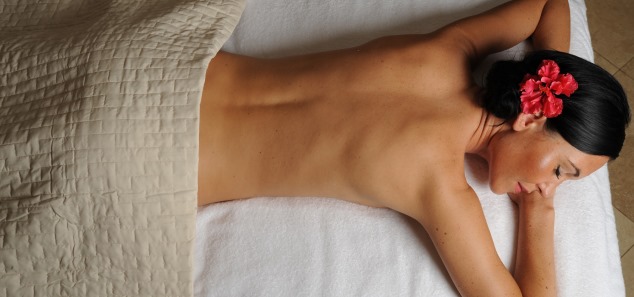 What are your top well-being tips?
My top tip is breathing. Yeah, yeah I know you can do it with your eyes closed but I don't mean the shallow stuff we do all the time, I mean deep, controlled breath work. I think it's one of the most important tools in the well-being armoury and it's free, what's not to like? Breathing properly is deeply relaxing and detoxifying. I am, of course, a big fat hypocrite because I don't practise it nearly as often as I intend to but I do try to do my Maya Fiennes Kundalini yoga DVD once a week. Just take three deep breaths right now as you read this and see if you don't feel calmer, purer and all together more like Doris Day.

I also think it is a good idea to have a drink of hot water first thing in the morning, it will make you... now what's the polite way of saying this... it will make you evacuate your bowels and that's the best way for your system to start every day.

Finally, I don't want to sound sanctimonious and I promise I was never head girl or even a prefect but I think you should always tell the truth. I am amazed at how people concoct "stories" and invent excuses rather than just telling the truth. I find it doesn't matter what I say to people so long as I say it sympathetically, sensitively and politely, they are never offended. Telling lies is so stressful and you often get tripped up - people are rarely fooled by them - which can end in an unnecessary and upsetting drama. I think it is so much easier just to be honest in the first place. Believe me, an uncomplicated life is better than Botox for ironing out those frown lines.

Are there any new spa retreats that you are excited about?
I am very keen to get out to the new Monastero Santa Rosa on the Amalfi coast. The spa has the most breathtaking location, perched on a cliff just outside Positano. Treatment rooms are built into the caves and the spa uses products from the Farmacia di Santa Maria Novella in Florence. This place is mecca for serious spa princesses. Dominican friars founded the pharmacy in 1221, making it one of the oldest in the world and since then it has perfected the extraordinary lotions and potions ever, its range is legendary. I'm sure this place will be a real treat.

I am also very excited about Tufton Hall in Grenada. Grenada is a fantastic, authentic Caribbean island, with amazing rainforests. Peter de Savary (who turned Skibo Castle into the ultimate A-list playground) is one of the backers behind the renovation of Tufton Hall, a historic but now sadly dilapidated old mansion up in the pristine jungle. It should be complete next spring. The treatment rooms will be very luxurious and romantic tents, tucked into the rainforest, each with its own cascading waterfall. I feel better just thinking about it.

For more information about Susan D'Arcy visit www.spa-confidential.com.