Parrot Cay is an exclusive private island of which you'll immediately realise that you have reached a very special place. Quietly understated, but luxurious and with excellent, attentive service, Parrot Cay is understandably quite a favourite amongst our clients. The Asian-inspired retreat is one of the very best spas in the Caribbean and, along with the exquisite and renowned cuisine, make Parrot Cay a place to come and be pampered from sun-up to sun-down.
Programmes at COMO Parrot Cay
All Rooms Include
Minibar
Coffee/tea maker
DVD player
CD player
Balcony
Ceiling fan
Air conditioning
Climate control
Direct-dial phone
Slippers
Bathrobes
Hair dryer
Iron/ironing board
In-room safe
Welcome amenities
Clock radio
Satellite TV service
Flat screen TV
Complimentary wired high-speed Internet
iPod docking station
Activities
- Cycling
- Kayaking
- Diving
- Snorkelling
- Windsurfing
- Waterskiing
- Paddle boarding
- Bone fishing
- Deep sea fishing
- Bottom reef fishing
- Private spin fishing
- Island hopping
- Catamaran sailing
- Running trail
- Trekking
- Non-motorised water sports
Wellness Facilities
The Spa
The COMO Shambala retreat at Parrot Cay is an oasis where mind, body and spirit and nurtured holistically. There are nine treatment rooms located in low-lying pavilions overlooking the North Caicos Channel. The facilities include double massage rooms, a 1300sq ft yoga room, an outdoor Jacuzzi garden, Japanese baths and a Pilates studio. Select from the extensive treatment menu and let the therapists help you to discover your calming spirit, improve your health and recover your sense of balance.
Wellness Approach
Specially created 'wellness paths' are designed to maximise your experience by combining key treatments to achieve effective and noticeable results during your stay. The wellness paths aim to open the mind and calm the senses. The focus is on purifying and detoxifying the body and releasing excess energy and stress.
Typical Group Classes
Yoga
Pilates
Meditation
Tai chi
Beach fit
Please note that all group classes and activities shown are examples only and are subject to change, such as seasonal adjustments.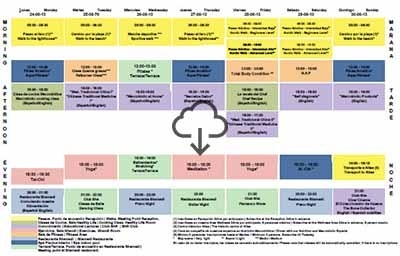 Wellness Team
Yoga & Pilates Intructors

- Anabel Garver, Pilates Instructor
A native New Yorker, Anabel Garver, Pilates teacher at Parrot Cay by COMO, has 25 years experience in fitness and wellness. She is a certified Personal Trainer and Medical Exercise specialist, teaching Pilates for two decades. Anabel is Matwork-trained through Polestar and PhysicalMind Institute, with full studio training through Polestar Pilates.

-Susan King, Intuitive Counsellor
Intuitive Counselling is the practice of accessing our inner wisdom through the help and guidance of another. King intuits the real-life dilemmas of her clients and offers new perspectives. 

- Pramod Kumar, Yoga Teacher
Committed to the practice of yoga, Pramod Kumar, Yoga Teacher at Cocoa Island by COMO in the Maldives, was trained by Sri Prahalade Redi from India's International Sivananda Yoga Vedanta Centre. Pramod has been a full-time teacher for the past nine years and for more than four years has had his own yoga school in India.

-Yuki Nishikubo, Acupuncturist
Yuki Nishikubo joins the COMO Shambhala team with a wealth of knowledge in Japanese Acupuncture and integrative medicine. For the past 19 years, Yuki has been licensed and working as an Acupuncturist and Moxibustionist and involved with ongoing industry research, analysing and detecting client conditions and needs. Yuki's style is compassionate and precise; applying needle therapy to bring relief for a range of conditions. Even for those seeking a treatment simply to balance the subtle energies of the body, a treatment with Yuki will leave you feeling rejuvenated and restored.
Special Offers

Free Nights Offer 2019
- Stay 7 nights pay 5 (valid for stays between 1 May to 18 December 2019)
- Stay 4 nights pay 3 (valid for stays between 22 April - 18 December 2019)
(Offers are NOT combinable and Black-out dates may apply)
Free Nights Offer 2020
- Stay 7 nights pay 6 (valid for stays between 5 January – 30 April 2020)
- Stay 4 nights pay 3 (valid for stays between 14 April – 18 December 2020)
- Stay 5 nights pay 4 (valid for stays between 14 April – 18 December 2020)
- Stay 6 nights pay 5 (valid for stays between 14 April – 18 December 2020)
- Stay 7 nights pay 5 (valid for stays between 14 April – 18 December 2020)
- Stay 7 nights pay 6 (valid for stays between 14 April – 18 December 2020)
- Full board per person PLUS complimentary one-way transfer (COMO Suite and larger; minimum 3 nights stay required; combinable with stay 7 pay 5 offer only; valid for stays between 23 August – 23 November 2020)