With stunning picturesque views, beautiful beaches and historic sights to discover, the Vitality Hotel Punta in Croatia offers a truly luxurious wellness experience. Situated on the small island of Lošinj, the retreat uses its natural surroundings to promote a harmonious and peaceful atmosphere. Choose to relax in the salt water swimming pools, work out in the fitness centre or indulge yourself in the Vitality Zone with a treatment from the expansive spa menu. With a variety of dining options, entertainment to enjoy throughout the day and nature trails to explore, a stay at the Vitality Hotel Punta is like no other.
Programmes at Vitality Hotel Punta
Location Overview
Set in the Northern Adratic Sea, the small but picturesque island of Lošinj is home to the Vitality Hotel Punta. Overlooking the sea, this romantic haven is surrounded by beautiful beaches and attractive creeks with over 220km of stunning trails waiting to be explored on foot or by bike. The nearby town of Veli Lošinj is brimming full of history with many extravagant villas, towers and churches waiting to be discovered. This quaint but elegant town is the perfect backdrop for a rejuvenating wellness holiday.
Dining
With a broad range of dining options from the à la carte restaurants to the more laid back bars the Vitality Hotel Punta happily cater for all appetites and preferences. Most of the dishes on offer are inspired from local island recipes and use home-grown herbs and spices whenever possible. Punta also boasts a fine selection of wines that are the perfect accompaniment to a relaxing evening at this wellness retreat.
The Olea Hotel Restaurant
Trying to use natural ingredients when possible with home-grown garden herbs and spices, the Olea serves a wide variety of delicious meals to suit all taste buds. The recipes include local island delicacies, authentic Mediterranean classics and macrobiotic healthy dishes. The high quality cuisine extends to vegetarian and gluten free diets on special request.
Lounge Bar Stilla
This laidback bar is an ideal place to eat and drink with friends in a more social atmosphere. There is a wide range of local wines on offer as well as traditional liqueurs and brandies sourced from all over the Adriatic region.
Pool Bar Luna
If you are feeling peckish whilst sunbathing then the pool bar has some refreshing selections with sweet and savoury bites, tasty fruit and a delicious selection of ice creams all on offer.
Punta Restaraunt
Take in the view of the lovely Veli Lošinj in the Punta's luxury à la carte restaurant featuring an extensive menu of the island's delicacies and over 50 wines from all over Croatia.
Tennis Bar
After playing a set or two take a break and treat yourself to a refreshing drink or a light bite to eat.
Facilities & Services
Facilities

3 x Restaurants
3 x Bars
2 Outdoor seawater pool & large whirlpool
2 Steam rooms
2 Sauna
Indoor swimming pool with heated seawater and whirlpool
Banquet facilities
Multilingual staff
Gift shops
Patio
Tennis on site
Artificial outdoor climbing wall
Water skiing school
Indoor and outdoor fitness studio
Face and body beautiful studio
9 Treatment rooms
Sports excellence centre
Blue Flag beach
Gardens
Bicycle rental
Walking paths and hiking trails

Services

Conference room
Room service
Concierge
24 hour front desk
Currency exchange
Resort Address
Sestavine 17
51551
Veli Losinj
Croatia
Good to Know
The Vitality Hotel Punta is located on the small island of Lošinj which is accesible  by ferry from Pula.
The small village of Mali Lošinj is only 3km away and well worth a visit.
The easiest way to reach the Vitality Hotel Punta is by flying to Pula airport and taking the transfer arranged by the hotel, this includes a transfer from the airport to the port, ferry crossing to the Island of Lošinj and then an onward transfer to the resort. Alternatively the hotel offer a taxi flight from Pula airport to the resort but this requires a minimum of 6 passangers and has a luggage restriction of 15 kg.
Flights from the UK can be booked independently with Thomson or Ryanair.
Accommodation Overview
Providing the ideal setting for a perfect night's sleep, the rooms are warm and inviting with lots of natural light and stunning views of the island. Bathrobes, towels and a beach bag are provided for your convenience and with quality natural cosmetics supplied in every bathroom you will feel right at home.
Standard Room
Suite
Superior
All Rooms Include
Adjustable air-conditioning and heating
Phone
Satellite TV
Hairdryer
Natural cosmetics
Mini-Bar
Safety deposit box
Room service
Complimentary wired internet
Bathrobe and slippers
Beach bag and one beach towel per person for free use during the stay
Activities
- 13 Clay Tennis courts (2 lighted)
- Outdoor artificial climbing rock (from June until September, under the guidance of professional instructor)
- Nordic walking/ outdoor fitness
- Sports animation
- Bike rental
- Walking paths and hiking trails near the hotel
Wellness Facilities
The Spa
Punta's reinvigorating spa has a number of different centres and areas that are devoted to specific sections of wellness. The soothing aromatherapy centre uses essential oils from herbs and plants grown on the island for natural treatments. The PBS studio is devoted to a technique that blends yoga, Pilates and aqua gym with the Iuvena massage centre boasting a range of indulgent therapies and treatments. With swimming pools, revitalising dry and wet saunas, a medical clinic and a state of art fitness studio you are sure to find something to suit your specific wellness needs.
Wellness Approach
This award-winning hotel seeks to promote healthier lifestyle habits through an extensive range of luxurious treatments and therapies, many of which use locally made products and oils. Aromatic and medicinal plants are a fundamental aspect of the teachings at The Vitality Hotel Punta and are used to complement the stunning natural scenery on this luxurious wellness holiday.
Typical Group Classes
Easy breathing
Walk & stretch
Hiking or Nordic walking
BODYPUMP by Les Mills
CXWORK by Les Mills
Aqua Gym

(not available during 10 June - 8 September 2019)
Please note that all group classes and activities shown are examples only and are subject to change, such as seasonal adjustments.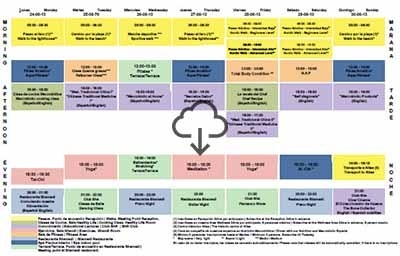 Added Value
Exclusive for Health and Fitness Travel guests
1 x Complimentary group breathing exercise (25 min) 

(per person)
Special Offers
- 15% off select room types for stays between 3 October - 28 December 2020 (Offer not combinable; minimum stay of 2 nights)
- 10% off for stays from 30 August 2020 (Minimum stay of 7 nights; In Apartments Punta)