Adam's Review of D Maris Bay, Turkey
25 October 2016

25 October 2016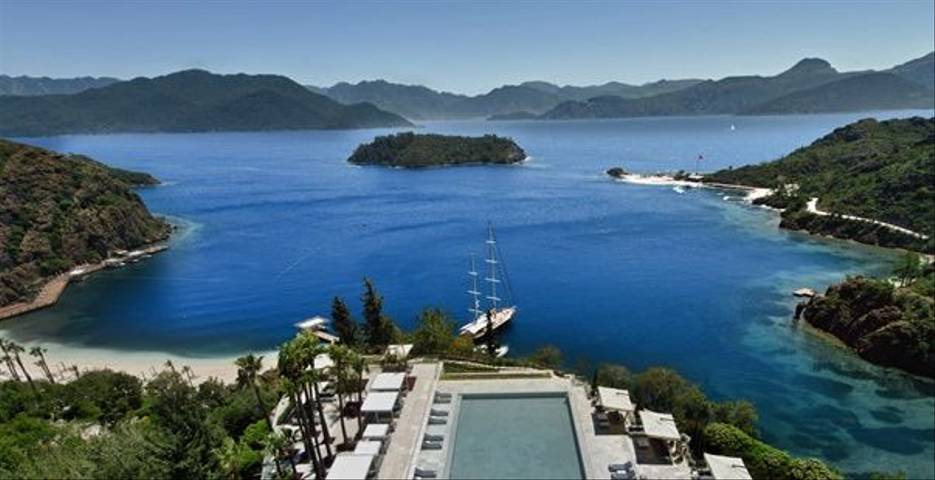 What is D-Hotel Maris and who's it for?
D-Hotel Maris is located on the mountainside of a Mediterranean bay, overlooking serene islands amidst a horizon of majestic mainland, D-Hotel is a must visit for anyone with a love of Edenic landscapes. It's particularly a real haven for fitness, tennis and water sport enthusiasts who love to relax in luxury and in an atmosphere of calm with stunning scenic views. Suitable for solo travellers, couples and families (>5yrs for children).


Getting There
D-Hotel Maris' nearest airport is Dalaman (1.5hrs, 130km) and Bodrum (2hrs, 155km). A unique helicopter option takes just 25 minutes from either airport and avoids the long and windy roads.


The Hotel & Accommodation
Somewhat in the middle of nowhere, I was amazed to be met by such a modern approach to design as I arrived. The hotel stands atop a peninsula of south-western Turkey as it drops off into tranquil waters , so there's a great view 360° around! This factor also means that there's a special funicular lift to take you to the beach and back, which I enjoyed every time I got on it. It'll be really fun for kids too!
There are 192 rooms & suites with an additional duplex presidential suite and luxury villa too. Each features a modern, clean-line concept that utilises big tiles and dark woods to make you feel rooted in nature. My room had a beautiful mountain view (sea views are available too) and I was pleasantly surprised to find a media area for plugging in music or kicking back and watching a movie.
I loved the long wooden jetty that stretches out to the sea and each day the beaches are raked to give it that extra sense of luxury. All the waters are calm year-round and they're also spectacularly clear, which makes for great snorkelling. Don't forget the sun cream though!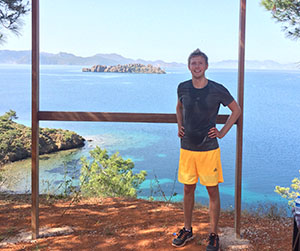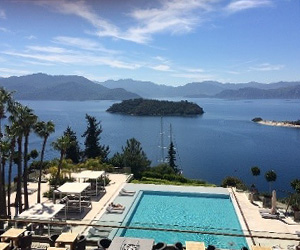 Adam at the beautiful D-Hotel Maris


The Wellness Concept & Spa
With typical Turkish hospitality, I felt in good hands whilst exploring the underground ESPA spa at D-Hotel Maris. They specialise in classic spa treatments such as mud packs, body peels and strong massages – great for rejuvenating after a day in their gym! I had the Traditional Hammam Ritual which featured all the traditional delights of moving through steam rooms and being unwound on the massage table. I'd also recommend their phyto-mud treatment for tackling any skin troubles and truly feeling the sense of letting go – it combines algae, clay and essential oils.


The Fitness
The emphasis is on fitness at D-Hotel and their partnership with Bodyism plays a growing role in this. When I stayed with the hotel, things were just kicking off, but the new season promises to allow for a truly innovative approach to exercise. I was certainly left wanting more after my personal training class! The whole idea was founded by James Duigan and gravitates around a fitness and nutrition concept that's used by celebrities and models the world over. It enhances your health through optimally designed workouts and nutrition that's carefully crafted just for you.
The resort genuinely has top quality facilities when it comes to fitness (some of the best I've seen), so be sure to make the most of it whilst staying there. I was amazed to see some genuinely state-of-the-art equipment spread out within an airy fitness centre that featured floor to ceiling windows. Try the TRX suspension training for something that really pushes you and is great fun at the same time!
The excellent fitness facilities at D-Hotel Maris

Each day I made a point of making the most of the beautiful surroundings to get active. I felt this approach left me with a great sense of well-being at the end of the day. Spending my mornings out on the water with a SUP session or simply swimming out to the nearby island was just great (top tip, the island's not as near as it looks). One day I went mountain biking with one of the personal trainers around the Datça mountains and although I felt a bit slow in comparison it was a real highlight of the trip to go exploring. You can tell that D-Hotel are keen to get real professionals on board with their fitness concept.
There are top quality tennis courts onsite as well and a team of professionals ready to coach you. Goran Ivanicic (Wimbledon champion) has begun a new and fresh training academy there, suitable for beginners and pros alike; even kids can get involved.
For anyone feeling adventurous I'd get yourself to the water sports centre as there's a great opportunity to kayak around the myriad of inlets in the area. I had great fun watching the water skiers too, although admittedly I did so from the comfort of the beach. In fact, there are five separate beaches to choose from so you'll never get bored of relaxing in the sun!
Making the most of the stunning nature at D-Hotel Maris


The Food
With 6 restaurants to choose from, each feature their own unique view across the landscape and serve a particular style of food. This was great as I love trying local specialities and managed to sample some great Turkish food from the "Rua" restaurant each evening whilst spending my lunches choosing between either top quality Italian or delicious Asian cuisine. I'd also recommend waking up early for breakfast as "The Terrace" restaurant offers stunning sunrise views.
In 2013 the hotel showcased a pop-up residency for Zuma – an award-winning team of caterers – and now they have a permanent place within the resort. I had an adventurous Turkish salad there with pomegranate and dates – simply delicious! They also specialise in mixology, so whether you want something alcohol-free or not, I'd encourage trying something off their drinks menu.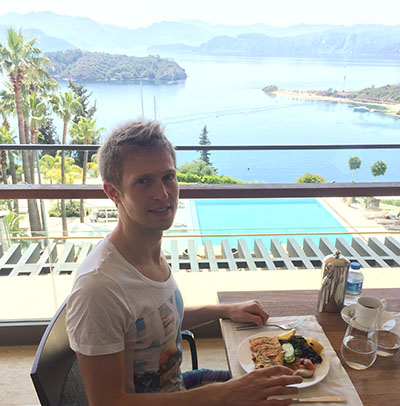 Exceptional cuisine and a great view to match


The Staff
Turkish hospitality is really warm to experience, and at D-Hotel Maris this is no exception. Everyone was so keen to help me out and show me around – it makes your day when everyone is smiling. It comes as no surprise though, as the hotel is located in such a tranquil location that it feels impossible to get stressed.


The Scenery & Surroundings
From the moment I arrived, peaceful was the theme of my stay. It's just such a calming location. There's really nothing around except nature and the odd yacht floating by. The main beach has been awarded a "Blue Flag" for its cleanliness, safety and sustainability – and I'd certainly agree that it's beautifully well kept within its surroundings. I especially enjoyed all the bird song at sunset, and the wildlife in general is mesmerising. Squirrels and fireflies dot the forests with swooping birds between trees – the resort is also home to a Mr & Mrs duck who either wade in the sea or waddle on the sand.
The entire Datça peninsula is steeped in ancient Greek history and I enjoyed hearing some of the history from the hotel staff who have grown up there. At the end of the peninsula is the protected site of Knidos, an ancient Hellenic city that made me feel like I was a true explorer. There's a real sense of times past there – great for anyone willing to discover a slice of history.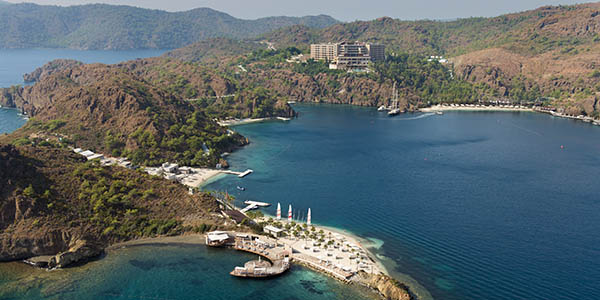 An aerial view of the serene bay


Highlights
For me just being surrounded by such beautiful nature across the bay area was unforgettable. It felt like I was in a secret wildlife sanctuary. So many wellness centres focus on the service they provide, but at D-Hotel you can sense that the planning of the whole concept began with choosing the location.


My Summary & Verdict
D-Hotel Maris is a genuinely stunning and spacious resort that extends this sense of space into every aspect of its facilities, especially the comprehensive fitness centre. The resort is in pristine condition and so too is the idyllic setting (there's nothing for miles around). This all makes it great for anyone seeking a chilled out time.


How to Book
To request a quote or for more information visit our D-Hotel Maris page.
Talk to one of our Travel Specialists on 0203 397 8891 or contact us here to discuss tailor-making your perfect wellness holiday.
Fact Box
Best time of the year to go: May, June, September & October
Book in advance: July, August & September
No. of Rooms: 194
Check-in/check-out: 3pm / 12noon
Wi-Fi: Yes - excellent throughout the enitre hotel and beach
Children:under 6's not allowed
Reception/Room Service: 24h
Alcohol: Yes
Nearest Airport: Dalaman or Bodrum
Airport transfer time: 1hr 30 (Dalaman) or 2hrs (Bodrum)
Address: D-Hotel Maris, Datca Yolu Hisaronu Mevkii, P.O. Box 119, 48700 Marmaris, Mugla, Turkey