Adam's Review of Phuket Cleanse in Thailand
14 January 2015

14 January 2015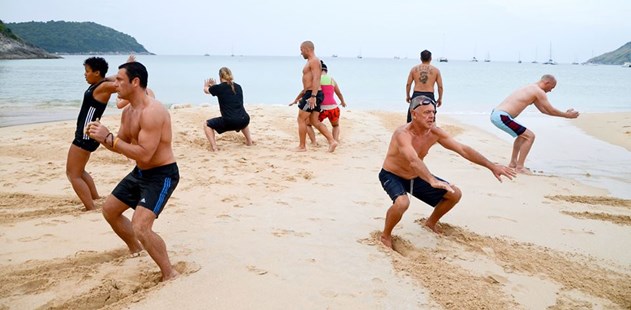 Phuket Cleanse and Who it's for?
After opening its doors in 2012, Phuket Cleanse has very quickly become the go-to place for an all-encompassing fitness and detox holiday. Unlike other detox retreats, Phuket Cleanse has a strong focus on complementing a raw food or juice detox with fitness and organic supplements. Designed to be structured, everything is laid out for you so you can do as many of the activities as possible. With a strong social dimension and health-oriented guests, it's a fun and friendly atmosphere. Guests are aged between 25 to 55, and have either health issues to address or are looking to kick-start or enhance their well-being, whilst catering for everyone whether you are fit or unfit.


Getting There
As an international airport Phuket is extremely well-connected in Southeast Asia. Direct flights operate from airports including Bangkok, Singapore, Hong Kong and Kuala Lumpur with a 1 hour transfer to the resort. Alternative routes are available – just ask us and we can advise.


The Hotel & Accommodation
There are 18 rooms in total in three different blocks; Main Villa, Big Villa and the Extension Block. All rooms are pleasant with yellow ambient lighting to help with your melatonin production to better your sleep at night. All fitness activities are located off-site just 5 minutes away and although it may seem out-of-place, it's hassle-free with a full-time driver always ready.
With an all-inclusive approach there are no hidden costs. A free laundry service is included since you'll be sweating a lot after every activity, and there's an eco-friendly approach to cleaning products and amenities to reduce your exposure to harmful chemicals during your detox.
One of the rooms in the Main Villa at Phuket Cleanse (left)

The Fitness
Phuket Cleanse is typically packed with three varied workouts a day, herbal sauna and ice bath sessions, trips to the beach, raw food cooking classes, meditation, recovery massages and much more, all of which you can choose to do as little or as much as you like. Classes are regularly held down at the beach just 10 minutes away. View the group activity schedule example; a mixture of daily Muay Thai, circuits, yoga (hot, aerial & hatha) and HIIT. Monday to Friday have the busiest schedule, Saturdays slightly less and Sunday the quietest. We recommend arriving on Sunday so you start off with a full week and rest slightly over the weekend, however you can arrive any day.
VIP one-to-one sessions of 30 or 60 minutes are included and you can opt for these Mon-Fri ranging from Muay Thai, life coaching, yoga or holistic health consultations. You are encouraged to learn about the foods and supplements through their gentle approach to personal and emotional development.
The next day's activities are hand-written on a whiteboard and you opt in by writing your name (VIP sessions); you pour your juices and take what you want when you need it. You will feel the health-vibe and it's addictive in a great way.
A highlight of the week is the trip to Thanyapura on Tuesdays for fitness classes and athlete-level testing facilities such as VO2 max, high altitude training and health-specific testing and analysis where you can take your personal understanding further at this world-class sports facility centre.


Adam (left) doing Aerial Yoga. Group fitness class (right) at the fitness centre


The Food & Detox
Out of our detox holidays, Phuket Cleanse is one of the best creative and diverse vegan-only cuisine I've enjoyed. Quantities aren't set, so for lunch and dinner you can almost take as much as you like, but all of it is very healthy. Breakfast is comprised of a morning green juice made of spirulina and wheatgrass. After workouts a protein shake blend is waiting for you. Staying hydrated is so important so water is in ample supply from the communal fridge. With a flexible approach you can request particular meals, juices or smoothies. Dining for lunch and dinner is communal on a large long table and is a time for socialising, making this a great option for a singles holiday.
Every week there is short and fun cooking classes designed to inspire and teach; whatever is made you get to eat and share with everyone either at lunch or dinner.
Weight loss amongst guests staying here was between 1 and 3 kg per week. Supportive pre-reading material will enhance your stay, so I highly recommend going through all of this! Note no colonics are available here.
The exquisite healthy vegan food


The Staff

Energetic and enthusiastic owners Melanie and Stanton are without doubt the source of the joyful presence that can be felt from all the staff. You'll feel like a friend the moment you arrive and the team's encouragement is supportive without being overly assertive.
Melanie is very knowledgeable regarding the science behind your health. Gain an upper hand if you can arrange blood test results for her to analyse before or during your stay; it's not widely promoted but worthwhile to know. You might also meet JJ the friendly ginger cat who thinks he's the boss!


Highlights
For me the ice cold bath was a time of excitement after each fitness session, because it was the hardest part for me yet the most rewarding; after all, where is your nearest ice bath with actual ice in? Twinned with the eucalyptus herbal steam room then recovering with complimentary evening massages four times a week on your bed-turned-treatment table was a treat and you really sleep well afterwards.
The famous ice bath (left) and Adam enjoying his morning spirulina & wheatgrass juice (right)


The Scenery & Surroundings
Located inland, Phuket Cleanse is surrounded by trees and is in a kind of residential area, but you don't know it. Weekly tours take place to visit local shops and experiences such as the local Phuket Town market, Muay Thai fights and beaches; Phuket is well-known for its stunning landscape and beautiful beaches.


My Summary & Verdict
Phuket Cleanse has introduced me to healthier ways of eating and discipline and has shown that support of like-minded people can inspire you to change and without a doubt has changed me. With one of the best wellness holidays we offer with a social element, I highly recommend going and would have no hesitation in making another trip over there again.
If you are serious about results then this is the place to go. I recommend staying for 2 weeks or even longer if you can. If you have particularly high standards such as SHA Wellness Clinic or Chiva Som and an expectation for a faultless service you may prefer to choose from our Ultimate Collection.
*Please note inclusions may change while they evolve to make the overall experience better.
► Book through Health and Fitness Travel and receive an additional complimentary VIP Muay Thai training session, spa treatment (Facial, Body Scrub, etc.) and a Consultation with a Physique Transformation Specialist.


How to Book
To request a quote or for more information visit our Phuket Cleanse page. Talk to one of our Travel Specialists on 0203 397 8891 or contact us here to discuss tailor-making your perfect wellness holiday.

Find out Why to Book with Us and further details on How to Book.
We recommend booking Phuket Cleanse in advance to avoid disappointment at this in-demand detox and fitness retreat.
Fact Box
Best time of the year to go: December to March
Months to book in advance for: Christmas & New Year
No. of Rooms:18
Check-in/check-out: 3pm / 12pm (flexible if available)
Wi-Fi: Available in all rooms. Speed is good.
Children: Yes, but extremely rarely there
Reception/Room Service: There is no reception; a staff member is always around during the day or can be contacted at night
Alcohol: No
Nearest Airport: Phuket International (HKG)
Airport transfer time: 50-60 minutes
Address: Phuket Cleanse Villa, 49/105 Moo 1 Soi Nanachat / Sai Yaun Road, Amphur Muang, Rawai, Phuket, Thailand.