Ananda In the Himalayas Wins at Conde Nast Traveller Readers' Spa Awards
02 February 2012

02 February 2012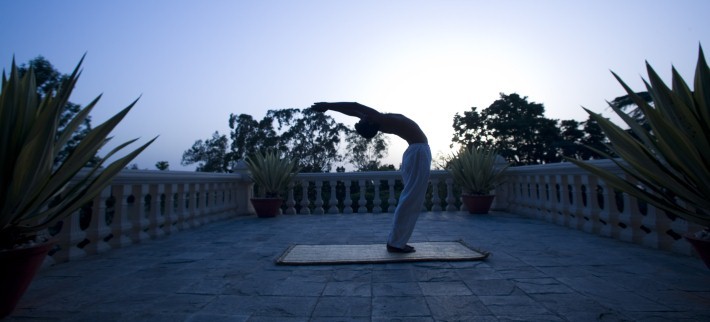 Multi award-winning Ananda in the Himalayas is once again recognised as one of the world's BEST destination spas, this time being voted 'Number One Spa in the World' at the Conde Nast Traveller Readers' Spa Awards 2012, held in London's Corinthia Hotel last night.
Not only that, but readers also voted Ananda as a winner in the 'Best Overseas Spa Retreat' category at the 10th annual awards, attended by many of the industry's spa elite. It was awarded top marks for its ambience and design, its body treatments and individual approach.
"This award is very special to us as we strive for excellence in everything we do, so to be recognised as the best spa in the world by Conde Nast Traveller readers is truly an honour," said Anupam Dasgupta, General Manager of Ananda in the Himalayas.
The award was accepted by Malti Kapur, Ananda's first ever guest on behalf of founder and Managing Director, Ashok Khanna. Conde Nast Traveller Spa Word of Mouth Editor, Lisa Johnson said "It would be impossible to go for a week and not leave feeling on top of the world".
Ananda has previously been voted number one in the Conde Nast Traveller Readers Spa Awards 'Spa Retreats' category in 2005 and runner up in 2006, 2007 and 2008. It was voted number 1 in the Conde Nast Traveller Readers Travel Awards 'Best Destination' category in 2005, 2006 and 2007 and runner up in 2010.
Ananda in the Himalayas is a luxury destination spa located in the foothills of the Himalayas in India, the birthplace of the ancient arts of Yoga, Ayurveda and Meditation. Set among 100 acres of virgin forest, Ananda is built around the majestic palace estate of the Maharaja of Tehri-Garhwal offering breath-taking views of the Himalayan mountains, the valley of the holy town of Rishikesh and the river Ganga. It is a retreat dedicated to restoring balance and harmonizing energy through a holistic approach.
At the heart of the wellness focus is the practice of Yoga and Ayurveda combined with international therapies bringing about complete harmony between the inner and outer self. The 24,000 square foot Ananda Spa is a complete wellness experience with 24 treatment rooms offering an extensive spa menu of over 80 treatments. Focused programmes (Ayurveda,  Detox, Weight Management, Yoga etc) are overseen by the Ayurvedic consultants, nutritionists and experienced therapists to create a personalised therapy and activities programme designed to meet individual needs and health goals and the delicious Ayurvedic cuisine (with menus personalised according to your dosha or body type) ensure successful weight loss or healing and rejuvenation.
For more information visit Ananda in the Himalayas

Talk to one of our Travel Specialists on 0203 397 8891 or contact us here to discuss tailor-making your perfect healthy holiday.