Claudia & Rebecca's Review of GI Jane Bootcamp in Kent
11 September 2017

11 September 2017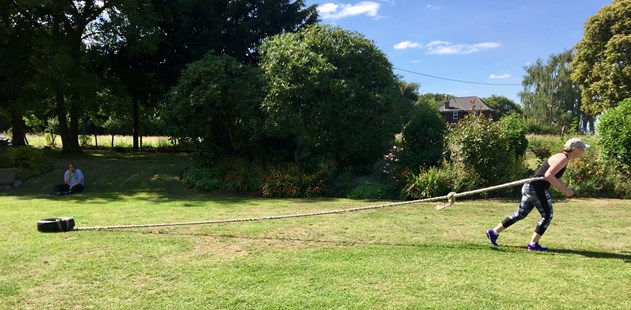 GI Jane Bootcamp is the perfect destination for women looking to achieve their personal best when it comes to fitness. The military style exercise regime is incredibly rigorous, full of fun and the healthy meals are meticulously prepared and portioned to help your body to achieve its maximum performance.
GI Jane is well known for changing women both mentally and physically week after week, and even celebrities! After spending a long weekend there we certainly witnessed why. The boot camp advocates the principle of working together and making friends for life whilst pushing your body to its own limits; the perfect mixture for an incredible fitness retreat. People return home not only with weight and inches lost, but friendships and great memories. And before you say that this boot camp is too much for you and your body, think again! It's all about your own limits, not anyone else's, and everything can be adapted to your level and pace, not to mention that you will meet ladies of all ages and shapes there.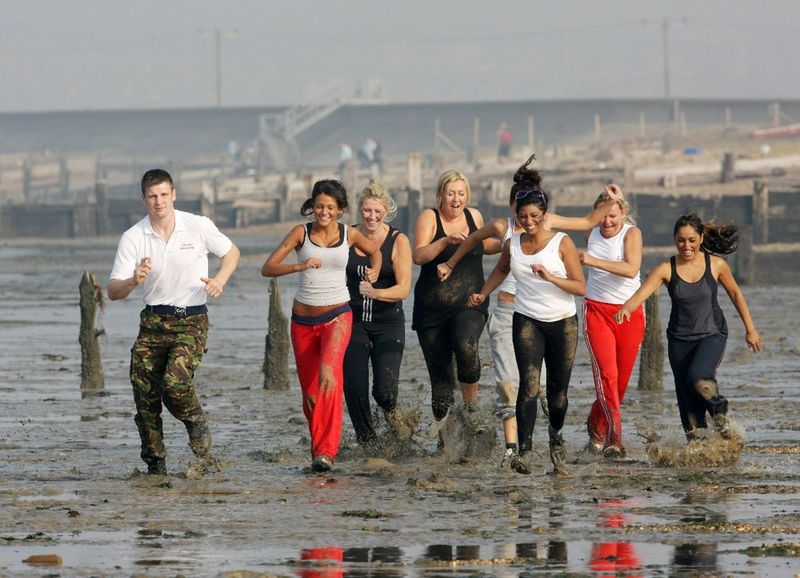 Military style exercise amongst the lovely English countryside


Getting there and what's around it

We had a super easy journey to Scuttington Manor Guest House, where GI Jane's located in Kent. We took a train from Victoria Station and in less than 1 hour we arrived at Sittingbourne Train Station. From there GI Jane organises pick-ups at 11:30 and 14:30 (depending on your day of arrival) and the taxi journey takes only 10 minutes.
Scuttington Manor is set in the beautiful English countryside surrounded by country lanes, apple orchards, sunflower fields and farmland for as far as your eye can see. It provides an inspiring setting, giving you a real sense of freedom in the great outdoors. The lanes and fields (and the occasional hills!) around the Manor are used during the boot camp programme, from the brisk morning walk to the Iron Woman Challenge.


Accommodation

Scuttington Manor Guest House is beautifully decorated and elegantly retains the charm and homely feel of a quaint countryside house. There are 7 guest rooms and the weekly maximum capacity is 15 ladies. The sharing room idea comes hand in hand with the boot camp feel and everyone seems happy to share rooms and lots of stories at the end of the day. Guests looking to have their own rooms can also be accommodated (subject to a sole occupancy supplement). We didn't spend much time inside our room at all, as we were out exercising from 7am and would only get back to shower before dinner. After dinner, we were way too tired to do anything else so it was bed time for us at 8pm!



Enjoy deluxe accommodation at Scuttington Manor House


The Fitness

The promise: You will lose a dress size in a week programme! And perhaps that's why so many celebrities are drawn to it from Kerry Katona, Jacqueline Jossa, Michelle Keegan to Josie Gibson and Lauren Goodger, have all enjoyed the benefits of their stay. Your day starts at 7am with a 1.5 hour fast walk, followed by a morning warm up, intense training, interval training, assault courses, games, obstacle courses and much more. The trainers, mostly from the Royal Navy, are incredibly motivating and kind, without losing the necessary discipline to get all the ladies going.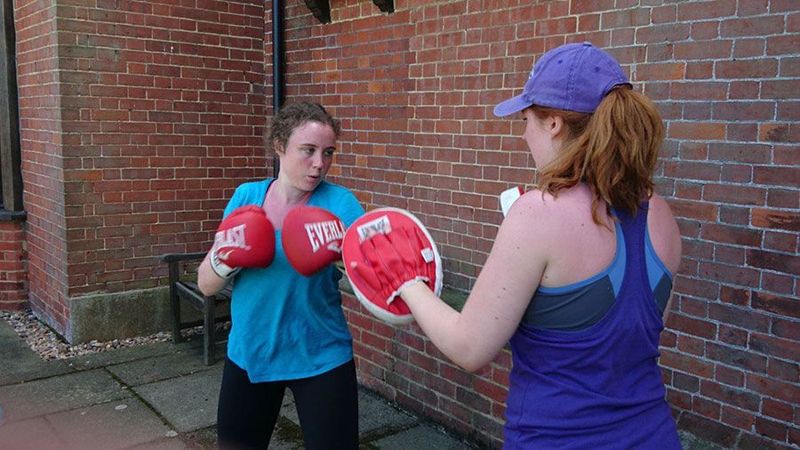 Work hard at GI Jane's vigarous boxing sessions

We particularly enjoy the boxing sessions, the team sports and the unforgettable Iron Woman Challenge (running up and down hills carrying survival equipment). The sense of achievement after these tasks is truly priceless.
At the end of the day with very tired legs you are invited to take a 3-5-minute dip in the ice water barrel. This was a little bit of a struggle getting in as it's very chilly but certainly worth it as the cold freezes the lactic acid build up in the muscles, it really helps with muscle recovery and with easing stiffness. 


The Food

All the food is freshly prepared, healthy and delicious, and just about enough to keep you going. Portion control is a crucial element of GI Jane and it really opened our eyes to how much we indulge in big food portions at home. The menu is designed to maximise the performance of your body when exercising and Cathy, the lovely smiley chef, can tell you all about it once you are there. From super-food soups to delicious chicken casseroles expect the best of homemade natural food and be prepared for caffeine & processed sugars-free week; your body will thank you so much for it!


The Staff

Sharon, the founder of GI Jane Bootcamp is extremely supportive of every woman attending the boot camp, she perfectly understands the journey of every woman and the obstacles that you will inevitably face during your stay. The trainers are tough and will make sure you push your body to its own limits, but they are also kind, funny and motivating. Very quickly you will build a girl-power atmosphere with your fellow GI Janes and this will inspire you to achieve a level of fitness that you probably never thought possible. Emma and Susan were the super-stars of our stay and we can't thank them enough for all the enthusiasm, drive and warmth. They are extremely knowledgeable and passionate, military standard personal trainers at the top of their game!



Claudia & Rebecca with the friendly GI Jane owner & trainers


What to take

Nearly all the activities are done outside so take plenty of active wear (GI Jane offers a laundry service once a week). You will need a good pair of trainers for jogging and a second one for getting wet and muddy. The kit list provided after you book is a great tool, so make sure you check it before packing. Don't worry about taking smarter clothes for the evening meals, everyone goes to the dinner table in their PJs, which is perfect considering how tired you are at the end of the day. 
Make sure you take your own toiletries and hair dryer. Swimwear is also useful for the ice bath, room clean and change of towels is done once a week, but if you need anything in the meantime you just need to ask.


Our Diary and results

This is how we managed to wipe off 6lbs between the two of us in 3 days! And the results continued after we washed the mud off our trainers back home! We lost another 2lbs each and have kept it off.
Friday:
14:30               Pick up from Sittingbourne station
15:00               Check-in         
16:00               Fitness assessment including a 1-mile run + series of basic exercises + weigh in and measurements
18:30               Dinner – Mushroom stuffed peppers 
20:00               Lights out
Saturday:
07:00               Fast walk around the local fields and farms
08:30               Breakfast – Muesli, porridge or Weetabix
09:30               Circuit training 
11:00               Snack time – Oat cakes and scrambled eggs
11:30               Bums & Tums work out
13:00               Lunch – Vegetable soup followed by pears
14:00               Iron Woman challenge
15:00               Snack time – Grapes & nuts
15:30               Bucket ball game
17:00               Ice bath and shower
18:30               Dinner – Chicken & vegetable stir fry
20:00               Lights out
Sunday:
07:00               Fast walk around the local fields and farms
08:30               Breakfast – Muesli, porridge or Weetabix
09:30               Group fun & active games 
11:00               Snack time – Omelette on crackers
11:30               Tabata & Boxing work out
13:00               Lunch – Mackerel on a bed of beetroot salad
14:00               Military assault course 
15:00               Snack time – Hummus on crackers
15:30               Kwik cricket game
17:00               Ice bath and shower
18:30               Dinner – Chicken casserole
20:00               Lights out
Monday:
07:00               Fast walk around the local fields and farms
08:30               Breakfast – Muesli, porridge or Weetabix
09:30               Weigh in, measurements and results
10:00               Departure to Sittingbourne station


Our Verdict

GI Jane is the perfect destination for women looking for a bootcamp retreat and a fitness challenge, a healthy-life-style kick start and to lose weight. We had such a great weekend! We got to truly understand our own physical and mental limits and how to differentiate one from the other, whilst making great friends and creating lovely memories along the way. We highly recommend to solo travellers as well as to groups of friends. It's all about getting to know your own limits and working in your own pace; accepting your body and feeling good about yourself.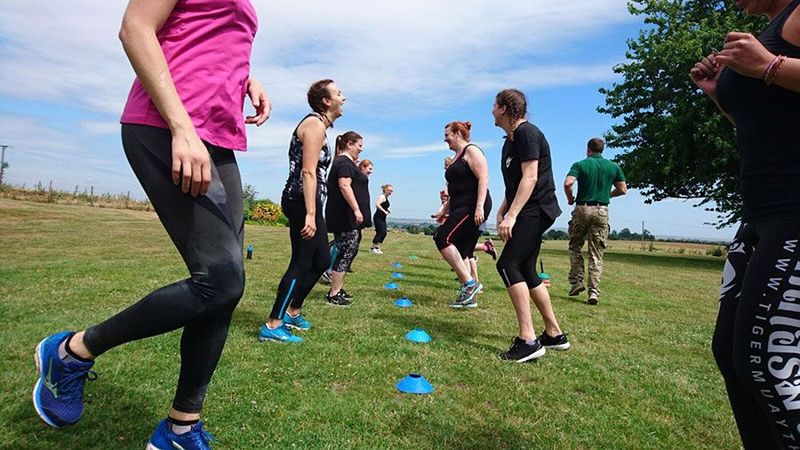 Wide range of activities set to help you achieve your body goals


How to Book
To request a quote or for more information visit our GI Jane page here. 
Talk to one of our Travel Specialists on 0203 397 8891 or contact us here to discuss tailor-making your perfect wellness holiday.


Fact Box
Best time to go: All year round
Months to book in advance for: Summer 
No. of rooms: 7 
Check-in/check-out: check-in 15:00 / check-out 10:00 
Wi-Fi: Complimentary and available in all areas
Alcohol: Not allowed
Nearest Airport: London Gatwick
Nearest Train Station: Sittingbourne
Address: Scuttington Manor, Dully Rd, Tonge, Sittingbourne ME9 9PA