Get Fit, Olympic Style!
03 August 2012

03 August 2012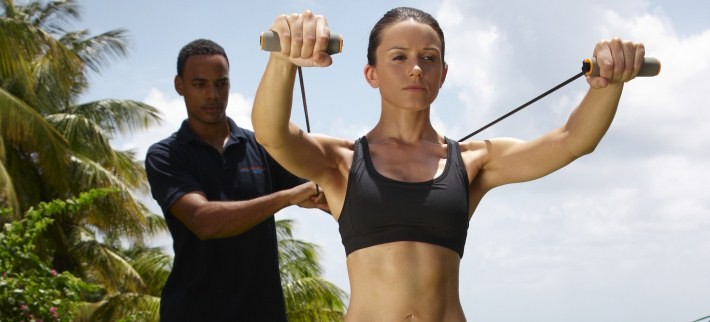 The past several days have brought no shortage of perfect physiques to our screens. The fine form and outstanding achievements of the Olympic athletes are enough to make anyone feel guilty. But don't despair- many of the sports we've seen are easily accessible to everyone and it's never too late to start working on your physique, so why not try getting fit Olympic style?
1. Train like an Olympic athlete
Want to row like Redgrave and cycle like Bradley? Olympians don't win medals without being completely committed and determined to succeed. Becoming an athlete requires dedication to training and a structure of long and short term training goals. Try to create a schedule of activities and sports that you want to try out and set yourself some realistic objectives. That way it will be much easier to track your progress and achieve your aims, as well as the satisfying feeling that comes with noticing an improvement!
2. Tone up
If you've been wondering how to get a figure like Phelps, the answer is probably to do as he does! Swimming is one of the best sports for overall body toning and conditioning and is one of the most effective ways to burn calories. All of the muscles in the body are utilised, with little impact on them, meaning you can gradually tone up and strengthen muscles without placing too much stress on the joints either. Likewise, if you're after a lean and toned body, boxing is one of the best sports out there. When you're not throwing a punch, chances are you're ducking and diving, giving you a total body workout. Boxing is perfect for toning the bum, quads and arms and will enhance coordination and agility, without causing you to bulk up.
3. Take on a challenge
Many people put off starting their fitness plan until the next day… and the next. It can be difficult to muster up the motivation needed to get going, so throwing yourself in at the deep end and taking on a proper challenge can be the perfect way. A boot camp will give you the professional support needed to get fit and the close-knit groups will encourage you to stick at it. A mixture of intense physical training, health coaching and nutritional meals enable you to see instant benefits and improvements which you will want to maintain long after the boot camp. It may be hard work and a real challenge, but the return on your investment is definitely worth it.
4. Take care of your health
For Olympians, how you fuel your body is equally as important as how often you train. A balanced and nutritious diet is fundamental to achieving overall well-being. This means consuming the appropriate amount of calories according to each individual in order to maintain energy, and eating everything in moderation. A balanced diet should include a combination of proteins, complex carbohydrates, dairy products and ample fruit and vegetables. When exercising regularly, don't forget to stay extra hydrated. Furthermore, plenty of rest plays a key role in an athlete's lifestyle. Try to get at least 8 hours of quality sleep each night to keep you running in tip-top condition for the next day.
5. Holiday like an Olympian
If you're feeling fired up to start a fitness regime but have no idea where to begin, a health and fitness holiday will give you all the guidance and enthusiasm you need. With an extensive range of activities on offer in beautiful locations, you can take your pick from a cycling break, detox holiday, boot camp and many more. Not only will you leave feeling fitter and in much better health, but the good habits you acquire will make sticking to the health plan at home that extra bit easier.


Here are a few recommendations to inspire you to get fit Olympic style: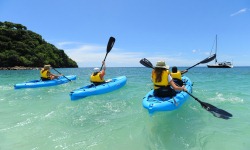 Swimming and Water Sports
The BodyHoliday
has a beautiful pool to start the day off with a morning swim and a variety of water sports if you're feeling more adventurous later on. Have a go at scuba diving, water-skiing, kayaking, windsurfing, sailing, paddle boarding and snorkelling in the sparkling blue waters of St. Lucia.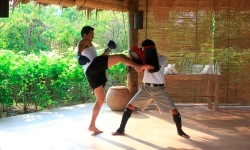 Boxing
Try your hand at Muay Thai kick-boxing training sessions at
Absolute Sanctuary
in Thailand. Guests will receive a fitness assessment, personalised fitness sessions and a wellness consultation designed to help you reach your fitness objectives. Plus, you can enjoy spa treatments and yoga classes alongside your training.
Cycling
Thanyapura Sports and Health Retreat in Thailand offers many
cycle routes
all for different abilities. You can swim, run, cycle as part of the
triathlon
progamme. There are 80 classes on offer each week with everything from mind training to Muay Thai boxing, core training, yoga, Pilates, spinning and Zumba. There are also indoor and outdoor tennis courts, two Olympic size swimming pools, mountain biking trails and an athletics track.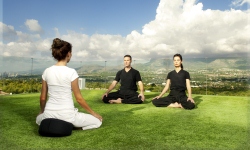 Detox Holiday
Learn how to lead a healthy lifestyle with a balanced diet at
SHA Wellness Clinic
in Spain. The programme will purify your body and you will receive a personalised post-treatment health plan and follow-up consultations even after you leave.
Boot Camp
Challenge yourself at the
Buccament Bay Luxury Boot Camp
in St. Vincent and the Grenadines. Daily intense physical training exercises with two ex-Royal Marines, accompanied by a healthy diet, will encourage you to attain and sustain your fitness goals.
Talk to one of our Travel Specialists on 0203 397 8891 or contact us here to discuss tailor-making your perfect healthy holiday
.