Grilled Organic Vegetable Salad on Mashed Beetroot by Paradis Plage
03 November 2017

03 November 2017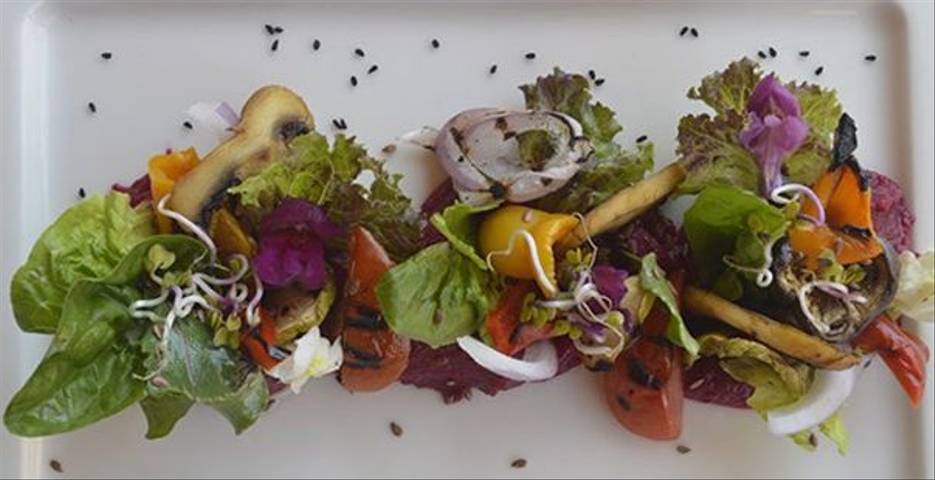 For this beautifully arranged dish, the chefs at Paradis Plage were inspired by the consistently sunny, hot Moroccan weather that calls for fresh, light meals. Fresh, organic grilled vegetables, drizzled with virgin argan oil, are paired with crunchy lettuce and a colourful beetroot puree, making for the perfect delicate summer lunch or healthy side dish, bursting with nutrients and flavour.

Serves 10


INGREDIENTS
300 g green pepper

300 g red pepper
300 g yellow  pepper
350 g aubergine
300 g courgette
1,2 kg artichokes
500 g arugula
500 g lolo rossa
600 g beetroot
150 g lemon
150 ml argan Oil
2 g salt
1,5 g Black Pepper
Fresh thyme


METHOD

1. Steam the beet in water with salt. Peel it and mash it with a little drop of argan oil and lemon juice. 

2. Add salt and black pepper to taste and place it in the fridge to cool. 

3. Cut the vegetables into shanks and season them before grilling. Drizzle over some argan oil and fresh thyme.
4. Wash the salads and arugula, arrange all ingredients to your desire. 



If you would like to book a holiday at Paradis Plage, talk to one of our Travel Specialists on 0203 397 8891 or contact us here.