How To Choose The Right Spa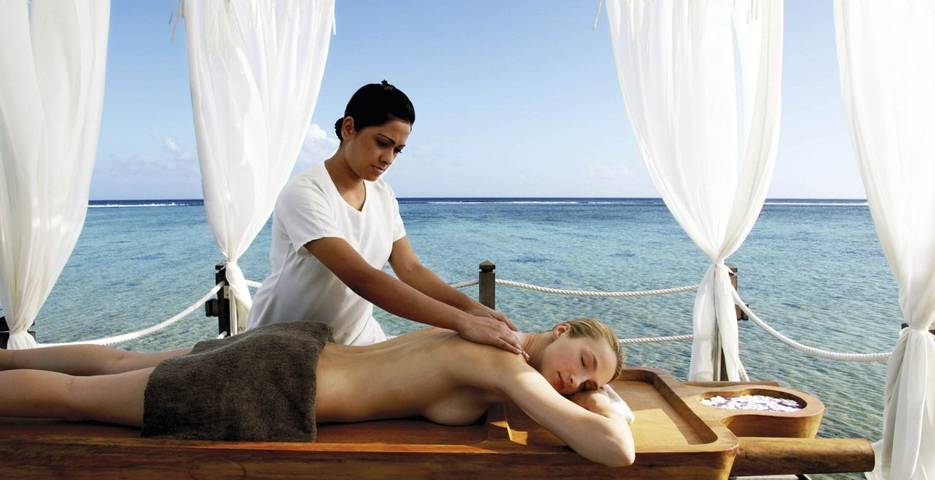 If you have ever been on a or at least thought about it, you know how difficult and time-consuming it can be to choose the perfect place for you. With the recent boom of the wellness sector and countless spa centres emerging, it can be pretty overwhelming for you to select the spa that suits your needs. From medical and Ayurvedic spas to destination and beach spas, the opportunities are almost endless making it hard for you to just pick one.
Let our ultimate spa guide help you find the right spa holiday for you to have the ultimate pampering and relaxation experience. Experience luxurious massages, facials and other treatments and soak up the relaxing atmosphere the retreats exude, leaving you refreshed and determined to come back and resume your wellness journey.
So, kickback and discover our six top tips you'll want to consider when picking the perfect spa.
Duration:


De-stress with an Ayurvedic back massage at Shanti Maurice
In order to make the most out of your wellness break, first calculate how much time you are able to spend at the spa. If you have worked extra hard the past months, reward yourself with an extended paradisiacal wellness getaway for at least one week to restore energy and sample an array of different spa treatments. Looking for a short healthy break? Just three days of massages and sauna session can help you calm body and mind, so why not book a quick but effective spa weekend to head back to the office with new-found energy and focus.
For a quick spa break: Malta: Kempinski San Lawrenz Spa
For a luxurious wellness experience: Mauritius: Shanti Maurice
Location:


Unwind with an outdoor massage amidst the scenic surroundings at Lefay Spa
Depending on time, budget and personal preferences, you can make picking the right location easier. Bearing in mind the different climates all over the world, inform yourself about the weather of your destination beforehand to avoid unexpected rainfalls and crisp temperatures, such as the monsoon phase in India. Go for a destination spa, if you want to enjoy the surroundings outside the spa as much as the treatments themselves. Scenery contributes a lot to how you perceive your spa experience, so a tropical beach spa in the Caribbean will affect you differently  than a middle-eastern wellness retreat in Dubai.
For a spring Renewal in Thailand: Bali: Ocean Soul Retreat
For an alpine winter spa break: Italy:  Lefay Spa
Intention/Aim:
When booking a healthy holiday, we usually want to target a certain area or just generally improve our overall well-being. Whether it is weight loss, de-stressing or anti-ageing, deciding what problem you want to target is essential in picking the right spa type. While Ayurveda spas focus on a serene, calming atmosphere and holistic treatments, detox spas provide strict meal plans and exercise programmes for an effective cleanse. In case you are just looking to boost your overall well-being, we have good news: no matter which spa you end up choosing, expect to return home feeling renewed and transformed.
For a healing retreat: Thailand: Kamalaya Basic Balance & Revitalise
For a fitness holiday: St.Lucia: BodyHoliday
Atmosphere:



Indulge with a chocolate scrub at the idyllic spa at Shreyas 
Despite common belief, a spa doesn't necessarily mean you have to spend your day in complete silence. Due to the large variety of different spa types, a wellness break doesn't have to assimilate a stay in a monastery anymore. While you will experience absolute tranquillity at a relaxation spa to find your inner peace and de-stress, sport spas can provide a casual, convivial environment and even interaction with other guests. Depending the atmosphere the spa should exude, decide beforehand if you prefer meditative silence or a blissful social gathering, possibly in the form of a group retreat or couple's spa. 
For a silent meditation retreat: India:  Shreyas Silent Retreat
For a romantic we-time: Greece: Divani Apollon Palace & Thalasso
Inclusions:
To prevent your spa experience from turning into a disappointment, decide beforehand what you want to do during your wellness break. Whether you discover your love for a sensual hammam session or can't end the day without having a dip in the pool, it is important to check if the spa features your favourites wellness facilities. However, be aware of what your programme includes and only make use of what you paid for as additional services mean additional costs. For a tailored wellness experience that includes fitness classes and healthy meals, consider an all-inclusive holiday that allows you to plan your holiday beforehand and then experience unwinding moments at the retreat.
For an athletic spa holiday: Thailand: Thanyapura
For a luxury wellness travel: Spain: SHA Essence
Special treatments:


Benefit from Watsu sessions at Chiva Som
Many trends are arising in the world of wellness tourism. From mindful retreats to medical spas, healthy holidays are always up-to-date and can address almost every spa seekers demand. Whether you are a health-fanatic that seeks new inspiration or just want to experience an exciting way to boost your health, the large range of spa options will allow you to learn new techniques and approaches to expand knowledge about wellness and well-being.
For a relaxing yoga experience: Morocco: Paradis Plage Spa & Yoga
For a medical spa retreat: Thailand: Chiva-Som International Health Resort
Talk to one of our Travel Specialists on 0203 397 8891 or contact us here to discuss tailor-making your perfect spa holiday.
You might like:
COMO Shambhala
The Barai
Longevity Cegonha Country Club