Samantha's Review of Freycinet Experience Walk
07 November 2016

07 November 2016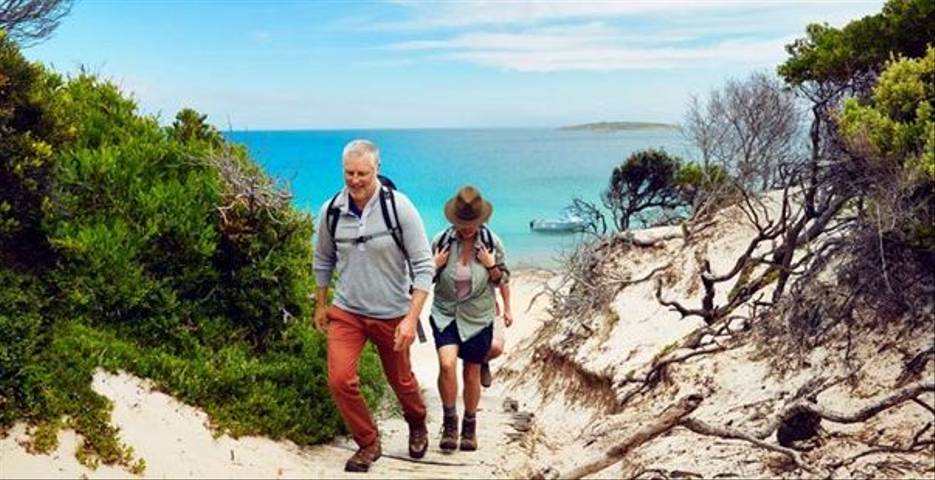 Freycinet Experience Walk and Who it's for
Freycinet Experience Walk is an excellent multi-day walking tour (small groups max 10) taking in some of the most awe-inspiring terrain of Tasmania, ideal for budding botanists, bird & wildlife enthusiasts and nature lovers will be right at home here as well as those wanting to disconnect from the stress of everyday life and explore the rich history of the area, follow the tracks of local aborigines tribes, explorers, settlers and other lucky bushwalkers.
Guests come from all across Australia and the world to take part in this experience and from all ages and walks of life (no children under 16 unless part of a private group). Solo travellers are welcome and can have their own private room at no extra cost and there was even a couple enjoying a healthy honeymoon amongst our group.


Getting There
Guides and guests meet at The Old Woolstore Apartment Hotel in Hobart before a 3-hour drive to Coles Bay. Guests who are self-driving can meet at the departure point for the boat journey if they prefer. Due to an early morning departure on the first day guests are encouraged to arrive at least the day prior and it's a great chance to explore more of Tasmania – just ask us and we can advise.


The Hotel & Accommodation
Each guest taking part in the Freycinet Experience Walk will stay in environmentally sustainable luxury Friendly Beaches Lodge which is exclusive to walkers on the tour. The property does not have mobile phone coverage and guests are encouraged to charge battery's on cameras before departure and to switch off and enjoy a technology or e-tox, though there is some coverage during the walks if required. Water is collected from rainwater tanks and all power comes from solar panels, hot water for showers is supplied by gas.
Two accommodation lodges branch off from the main lodge, called North and South lodges and house double and twin rooms to suit everyone's accommodation needs. Both incorporate a relaxed lounge area with a cosy wood-burning stove, a bathroom with a claw foot bath, a separate shower room and two composting toilets.
Soak in the bathtub post hike (L) Relax in front of the fireplace in the shared lounge (R) 


The Fitness
Freycinet Experience Walk is graded as moderate – anyone who is medically fit and healthy will enjoy it. Please note, however, that those who choose the Mt Graham route on Day 2 can look forward to a more challenging walk and guests will need to be relatively fit and the weather suitable to ensure guest safety which is paramount, however the climb will be rewarded with the magnificent views. The tracks are all formed tracks in the National Park and the guides are on hand to help you every step of the way.
Travel Specialist Samantha (front row left) and fellow guests after hiking on day 4)
 
The Food
The amazing cuisine prepared by lodge managers Daniel & Hannah was as delicious as they were lovely, incredible! Enjoy mouth-watering fresh fish and look out for the vanilla bean and goat's yoghurt panacotta with summer berries and fresh macerated basil. All meals are sourced from the best of local gourmet produce and dinner each evening is set by candlelight and paired with delightful Tasmanian wines.
All dietary requirements can be catered for and there was a lot of food, morning tea, canapés and more so pack your appetite or feel free to ask for smaller serves.
Soak in the bathtub post hike (L) Relax in front of the fireplace in the shared lounge (R)


The Staff
The group was led by two professional, welcoming and caring guides Luke & Renee, whose knowledge of the tracks, flora and fauna and history of the area was quite astounding. They were passionate about their jobs, enthusiastic and fun. Nothing was too much trouble and they made the trip truly memorable.


Highlights
There are many highlights throughout but I was mesmerised by the white sand at Wineglass Bay and the incredible vista from the top of the National Park on our last day, looking back across the varied landscapes we had travelled during our walk. Freycinet is also a great place to go bird watching. Look out for the white-bellied sea-eagle gliding overhead or large Australasian gannet diving for food in the ocean.


The Scenery & Surroundings
The walk takes place in Freycinet National Park which is home to dramatic pink granite peaks, secluded bays, white sandy beaches and abundant scenic lookouts that will take your breath away. Situated on Tasmania's beautiful East Coast, the Park occupies most of the Freycinet Peninsula and looks out to the Tasman Sea from the eastern side and back towards the Tasmanian coastline from the west.
Friendly beaches is a pristine beach with clear, cool water perfect for a dip post walk. The eco-lodge is cleverly hidden from sight and serves as your own secret hideaway.
My Summary & Verdict
Offering an active luxury holiday experience, all of the Great Walks of Australia are designed to allow you to experience the remoteness and tranquillity of a wilderness experience in comfort and the Freycinet Experience Walk is no exception. This is a soft adventure walking holiday, where guests carry only daypacks, the food is plentiful and gourmet, you will enjoy some of Tasmania's best scenery and a comfortable bed awaits you each night. To increase your wellbeing, grab a yoga mat and stretch post walk on one of the decks. Or head down to the beach for some sunrise meditation or soft sand running or if you are a keen surfer bring along your board and carve some waves before breakfast.
Book through Health and Fitness Travel and receive special bonus Kathamandu voucher to put towards your hiking gear, ask us for more information.


The Great Walks of Australia Collection
Freycinet Experience Walks is part of an exclusive collection of some of the best multi-day walks Australia has to offer 'Great Walks of Australia' together they cover most of the iconic landscapes of Australia:
How to Book
To request a quote or for more information visit our Great Walk of Australia page.
Talk to one of our Travel Specialists on 0203 397 8891 or contact us here to discuss tailor-making your perfect wellness holiday.
Find out Why to Book with Us and further details on How to Book.
Fact Box
Best time of the year to go: November to April 
Months to book in advance for:All times of the season have their own benefits. 
Nov – Dec: Wildflower paradise, with a chance of seeing whales 
Jan – Feb: Warm weather, longer days, swimming and birdlife. 
March – April: Stable weather, autumn trees are in bloom, star gazing. 
No. of Rooms: 6
Check-in/check-out: 3pm / 11pm
Wi-Fi: Not available and limited phone signal
Children: No children under 16
Reception/Room Service: All meals are catered. No room service. 
Alcohol: Yes. Included. 
Nearest Airport: Hobart (HBT) 
Airport transfer time: 3 hours 
Address: Coles Bay, Tasmania