The Health Benefits of Swimming on Holiday
11 February 2013

11 February 2013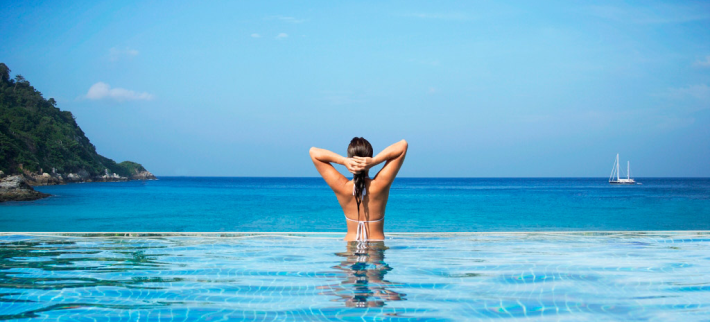 We all look forward to a much-anticipated dip in the swimming pool on holiday or snorkel in the sea, but do we ever take into account the rewarding effects it has on our bodies? For many of us, swimming is more of a hobby rather than exercise and a quick swim can be an excellent way to unwind and de-stress or cool-off on a hot day. But few people actually consider the positive outcome it can bring about for our health. With some of these tips, why not try and make your next trip to the retreats pool or the beach a more beneficial one?


Why swim?
Like many other sports, swimming is a great cardiovascular exercise, strengthening the heart and the lungs. The resistance of the water is much greater than that of air, hence why it is great for calorie burning and building endurance. An hour of intense swimming can burn up to 650 calories, which is more than the equivalent time spent cycling or walking and a great method to achieve your weight-loss goals. However, the low-impact nature of the sport means it is significantly gentler on the joints than other activities such as jogging or walking, where our joints are subject to a great deal more impact and shock from hard surfaces. In addition, swimming causes less stress on the body's cooling mechanisms in comparison to other sports practised in the open air.
The most important factor to bear in mind is that swimming brings into action virtually all of the muscles of a human body when different strokes are practised, but without any forceful impact on these muscles. This, combined with the buoyancy of the water, means it is the ideal way to rehabilitate muscle injuries or joints and muscles which have become stiff over time. For this reason it is the ideal holiday exercise for the elderly as it also aids the ease of other complications such as back pain. By exerting effort through movement when swimming, the muscles will gradually become more conditioned and toned, and counter the negative impact that activities such as weightlifting may have.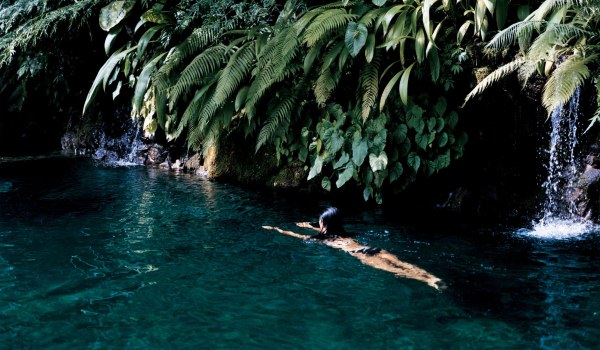 Swimming in the Kedara pool at the Como Shambhala Estate in Bali


How to maximise the benefits of your swim: 
The results gained from swimming will, of course, be much more noticeable if practised regularly and beyond your holiday as it will take some time to develop and improve upon your technique. Going for a few shorter swims every week will be more help than longer, less frequent swims and your skills will improve more rapidly. When on a healthy holiday, it can be so easy to pop for an early morning swim so why not make this an everyday habit!
It is also important to mix up different swim strokes and techniques to maximise the positive outcomes of a workout, so try to switch between breaststroke, backstroke, front crawl and butterfly. Moreover, swimming with a partner can often make exercising feel like less of a challenge and give you motivation and encouragement.
Remember to also consider your breathing; swimming will enable you to develop good breathing practices, particularly of importance for those who suffer from conditions such as asthma. Perfecting your breathing will enhance the efficiency of your stroke and improve your endurance, meaning you can swim for longer. This involves learning to exhale under the water before coming up for air and to keep your head still when under the water so as not to affect your coordination.
If you like the idea of getting fit through a low-impact sport, there's no better option than swimming and with a variety of stunning pools available at our healthy holiday destinations, there's never been a better place to get started. Therefore we have rounded up our top 5 holiday destinations that will inspire you to make swimming a healthy habit...
Holiday destinations for an inspirational swim: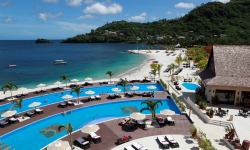 Lefay Resort and Spa
Lefay Resort and Spa in Italy has a gorgeous infinity pool overlooking the mountains and Lake Como, offering the most idyllic setting to go swimming on your fitness holiday. Plus, they also have an indoor pool with a sensor door so you can swim directly outside, wonderful especially at night under the stars.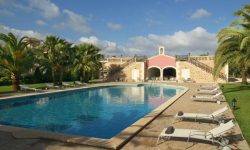 SHA Wellness Clinic
Spain
Alternatively, you could travel to
SHA Wellness Clinic
a medical spa close to Alicante, a beautiful boutique hotel with stunning views of the sea and mountains.  Here you can enjoy full use of the outdoor indoor pools with an amazing Hydrotherapy circuit.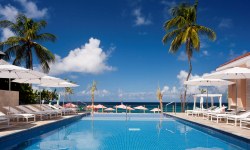 St Lucia
This luxurious spa resort on the island of St Lucia sits on Cariblue's crescent shaped beach and gives you a choice of three swimming pools for you to work on your technique. What's more, you could go on an adventure tour to Smugglers Cove for some ocean swimming classes.
Euphoria Retreat
Greece

Set in the rugged mystical Taygetus mountain range, 

Euphoria

 Retreat is somewhere you can escape to experience a true state of happiness and bliss.  The tranquil 

Euphoria

 Retreat SPA boasts water Kneipp therapy, utterly relaxing foot baths and an innovative sphere pool. With custom designed wholesome cuisine, beautiful surroundings, luxurious suites and comprehensive wellness programmes to choose from; 

Euphoria

 retreat is a real hidden gem.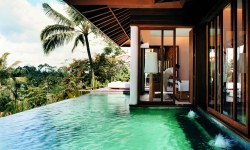 Bali
Why not go for a luxury getaway at the multi-award winning
Como Shambhala Estate
amongst the jungles of Bali. Ideal for a
singles holiday
or a
couples' healthy holiday
, Como Shambhala creates a truly serene atmosphere. You will never be far from being able to go for a swim here, with each outstanding private villa coming with its own infinity-edged pool, setting the tone for this unparalleled experience.


Talk to one of our Travel Specialists on 0203 397 8891 or contact us here to discuss tailor-making your perfect healthy holiday
.