A Yogi's Travel Guide to India
11 August 2016

11 August 2016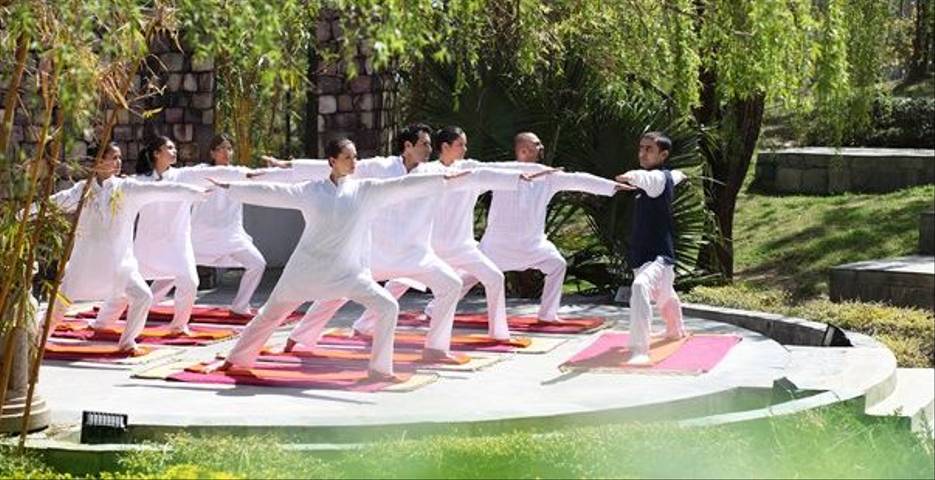 Those in search of purifying freedom from daily life will find absolute rejuvenation at any of our yoga holidays across the globe. Yet, for the ultimate yogi experience, take some time out and travel to the birthplace of yoga with our luxury retreats in the majestic country of India. We have created the ultimate Yogi Travel Guide for this rich and vibrant nation, where you can experience the ancient spiritual release of healing your mind, body and soul.
Immerse yourself in personalised yoga sessions and traditional healing spa therapies, targeting all aspects of your body and spirituality. You are free to enjoy the privacy of uniquely designed wellness programmes adapted to suit your individual needs. Also, you can actively embrace group meditation sessions to connect with like-minded souls going through the same spiritual journey as you. Make the most of the combined power of our yoga and culture holidays by reconnecting your mind and body in a magical setting, allowing you to achieve pure undisturbed calmness.


The Birthplace of Yoga
Yoga can be traced back over 5,000 years to its rich Indian heritage. The word itself originates from the Sanskrit 'Yuj' meaning to join or unite. From this, we can trace the progression of ancient Vedic yoga aimed at creating spiritual harmony, to the more classical yoga understanding of purifying and re-energising the mind and body.


Weather
The climate of this sacred country reveals the undeniable beauty and also the absolute ferocity of their extreme seasons. For a cooling experience, the winter season from December to March ranges from 15-25°C across the country, whilst the pre-monsoon season reaches much greater humidity between April and June. Research carefully before you travel to experience the true wonders and vibrancy of India.


Visas
A visa is a necessity for all travellers but having the correct one to travel is essential. British citizens should check their eligibility carefully to apply for an e-Tourist Visa. A regular tourist visa is only applicable for recreational travel and is normally issued for 3 to 6 months with single or multiple entries. Visas cannot be extended or converted during your travels.


Vaccinations and Immunizations
Immunization courses or boosters should be updated before you travel. Vaccines are required for risk of exposure and underlying medical conditions, but those usually advised include Hepatitis A and Typhoid, which can both spread through contaminated water. We advise contacting your doctor for the latest information as other vaccinations may be dependent on your destinations in India.


Where to go for a Yoga Retreat in India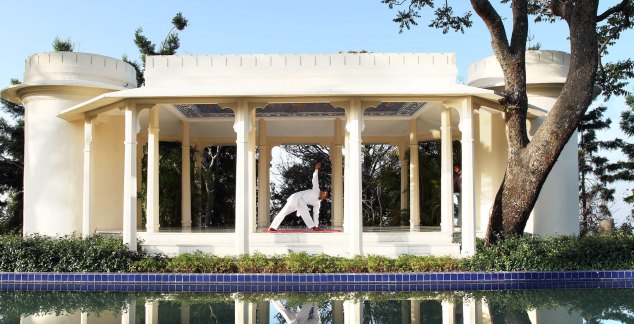 Practice yoga in total tranquility at Ananda in the Himalayas

Set at the foot of the stunning Himalayas, escape to peaceful surroundings at this healthy yoga retreat in India, designed to de-stress and focus on the well-being of your body, mind and soul. Through personalised yoga sessions and group meditation classes, discover the importance of breathing exercises and spiritual exploration through the introduction of Pranayama breathing and yoga nidra. Further enhance your well-being with luxury spa treatments and therapies on a yoga and spa holiday to retain a feeling of calm throughout your stay. Enjoy everything from a grounding salt scrub to exfoliate and renew skin cells, followed by a relaxing aromatherapy massage.

More information: View Ananda in the Himalayas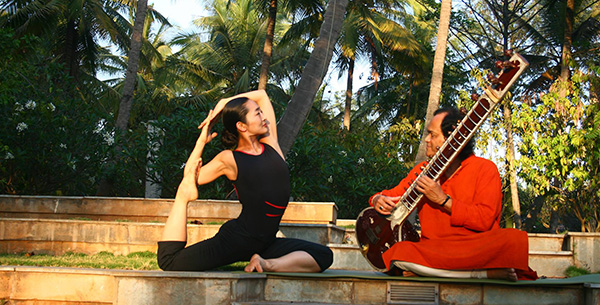 Learn from the pros and perfect your yoga technique at Shreyas

A haven of well-being, this tranquil yoga retreat is set within 25-acres of lavish grounds on the outskirts of Bangalore. Whether you are an expert yogi or someone who wants to learn yoga on holiday discover the ancient spiritual traditions of the practice through a selection of private yoga, Pranayama and yoga nidra sessions. With private meditation, as well as group chanting and sound meditation classes, find your zen on a yoga and meditation holiday which offers a calming atmosphere conducive for mindfulness exercises. Heal your body, mind and soul with rejuvenating massages and cleansing vegetarian cuisine, before immersing yourself in India's local culture with visits to nearby schools and orphanages.

More information: View Shreyas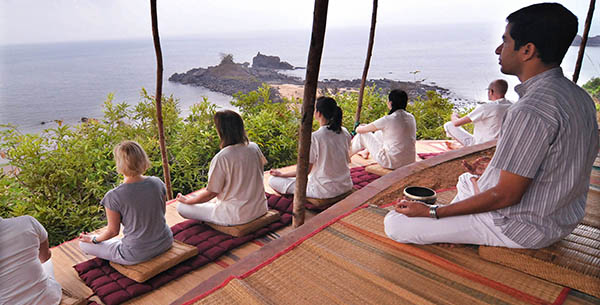 Soak up the atmosphere whilst practising yoga at SwaSwara

Tucked away in the secluded countryside of India's West coast, just a short stroll from the sandy shores of Om beach, lays SwaSwara. Restore your inner vitality with the fusion of the holistic practice of yoga with luxury Ayurveda Abhyanga spa massages. Target all aspects of your inner self with private yoga practice, yoga workshops, a full day of yoga Kriyas and a day of antar mauna (inner silence) for a transformative spiritual and holistic holiday experience. Cleanse your body with a personalised vegetarian diet and re-connect with the elements as you breathe in the fresh ocean air on an invigorating boat cruise.
More information: View SwaSwara
Talk to one of our Travel Specialists on 0203 397 8891 or contact us here to discuss tailor-making your perfect yoga holiday.