Adam's Review of Paradis Plage in Morocco
10 January 2014

10 January 2014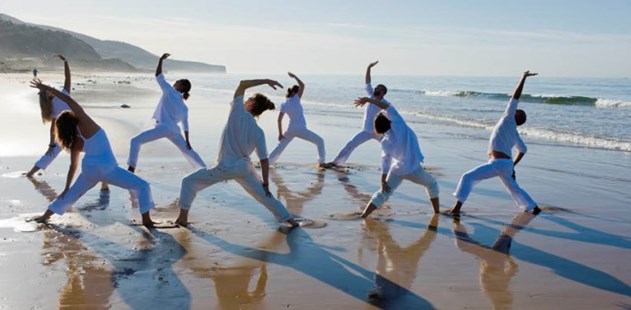 Paradis Plage; a 4 star beach resort in Morocco offers a tempting mix of yoga, surfing and spa for a healthy holiday. I booked myself in for a week on the Spa & Yoga programme, along with our Fusion Fitness programme to supplement my week with daily 1-on-1 sessions with the personal trainer; my goals were relaxation, rejuvenation and fitness. Just north of Agadir, Paradis Plage is perfectly situated on the beach west-facing. It's so close to the sea you can hear the sound of the ocean from whichever accommodation you're staying in, and in the evenings you can see the most beautiful sunsets. 
Morocco's weather is typically very warm and has an average daytime temperature of over 30°C (86 °F) in the summer and 24°C (75 °F) in the winter, with seldom any rainfall. The average age of its clientele ranges between 25 and 50, from mothers and daughters on a yoga and spa holiday, to fathers and sons on a fitness and water sports holiday, with the surfing attracting a few groups from outside the hotel. Most reading collateral is in English, especially all the important considerations such as restaurant menus, although as Morocco is predominantly French and Berber speaking, where French is the fluent language spoken amongst staff, English is a secondary language. It's adult-friendly with all the main activities adult-based. Open to families, it makes the resort suitable for all types of travellers whether for singles, couples or groups.
The sunset view from my bungalow


I stayed in one of the specially requested Bungalows, a spacious and idyllic one bedroom accommodation near to the ocean. With a total of 104 Suites, Bungalows and Villas, Paradis Plage is neither a small nor a large resort. Each suite has its own small kitchen, of which you can purchase food and groceries from a small supermarket a 10 minute walk away or from the selection of very small local shops right next door. All of the hotel's facilities are located close by one another, with a central swimming pool, and a pleasant and relaxing covered outdoor lounge deck overlooking the sea. The front of the resort features a communal group fire in the evenings, subtly hidden sunbeds, a weaving pebbled path and beautiful butterflies that flutter around the green bushes.
Paradis Plage as a yoga holiday really is somewhere I couldn't recommend highly enough, of which I have great memories. The yoga class in the sunset with the candles lit, waves crashing, sun, moon, beach, wind, was incredible. An experience I'll never forget - I would come back here just for the yoga. Set away relatively isolated from other facilities, there are no mirrors so you can completely focus on your inner awareness and the surrounding sound of nature. Nicolas, one of the main yoga teachers has 17 years' experience having taught in France, India and Australia. There's also a separate small studio occasionally used by the spa, but also perfect for some solitary yoga or meditation. I would typically combine my day with one of the Sunrise or Sunset classes, timing well just before breakfast and dinner.
After breakfast I would look out for a group surf lesson, indulge for lunch, followed by the group fitness class at 4pm, finished off with an unwinding spa treatment before relaxing at dinner time at the end of the day! The spa is set underground, away from any noise and offers a tranquil ambiance, with two hammams, a traditional hammam, and a few other treatment rooms including a relaxation room. I had in total 3 spa treatments, out of which my favourite was the traditional hammams; making it a nice option for a spa holiday with either the yoga or surfing.
The view from the yoga studio (left). A private 1-on-1 yoga lesson with Nicolas (right).


The focal fitness area is the purpose-built outdoor zone, ideal for personal training sessions so it can be anything you choose it to be; I mixed my training with Momo, the personal trainer, to include TRX, circuit training, Body Pump and boxing. He always encouraged good technique; always correcting my posture, so my private sessions were something that I really looked forward to each day. A very light-hearted and fun yet serious trainer, Momo has experience in a range of fitness techniques and equipment. There is a very small gym too, with a few machines, but with outdoor training on the beach, the sea, the swimming pool, Paradis Plage really is a great place for a personalised fitness holiday. There are complimentary group fitness classes usually twice a day too, with typically less than 5 people in each class.
Personal training with the fitness instructor, Momo.


The surfing at Paradis Plage is excellent. Stepping into the surf centre and bar/cafe you feel mellowed by the alternative-reggae styled music. Situated centrally on approximately 5km of clean and soft-sanded beach, the waves are ideal for a beginner or intermediate level. Most of the time we would walk to the nearest spot to pick the best waves on the beach, or with a short drive to the best available spot if the waves were low. Somehow I managed to break a surfboard on my first outing! Later on in the week I decided to take the opportunity and experience SUP (Stand Up Paddleboarding) for the first time. It was great practice that complemented my surfing, requiring good skills to balance on the board. The water temperature was 19°C (66 °F), so even though I fell in the water a few times, I didn't mind! There are opportunities every day for group surfing lessons with private lessons also available as a choice from our Fusion Fitness program. Wetsuits are provided for all water sports activities.


Taking in the fresh air after a morning surfing lesson


Dining at Paradis Plage is pleasant. In the main restaurant, Le 27, you can see the chefs cooking through glass windows.  If you're looking for a menu full of extremely healthy options, Paradis Plage may not meet your expectations; however the chefs are flexible from special requests with notice. Overall I thought the food was good and the staff were all very pleasant with good-hearted attention. One thing to note is that there are a few clean cats that wander around looking for food, but they were friendly.
If you're looking for a relaxing spa, fitness, surf or yoga holiday (or a combination of all four), that's not too expensive; Paradis Plage is a perfect option for a healthy holiday. The superb beach-front location makes for a great active and beach spa holiday in the sun.
For more information view: Paradis Plage
Talk to one of our Travel Specialists on 0203 397 8891 or contact us here to discuss tailor-making your perfect wellness holiday.