Adam's Review of Thanyapura in Phuket, Thailand
10 February 2015

10 February 2015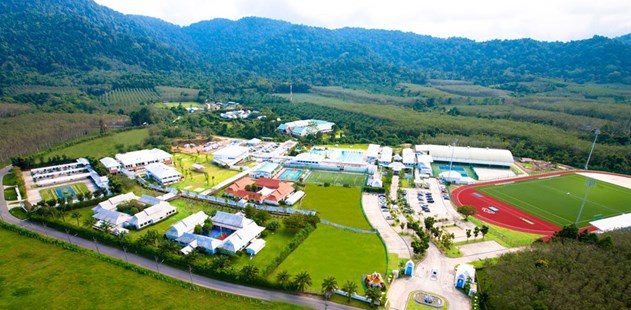 What is Thanyapura and who's it for?

Set alongside surrounding mountains in 23 hectares, Thanyapura attracts sports, fitness and health enthusiasts from all over the world aged from their 20s to late 50s. It's an ideal place for an activity holiday if you have an established fitness-level and training routine or even if you'd like to immerse yourself in a truly world-class sports facility if you are less experienced with training available. Their marketing has an athlete-targeted approach but in reality is open for everyone at all levels.


Getting There

As an international airport Phuket is extremely well-connected in Southeast Asia. Direct flights operate from airports including Bangkok, Singapore, Hong Kong and Kuala Lumpur with a short 20 minute hassle-free transfer to the hotel.


The Hotel & Accommodation

The Sports Wing (aka Sports Hotel) is the modern, spacious and overall better of the two wings with rooms surrounding a pool suitable for nearby access to the sports facilities. The basic Garden Wing (aka Retreat Hotel) is the cheaper lead-in category suitable for solo travellers looking for a secluded and quieter stay situated just a few minutes from the main facilities, making this a good option for a singles holiday.
Most of the main buildings inside are impressive or aesthetically pleasing, but some of the connecting pathways are neglected slightly, although I was reassured this would be changed. Despite the large facilities, distance-wise you're not far away from wherever you need to access. You can view a map of the resort here.
Families can be catered for with a comprehensive child/babysitting club and service.


Travel Specialist Adam about to start his private tennis tuition (left) and swimming tuition (right)


The Sports Academies & Facilities

There's always a hub of activity with regular daily group activity classes (click to view example schedule) with usually between 5 to 15 classes to choose from a day ranging from spinning, bootcamp, mind training, Pilates, Zumba, Muay Thai and yoga. Facilities are open daily from 06:30 – 22:00. Additional facilities include a Muay Thai boxing ring offering classes and 1-to-1 training and there's also a multi-purposed meditation room for optional mind performance training.
Thanyapura makes a great destination for a tennis holiday. During my stay I particularly enjoyed the coaching standards of my tennis tuition run by the accredited PBI association on the plexi-cushion courts – the large cover meant playing tennis was enjoyable without the sun beating down on you.
The main facilities include:
3 x Swimming pools (Olympic sized, 25m & 20m)
Rugby/Football pitch
Volleyball Courts
6 x Tennis courts (4 sheltered, 2 outdoor)
Fitness, Muay Thai & Spinning Studios
Fitness Centre (900sqm)
Futsal pitch
Athletics Track
Mind Training Centre


The Cardio training room (one of the two fitness centre rooms)


Thanyapura features modern and technical-based personal evaluation such as video analysis for tennis, swimming, biking and running; oxidative stress measurement; and hypoxi altitude training. More is available than meets the eye and all accessible outside your normal programme inclusions. Alongside the sports facilities lies the spa occupying a set of plain rooms for normal spa and specialist treatments ranging from heart and cancer prevention, hormone and stem cell therapy and a range of doctors available in fields.
Hidden away is a 17-station bootcamp course – the most impressive of our entire collection of fitness holidays. You can use this in the mornings and request so as part of your personal training.
Most of the sports facilities here cater for children with separate classes, so if you're interested in any of our family holidays for health conscious, active and sports lovers, Thanyapura is one of the best in our whole collection.



Phuket and neighbouring Phang-nga are routinely used for long-distance Triathlon bike rides


The Food

With primarily one restaurant, DiVine serves a variety of international cuisine with an emphasis on organic options with a selection of juices and smoothies. Two cafés serve up a host of normal café food and some surprisingly sweet offerings. Overall the food at Thanyapura is very good; a la carte is always available with a range of healthy to richly satisfying options or an optional small buffet. The main menu has a handy calorie count, protein, carbohydrate and fat percentages for each meal. Detox & Weight Loss guests receive a unique menu designed from your initial programme consultation.
The healthy organic food (left) and the main lobby area (right).


The Sports & Wellness Programmes

Bespoke sports and wellness programmes are the focal of Thanyapura. The Base Programme is the most basic with access to just the daily group classes while the others offer tailored 1-to-1 programmes and treatments so you arrive with a pre-arranged schedule. Choose from the available packages and durations:
The Staff

As expected from Southeast Asian culture the staff are very friendly and emanate warmth and good hospitality. English from the staff varies between adequate to below-average and so general service has room for improvement. A pleasant experience overall; staff are willing to cater for you wherever possible.


The Scenery & Surroundings

Free shuttle buses run you to the nearest beaches (only 20 minutes away). Phuket's beaches are quite simply stunning. I highly recommend Layan and Suran beaches. Rental motorcycles or cars can be delivered to the hotel and getting around the 50km north-to-south island is relatively easy with only a few major roads.



My Summary & Verdict

Thanyapura is a new and modern sports hotel and part of the growing health and fitness trend. Year-round events take place at their truly world-class facilities; some weeks the resort can be busy with professional groups training in a particular sport on-site and so giving opportunities to meet the stars such as Maria Sharapova or current British triathletes, but some weeks can feel quiet – great if you want to focus on your personal goals.
►Book through Health and Fitness Travel and receive a complimentary round trip transfer to Naithorn beach per stay for all 5 night stays and up.



How to Book
To request a quote or for more information visit our Thanyapura page. Talk to one of our Travel Specialists on 0203 397 8891 or contact us here to discuss tailor-making your perfect wellness holiday.

Find out Why to Book with Us and further details on How to Book.
We recommend booking a comprehensive sports or wellness programme to keep yourself busy and make the most of their facilities as it's not the kind of place you go to hit the lounger by the beach.
Fact Box
Best time of the year to go: December to March
Months to book in advance for: January-March
No. of Rooms: 77 
Check-in/check-out: 2pm / 12pm
Wi-Fi: Available in all rooms and most buildings. Speed is sufficient.
Children: Yes
Reception/Room Service: 24hr
Alcohol:Yes
Nearest Airport: Phuket International (HKG)
Airport transfer time: 20 minutes
Address: Thanyapura Health, 120/1 Moo 7, Thepkasattri, Rd, Thepkasattri, Thalang, Phuket 83110, Thailand.