Baked Eggs in Avocado by Divani Apollon
13 October 2017

13 October 2017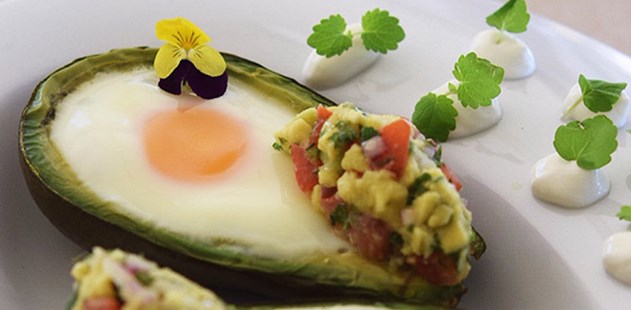 The chefs at Divani Apollon Palace & Thalasso spoil you with creative, delicious meals, all intended to make you feel satisfied and healthy on the inside. This dish makes for a fantastic high-protein breakfast, and combined with good, plant-based fat sources from the avocado, it will fuel your muscles and help maintain your energy levels throughout the day.  Interestingly, avocado has a high content of the essential nutrient potassium, helping to reduce blood pressure, and lowers the risk of heart disease and kidney failure. More importantly; it tastes delicious!


INGREDIENTS
1 avocado
2 eggs
½ medium tomato, sliced
2 tsp white onion, chopped
1 garlic clove, minced
1 tsp lime juice
Sea salt to taste


METHOD
1. Preheat the oven to 230C.

2. Cut the avocado in half and remove the pit. Scoop out enough flesh to leave about a ½ inch border of the flesh remaining in the peel of the avocado and reserve it in a small bowl. Score the remaining avocado flesh crosswise and lengthwise, not cutting the peel. 

3. Crack an egg into each avocado half and prop each half up by creating a little holder for each out of aluminium foil. To do this, simply take a bit of aluminium foil and shape it into a "u" shape and place it under the smaller end of the avocado. This will keep the egg from spilling out of the avocado as it bakes.
4. Place the avocado halves in the oven on a baking sheet for 5-10 minutes or until the egg whites are cooked, but the yolk remains runny.

Meanwhile, mix the reserved avocado flesh, tomato, onion, garlic, lime juice and sea salt together with a fork for a chunky guacamole. Set it aside.
5. Remove the baked egg from the oven.


SERVING THE DISH
Remove the baked eggs from the oven and serve topped with guacamole and a bit of Greek yoghurt or sour cream.
If you would like to book a holiday at Divani Apollon Palace & Thalasso, talk to one of our Travel Specialists on 0203 397 8891 or contact us here.