Claudia's Review of SHA Wellness Clinic, Spain
15 August 2018

15 August 2018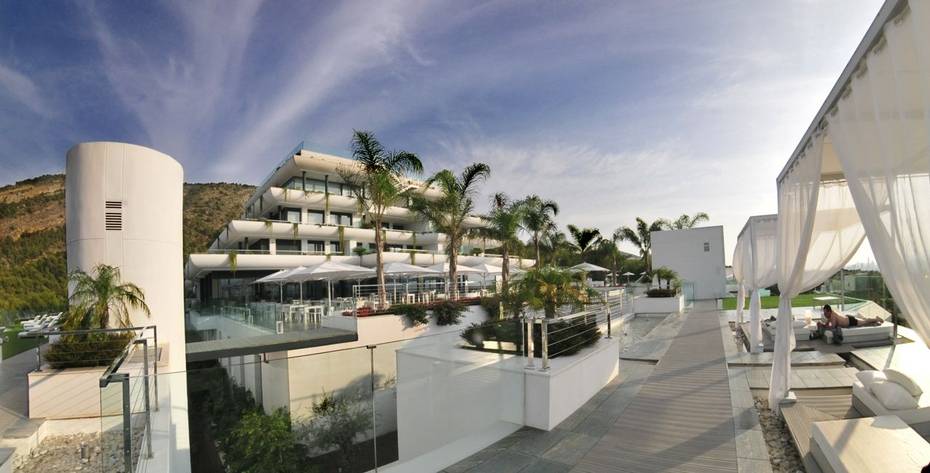 What is SHA Wellness Clinic and who's it for?
SHA Wellness Clinic is an award-winning luxurious destination, ideal for anyone looking to cleanse their body & mind in gorgeous surroundings and in the hands of the best detox specialists in Europe. Their approach is based on a macrobiotic inspired cuisine, western philosophies and high-end eastern technology. During my four days at SHA, I've witnessed the life-changing power of these three elements combined, and how they can contribute to improve health. During my stay I met a variety of guests, some were simply looking to kick-start a balanced lifestyle while detoxifying the body, others were suffering from serious illnesses in search of healing therapies, and some with high weight-loss goals. With different lengths of stay, we all felt our intentions had been achieved and returned home feeling healthier.


Getting There


My journey began with a 2-hour flight from Gatwick Airport to Alicante. The chauffeured transfer picked me up in a Mercedes and 40 minutes later I arrived at SHA, set just 15 minutes' walk from the lovely Albir Beach. 


The Rooms


Ah the rooms… I almost felt guilty for not spending more time in my beautiful Superior Suite. I had such a great deal of treatments, sessions and consultations throughout the day, I hardly returned to my room before sunset. My evenings were lovely and uber-comfortable, every evening I looked forward to returning to my room to relax after dinner. Spacious, elegant and contemporary the rooms are simply stunning without being too busy on the eye. The minimalist décor follows the principles of Feng Shui, adding calm and serenity to the mind. The large glass windows with mountain and/or sea views and the walk-in closet were my favourite features, along with the most comfortable bed and pillows I could ask for. The upgrade from Deluxe Suite to Superior Suite is well worth the extra pounds, especially if you are staying for more than 5 days. 


The Medical Clinic and Spa


Before receiving any of my pre-scheduled treatments, I was seen by the specialist nurse followed by the general doctor, who explored in detail my lifestyle and current health. The Body Composition exam was really useful to understand how my body is composed, including basal metabolism and the percentage of fat, water and muscle in my physical structure. Each subsequent day was filled with consultations, wellness treatments, assessments and group classes. I couldn't help but felt blissful and full of enjoy during and after my stress management session with Ms Conceicao Espada, a knowledgeable stress management, Chi Kung and meditation specialist. She reminded me of my own beliefs and values and opened my eyes to several aspects of my daily routine lacking love and attention.
My healthy Nutrition consultation with Melanie Waxman, writer of 'Eat Me Now! Healthy Macrobiotic Cooking', was another reminder of how important a clean, natural and well-balanced diet is for our mental and physical health. I left with some fantastic new ideas of how to incorporate macrobiotic ingredients into my daily cooking and how to prioritise seasonal and locally sourced foods. When it comes to wellness treatments, my most-loved was the fascinating Hydroenergetic Detox Cure; a powerful detoxifying healing treatment consisting in three steps: Hydroaromatherapy, Fitomudtherapy Wrap and Hidrojet. Truly worth experiencing! The small gaps in between my appointments were filled with visits to the 23-station Hydro Circuit, walks to the beach and the lighthouse, and watching inspiring films in the SHA cinema. 


The Food


SHA is a macrobiotic lifestyle paradise! Every dish served is organic, locally sourced, full of whole grains, seasonal vegetables, pulses and soy. Fish, fruits and seeds are plentiful; all in line with the ancient principles of balancing our own internal yin and yang. All dishes throughout my stay were creative and truly delicious. I initially struggled with the portion size principle, macrobiotic teachings vastly highlight the importance of portion control in order to decongest the digestive system, balance glucose levels and improved overall health, but once I adjusted to the idea of healing my body by the power of nature and directly accessing its potential through food, satiety appeared! I've chosen the 'SHA Menu' during my stay, which is a more 'gastronomic' menu consisting of approximately 1,500 calories.
The breakfast menu is all about strengthening the immune system and raising energy levels, so all ingredients are alkaline; sugar, dairy and gluten are left aside. Lunch and dinner both included a starter, a choice between two main courses (usually one with fish and the other with whole-grain pasta) and a dessert. Desserts, I must highlight, were nothing less than divine! Another two types of menus were also on offer, depending on guests' goals; if you are looking to lose weight and are on the detox programme, the SHA Detox Menu is the best choice and will be recommended by the doctor and nutritionist (500 - 800 calories per day). Portion sizes are smaller and don't include certain healthy ingredients like olive oil, baked flour, nuts, pasta or oats. Fish is only included once a week and you will have plenty of algae and hearty soups, like miso, which are great to cleanse the body and increase vitality.
For those looking for a balance between the SHA and Detox Menu, the Biolight is the intermediate choice (approximately 1000 calories per day). Desserts are excluded and foods like fish and pasta are served only three times a week. The restaurant service is second to none and you will have the same table and same waiter throughout your stay, this helps to create a sense of calm and comfort at meal times, and beautifully complements the stunning views and the peaceful piano live music.  


The Wellness Programmes


The Wellness Programmes
Choose from: 
Highlights and Recommendations



Make sure you join the Aqua Gym group class, it's a wonderful full body workout without the risk of pulled, strained and sore muscles, due the resistance of the water. It strengthens muscles, increases heart rate, improves breathing and boosts blood flow. The teachers are very professional and friendly, and the pool is right next to the sauna, steam room and hammam, where you can relax and unwind after the class. 
My personal training session was the best I ever had. Jacqueline, the personal trainer, was knowledgeable, kind and attentive. She answered all my questions and gave me creative and therapeutic tips to improve my fitness. I've been using her recommendations since I returned home and have already seen significant improvement on my exercise routine.


My Summary & Verdict


SHA Wellness Clinic is by far the best place I've ever visited when it comes to healthy nutrition, healing therapies and high-quality wellness technology. The approach is creative, original and dynamic, and it covers your entire well-being. I would go as far as saying that it's best if experienced solo, as it's the perfect place to be with yourself and focus on your health without any distractions. Or perhaps with another person looking to do exactly the same!


How to Book
To request a quote or for more information visit our SHA Wellness Clinic page. You can also talk to one of our Travel Specialists on 0203 397 8891 or contact us here to discuss tailor-making your perfect healthy holiday.
Talk to one of our Travel Specialists on 0203 397 8891 or contact us here to discuss tailor-making your perfect wellness holiday.
Fact Box
Best time of the year to go: March to November
Months to book in advance for: May to October
No. of Rooms: 92
Check-in/check-out: 3pm/12pm 
Wi-Fi: Yes - excellent throughout the entire hotel
Children: No
Reception/Room Service: 24 hours
Alcohol: No
Nearest Airport: Alicante
Airport transfer time: 40 minutes  
Address: SHA Wellness Clinic, Calle de Verderol, 5, 03581 El Albir, Alicante, Spain