Claudia's Review of Ananda in the Himalayas
19 February 2019

19 February 2019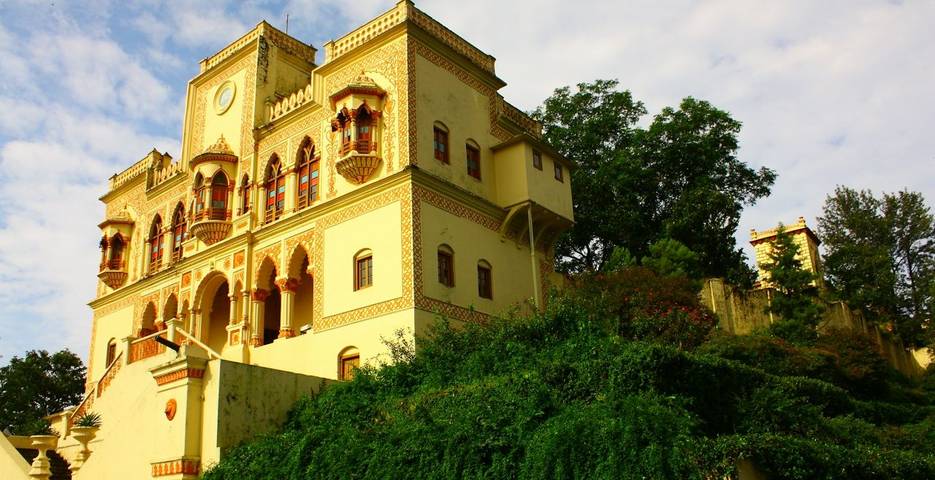 What is Ananda in the Himalayas and who's it for?


Ananda is the Sanskrit word for 'bliss/happiness' and I can certainly say that my 4 days at Ananda in the Himalayas have been full of it!
Set in the grounds of a Maharaja's palace, high above the India's holy Ganges river, there is nothing less than 100 acres of graceful forests, beautiful gardens and excellent facilities to please the highest of Royalty. The breathtaking Himalayan mountains are everywhere you look, and there is an undeniable healing energy all around - doubtless related to the fact that Hindu sages and saints have visited this part of India since ancient times to meditate in search of higher knowledge and spiritual clarity. Rishikesh, the closest town, it's a pilgrimage area regarded as one of the holiest places in the country. It's also known as the 'Yoga Capital of the World' and is home to the annual International Yoga Festival.
Following the ancient tradition of the region, Ananda integrates traditional Ayurveda, Yoga and Vedanta with international wellness experiences, fitness and healthy organic cuisine to restore balance and harmonise guests' energy. If your focus is authentic Yoga, Ayurveda, healthy eating and general wellness - combined with high quality service and luxury facilities - you couldn't pick a better place in the world to be.
Getting there


Ananda's driver was waiting for me at Dehradun airport and the 1-hour journey was nice and pleasant. Some parts of the road up to Ananda are under construction and can be a little bumpy, but my attention was mostly occupied with going through Rajaji National Park, home to Asian elephants, Bengal tigers, leopards, jungle cats and hyenas. You don't get to see the animals when driving through - you can only see the stunning forest itself, which is a lovely fresh welcome to the foot of the Himalayas. 
The Hotel & Accommodation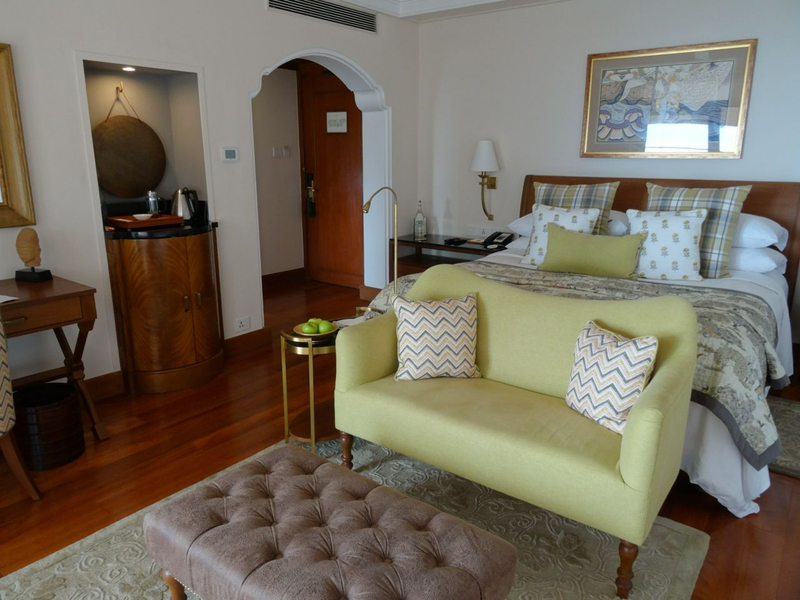 Ananda has 78 rooms, suites and villas, all designed with classic elegance. I stayed in a Deluxe room with private balcony, overlooking the valley, which had a serene and natural feel to it. It was perfectly located close to the spa, restaurant, swimming pool and gym. The super comfortable bed and the stunning panoramic views from my bathroom were the highlights for me. Can it get any better than secluded bathtubs overlooking distant purple mountains?
Tip: there is no need to take too many clothes with you. Ananda gives all guests signature white cotton Kurta pyjamas, to be used around the resort, spa, restaurant and classes.
The Spa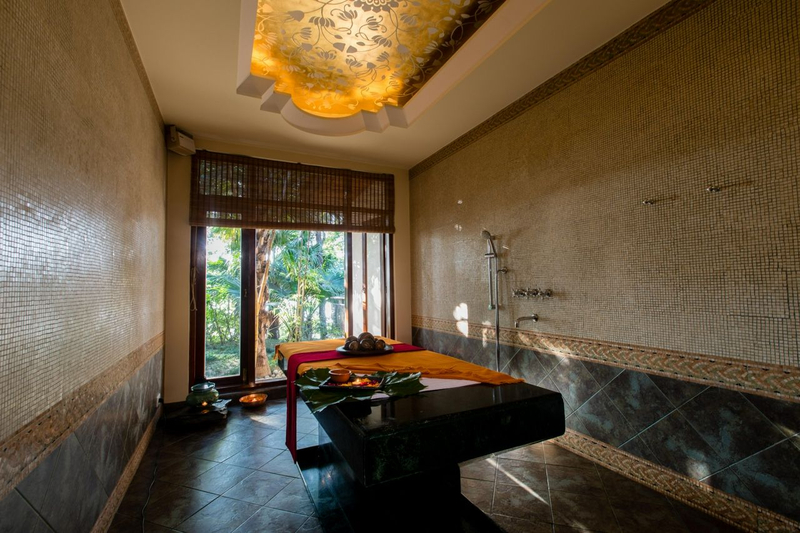 There is no question why Ananda has won many prestigious awards over the years, including Best Spa in the World, making this an ideal destination for a luxury spa holiday. The second to none spa facilities are spread across 25,000 sq. ft. and are composed of 24 treatment rooms, a well-equipped gym, an outdoor temperature-controlled swimming pool and wonderful hydrotherapy facilities. There are more than 80 body and beauty experiences to choose from and they integrate traditional Indian wellness practices of Ayurveda and Yoga with international touches. Walking into the Spa area for my treatments and being welcomed by a musician playing traditional Indian bamboo flute peacefully sat in the Aromatherapy area, made me so happy every time. Adding to this unexpected touch were the mantras and chanting which initiate every treatment - the therapist washes your feet and prays for delivering the best possible treatment and intentions. This gives you a charming taste of the traditional ancient Indian way of caring for others.
My first session in the Spa was a very informative Ayurvedic consultation, where my constitution dosha was established, based on my unique blend of physical, emotional, and mental characteristics. The Ayurvedic doctor then prescribed the meal plan for my stay taking into account all imbalances of the three doshas currently occurring in my body, mind and emotions. I really enjoyed the high level of personalisation and the attention to detail when all aspects of my stay were based on what I truly needed to heal.
My four favorite treatments were:
4 hands Synchronised Abhyanga massage. A traditional full body massage given by two Ayurveda therapists using herbal oil. It helps to turn toxins into liquid for easy elimination and induces relaxation. It felt incredible to have both sides of the body being massaged at the same time, with the synchronised movements and pressure. I felt really relaxed and revitalised for days after my session.
Choornaswedana treatment: A dosha specific oil treatment, where the experienced 2 therapists gently tap a warm medicated pouch of herbs on the whole body. Great for blood circulation, detox and muscle and joint pains. For me it was one of those treatments that you don't realise how much you need until you have it. My muscles and joints were so happy!
Shirodhara treatment: What a bliss! Warm herbal oil is poured on forehead to pacify the mind and the nervous system. Great to normalize sleep patterns and regulate blood pressure. A soft full body massage is also given, as well as 10 minutes steaming room and shower. I don't recall being as relaxed during a treatment ever before!
Ananda Fusion: 90 minutes of a wonderful mixture of Thai, Reflexology, Aromatherapy, Deep Tissue, Tibetan and Swedish massage techniques. Probably one of the best massages I've ever had.
Vedanta Sessions
My stay in Ananda wouldn't be complete without a daily Vedanta group class. Vedanta is one of the world's most ancient spiritual philosophies based on the Vedas - the sacred scriptures of India. It's the philosophical foundation of Hinduism, but while Hinduism includes aspects of Indian culture, Vedanta is universal in its application and is equally relevant to all countries, all cultures, and all religious backgrounds. I really enjoyed having one hour of my day dedicated to self-study and reflection. It encouraged me to be curious about all things in life and it made me think about times when I unnecessary overcomplicate my decisions. Every day the qualified teacher would speak about a different topic and provide a different perspective to our usual approach to it. My 4 sessions covered the following points:
How to make our emotions and intellect work together and have a more peaceful mind.
Attachment minus selfishness = love. Love + selfishness = attachment. Accepting others as they are.
The art of Giving and Forgiving.
How to map our subtle bodies for a fuller life experience.
Yoga, meditation and other activities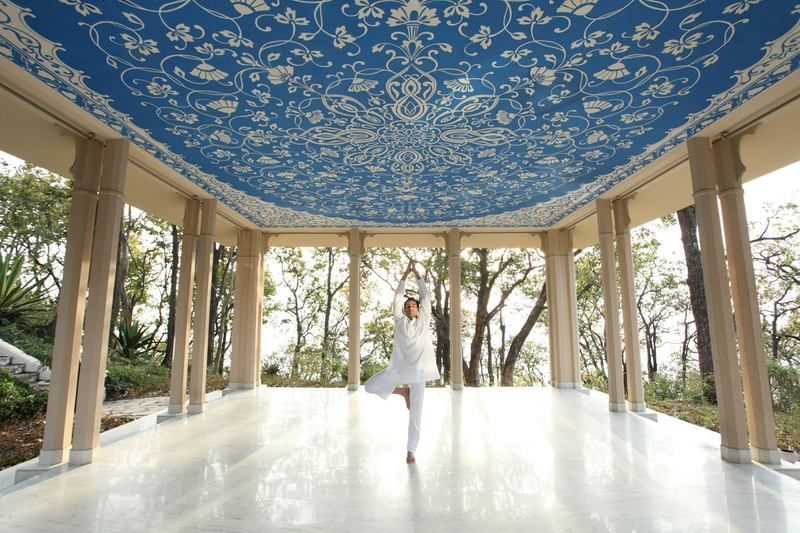 Numerous celebrities have visited Ananda over the years in search of authentic and traditional Yoga. From Oprah Winfrey and Bill Gates to Kate Winslet and Nicole Kidman, everybody agrees that there isn't anywhere else in the world like Ananda when it comes to the ancient practice of Yoga. Hatha Yoga is taught in two breathtaking Yoga Shalas - one of them is very secluded, close to the forest surrounding Ananda, and blessed with wonderful sounds of nature. I participated in all group classes available during my stay and they were suited to all levels, as the experienced Yoga teachers would adjust the poses according to each person, making this a wonderful destination for a yoga retreat. I also had a private Yoga consultation with wise yogi Shambhu Kumar. He guided me on focusing in my internal organs and glands when doing asanas, directing my breath to specific areas depending on internal tension. It really made a difference in my practice and it gave me a new perspective on the real benefits of asanas. We finished the consultation with pranayama and meditation.
I also enjoyed the practice of Yoga Nidra (state of consciousness between waking and sleeping in which the body is completely relaxed and there is a great awareness of the inner world) and the guided meditation group sessions. Furthermore, there are exercise classes, morning stretches, an outdoor pool to swim in, golf courses and a fully-equipped gym for those looking for a more strenuous workout.
Food and Restaurants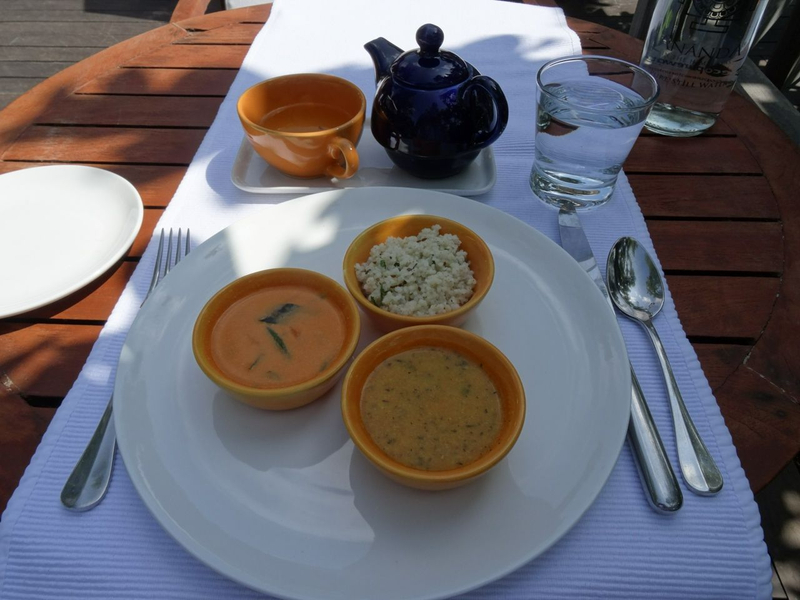 The cuisine in Ananda is immersed in the Ayurvedic food philosophy, where preparation and combination of ingredients are key to disease prevention. With a focus on boosting the immune system through nourishing the digestion, every dish I tried delivered a burst of delicious Indian flavours. The variety of dishes in the menu is also impressive and you can focus 100% on eating the appropriate foods for your dosha. On arrival in the restaurant you can chose to drink a shot of healthy mixtures, such as antioxidant blends or tonics to increase energy levels, and after your meal there is a selection of digestive combinations on offer.
The Wellness Programmes
Ananda offers many different wellness programmes including:
The Staff
All members of staff in Ananda have a smile on their face. They are mostly locals and live in the sacred town of Rishikesh, not far from the resort grounds. I was greeted with a polite, yet cheerful, 'Namaskar' at all times and can categorically say that service and customer care were excellent. From the team of Ayurvedic doctors to the Spa therapists, including cleaning workers, reception staff, drivers, waiters, teachers and managers, everybody in Ananda was genuinely committed to make sure I had the most pleasant and comfortable stay. Nothing was ever too much trouble for them - even when I decided to choose a different pillow from the Pillow Menu in the middle of the night. They were at my door with my chosen headrest in less than 5 minutes!
My verdict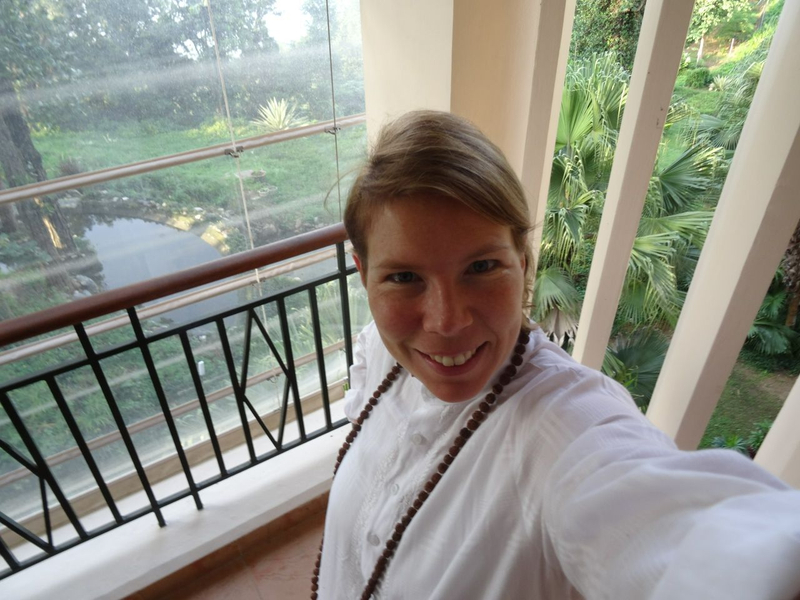 When in Ananda, make sure you don't miss a visit to the Yoga Music Pavilion and the Yoga Shala by the forest. There is also a sunset view point which is definitely a must. Even though they offer transportation around the grounds in the mini electric cars, walking around the resort is a true bliss and allows you to see the exotic peacock-pheasants sunbathing in the gardens.
My stay overall was very special - Ananda is a unique and remarkable place for Ayurveda, Yoga and Spa, surrounded by nature in a luxurious setting. I highly recommend this holiday to anybody looking to visit the most majestic and sacred area in South Asia to balance body, mind and soul.
How to book
To request a quote or for more information visit our Ananda in the Himalayas page.

Talk to one of our Travel Specialists on 0203 397 8891 or contact us here to discuss tailor-making your perfect wellness holiday.
Fact Box
Best time of the year to go: March to May and October to March
Months to book in advance for: January to May
No. of Rooms: 78, including 8 suites.
Check-in/check-out: 11am and 2pm.
Wi-Fi: Yes - excellent throughout the entire hotel
Children: Over-14s are welcome, but under-18s are not allowed in the spa. Although there are adventure and nature activities for teenagers, Ananda isn't particularly well suited to children.
Reception/Room Service: 24 hours
Alcohol: Available on request
Nearest Airport: Jolly Grant in Dehradun
Airport transfer time: 45 to 60 minutes
Address: The Palace Estate, Narendra Nagar, Uttarakhand 249175, India