Como Shambhala win Conde Nast Traveller's Best Destination Spa Award 2013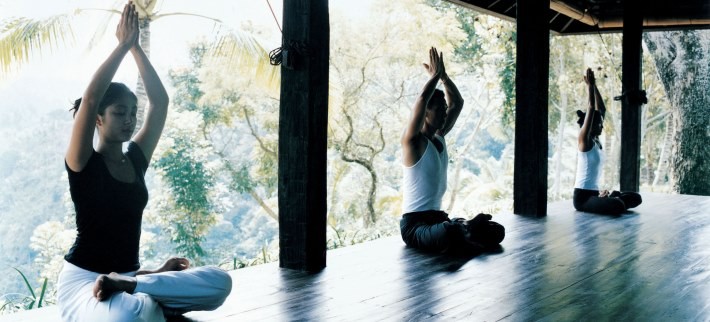 Last night, Health and Fitness Travel attended the annual Condé Nast Traveller Spa Awards in London. At this prestigious event at the Four Seasons Hotel in Park Lane, Como Shambhala Estate in Bali was awarded the honour of the Best Destination Spa 2013 in the world! Condé Nast Traveller was clearly impressed with this luxury wellness resort's amazing range of daily spa treatments, holistic activities and world-class facilities.
Health and Fitness Travel was there to congratulate Como Shambhala and its new General Manager Paul Liner on this fantastic award. Pictured is Paul Liner (middle) with co-founders of H&F Travel, Paul Joseph (right) and Adam Heathcote (left). Paul Liner recently left Chiva Som in Thailand to continue his career at this Balinese paradise, and has certainly made an impact since his arrival. He has overseen the introduction of even more exclusive and healthy holiday packages, improving its already glowing reputation.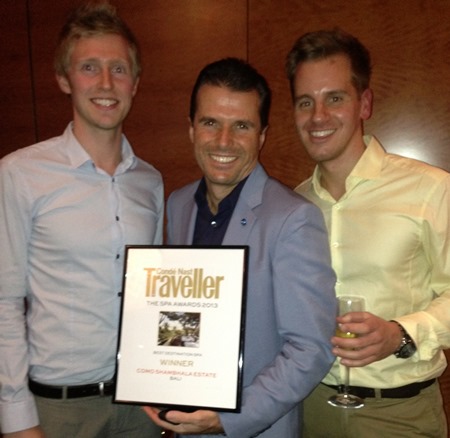 Our co-founders Paul and Adam congratulating Como Shambhala in Bali on winning Best Destination Spa

One of our most popular spa holidays, Como Shambhala is well-deserving of this award, offering a wide range of holistic programmes focusing on rejuvenation, detoxing, fitness, Ayurveda and stress management. It has truly cemented itself as the ultimate active and wellness destination. The luscious rainforest jungle backdrop teamed with attentive and indulgent spa treatments makes many guests return every year for their annual spa and wellness holiday. The word 'Shambhala' is said to mean 'a sacred place of bliss' and this is perhaps the perfect way of describing this awe-inspiring and award-winning destination spa.
With magical freshwater pools and stunning scenery, soaking up nature is enough at Como Shambhala Estate, as it's all about reconnecting to the source. Glow, their restaurant serves health-pumping food with an antioxidant punch. You may live in your yoga kit, sip pure hibiscus flower with melon juice and aloe vera whilst meditating in a tiny wooden hut to the rush of the river. For those of an adventurous nature, you can go mountain biking, rock climbing, white water rafting and explore the jungle covered hills on rice field treks.
Talk to one of our Travel Specialists on 0203 397 8891 or contact us here to discuss tailor-making your perfect healthy holiday.