Indoor vs. Outdoor Cycling: The Benefits
25 July 2012

25 July 2012

If, like many others, the recent Tour de France or forthcoming Olympic Games have encouraged and inspired you to get motivated and improve your health and fitness, a cycling break could be the perfect way to kick-start your health plan. Cycling in the fresh air tends to be the most popular option, however many people are unfamiliar with the concept of cycling indoors, so before heading off, it's a good idea to explore the benefits of both indoor and outdoor cycling.
Jumping on a bike, inside or out, increases your cardiovascular fitness and burns calories whilst being kind to the environment, and can also be a favourable means of transport. Nowadays, many people take to a bike to get into shape as it's easier on the joints and bones than many other activities and contrary to popular belief, it makes use of a range of muscles, not only in the legs, but also including the gluteus maximus, biceps and triceps. This makes it a great option for those who want to avoid high-impact, more strenuous exercises but still want to boost health and reduce stress. Cycling is the perfect way to build stamina whilst enhancing strength and muscle tone and according to the British Medical Association, cycling just 20 miles a week can reduce the risk of coronary heart disease by a considerable 50%. So, when choosing between indoor vs. outdoor cycling, how do you decide which style of cycling would suit you best?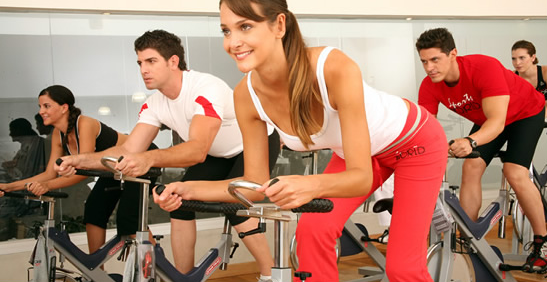 Spinning is a fun, modern set up of indoor cycling on a stationary bike, set to music and led by a certified instructor, without the complex moves of other choreographed fitness classes. Spinning sessions usually last between 40 to 60 minutes and are ideal for those who want a non-competitive but motivating fitness class, meaning your workout can be as challenging or easy-going as you wish. Indoor cycling or Spinning classes are an effective alternative to outdoor cycling during the off-season or when the weather poses a concern. This enables you to exercise all year round and in safer conditions, without the agitation of having to wear a safety helmet and with the obvious benefit of reduced injury risks. Spinning is suitable for all ability levels and the intensity of the workout can be adapted to each individual with varied and developing routines, regardless of age, coordination and fitness levels.
However, the appeal of exercising outdoors is much greater for those who want a more invigorating and refreshing workout. The fresh air inhaled when cycling outdoors can significantly improve cardiovascular and respiratory systems, enriching the oxygen levels in the blood and lessening the risks of developing health complications such as asthma, arthritis, high blood pressure and depression. There is also the added bonus of beautiful scenery and connection with nature, along with the excitement of adventure that outdoor cycling provides each time, allowing you to feel rejuvenated even after a long bike ride! For this reason, cycling outdoors can feel like much less of a workout as the surroundings engage the mind as well as body, meaning you may train for longer outdoors than you would inside. The varying ground surfaces a cyclist is exposed to when outdoors can also provide a much more intense and fulfilling workout.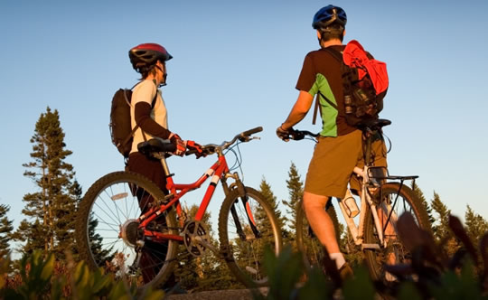 You may have already considered cycling outdoors as a convenient and manageable form of exercise that's easy to incorporate into your daily routine at home, but a cycling break abroad can make an excellent getaway for people of all abilities and ages, whether solo or as a group, providing you with a rewarding experience. If you are still unsure of which type of cycling you'd prefer, why not start indoors and perfect your technique before venturing into the great outdoors?
Experience some of the best of outdoor cycling in the Tramuntana Mountains in Mallorca and embrace the breath-taking views with our Reads cycling break. Alternatively, head to the stunning Caribbean where you can start the day off on the beach before having a go at a spinning class at Buccament Bay. Or, for the best of both worlds, there's The BodyHoliday in St Lucia where you can start your day with an early morning spinning class and then join a group outdoor cycling tour in the afternoon.

Talk to one of our Travel Specialists on 0203 397 8891 or contact us here to discuss tailor-making your perfect healthy holiday.