Longevity Wellness Resort Revitalised Me
29 April 2011

29 April 2011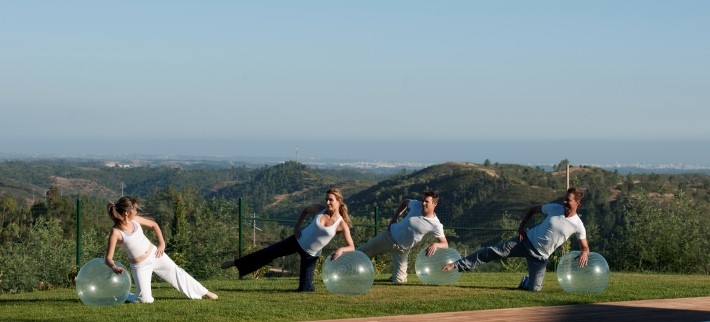 As the name suggests, this new resort which opened in July 2010 offers a wellness experience for those wanting to improve their longevity. Programmes include a wellness and fitness boost week, detox, stress management and weight loss. Situated in the beautiful natural area of Monchique in the Algarve Portugal, this perfect natural and wellness getaway is surrounded by breath-taking views over coastal mountains, making it the ideal location for a health retreat. All guests have access to a weekly health and fitness schedule which include morning and afternoon hikes, classes in Pilates, dance, aqua aerobics, mind fitness, stretching and lectures in Osteopathy, stress management and nutrition.
On arrival I was shown to my luxurious mountain resort apartment, the views over the green hills were stunning and I got my camera out straight away. My apartment was very comfortable; one bedroom, two bathrooms, a living area with open plan kitchen and large balcony with sun beds and table and chairs to eat outside. I went onto the Essential Wellness Week programme which is just what I needed at this time to rejuvenate after having had a busy couple of months. I was given my schedule from Teresa, their spa director who welcomed me and gave me an introduction of what to expect from my stay at Longevity Wellness Resort.
On the first day I went to the medical centre for my preventative medicine and nutritional consultation followed by a basic biochemical evaluation which consisted of a blood and urine analysis. I then had a Body Scrub and deep relaxing massage at their beautiful spa, followed by a swim, steam and sauna. As day two approached I joined the morning hike which was lovely and such a beautiful walk through the hills. I also discovered there were three local restaurants nearby which looked good.
I found my biophysical evaluation very interesting, this analysis created a profile on me for my muscular strength, hydration levels, heart rate, blood pressure, weight etc. I was also put onto a cross trainer so they could measure my fitness for the report. The results were not too bad; I was slightly over-weight for my age and needed to lose a couple of pounds which I agreed with. I met with their nutritionist afterwards to talk through my diet and exercise regime so she could help me put together a detailed nutrition plan which I could take away with me. This detailed plan and report made interesting reading and I was ready to improve my diet as soon as I got back home. As the week went on I had a personal training session with a very good fitness instructor who showed me some new techniques that I can't wait to try out at my gym back home. I learned some really good tips in using the power plate and some useful stomach exercises to strengthen my core.
I also attempted all the classes, the dance one was my favourite but I also loved the Pilates and stretch classes. I found the lectures really interesting too and the one on how to deal with stress was particular useful for me, being a stress head myself. The cuisine was also fabulous, I never knew healthy food could taste this good! The elemis spa treatments were superior and some of the best ones I've had to date on a spa holiday, by the end of the week I felt like a new person. My health and fitness was definitely back on track and this retreat was just what I needed to get back on track for ultimate wellness. 


Talk to one of our Travel Specialists on 0203 397 8891 or contact us here to discuss tailor-making your perfect healthy holiday.