Paul's Review of Argentario Golf & Spa Resort
10 June 2014

10 June 2014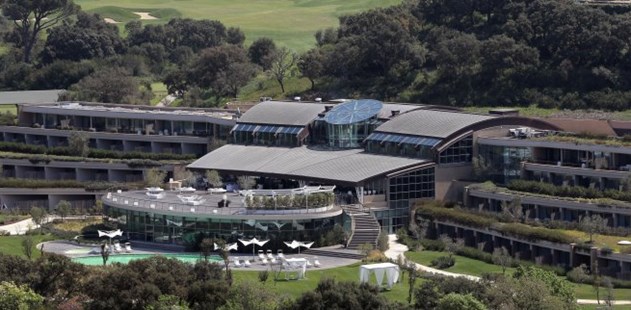 I've always loved Tuscany as it's my favourite part of Italy and simply beautiful, although I've never been to southern Tuscany before so booked myself a healthy break to Argentario Golf & Spa Resort. Built in 2009 and located between the beautiful Porto Ercole and Porto Santa Stefano; the resort has a quiet ambiance, is very modern with 73 rooms and has a stylish minimalistic look and feel about it with sweeping swirl staircases, high ceilings, quirky but cool furniture and very spacious.
I flew into Rome Airport and took the train to Orbetello station with 1 stop; this took around 2.5 hours and cost 15 euros one way; it helps to know the language a little but I did my best. There is also the option to rent a car and to take a private transfer from the airport which takes 1.5 hours and costs 200 euros one way. The train journey was comfortable and on arrival into Orbetello station the resort sent their own transfer to collect me, (this costs 35 euros one way and takes 10 minutes by car).
On arrival I was greeted by a warm and friendly smile and checked into my spacious and very modern room. The room was clean and comfortable and I loved the bed for a perfect night's sleep. I chose the half board option (breakfast and dinner excluding drinks) and had an early dinner in the restaurant. The service and food was good; my only complaint is the half board menu is very limited with only two choices for a starter, main course and dessert each night, so yes the food was nice but if you're going for longer than 3 nights I would recommend eating out as well.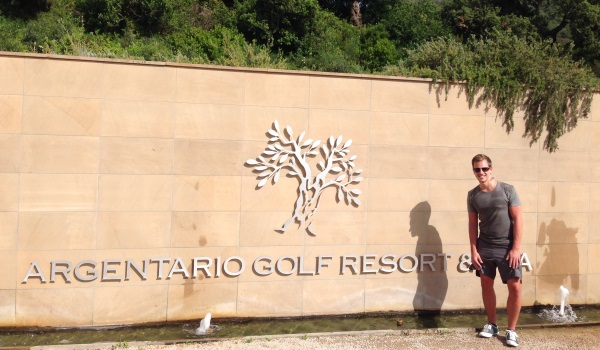 Paul at the entrance to Argentario

After a good night's sleep I woke to blue skies and sunshine and started my day with a high energetic workout in their brilliant fitness centre. I then enjoyed a nice buffet breakfast; however not everything's included in the room rate; so scrambled eggs and bacon on the buffet are but if you want to order say an Omelette – expect a 7 euros charge. Even though a lovely resort, be prepared to pay for extras and note there is no complimentary water in the room, or tea and coffee making facilities.
The resort has good facilities including their wellness centre, medi-spa, gym and indoor and outdoor swimming pools along with a football field, 3 tennis courts and a walking and jogging trail. I'd highly recommend taking the trail (whether you walk or jog) up to the Monastery for beautiful views and don't forget your camera.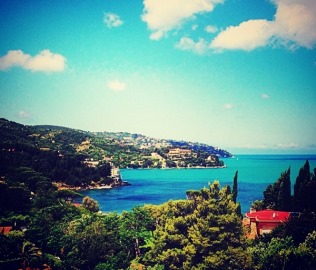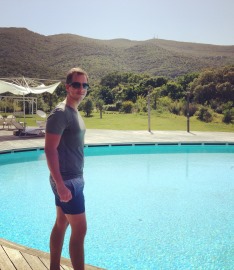 View from the Monastery (left) Paul by the pool (right)

Depending on the type of healthy holiday you want at Argentario try the Fusion Fitness programme for a customised wellness holiday of various sports, fitness training, holistic activities and spa treatments, or the Spa programme for those wanting a luxury spa break. If you are short on time, then the Argentario BodyBreak is perfect for a mind and body reboot. For those who like golf, there is a spectacular 18 hole course with their own academy, offering the perfect destination for a golf holiday.
In the afternoon I reclined in the spa after swimming and enjoyed the sauna and steam room before my deep tissue back massage. My therapist was excellent and I fell asleep towards the end feeling totally relaxed with my tension and knots evaporated. I ended the day with Iyengar yoga; a particular form of yoga which corrects body alignment and taught by their resident yoga teacher Elena, who is not only an excellent teacher but very knowledgeable and inspiring. Being a devoted yogi myself it's not always easy to find good yoga teachers and I would highly recommend Elena.
The next day I decided to spend the morning at Tuscan Bay beach; the resort's partner beach which they organise a shuttle or transfer which takes 10 minutes, and then collect you when you want to return. The beach is lovely and it was nice to just recline on a comfortable sun lounger, have a healthy and delicious lunch and go for a swim in the sea. I returned to the resort later for their 5pm Fitness Games group class which consisted of various circuit stations for a varied and challenging workout.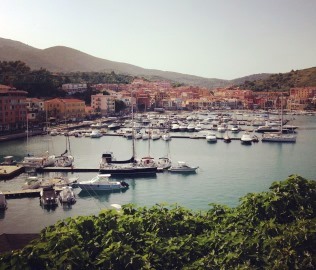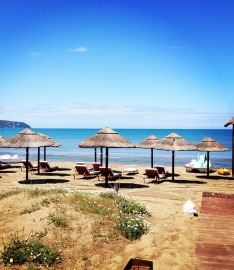 Porto Ercole Marina (left) Tuscan Bay Beach (right)

I spent my last night in Porto Ecorle, a beautiful marina town with fabulous views and restaurants which I highly recommend visiting. It's only a 10 minute drive from the hotel but be warned they do charge 40 euros one way so you may want to consider hiring a car if you do decide to explore the surrounding areas. It was unfortunate that the hotel recommended a local restaurant in Porto Ercole called La Pinta for authentic Italian food, however I was disappointed by the food (unusual for Italy) and service as it's almost impossible to have poor quality food in Italy,  however there are lots of other fabulous restaurants in Porto Ercole.
The next day I woke early and rented a bike; cycling in Tuscany around the surrounding areas is a must and a good way to keep fit. In the afternoon I decided to walk to Orbetello which took 45 minutes but a nice walk and I treated myself to a late lunch at a local Osteria where I had a delicious Fettuccini Ragu.
With the option to fly to either Rome or Pisa, I'd also recommend a couple of nights to discover Italy with a variety of tours and excursions. I ended my healthy break at Argentario feeling well rested and in better shape. The area it's situated in is beautiful and still fairly undiscovered so I'd visit now before more tourists start going. Argentario is a perfect destination for a golf, spa or activity holiday and you will definitely leave feeling re-energised.
How to Book
To request a quote or for more information visit our Argentario Golf & Spa Resort page
Talk to one of our Travel Specialists on 0203 397 8891 or contact us here to discuss tailor-making your perfect wellness holiday.