Rebecca's Review of Kamalaya in Koh Samui, Thailand
06 August 2018

06 August 2018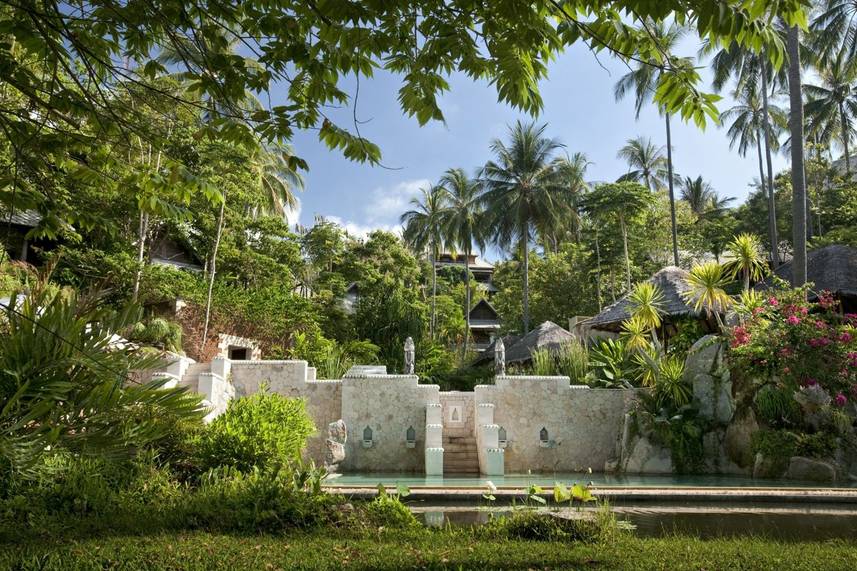 Tell us about the resort – what makes Kamalaya so special?
Having heard so many glowing reviews about Kamalaya, I was very excited to experience it myself and understand what makes it such a special place with such a high rate of repeat guests. From the beautiful location to the nurturing spa treatments and nourishing food, it's impossible to visit Kamalaya and not feel instantly better in yourself.  


Getting There



This was my first trip to Thailand and I began my holiday with 2 days in Bangkok with some sight-seeing. I also wanted to take some time to adjust to the time zone and get over my jet lag, before flying to Koh Samui to start my wellness programme.
The flight between Bangkok and Koh Samui is around 1 hour and I found Bangkok Airways excellent, they even found the time to give all passengers an in-flight meal which I was not expecting.
The private transfer from Koh Samui airport was a welcome break from the hot temperatures. We were driven in Kamalaya's luxury air-conditioned SUV and given a cold towel and water before starting our 30-minute journey to the south of the island.


The Hotel and Accommodation



After check-in we jumped in the golf buggy for a short tour of the resort. Helping us to get our bearings, we were shown the fitness centre and lap pool, yoga pavilion, wellness centre, meditation cave, beach, restaurants and communal areas such as the library and alchemy lounge.
From hillside rooms to private pool villas, there are a variety of room categories to suit all budgets. I stayed in a sea view villa, which was a detached single storey villa with living room, large terrace with day beds and an outside bathroom with shower (this was the most comfortable bed I've ever slept in). In the room, there was a very useful information folder which included meditation techniques, a catalogue of some of the foods served at Kamalaya along with a description of their health benefits. Each evening housekeeping would come to replenish your water, daily fruit plate and give the group class schedule for the following day (a weekly group schedule is also provided).
At the centre of Kamalaya is the Spa and Wellness Centre, Amrita and Soma restaurants as well as the communal Alchemy Lounge and well stocked library. Kamalaya is a network of pathways surrounded by green foliage that links the accommodation to the rest of the resort. Above the wellness centre at the top of Kamalaya you will find the fitness centre, lap pool and yoga pavilion. Some of the hills are quite steep but if anyone has walking difficulties a buggy is always on hand.


The Spa
The spa at Kamalaya is multi-award winning and it's clear to see why. The facilities include a steam cavern built into the rock, plunge pools and infrared sauna, as well as a vast number of treatment rooms.


The Fitness



If you are looking for more of a fitness holiday, you can take advantage of the well-equipped gym, the panoramic sea views are incredible. Kamalaya also run weekly group classes, including aqua aerobics and circuit training, as well as more gentle activities such as Pilates, yoga and meditation. For those looking for a more in-depth fitness experience I would recommend either the Optimal Fitness or Comprehensive Optimal Fitness programme. These include high intensity personal training sessions specifically designed for you to reach your goals, as well as some relaxing spa treatments to help recovery.


The Wellness Programmes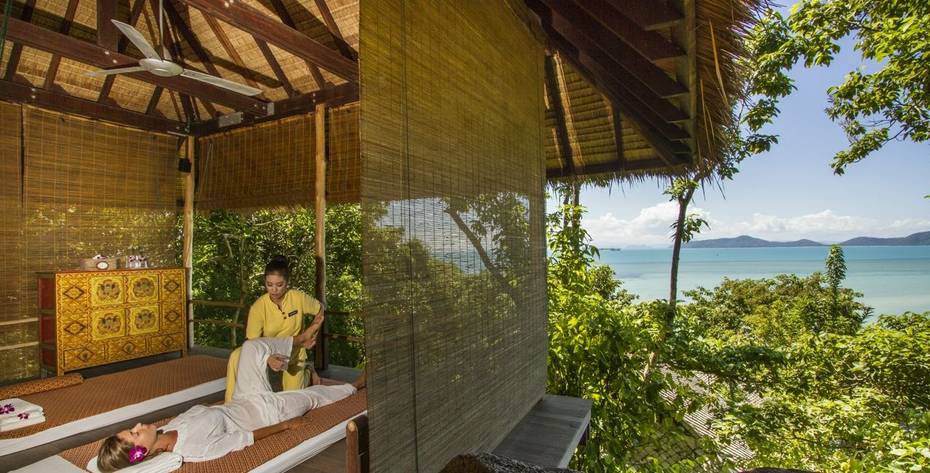 The morning after arrival I had my wellness consultation with Natasha, an extremely knowledgeable naturopath at Kamalaya. Before the consultation I was weighed, measured and given a bio impedance test; the results were discussed with Natasha during the consultation. She recommended supplements for me, as well as foods I should eat to increase my energy levels. I have since taken her advice and it has made a vast difference to my life.
I chose the De-stress Asian Bliss programme as I wanted a deep relaxation experience and to learn about the less well-known traditional Chinese therapies. This is a comprehensive programme consisting of 2-3 hours of treatments per day, however I added activities such as meditation, yoga and lectures from the group schedule. The spa therapies were the best I've had anywhere in the world and the therapists were all native to the origin of the treatments. For example, Ayurvedic treatments were performed by professionals from Kerala in India and there was an experienced Chinese doctor who performed Acupuncture and Moxibustion.  
I also tried an Embracing Change session, this is a programme that helps individuals who've had a traumatic life event or those who make unhealthy lifestyle choices. Whatever the issue, by focussing on why we make choices and how external factors influence us, one can truly heal themselves through meditation and acceptance of past events. This wonderful programme helps us to let go of the emotions and fears that ultimately effect both our minds and bodies in a destructive way. I learnt so much from just a 1-hour session and I would highly recommend booking.


The wellness programmes offered are:
Food / Restaurants



One of my favourite parts of Kamalaya had to be the food, especially the breakfast which is a superfood buffet with every kind of vegetable, juice and milk known to man. There is also a selection of fresh homemade breads, wheatgrass shots, salads, fruit, nuts, seeds and teas.
The lunch and dinner menus are split into a detox and a la carte menu. For those following a detox programme, the choice is incredible (the food is so delicious that it was hard to believe that it was a detox at all)! All others either choose from the a la carte menu, a slightly higher calorie option, or can opt for a detox dish with a protein option such as salmon, tofu or chicken. Both lunch and dinner start with a juice and even after the first day I began to feel incredible as I reaped the benefits of consuming so many healthy nutrients.


The Staff
The team at Kamalaya are more like a family and every individual ensures you have a comfortable stay and genuinely cares about your Kamalaya experience. The therapists and doctors are the best in their field, highly qualified and experienced.  


The Scenery and Surroundings



Kamalaya has been designed in such a thoughtfully beautiful way that refrains from disturbing the natural lay of the land, for example, structures have been built around trees so not to disturb the landscape. There are all kinds of exotic flowers and plants, this is one of the many factors that adds to the beauty and serenity of Kamalaya.
Kamalaya is built on a rocky hillside that slopes down to a private sandy beach, it is possible to swim in the sea at certain times of the year but during my visit the tide was so far out it wasn't recommended. From the spa, gym and lap pool there are outstanding sea views and views of the smaller neighbouring islands.


Highlights
At the heart of Kamalaya is an ancient Buddhist monk cave, it is this cave that led the founders to create Kamalaya in its current location. It had been used for centuries as a meditation cave with monks staying for long periods of time and is where the magic and energy centre of Kamalaya is created. It is profoundly moving to spend time here and I did so daily.
The main highlight of my stay at Kamalaya were the beautiful treatments that I received and just how great I felt even after the first day. I particularly enjoyed the traditional Thai massages as the treatment room was situated overlooking the jungle.


My Summary and Verdict



Kamalaya is the ultimate mind, body and soul experience as it encompasses every sense, from the delicate scents, truly magnificent sea views, the sounds of nature, the nourishing food and full body treatments from world class therapists and professionals.
I would recommend Kamalaya to everyone, it would be hard to leave not feeling lighter, healthier and happier. It is an extremely special place and I would recommend and encourage everyone to visit at least once in their lifetime for a relaxing spa holiday.


How to Book
To request a quote or for more information visit our Kamalaya page.
Talk to one of our Travel Specialists on 0203 397 8891 or contact us here to discuss tailor-making your perfect wellness holiday.
Fact Box
Best time of the year to go: The best time to head to Thailand is between November and April when the weather is warm but dry, however you can visit all year round. '
Months to book in advance for: December and January
No. of Rooms: 75
Check-in/check-out: 2pm/12pm 
Wi-Fi: Yes
Children: Yes, but very few.
Reception/Room Service: 24 hours
Alcohol: Available
Nearest Airport: Koh Samui
Address: 3 102/9 Moo 3, Laem Set Road, Na-Muang Koh Samui, Suratthani 84140 Thailand