Samantha's Review of Amanpuri, Phuket Thailand
18 September 2018

18 September 2018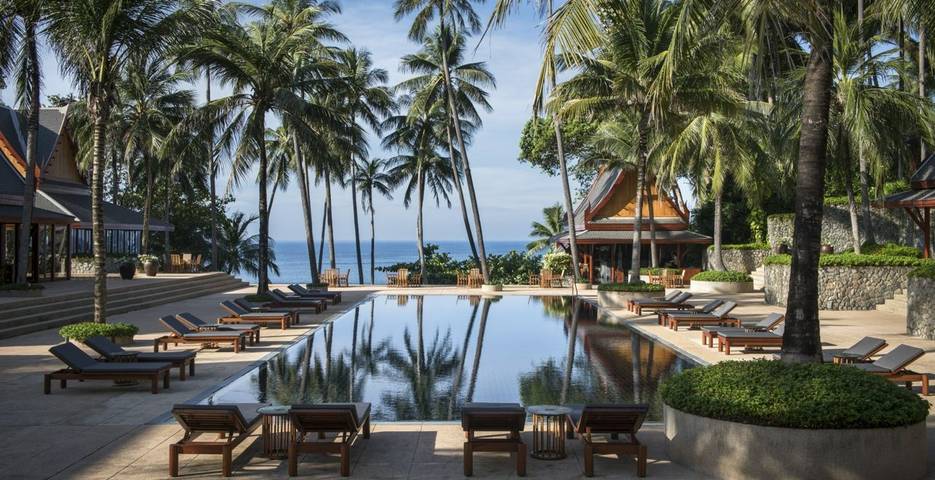 What is Amanpuri and who's it for?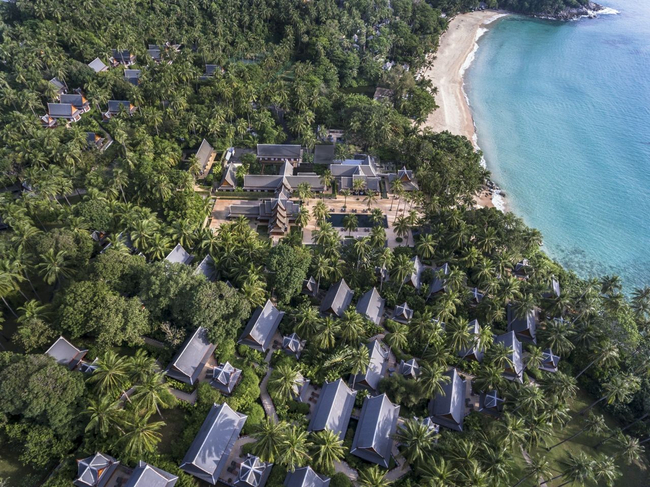 The first Aman hotel opened 28 years ago, Amanpuri is the original hotel in the luxury chain infamous for their exception service and incredible offerings. Amanpuri is the perfect retreat for those seeking something special, here under the direction of General Manager Paul Linden (Previously at the head of both Chiva Som and COMO Shambhala Estate) is a new level of luxury for the connoisseur wellness traveller.


Getting There
Located only 30 minutes from Phuket International Airport, your program includes private luxury transfers. Direct flights are available into Phuket from several east coast cities in Australia via low cost airlines or alternatively connecting through Singapore and Bangkok.


The Hotel & Accommodation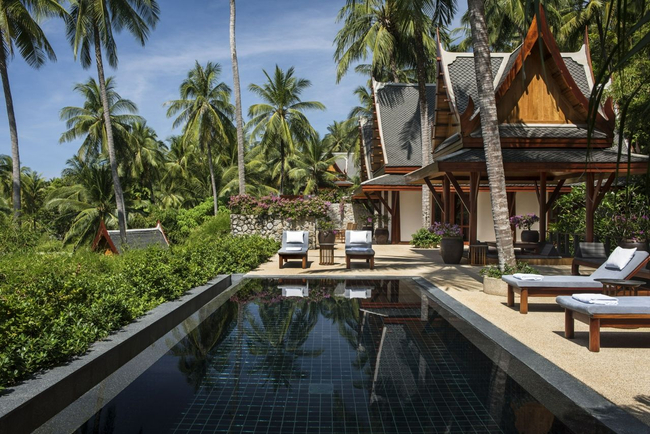 The resort hosts 40 Pavilions and 44 Villas all surrounded by lush gardens and coconut palms, each with their own private terrace and many with sea views and private plunge pools.
All the accommodation options are spacious and luxurious, large sunken bathtubs, his and her vanities and wardrobes, fresh flowers, and luxury linens and the house-keeping are very efficient.
The rooms are spread across the hillside and beyond and feel very private, at the centre of the hotel behind reception there is a large swimming pool, flanked by the restaurant and bar, a second lap pool is found by the beach bar and there is a children's swimming pool down by the beach.


The Spa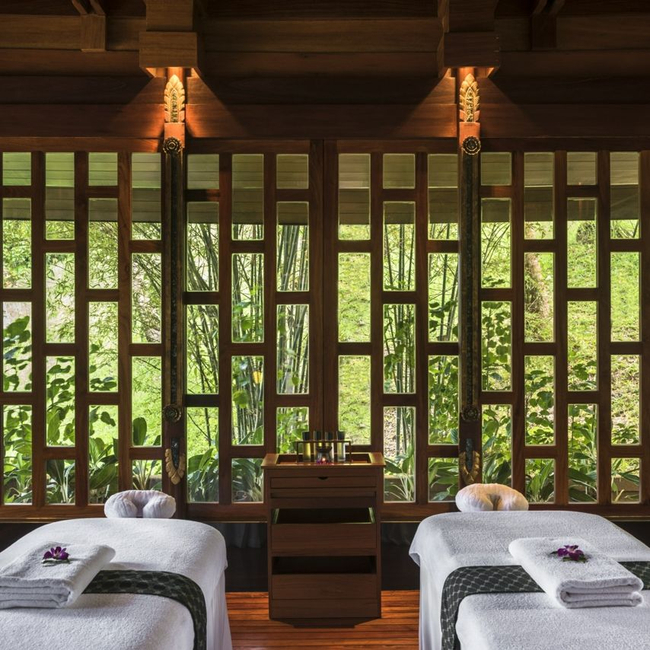 The Aman Spa is styled in traditional Thai style, decorated in dark carved wood. Many of the treatment rooms include their own private bathtubs, showers and relaxation areas. There is a steam room, ideal for pre-treatment and dedicated zones for Qi Gong, Meditation and other wellness activities. Each day there are complimentary group sessions and many of them are in the spa area.


The Fitness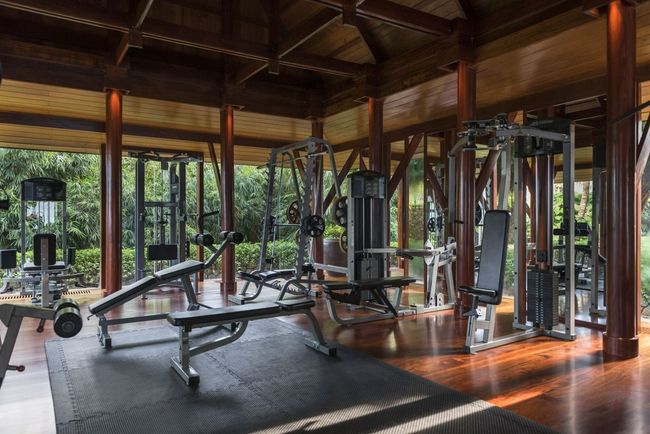 Located a short walk, or in-house car ride is the well-equipped, two storey fitness centre with sweeping ocean views. Offering all the latest gym equipment, with a wide range of weight machines, treadmills, stationary bikes and free weights. There is also a fully size boxing ring and Pilates reformer machine and the staff nicked names 'O & K' will be happy to put you through your paces, your program might even include TRX or Muay Thai.


Food/ Restaurants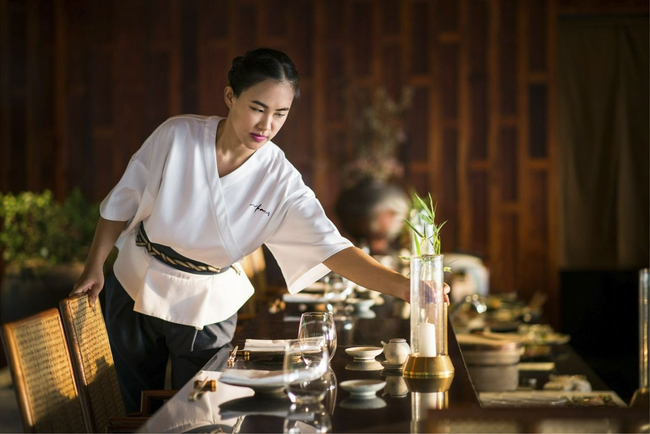 As a wellness Immersion guest your meals are selected for you, especially with your nutritional and physiological needs, and with your immersion goals in mind. Simply sit back and enjoy the divine, nourishing cuisine under the guide of naturopathic physician and nutritionist Benjamin Carter. All meals aim to stabilise blood sugar levels, reduce inflammation and harmonise gut flora while supporting and re-balancing the digestive system. Whether raw, liquid or cooked, your personal preferences as well as any allergies or intolerances will all be catered for without you ever feeling deprived or punished. Deep cleanses include a regular intake of herbal elixirs, fresh juices and alkalising broths.
There are other dining options available at Amanpuri for pre-or post your program – see our Amanpuri page here for all the details.


The Wellness Programs
Aptly names wellness immersion, your experience is entirely bespoke, beginning with collating detailed pre-arrival information and an in-depth consultation at the commencement to shape your stay and the recommendations may even surprise you but you can rest assured you are in the hands of experts, indeed many of the practitioners are leaders in their chosen field.
Every day of your program is personalised, including 2 to 3 specialist therapy and movement sessions, a 60 - 90 minute spa treatment in the Aman Spa and guided meditation and group movement sessions such as Pilates and yoga classes. Ongoing consultations track your progress and check in on how you are feeling in order to fine-tune your Immersion. A final consultation marks the end of your program.
Bespoke wellness immersions are available from 3 to 14 nights – longer stays are available on request, the number of guests are capped to allow the team to offer a dedicated and focused service.
The Staff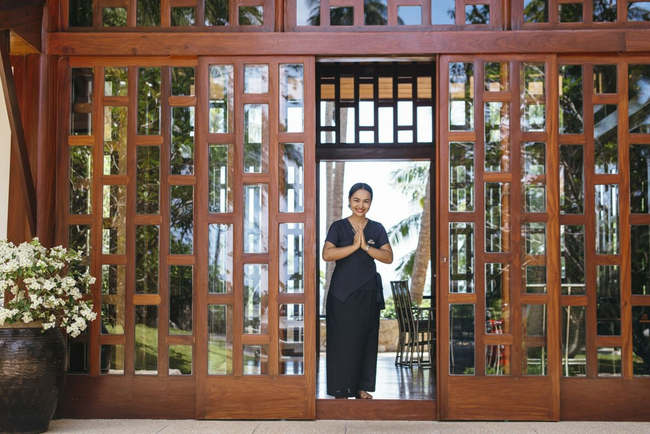 The team consists of many long-standing Thai staff with service of 20+ years. They take a personal sense of pride in their role at Amanpuri and it really radiates in their every action. Most speak English well and there is always a senior staff member available for any special requests.


The Scenery & Surroundings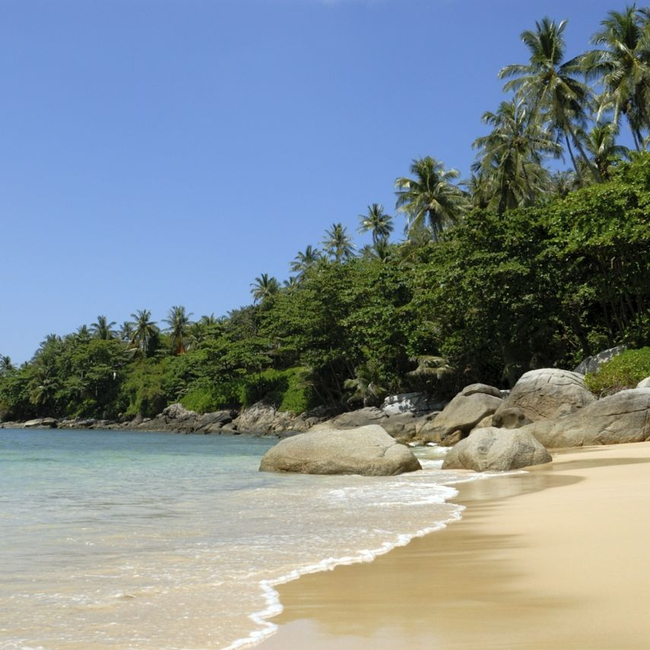 Amanpuri is set on a white sandy Panaw beach in Phuket, surrounding by the sparkling turquoise Andaman sea. It is the perfect spot to enjoy a long walk on the beach at sunrise or sunset and the waters are warm year-round allowing for swimming right off the shore.


Highlights
During my immersion, my highlights include the time with the team in the gym, their enthusiasm for every day was simply contagious and the one-on-one session with the master trainers, these included:
Running and swim coaching with Olympic Triathlete Simon, who despite his many incredible triumphs was very humble and made me feel at ease with his great sense of humour and practical approaches, I left with lots of actionable tips to focus on.
Robert Hyrsky, Master of bodywork. Robert helped me with some musculoskeletal work, including an old injury and shared enlightening advice in our mediation sessions.
Toby Maguire who was previously Master Practitioner at The BodyHoliday, who helped me overcome an anxiety flying with hypnotherapy and boosted my immunity with acupuncture.


My Summary & Verdict
I thoroughly enjoyed my wellness experience at Amanpuri, while not a dedicated wellness resort the level of service is a cut above. Best for those looking for a luxury experience away from a traditional setting, come here if you want to experience a truly bespoke program, enjoy your own company (or bring a friend, partner or the family) but not if you need to be surrounded solely by other wellness focused guests as this hotel attracts a variety of guests who all enjoy the finer things in life.


Notes & Recommendations
► Amanpuri closes each June for annual restoration
► Programs available only on request December & January
► Master Practitioners visit throughout the year, ask your wellness travel specialist for more details
► Hobie Cats and equipment for windsurfing, snorkelling and kayaking, as well as PADI-accredited dive programs are available year-round.
► There are four tennis courts lit for night play and five international-standard golf courses located within a 40-minute drive of the resort.


Sample Day (Awareness program)
30am: Digestive herbal elixir
45am: Prescribed juice
7am: Yoga or Meditation
8am: Breakfast
11am: CST or Reconnective Healing
12pm: Lunch
30pm: Yoga or Meditation
30pm: Herbal steam & beverage (prescribed juice, coconut or iced ginger tea)
4pm: Spa treatment
30pm: Evening juice
7pm: Evening meditation class
8pm: Retire to reflect


How to Book
To request a quote or for more information visit our Amanpuri page
Talk to one of our Travel Specialists on 0203 397 8891 or contact us here to discuss tailor-making your perfect wellness holiday.
Fact Box
Best time of the year to go: November to March
Months to book in advance for:  November to March
No. of Rooms:  40 Thai pavilions and 43 villas
Check-in/check-out: 12 noon / 2pm
Wi-Fi: Yes - good throughout the entire hotel
Children: Yes
Reception/Room Service: 24h
Alcohol: Yes
Nearest Airport: Phuket International Airport
Airport transfer time: 40 minutes 
Address: 118 Moo 3 Srissunthorn, Phuket, 83110, Thailand