Samantha's Review of Komune Resort & Beach Club Bali
11 April 2016

11 April 2016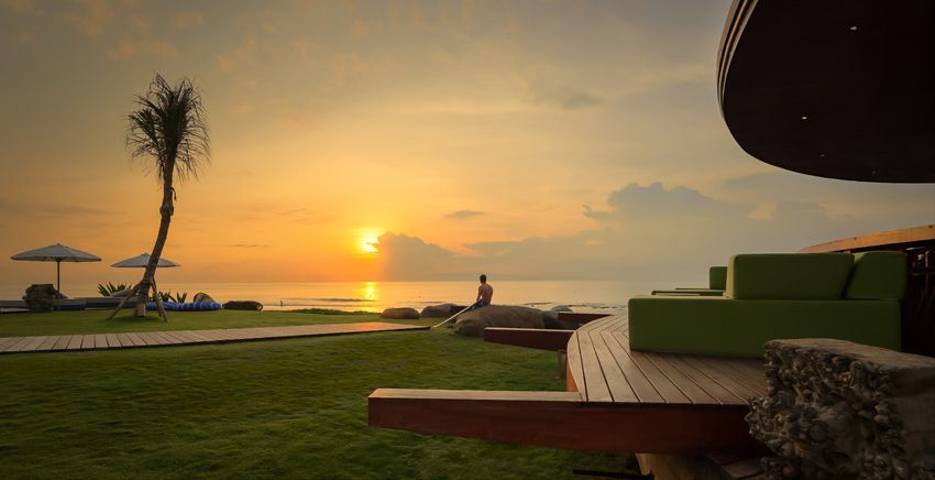 What is Komune Bali Resort and Beach Club and who's it for?
Created as the go-to place for surfing enthusiasts, Komune Resort & Beach Club launched in Bali in 2012 following on from the success of its sister property on the Gold Coast of Australia. Komune overlooks the famous Keramas reef break on Bali's beautiful East Coast and has evolved to encompass all the wellness aspects you would expect on an active holiday including the Health Hub which was launched in 2015 providing great facilities and scheduled group classes for guests to maintain, or kick-start a healthy lifestyle.
Best for couples, friends, surfers, families and independent solo travellers who enjoy their own company or a good book between classes and treatments. The vibe is chilled and the guests mostly Australian, ranging in age. The packages on offer are best for self-motivated individuals.
Getting There
Denpasar airport is easy to navigate through and you'll need to note if you require a visa on arrival. A pre-arranged transfer is included in your programme so once you pick up your luggage and clear customs, you can expect to be at Komune in under an hour.
The Hotel & Accommodation
The property currently offers 66 modern light-filled rooms, 55 resort rooms and 10 suites. All offer super comfy beds, and while the resort rooms will easily meet all of your needs, the suites provide a few extra luxuries including a queen size bed, separate living area, mini bar and writing desk.
Currently under construction are the new villas, each with private plunge pool and ocean front views, which will add another level of luxury on a healthy honeymoon for wellness loving newlyweds.
Pass by the on-site vegetable gardens on your way to the Health Hub. This dedicated wellness zone is for in-house guests (and the resident free-range chickens) only and offers a 25m lap pool and plenty of roomy daybeds to relax between classes – you'll also find the fitness centre and largest yoga pavilion here.
There is an outstanding boutique in front of the spa with all the essentials as well as lots of carefully selected items to indulge your shopping desires if you so wish and at the beach front, you'll find the Beach Club, open to the public and overlooking both the famous surf break and main pool, pull up a seat and enjoy a beautiful sunset here.
Complimentary Wi-Fi is available in all of the rooms and at the Beach Club however speed can be an issue throughout Bali, so we recommend you plan to leave your laptop at home (and enjoy your trip) but you'll still be able to post your pics to Instagram.
The Spa
In the centre of the property, the spa is housed in a large beautiful old building that was re-constructed on the property and been divided into 8 treatment rooms, serviced by 16 well-trained local therapists. Enjoy a range of traditional massages, body scrubs and reflexology, or treat yourself in the beauty and hair salon—I highly recommend the hair crème bath (Ask for Ruddy if he is available) for an hour of bliss.
The Fitness
24 hour fitness centre, incorporating the latest cardio, functional, free weight and isolation equipment all brought in from Australia. Fitness classes are available twice daily, Monday - Friday and private training sessions are available on request with trainer Mark Hill and his team. Mark uses a combination of different training techniques to keep the training sessions current, stimulating and progressive, expect TRX training, surfset training, spin and functional circuit classes to challenge you.
Complement your high-intensity training or enjoy a yoga holiday with dynamic and holistic yoga catering for all levels of yogis run daily by in-house instructors Nicole & Lisa in one of the two yoga pavilions. Optional activities also include beach running, scenic ropes course, bike rides, hiking, white water rafting stand up paddle boarding and more.
For private retreats and groups, there are whiteboards, projectors and a training room also available.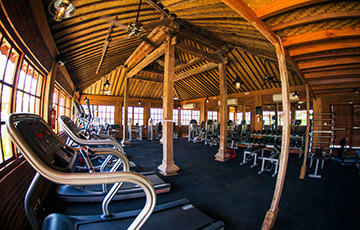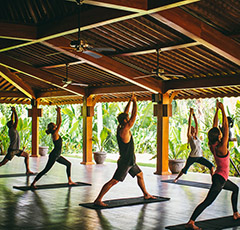 Food / Restaurants
The Health Hub café offers a huge range of healthy food options, free of palm oil, MSG, artificial additives, packaged ingredients, cane and refined sugar and any GMO products, locally sourced when not grown on site (where possible) and can cater for all food intolerances. Plus, every meal I tasted was delicious and with a separate lunch and dinner menu, there are sure to be enough choices to please every palate and a great range of cold pressed juices are also available for a total vitamin boost.
The casual Beach Club restaurant offer a separate menu also with lots of healthy options (and a few indulgences) including a make your own salad option which I really loved. Alcohol is available at this property in the beach-side bar and coffee is available throughout (and it's really good) but of course you can skip both if you choose.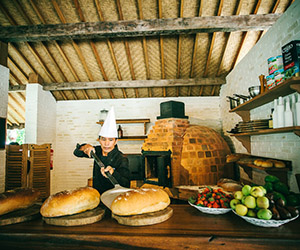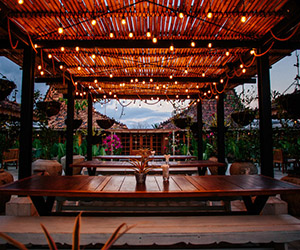 The Wellness Programmes

Enhance your overall well-being at this beachfront retreat with wellness activities ranging from revitalising surfing lessons and outdoor yoga classes, to snorkelling in crystal waters at the nearby white sand beach and relax with rejuvenating luxury spa treatments. Packages available include:
• Fitness & Detox: Enhance your fitness with unlimited group fitness classes delivered by a professional team. Keep moving with daily activities from surfing to volcano hiking and snorkelling.
• Yoga & Surf: Test your core strength and balance with a custom made 'Surf Set' training session, before hitting the waves during surfing lessons led by expert instructors and relax with yoga sessions.
• Yoga & Spa: Unwind with holistic spa treatments delivered by wellness professionals, including treatment from a Balinese healer. Target deep muscle tension with a roll and release yoga class.
• Fusion Fitness: Our bespoke programme that allows you to tailor your stay. Coming soon to Komune!


The Staff
Smiley happy faces, it's something Bali is known for and you are not disappointed at Komune. The team are attentive, professional, can quickly remember your name on sight and any special requirements or preferences and are always pleased to chat with you and able to offer recommendations.
The Scenery & Surroundings
Located on a black sandy beach with stunning views across to Lombok, watch surfers tame the waves from the main pool. Surrounded by nature, you'll enter and exit through rice paddies and you are just 25 minutes from Ubud, perfectly situated for exploring the island during your stay.

Highlights
Sunset at the Beach Club is not to be missed and flying high aerial yoga with Nicole is full of laughs
• Komune Bali offer a permanent night surfing installation right in front of the resort, so grab your board (if you dare) or a seat and enjoy the amazing spectacle of surfers battling the waves at night
My Summary & Verdict
There's a lot to love about Komune...delicious healthy food, great coffee, yoga and fitness classes, adults-only pool, well-equipped gym, lovely spa treatments and a surf break! A great place to come on your own for an active break away and even more fun with friends or a partner, ask us how they can stay with you for free.
Ideal if you are wanting to organise your own retreat or have a fun healthy wedding (the main yoga space can hold upwards of 90 participants).
Solo travellers should note that this property does not currently have any solo traveller facilities but guests are quick to mingle and the staff are super friendly so you can still have a great time if you are traveling on your own, there are also a whole range of activities close by to experience so you won't get bored.
How to Book
► Book through Health and Fitness Travel for a wellness package to suit your preferences. Choose your focus:Yoga & Surf, Yoga & Spa or Fitness & Detox.
To request a quote or for more information visit our Komune Resort & Beach Club page. Talk to one of our Travel Specialists on 0203 397 8891 or contact us here to discuss tailor-making your perfect wellness holiday.

Health and Fitness Travel
• Be self-motivated, if you are looking for a more structured retreat ask us for recommendations
• Pack ear plugs to minimise any disruptions from guests departing late at night, many flights leave Bali late in the evening
• Bring a good book or a friend! Komune will allow you to bring along a non-programme participant at no extra charge, ask us for more information.

A Typical Day
• 7:00 Juice at the Health Hub 
• 7:30 Fitness Class 
• 8:30 Yoga Class (Morning Flow – Vinyasa)
• 9:30 Breakfast at the Health Hub 
• 11:00 Swim and enjoy a daybed by the pool in the Health Hub
• 13:00 Lunch (Your choice of location)
• 14:00 Massage
• 15:30 Yoga (Yin) or Fitness Class (Core or Bums and Tums)
• 17:30 dinner while watching the sunset at the Beach Club


Fact Box

Best time of the year to go: The best time to head to Bali is April, May, June and September, just before and just after high season. It's still dry season and it's slightly less humid.
Months to book in advance for: July and August and during Easter Holidays – Please note programmes are not available over Christmas / New Year.
No. of Rooms: 66
Check-in/check-out: 2pm / 10pm
Wi-Fi: Available in all rooms and at the Beach Club. Speed is ok.
Children: Yes, with plans to add a Kids Club however the Health Hub is adults only
Reception/Room Service: 24 hour reception and room service is available
Alcohol: Yes and coffee (really good coffee)
Nearest Airport: Denpasar International (DPS)
Airport transfer time: 50-60 minutes 
Address: Jl. Pantai Keramas, Blahbatuh, Bali, Indonesia