Why is Pilates so Good for You?
04 February 2013

04 February 2013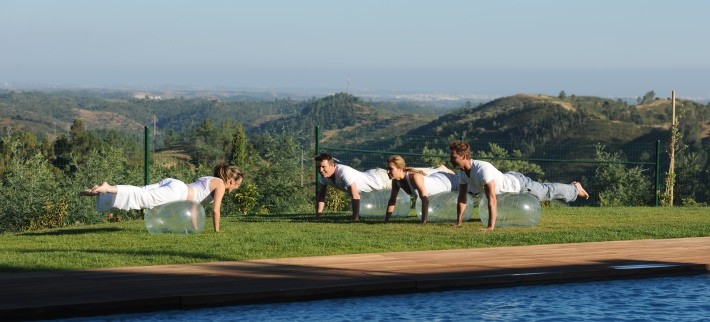 Joseph Pilates, the method's founder, said, 'Physical fitness is the first requisite of happiness. In order to achieve happiness it is important to gain mastery of your body.'
This explains, in a nutshell, why Pilates has become a worldwide phenomenon, with over 12 million people practising its exercises. It is designed to elongate, strengthen and restore the body to its natural balance. Based upon an anatomical understanding of the skeletal and muscular systems, Pilates instructors are able to develop highly personalised programmes catered to each individual's body's needs. What sets it apart from other forms of exercise is its holistic approach, recommended by doctors as one of the safest ways to get fit. It can also be beneficial for just about everyone, regardless of age or ability.
There are many reasons why you should give Pilates a go for yourself, but in order to benefit from it fully, it is important to understand how the exercise method actually works. In terms of modern Pilates, there are 6 principles to adhere to: concentration, control, centering, efficiency of movement, breathing and precision. Through a combination of these disciplines, practitioners can expect to feel and see the benefits of Pilates, with an increased level of physical fitness, stress relief and overall core stability; but have to understand that the way in which Pilates exercises are done is more important than the exercises themselves.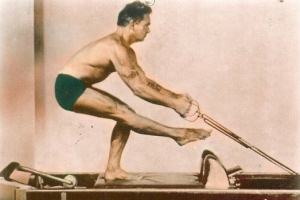 The method's founder, Joseph Pilates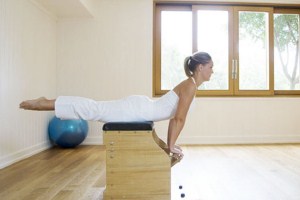 Practising Pilates in the modern era

So, what benefits can you expect from doing Pilates? As a body conditioning routine, Pilates helps to build flexibility and suppleness. Specifically, the emphasis in Pilates is on posture. As the spine supports the majority of weight in the body, it comes under huge strain when we spend hours sitting down in front of the television or at an office desk all day. Pilates helps to re-align the spine and consequently improve posture. This, in turn, can provide relief from back pain and even eliminate it entirely.
Pilates also builds endurance in the legs, abs, arms and back without adding muscle bulk, something that makes it especially popular with women. It increases strength and stamina by concentrating on the core muscles, found in the abdominal regions and the back. Through toning and stretching these muscles, posture can be corrected and strength and stamina are naturally improved. Owing to its low impact nature, Pilates is also recognised as beneficial to those recovering from injuries and can even help to prevent them in the future.
What's more, you won't get into a rut with your Pilates routine, unlike what can often happen when going to the gym. As a gentle, non-aerobic form of exercise, the intensity can be increased over time as your body adapts to the exercises. No muscle group is over or under trained so you can tone your body without putting stress on the heart.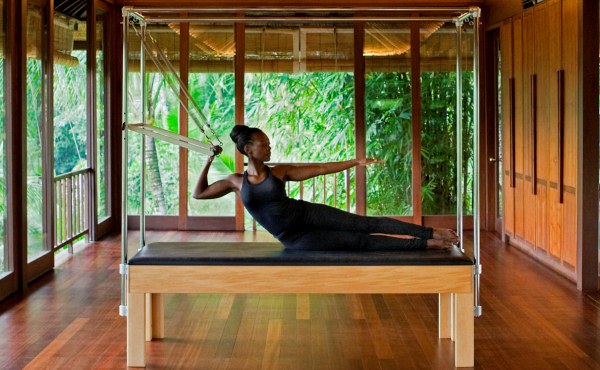 Pilates is well-known to give you a sense of optimal well-being by joining together your mind, body and spirit. More recently, Pilates has grown to be combined with other holistic exercise methods such as yoga. A prime example of this can be found on one of our yoga holidays, which often incorporate Pilates and other exercise routines into the programme. Similarly, Pilates can be enjoyed as part of the Mind & Body element on one of our exclusive Fusion Fitness™ holidays as a personalised one-to-one class.
So why not try Pilates for yourself on a luxury Pilates holiday, in the surroundings of lush rainforest or turquoise blue seas. The Parrot Cay Yoga and Pilates Retreat on the gorgeous Caribbean islands of Turks and Caicos features daily classes run by instructors who have been practising the method for over 20 years. Likewise, the Como Shambhala Estate in Bali also offers a daily schedule of activities including yoga and Pilates, which are guaranteed to increase your flexibility, stamina and energy. Whether you are on a couples' healthy holiday or a singles holiday at Como Shambhala, you will be encouraged to go deeper into your existing practice of Pilates and will leave with a personalised map of how to reclaim your body.
Alternatively you could travel to Shanti Maurice on the beautiful island of Mauritius in the Indian Ocean and enjoy numerous holistic exercise classes including Pilates. Furthermore, enjoy indulging spa treatments so you can get the full benefits of a healthy spa holiday whilst you tone up.


Talk to one of our Travel Specialists on 0203 397 8891 or contact us here to discuss tailor-making your perfect healthy holiday.