10 of the Best Christmas & New Year Healthy Retreats
22 August 2014

22 August 2014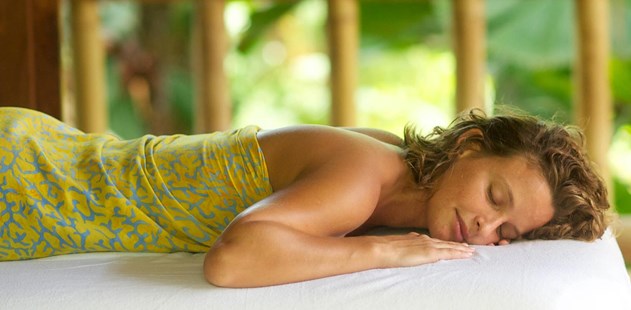 Tired of the usual feeling of lethargy, stress and bloating, often felt around the festive period? Flee the cold grey skies and escape on a luxury Christmas and New Year healthy retreat in paradise.
Achieve optimal health by opting for a luxury wellness holiday in Malaysia; head to the Alps for a white Christmas spent skiing and enjoying spa treatments, or keep fit and have fun jetting off on our surfing and yoga retreat in Costa Rica. Whatever your preference, try something new with a healthy retreat this Christmas and begin the New Year learning a healthy lifestyle.
Here, we highlight 10 of the best Christmas and New Year healthy retreats. Whether you're looking for a couples' break, solo getaway or a fun family escape this festive season, read on and feel inspired by our luxury healthy holidays.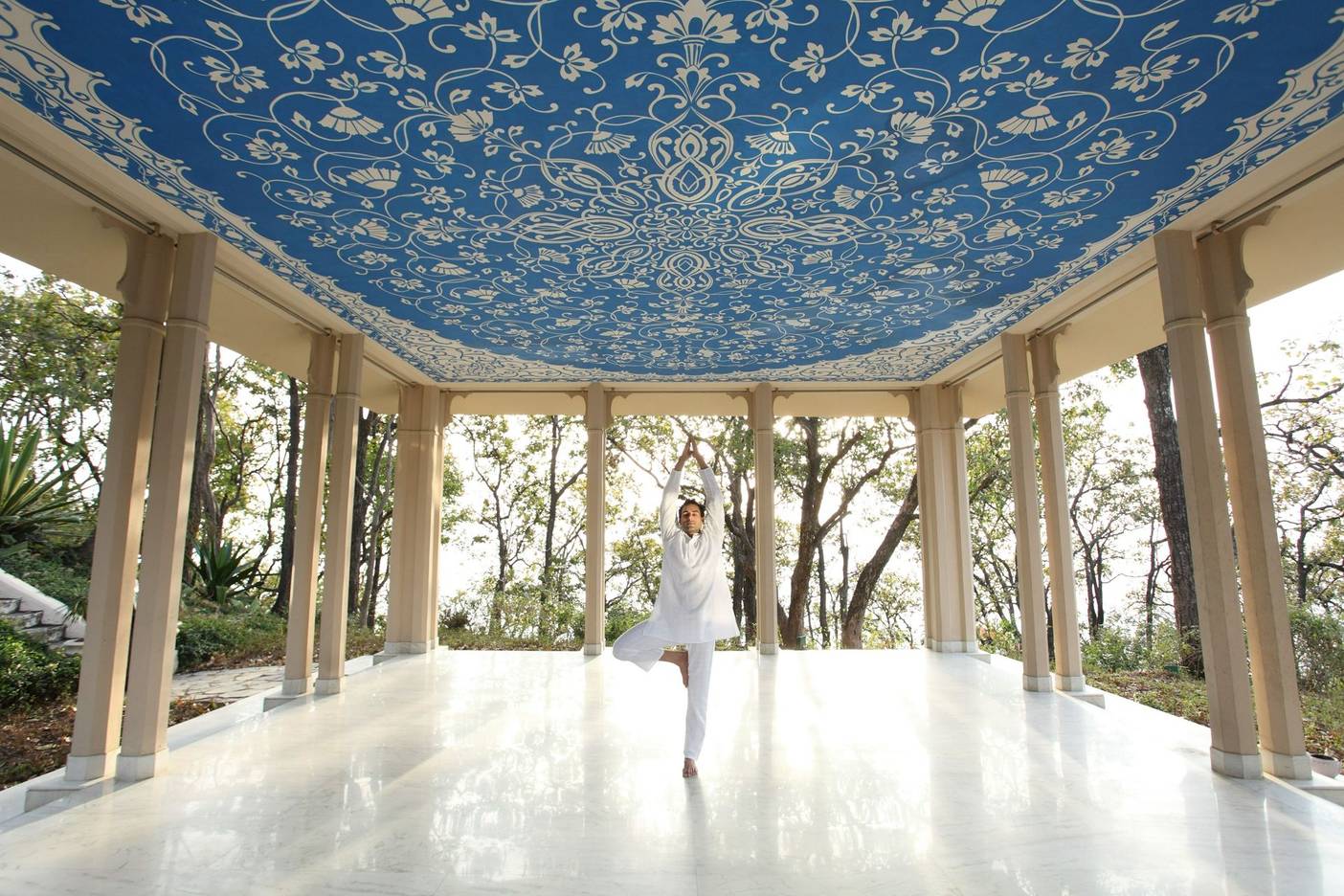 Escape to this holistically healthy retreat in India and begin the New Year in optimal wellness. Set within sight of the Himalaya's foothills in extensive natural grounds, this retreat is an ideal environment for a peaceful and renewing yoga break. On arrival, you will be invited to choose from a variety of well-being objectives and, after a consultation with a specialist, a personal wellness itinerary will be crafted especially for you. Whether your goal is weight-loss, relaxation or beauty enhancement, replenish yourself with individually tailored blends of healthy cuisine, mind-enriching activities such as meditation, beneficial spa treatments and Ayurvedic therapies. Return home from this healthy retreat a new you.


More information: View Ananda in the Himalayas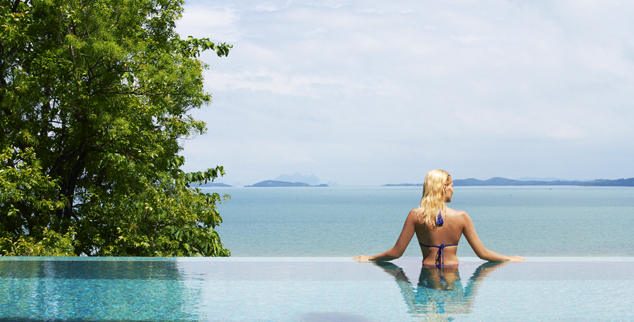 Beautiful view of the sea at Point Yamu

Live in the lap of luxury by swapping a cold and grey Christmas for a sun-kissed healthy retreat in the secluded surroundings of Phuket. Soak up stunning views of lush tropical rainforests and the glistening Andaman Sea as you relax in the retreat's exquisite 100m infinity pool. Beat shivering indoors and enhance your health and fitness in the sun, with a whole host of exciting endeavours including rock climbing, trekking, biking, snorkelling and golf, making this the perfect activity holiday. Retreat to the double storey spa at this healthy retreat for outstanding luxury treatments; leave yourself in the hands of professional therapists trained in ancient healing therapies, to enhance your individual well-being.


More information: View Point Yamu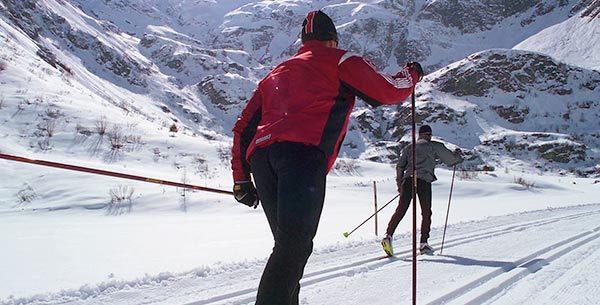 Skiing through the Alps at The Alpina Gstaad

For the perfect mixture of adventure and relaxation, escape to the Swiss mountains on our spa and skiing holiday and have a magical white Christmas at this healthy retreat. Stay in one of the largest and most luxurious ski areas in Europe and spend your days enjoying outdoor fitness activities, blitzing it down the slopes or hiking the spectacular mountains. Unwind with a range of holistic treatments at this healthy retreat's Six Senses Spa, a peaceful and intimate space for rejuvenating your well-being. Enhance your health and fitness by getting involved in complimentary group classes including yoga and Pilates, and avoid the usual post-Christmas bloat by enjoying healthy Japanese cuisine at world class Megu restaurant.


More information: View The Alpina Gstaad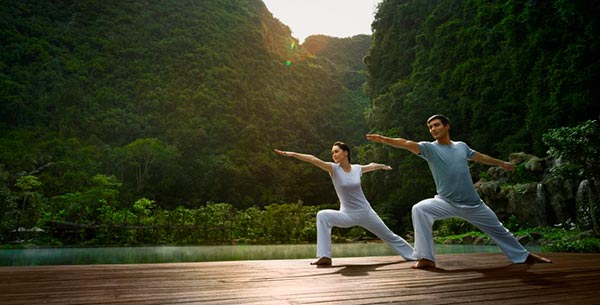 A couple practicing yoga by the water at The Banjaran

Spend your Christmas in an inspiring destination surrounded by tropical jungles, limestone hills and hot springs at this luxury healthy retreat in Malaysia. With a spa and wellness centre offering more than 40 types of holistic Asian treatments, this healthy retreat is perfect for ultimate relaxation and renewal. Famed for an outstanding spa cuisine, escape the usual cycle of overeating at Christmas by enjoying healthy meals in a peaceful natural environment. Enjoy adventurous fitness activities including jungle trekking and cave exploration, and work on your well-being with yoga practice by the water. This idyllic healthy retreat is the perfect destination for escaping the in-laws and jetting off on a couples healthy holiday.


More information: View The Banjaran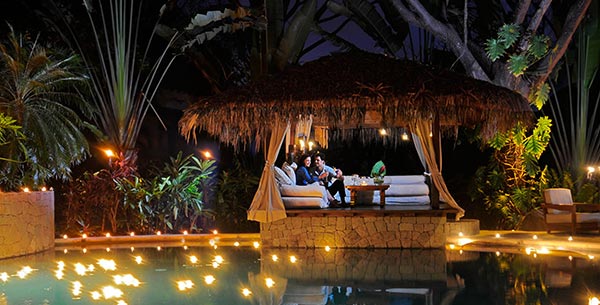 Enjoying delicious cuisine and natural surroundings at Florblanca

For memorable healthy Christmas, escape on an adventure holiday at this luxury boutique wellness retreat, nestled in the untouched tropical jungle of Costa Rica. Take advantage of the stunning natural surroundings by surfing the world-famous waves, zip lining through the tree tops or horseback riding along the beautiful expanse of beach, for a healthy holiday to remember. If one of your New Year's resolutions is to improve fitness and enhance your well-being, try a group yoga class on your healthy retreat before a soothing deep tissue massage at the Bambu spa, for the ultimate health and fitness experience. Feel like you're in the midst of a nature reserve as you enjoy nutritious cuisine with the sounds of wildlife filling your ears.


More information: View Florblanca
 
Madeira: Galo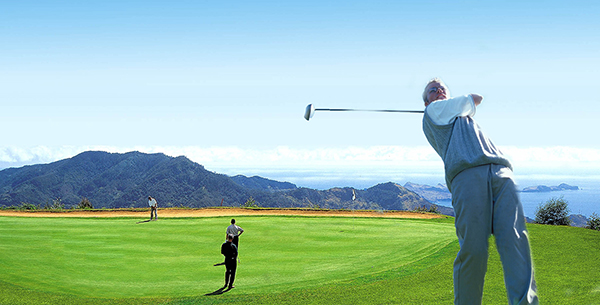 Playing golf on a championship course at Galo

For an unforgettable healthy retreat this Christmas, you need not venture further than Europe. Perfect for a family activity holiday, this healthy seafront retreat in Madeira offers a wide range of fun and engaging sports and fitness activities to keep you fighting fit during the festive season. Whether you dive through the azure waters, practice yoga in the serene surroundings, or hone your driving skills on two championship golf courses, you will certainly feel rejuvenated as you distance yourself from the usual unhealthy post-Christmas feeling. Take advantage of the spa's personalised wellness treatments and Ayurvedic therapies at this healthy retreat to feel completely revived and ready to tackle the New Year.


More information: View Galo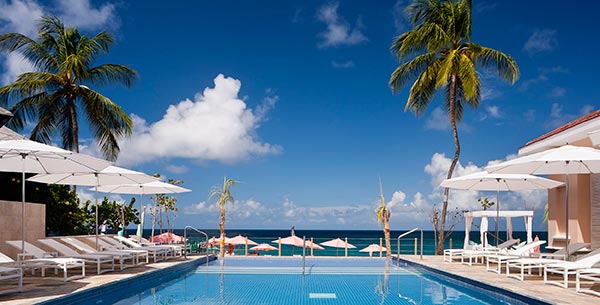 The infinity pool overlooking the beach at TheBodyholiday

Escape to a favourite Christmas getaway and experience the Caribbean in a new way at this amazing healthy retreat in St. Lucia. Ideal for individuals looking to unwind on a healthy solos holiday, the variety of sporty activities and luxury spa treatments mean you can achieve optimal wellness whilst being as active or relaxed as you wish. Say goodbye to Christmas bloat and go windsurfing through the turquoise waters, practice yoga on the sandy beach, or go biking through the lush jungle. Glow from the inside out with a daily spa treatment including a lime and ginger scrub or an Aromaspa ocean wrap, and return home from your healthy retreat feeling revived.


More information: View The BodyHoliday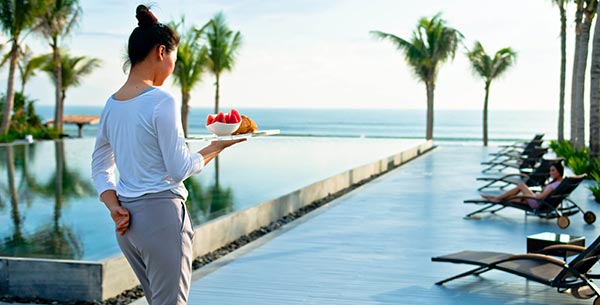 Unwinding by the poolside at Fusion Maia

Enjoy an all-inclusive holiday at this wellness spa retreat in Vietnam for a holistic and focused approach to wellness this Christmas. Enjoy an exquisitely luxurious beach spa holiday which offers a minimum of two inclusive daily treatments, including a choice of over 20 natural body scrubs, pressure therapies and facials. Take advantage of the daily shuttle bus to Hoi An to experience local culture and enjoy complimentary access to group classes including Tai Chi, and yoga to start the New Year in health and fitness. The unique 'freedom destination breakfast' philosophy on this luxury spa holiday means you can wake up on Christmas morning to a healthy meal on the glorious white sand beach.


More information: View Fusion Maia
 
Enjoying a relaxing massage at The Farm

Located in the Philippines and built around a 250 year old mango tree, this enchanting and organic wellness retreat is the perfect escape for a Christmas detox holiday. Famed for its back to nature approach to health, cleanse your system with detoxifying treatments, raw nutrition, luxury spa treatments and beneficial fitness classes for a more balanced mind and body. Practice yoga outdoors amidst lush tropical gardens and embark on inspiring power walks through the tranquil surroundings for a restorative wellness holiday. Enjoy the fresh and organic cuisine at the Alive! restaurant on your healthy retreat and take part in complimentary fitness classes to optimise your well-being for the New Year.


More information: View: The Farm at San Benito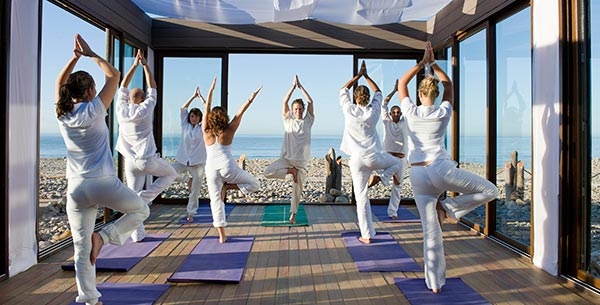 Group yoga in a glass-panelled studio at Paradis Plage

Spend your Christmas by the ocean at this healthy retreat, enjoying yoga, spa treatments and surfing off the beaches of Morocco. An ideal choice for a healthy break, spend the festive season feeling fit and fresh in the outdoors, and experience a revival in your mental and physical health and fitness. Practice daily yoga on the beach or in the glass-panelled studios; enjoy exhilarating surfing lessons in the Atlantic Ocean and finish your day with relaxing wellness treatments in the Paradise spa, including traditional Moroccan Hammam therapies. Keep fit on this healthy retreat with complimentary fitness classes including Body Sculpt, Martial Arts and Aerial yoga. Begin the New Year the healthy way by continuing the good habits adopted over your Moroccan Christmas break.


More information: View Paradis Plage
Talk to one of our Travel Specialists on 0203 397 8891 or contact us here to discuss tailor-making your perfect Christmas & New Year healthy holiday.