6 Days of Yoga and Pilates Bliss
11 September 2012

11 September 2012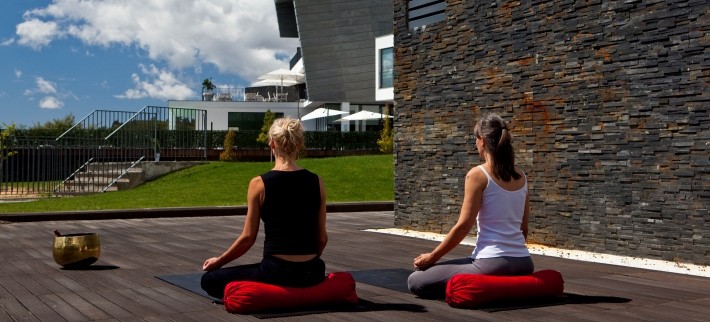 Overlooking the beautiful Monchique hills and coastline, I knew Longevity Wellness Resort in Portugal would be the perfect setting for us to hold our own yoga & Pilates retreat with renowned health expert and Fitness TV Presenter Angie Newson. The exclusive five night retreat started on 5th September at this luxurious health and wellness retreat with a full itinerary of daily yoga and Pilates classes and other added activities which included; Cardio box, Aqua fit, power hiking, sunset walks, cookery lessons, wellness workshops and more.
On arrival, I checked into my spacious and luxurious apartment which overlooked the mountains and had an inviting hammock on the balcony to relax on. The retreat started with a 75 minute yoga and Pilates fusion class. This was a good opportunity to meet the rest of the group, most of whom had come alone, so it was very solo friendly with 15 of us in total. Everyone bonded very well - Angie is such an amazing teacher and we were all able to embrace her classes and connect immediately.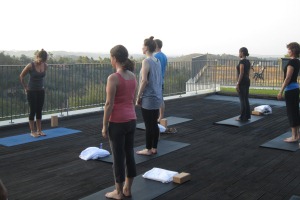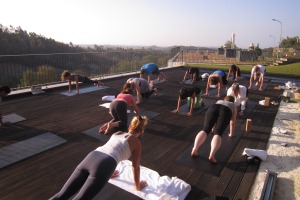 Angie teaching a morning yoga class outside

The yoga classes were in the mornings outside on the yoga deck and the Pilates classes were in the afternoon inside their stunning wellness studio, with both spots overlooking the mountains and serene scenery. We then had the rest of our day to go hiking, have spa treatments and enjoy all the fabulous inclusive facilities and activities on offer. Every class offered something different and encouraged physical, emotional and spiritual relaxation.
The age range of clients on the retreat varied from 23 to 81. Angie was able to give classes to all abilities and was truly inspirational; the retreat was suitable for beginners, as well as people like me who are more advanced and aimed to deepen our practice. We all ended the retreat feeling more aligned and more toned, with improved posture and balance. So job done!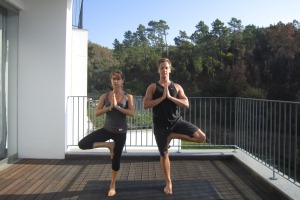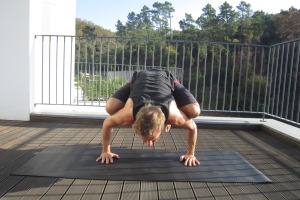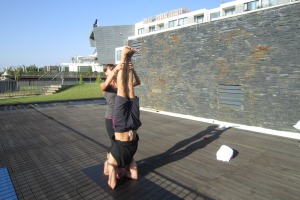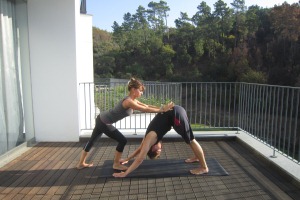 Our Travel Specialist Paul practicing yoga with renowned yoga and Pilates teacher Angie Newson

On top of all the daily yoga and Pilates classes, I signed up for the cardio boxing class which was challenging but fun. Elliot the fitness trainer knew how to motivate and work us hard, I also tried Archery, Aqua fit and some of the other in-house yoga and Pilates classes. Being an avid hiker, I loved all the daily hikes and sunset walks, especially as Monchique is such a beautiful place. As part of the retreat we ventured on power hikes and stopped twice on the way for two short yoga classes in the mountains with breath-taking views. There was also a four hour advanced power hike at the weekend where you can climb the highest peak in Monchique.
Every day after the morning outdoor yoga classes we had a healthy buffet breakfast which was my favourite meal of the day. Being on half board we had the option of a wholesome nutritious lunch or dinner, which gave us the flexibility to venture out on a few nights to some of the lovely Portuguese restaurants close by and enjoy some nice local food which I highly recommend doing. By day three I was starting to feel much restored.


Indoor wellness studio for yoga and Pilates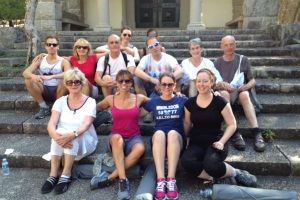 The group after a morning power hike and yoga stretch

The Longevity medical spa's goal is based on preventive medicine and healthy ageing so most of us on the retreat booked in for some treatments. I had a preventive medicine consultation with Dr Manuela Figini, an experienced Portuguese Medical Doctor with an extensive knowledge in Aesthetic, preventive and ageing management, who I was very impressed with. She advised me on some very important nutrition, health and lifestyle changes that I needed to make. I also treated myself to their signature Longevity deep cleansing facial which involved microdermabrasion, a medical cosmetic technique that uses a mechanical exfoliation to remove dead skin cells. It was excellent and my skin looked and felt amazing afterwards.
The six day retreat left me feeling rejuvenated and revitalised, the mountain air totally relaxed me and I slept well every night. Most importantly I left the retreat with a better knowledge of yoga and Pilates and I look forward to returning next year.
For more information about the Angie Newson wellness retreat visit Longevity Yoga and Pilates Retreat.
Talk to one of our Travel Specialists on 0203 397 8891 or contact us here to discuss tailor-making your perfect healthy holiday.