ABAMA: A Spa and Sport Indulgence
17 November 2011

17 November 2011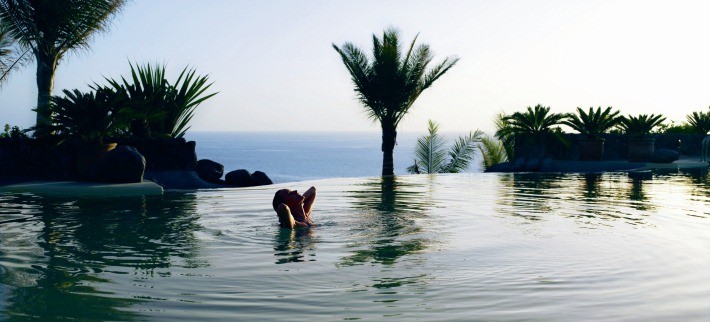 I arrived at Tenerife airport to a warm 25 degrees Celsius, blue skies and sunshine; a big contrast to the grey skies, rain and 8 degrees I left behind at London Gatwick the same morning. Abama Golf & Spa resort is set on the untouched western coast of Tenerife and is a destination itself situated across 400 acres of land and only a 20 minute drive from the airport.
On arrival I was greeted by friendly staff who gave me a cold refreshing flannel, a nice way to refresh after the four hour flight. I didn't have to even trouble myself checking in at reception as the welcoming staff sat me down with a fruit cocktail and sorted out my paperwork. I was lucky enough to be staying in Tagor Villas which are luxury adult-only rooms and suites. As well as my room key, I was also given an allocated golf buggy to use around the resort when I wanted to give my legs a rest from walking, it was great fun to drive!
I was given a tour of the resort to familiarise myself and my first impressions of Abama were very high, there's a swanky spa, professional tennis academy, spectacular championship 18 hole golf course and a private secluded beach. There are more swimming pools than days of the week, a global range of 10 restaurants and some fabulous themed bars, my favourite being the sports bar.
My Tagor Villa, which was even more beautiful than it looked in the photos, came with a four poster large king size bed, plasma TV, iPod and Bose speakers, large bathroom and spacious balcony which overlooked the private swimming pool and served complimentary drinks all day. I felt immediately relaxed and decided to go for a swim to unwind before watching the sunset on the beach. 
That evening I decided to keep low key and ate in the tapas bar whilst I familiarised myself with the choice of restaurants available which included a Michelin star by Chef Martin Berasategui. I was extremely impressed by the food, they had thought of everything when it came to cuisine and I thoroughly enjoyed all my daily meals.  Food is really important to me when I go away, and I was completely spoilt for choice.
My package came with a tailor-made rejuvenating spa and exercise programme. The timetable of classes were extensive and included yoga, Pilates, tai chi, qi-gong, spinning and more. I was really impressed by the spa which was beautifully designed and had everything you could possibly want. I began my stay with a comprehensive EIS health consultation with their fitness and nutrition expert. The EIS machine works very similar to reflexology and takes readings from your feet and hands, giving a complete evaluation of the body's composition. It scans your whole body by generating a specific and individual 3D graphic overview of each of the body's systems.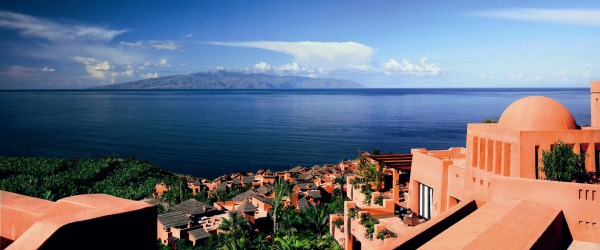 Having had a busy couple of months working long hours and a few sleepless nights, it was no surprise my reading from the EIS showed me to be stressed and tired. Interestingly the report showed that I put more weight on my right leg then my left, how my posture and balance could be better, my brain was overloaded and my digestive system was sluggish. My tailored wellness programme included acupuncture, lymphatic drainage massage, sports massage and a tropical nectar body ritual, along with personal training sessions, exercise classes and healthy spa lunches.
All the treatments were fantastic and the therapists really went out of their way to listen to my areas of concern.  The thermal water circuit was very good with a large hydrotherapy pool including many different jets and water features to stimulate and purge the lymphatic system. There is also a Turkish Hammam, herbal steam room, sauna and cold plunge pool. I spent most of my days in the fitness centre which had state-of-the-art equipment and the personal training sessions were fantastic, the trainer showed me some new techniques to incorporate into my exercise routine back home. The spinning classes took place outside on the spa terrace overlooking the beach; a much nicer experience than the indoor studio at my gym back home and always a great class to work up a sweat and burn calories fast.
My favourite classes were Vinyasa flow yoga, beach hula hoop and tai chi by the sea. The exercise teachers were very good and by my third day I felt much healthier and fitter.  On day four I enjoyed a morning power walk and a game of tennis at their extensive academy - Mark the tennis coach was very good and showed me some great techniques, having not played in over a year my serve and backhand were slightly rusty.  I enjoyed an abs and back class in the afternoon, another thermal water circuit at the spa and the rest of the day by the private swimming pool.  I also took up the challenge of a golf lesson overlooking Abama's stunning 6,271 metre Dave Thomas designed golf course which is an absolute must for any golf enthusiast.
El Mirando restaurant had been recommended to me for their steak and sea food so I had booked myself in on my final evening. The beef tenderloin tasted so good, it just melted in my mouth and I was recommend the cheese ice cream for dessert which was so delicious, I had to order another scoop. Because of all the fitness classes and exercise I was doing, I decided to indulge a little and being an ice cream lover I couldn't get enough of all the homemade Italian flavours they served across the different restaurants.
I was sad to leave Abama as I had such an amazing time, I felt restored and my final EIS health consultation showed a different picture to the one I had seven days ago, I had totally de-stressed and was much calmer. I looked a lot better than when I arrived and was ready to return home a healthier me. As a guest of the Tagor Villas, I was given VIP access to the lounge at Tenerife airport with complimentary snacks and drinks before I boarded the plane home. I will definitely return to Abama for my second dose of rest and recovery when I need another health and fitness break.

Talk to one of our Travel Specialists on 0203 397 8891 or contact us here to discuss tailor-making your perfect healthy holiday.