Alison's Review of Lefay Resort & Spa, Lake Garda in Italy
01 August 2014

01 August 2014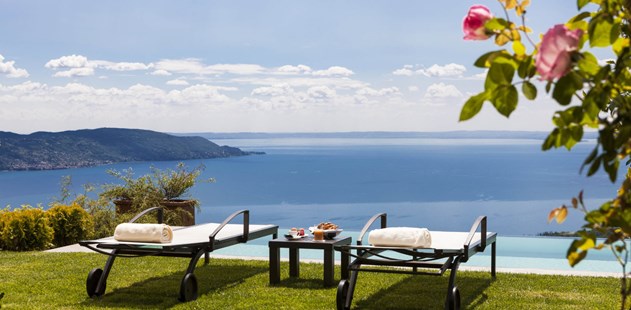 Well, where do I begin? Let's start at arriving at Verona airport in Italy. The bags arrived promptly within 20 minutes of landing. As I walk through to the arrivals lounge, my driver from the hotel is there waiting for me and I am driven from the airport to Lefay Resort & Spa in complete comfort and luxury – this sets the tone for the whole trip from now until I come back to this airport in a weeks' time.
As we pull up to the reception my heart leaps. Wow. Nothing can prepare you for what awaits you. What an amazing view, but also what a warm welcome. I am shown to the terrace for a welcome drink and refreshing cold towel while my luggage is taken to my room and I'm personally greeted by the Resort Manager.
I have opted for a full board package, which is part of the resorts fitness program. This combines light healthy food with a week of fitness combined with relaxation techniques, as well as a full assessment of my posture and energy levels. I do lead a busy and stressful life with a high pressured job, and like a lot of us, life has thrown up more than few challenges recently in my private life. So, it's time to recharge and recuperate.
After a beautiful light lunch of pasta with mint pesto overlooking Lake Garda – which is breathtakingly beautiful, I am shown to my Prestige Junior Suite. It is a light, immaculate and airy room, with a stunning view over the Lake. There is a large bathroom with a walk in shower, large bath, separate WC and a huge dressing area which is separate to the rest of the room – very desirable!! I cannot fault the room, comfortable, spotless & relaxing – which sets the tone for the whole resort and week.


Beautiful view of Lake Garda


My first meeting is with the Spa team who explain to me what my week's program will be, including fitness sessions, relaxation techniques and spa treatments. We start with an assessment from the physiotherapist who immediately spots my tensions and stress. I'm then given a wonderfully relaxing massage to ease me into the evening. I can't fault anything so far, and I am treated to a wonderful dinner in the beautiful Limonia restaurant – again the view is breath-taking, who needs conversation!
Day two starts with an assessment from the Spa team Doctor. This program is based around the principals of Chinese medicine, which concentrate on the feeling of well-being through diet, exercise & relaxation. This meeting determines what I need to do this week, and which treatments I will get. No surprises I need to relax and let go of all my stress. That is why I am here; my fuel tank was well and truly empty.
So, we speak at length about why I am at this level, and what I need to do to keep stress at a minimum. This leads to a consultation on nutrition which is extremely important to me as I am trying (and have been for years) to lose the final 4-5 kilos. I have lost 7kg already, but I'm stuck in a rut. The Doctor talks me through some interesting points on diet, what will help me with the loss of those pesky final pounds without tripping myself up along the way. I am also given a tea recipe that will help me relax as well as a lot of food for thought. It's the wakeup call I need, and gives me the boost I need to get started.
Exquisite views of the surrounding mountains (left) and the infinity pool (right) at Lefay


The good thing about this program is it allows time to enjoy the resort at its finest. The infinity pool is truly spectacular; words cannot describe its beauty. Combined with the stunning view of Lake Garda, and the immaculate grounds makes it a very happy place for me, I can feel the tension leaving my body every second I am here. If you want a glass of wine – have one, if you want pasta – have it. It's all up to you; this is not a boot camp (thank goodness!)
As the days progress, I am taught new techniques – both in fitness and relaxation. These include personal training sessions that push me, but not too far that I don't enjoy them. I also took part in my first Yoga & Pilates classes, which I thoroughly enjoy – why have I not done this before? Well, I shall certainly keep doing these techniques when I get back to my normal life. The penny finally drops, I must make time to relax to be more effective in everything I do, as right now my efficiency levels are not great, and now I understand why.
As the week goes on I fall into a routine of eating the most amazing healthy food, I do not feel deprived at all. This is important to me as I love my food. It is an important part of my life and I need to find a way to continue to enjoy my food whilst staying healthy. I'm 40 next year, and it's become obvious that I need to improve my diet but I need to do it in a sustainable way – and this health resort has shown me the way this is achievable. Hallelujah!!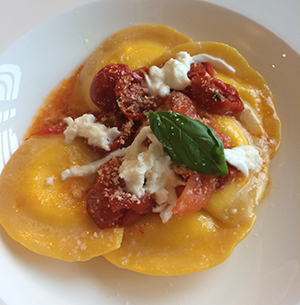 I am treated to new massage techniques – including Moxibution which is a practice of gently heating the energy points in your back – and wow, what a revelation this is. I came away feeling alive, and refreshed. Another technique I am enlightened by is reflexology. I am not one for people touching my feet, and I was more than a little nervous, but it was amazing. I was tense to begin with but by the end of the session I am calm, and uplifted, and a little emotional at letting go of a lot of my tensions. That evening is the best night's sleep I have had in years.
If you visit Lefay please make sure you take a guided walk through the gardens, truly stunning and inspiring. It follows the same principles of Chinese Medicine & Theory, following the circle of energy and life. Whether you believe it or not, it makes sense to me. I'm not an easily persuaded person in many things, a sceptic normally, but this makes a lot of things in life clear.
The week past in a flash, but I never felt rushed or tired. Instead I felt re-energised, calm and fulfilled. The staff – and I mean every member of staff made me feel so welcome, but were not intrusive. A hard balance to provide excellent service with not being over whelming. I can't thank the staff enough for making me feel like a VIP all week long, from morning to night. That shouldn't be under estimated, especially when travelling solo – never once did I feel uncomfortable.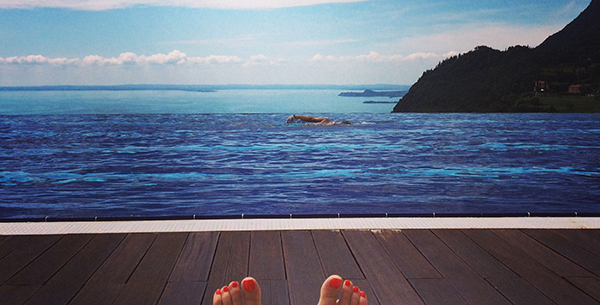 Relaxing by the infinity pool with a view of Lake Garda


At the end of the week I am given a letter from the Doctor who has taken the time to see me 4 times to help me get my brain ready for the outside world. I really can't thank him enough. For the first time in as long as I can remember I feel like I have a plan that is achievable and more importantly makes sense.
After a final night meal, a beautiful glass or two of wine, and a perfects night sleep, it's time to leave and return to the airport with the same special service from when I arrived. I am not ashamed to say I shed a tear when leaving such a wonderful oasis.
So thank you Lefay. Thank you for the recharge and giving me my confidence back. Thank you for the great food, service, revitalising spa program, re-energising fitness lessons, but most importantly thank you for sharing your wonderful world with me. I can't wait to come back soon.
For more information visit Lefay Resort & Spa
Talk to one of our Travel Specialists on 0203 397 8891 or contact us here to discuss tailor-making your perfect wellness holiday.