Best Beach Retreats for Yoga Lovers
31 March 2016

31 March 2016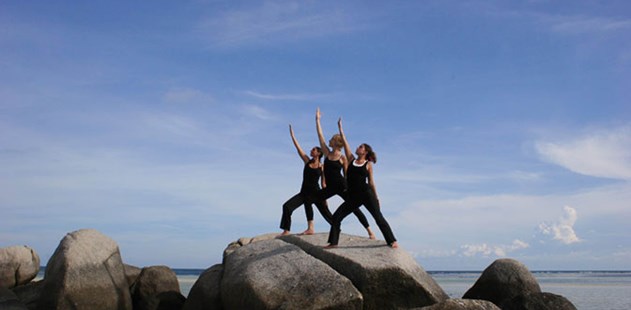 Add some vitamin D and sea salt to your yoga practise on an exotic yoga and beach holiday that will leave you sun-kissed, rejuvenated and with a feeling of total wellness. Rather than a fly-and-flop beach holiday, give yourself the gift of sunrise yoga performed on white sandy beaches, supplemented by exhilarating water sports and indulgent spa treatments. Welcoming yogis of all levels and under the guidance of expert tuition you can choose to start learning yoga on holiday, or focus on strengthening and developing your existing practise. Whichever path you choose, you will return home re-balanced, rested and restored.
Head to a tropical island paradise in the Caribbean for Vedic yoga philosophy sessions and kayaking, combine yoga with guided meditation to achieve mental clarity in Greece or move into downward dog while on a floating paddleboard in Bali. Experience a transformative escape when you choose a yoga retreat that comes with beachside views, ocean breeze and the sparkling sea to revitalise your body, mind and soul.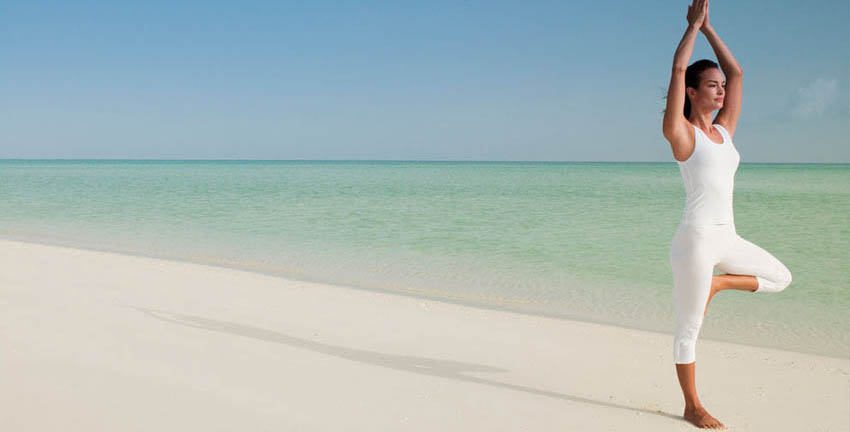 Practice yoga on the beaches of a private Caribbean island at Parrot Cay

Step into an unspoilt paradise complete with crystal clear blue waters and miles of white sand beaches at this luxury beach yoga retreat set on the private Caribbean island of Parrot Cay. Feel the sand between your toes with daily beachside yoga and Pilates classes and open your mind with Vedic yogic philosophy group discussions. Explore the coast on your Caribbean yoga holiday and enjoy thrilling water sports including kayaking, reef fishing and snorkelling. Unwind and rejuvenate at the luxury spa with holistic Ayurvedic therapies before enjoying a delicious meal of the freshest seafood. 

More information: View Parrot Cay Yoga & Pilates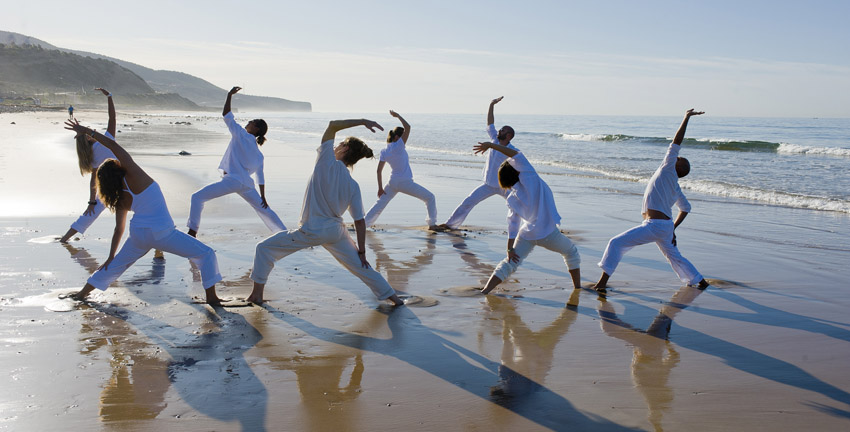 Escape to Morocco for group yoga classes on the beach at Paradis Plage

Facing on to a private beach along the exotic coastline of southwest Morocco, this beach yoga retreat is a haven for those looking to learn or develop their yoga practise by the ocean. Watch the sun rise and set as you move through asanas in the stunning beachfront yoga pavilion with classes three times a day. In between, paddle along the coast in a canoe, get competitive with a round of beach volleyball or challenge yourself with beach running for a yoga and fitness holiday you will never forget. Later soothe tired muscles with a traditional Moroccan spa treatment for complete mind and body rejuvenation. 

More information: View Paradis Plage Yoga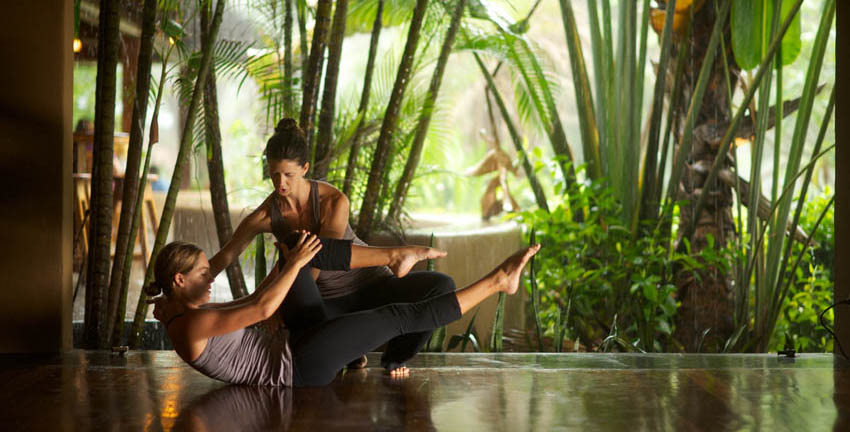 Revive with private yoga or Pilates sessions in Costa Rica at Florblanca

Fill your lungs with the tropical ocean air of Costa Rica as you benefit from expert tuition on a yoga and Pilates holiday that will renew and restore your sense of well-being. A must-visit for any beach yoga devotee, centre your mind and tone your muscles in the stunning seaside open-air dojo with private yoga or Pilates classes. Head out with your surf board to catch some waves or return to nature with a horseback ride along the beach to relax body and mind. In the evening, lie back in a shady hammock or pamper yourself at the spa with a coconut scrub.


More information: View Florblanca Yoga or Pilates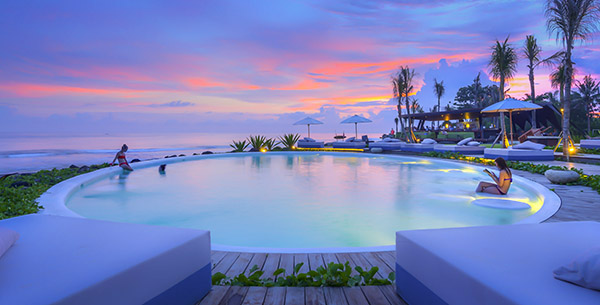 Escape to Bali on a yoga retreat at Komune Resort

Set amongst the serene beauty of the Balinese coastline, rejuvenate your well-being on a yoga and spa retreat that will revive body, mind and soul. Target any deep muscle tension with a roll and release yoga class, learn how to continue your practise at home with a private tuition session or head out onto the ocean with paddleboard yoga. Breathe in fresh sea air with a sunrise beach run before heading out on a rice paddy cycle tour to soak in some culture. Cleanse and renew with holistic spa treatments, including one from a Balinese healer and return home from your beach yoga retreat fully transformed. 

More information: View Komune Resort Yoga & Spa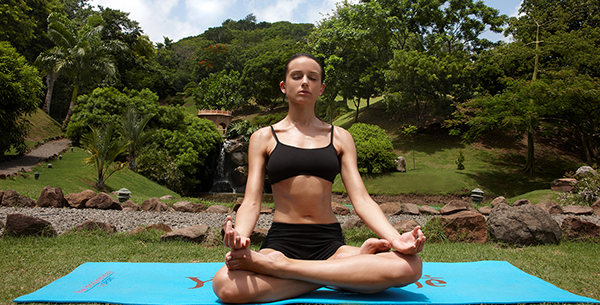 Recenter with yoga in the Caribbean at The BodyHoliday

Combine private yoga and Pilates classes with a myriad of water sports on a beach yoga retreat on the sun-soaked Caribbean island of St. Lucia. Reconnect with your inner calm through yoga or build a lean physique with Pilates, supplemented by group Tai Chi and meditation classes on a singles yoga holiday that offers a diversity of wellness pursuits. Skim over the ocean on water skis, explore the reefs with scuba diving or indulge your inner child with a thrilling session of tubing. A daily luxurious spa treatment at the award-winning wellness centre will complete your sense of well-being.

More information: View The BodyHoliday Yoga or Pilates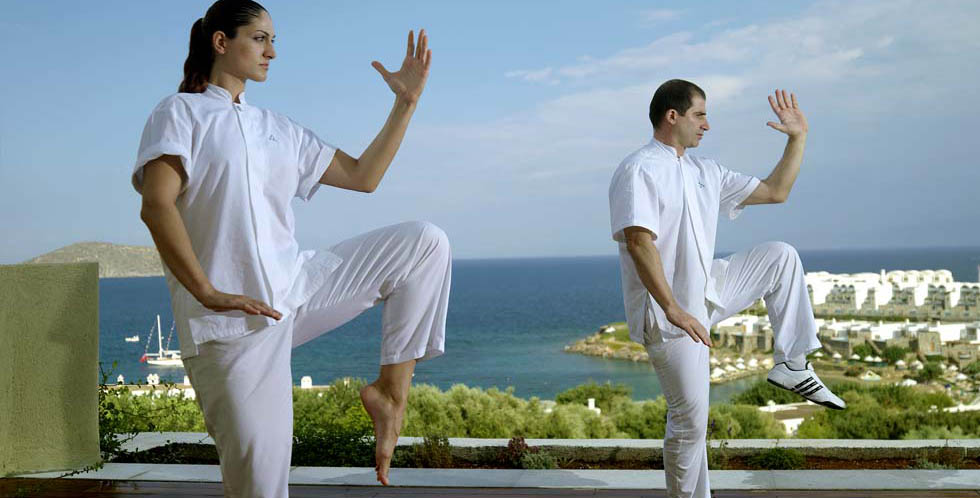 Find tranquility in Crete practicing yoga with ocean views at Porto Elounda

Nestled on the Greek island of Crete and overlooking breath-taking views of Mirabello Bay, this idyllic beach yoga retreat offers a tranquil sanctuary for yogi enthusiasts. A yoga consultation will identify which practise is best for your wellness needs, whilst guided meditation and pranayama will help you to re-centre and re-balance. Take a dip in the Mediterranean ocean and discover tropical sea life with a scuba dive or feel the sea breeze on your skin on a yacht excursion. An afternoon spent in the Six Senses Spa indulging in luxurious spa treatments on a beach spa holiday will leave you totally rejuvenated. 

More information: View Porto Elounda Discover Yoga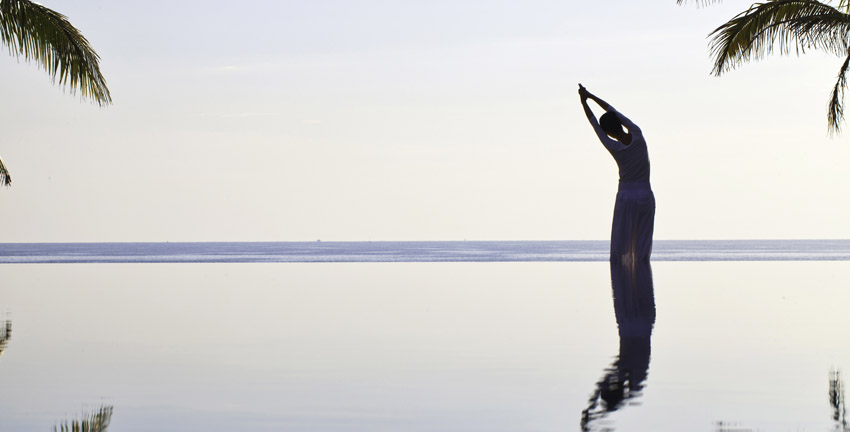 Stretch out in Vietnam with private yoga sessions at Fusion Maia

Featuring some of the world's most beautiful beaches, this beach yoga retreat is a tropical paradise located on Vietnam's east coast and features yoga classes taught by international yogi Bhavini Kalan. Benefit from a daily private yoga session to improve your technique and form, as well as group sessions of the resort's signature Fusion Flow or Fusion Restore yoga classes. Take advantage of the beach front setting on a yoga and diving holiday and head out for a diving excursion to the local Cu Lao Cham Island. Experience true tranquillity at the Maia Spa with healing massages, facials and body wraps. 

More information: View Fusion Maia Yoga


Soak up the sun in Oman during outdoor yoga classes at Zighy Bay

Nestled in its own secluded bay on the Musandam Peninsula of Oman, this restorative beach yoga retreat will challenge and strengthen both body and mind. Achieve mental clarity with personalised yoga classes before harmonising with sunrise and sunset guided meditation and pranayama sessions on a meditation retreat that offers true tranquillity. Get your heart racing with wake boarding or race over the sun-kissed sand with beach tennis before taking in the beauty of the ocean with a sunset cruise. Reviving spa therapies will ensure you return home from this beach yoga retreat full of energy and vitality. 

More information: View Zighy Bay Discover Yoga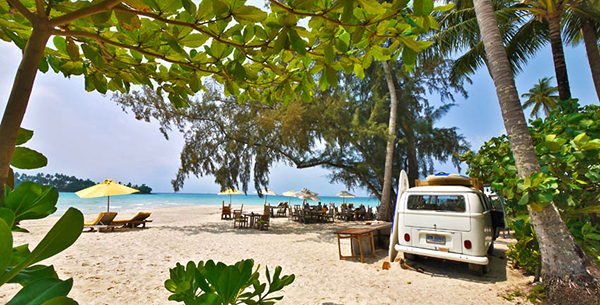 Practice yoga in paradise at Soneva Kiri

Surrounded by palm fringed hills on the coast of Thailand's idyllic Koh Khood island, this exotic beach yoga retreat is only a stone's throw from a spectacular white sandy beach. Following an initial yoga consultation, learn how to strengthen body and mind through different poses to achieve a complete mind and body connection. Guided meditation and chakra balancing complement your practise and promote the flow of positive energy around your body. Indulge your love of the ocean on a water sports holiday with activities from windsurfing to catamaran sailing, to return home sun-kissed and exhilarated. 

More information: View Soneva Kiri Discover Yoga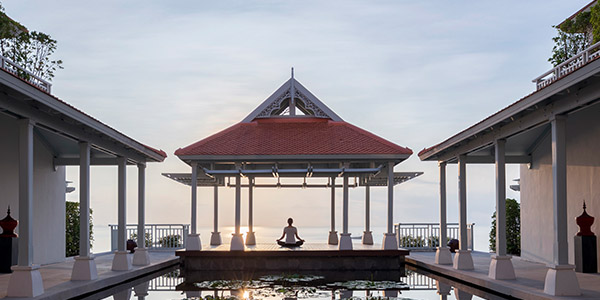 Enjoy the beauty of the ocean as you practice yoga at Amatara

Escape to the dazzling island of Phuket for a yoga and SUP holiday that will boost your yoga practice to a whole new level. Benefit from private tuition and move between the asanas with ease as you learn to control the body and the mind. Swap your yoga mat for a paddle board and learn to move at one with the ocean as you float over its sparkling waters. After signature spa treatments, including a Thai Hammam journey, enjoy an evening stroll along the beach as you listen to the waves lap the shore for complete rejuvenation.

More information: View Amatara SUP & Yoga
Talk to one of our Travel Specialists on 0203 397 8891 or contact us here to discuss tailor-making your perfect beach yoga holiday.