Buccament Bay: A Week in Paradise
27 February 2012

27 February 2012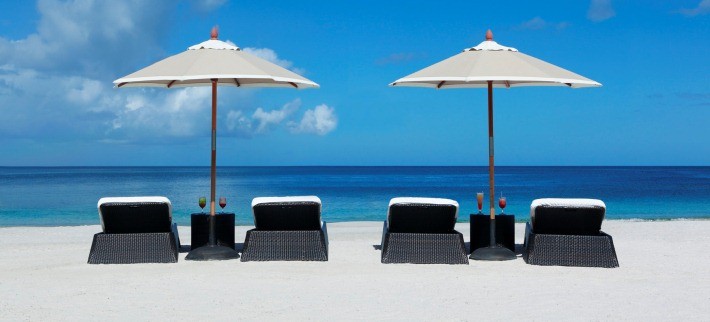 Buccament Bay is becoming the most talked about place in the Caribbean, a luxury five star resort with outstanding facilities which I got to experience myself. The new resort on the little island of St Vincent has exceptional facilities for the active traveller; these include a Liverpool FC Soccer School, a Pat Cash Tennis Academy, a performing arts centre with classes led by West End professionals, fitness centre and a spa. Scenes from one of my favourite movies, Pirates of the Caribbean were shot nearby.
I flew from London to Barbados, and then jumped on a 25 minute connecting flight to the beautiful volcanic island of St Vincent. Buccament Bay has a beautiful large white sandy beach; the white sand was imported from Guyana as the natural colour of most beaches here is black. Even though an artificial beach, it was stunning to look at and I was so happy to have arrived at this dream destination.
I checked myself into my luxury villa which was very elegant with a vast living room, walk in wardrobe, beautiful bathroom, plunge pool, free Wi-Fi throughout the whole resort, a slick coffee machine and a fridge full of complimentary drinks. As a bonus my villa was right on the beach, I really couldn't ask for more! I decided to explore the resort and visited HQ, a deli which serves fresh smoothies, juices, Italian ice-cream, crepes, sandwiches, pastries and teas. Even though I'm very health conscious, I'm also a big believer in having things in moderation especially when you do lots of exercise and I couldn't resist the ice-cream which was delicious. There were more flavours than days of the week and the caramel was divine.
That evening I watched the sunset go down whilst going for dinner at the Bay Beach Club which is à la carte dining. The restaurant is situated at the other end of the beach and they had a live band playing really good music. I was really impressed by the food which for an all-inclusive resort is beyond excellent; they had everything you could want and more on the menu. The fish and steak were very good and the chocolate soufflé was delicious, I don't normally eat desert but I had to try this one!
After a good night sleep in my comfortable bed, I woke up early to go to the fitness centre to meet Norman, the personal trainer. He showed me the facilities and I was pleased to see they had boxing, good cardio equipment and free weights. All group exercise classes are complimentary to guests so I began planning which ones to do during my week. Classes included Thai beach kickboxing, spinning, yoga, beach boot camp, cardio sweat & tone circuit, group running and power walks. The classes were very good and are tailored to suit all levels dependent on your fitness. Buccament Bay is also launching their new luxury fitness Boot camp retreats from May 2012 with expert trainers and nutritionists.



Breakfast is the most important meal of the day for me and I spent every morning at the Bamboo restaurant having a continental buffet which included pancakes, French toast, eggs, cereal, yogurt, fruit and pastries. I had lunch most days from the beach grill, if you like authentic pan Indian cuisine then try Safran and there is also a Sushi bar in the Piazza for guests to take away. Buccament Bay is still being developed and three more restaurants will be opening in late 2012, offering more fine cuisine choices, I can't recommend the food highly enough so I look forward to returning and trying the new restaurants. The staff have all been well trained and seemed to remember my name and nothing was ever too much trouble. They also host a management cocktail party on a Wednesday which is worth attending and the barbecued lobster was a highlight.
The resort offers three complimentary sunset cruises every week and you normally see dolphins on the trip. I love being on the water so I went on every one and was lucky enough to also see dolphins every time, it's also a good chance to socialise and meet with other guests and have a drink.  Boat trip day excursions are also offered to Mustique, Tobago and Dark View Falls which is a nice way to see other parts of the Island whilst there. Being an avid hiker I booked myself onto the hike to La Soufriere Volcano which I highly recommend with breath-taking views, so take your camera and drink plenty of water. It is a challenging climb to the top; the three mile hike passes through rainforest, bamboo groves and cloud forest before reaching the volcanic rock.
The Harlequin sports academy is simply amazing with a Pat Cash Tennis Academy and Liverpool Football club. Whether you're young or old, experienced or not, the tennis academy has a fun, challenging and rewarding training programme that offers complimentary group coaching. Pat Cash will next be at Buccament Bay in April 2012 and the tennis coaches who work alongside him at resort are very good. They also have a basketball court, I hadn't played in years but I thoroughly enjoyed it.
The Liverpool football club is very impressive with a big football pitch to play on so you can perfect your skills and learn from the best. Football legends including Andy Townsend, Gareth Southgate, David Fairclough and other well-known coaches are at the resort during select weeks to give a master class programme. If you're a cricket or golf fan then coaching lessons are also available, when it comes to sport Buccament Bay has really thought of everything!



Having being busy with tennis, football, basketball, hiking and exercise classes, I booked myself in for a 90 minute fitness massage to soothe tired limbs. The spa treatment rooms are extremely elegant and I opted to have mine on the outdoor spa deck overlooking the pond. You can also enjoy a massage in their Thai Pavilion or under a gazebo on the beach. The massage is tailored to the individual to release deep-seated muscular tension; hot volcanic stones, advance massage techniques and stretching are all incorporated into this treatment leaving you feeling rejuvenated and relaxed, it was just what I needed.
On my last day I went Kayaking and snorkelling. I had fallen in love with their chair lilows in the infinity swimming pool which I just reclined myself on. It even had a pouch for my fruit punch to sit in so I spent most of the afternoon on them, looking out to the beach. My week in paradise at Buccament Bay resort was coming to an end, it surpassed my expectations and I was sad to leave but no doubt I will return for another great holiday. You can view all my photos I took on the Health and Fitness Travel Facebook page.
For more information visit Buccament Bay
Read our Travel Expert, Sophie Dubus's Review of Buccament Bay 


Talk to one of our Travel Specialists on 0203 397 8891 or contact us here to discuss tailor-making your perfect healthy holiday.