Buccament Bay Launches Luxury Boot Camp
23 January 2012

23 January 2012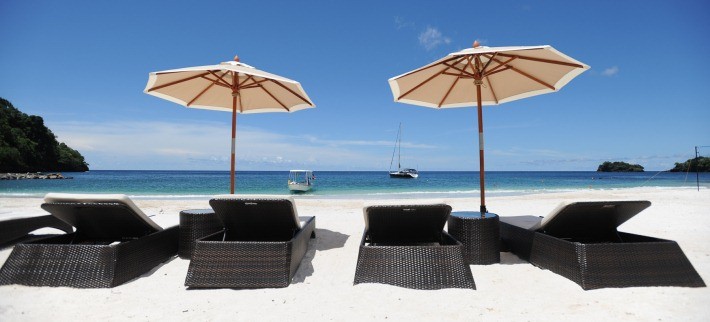 Buccament Bay Resort, the newest name in luxury travel to the Caribbean, is merging relaxation with the pursuit of hard core fitness goals with the launch of a Luxury Boot Camp programme.  Available from 15th May to 30th June, these fitness retreats at the all-inclusive property is crafted for travellers of all fitness levels by U.K.-based personal trainers and nutrition experts. With rates starting at £2,590pp, the exclusive package allows for a health boost and also provides effective fitness tips to take back home.


Workout Schedule
With the guidance of two experienced personal trainers, "Buccament Bay Boot Camp" offers a different itinerary each day to keep things interesting. The daily 5:30a.m. wake-up call proceeds with an invigorating hike to the active La Soufriere volcano, or a picturesque speed walk at the nearby Vermont Nature Trails.  On-property workout options abound at Buccament Bay Resort, from a refreshing swim at the property's private beach to an intense match at the Pat Cash Tennis Academy or plyometrics and scrimmage at the Liverpool FC Soccer Academy.


Nutrition Menu
Designed to accompany the daily workout regimen, the "Buccament Bay Boot Camp" nutrition menu offers delicious and nutritious meals and snacks, using local products and encouraging a balanced diet of low glucose intake, high protein and carbohydrates.  Varied breakfast options include raspberry French toast, scrambled eggs with whole wheat bread, and low-fat yogurt and fruit.  After working up at appetite with an active morning schedule, the perfect midday reward is a chicken and salsa wrap or steamed mussels on whole wheat pita bread. Dinner menu features lean meats, such as oven-cooked fish, curried chicken and turkey accompanied by a variety of vegetables. Guests can partake in boot camp and have their dessert, too, with a delectable option like quinoa hazelnut pudding.


Personal Trainers
Two UK-based Fitness 4 instructors have teamed up with Buccament Bay Resort for theBoot Camp programme. Having formerly served in the British Royal Marines, Tim Bishop and Carl Millington utilize their service experience as well as graduate-level education in fitness and nutrition. The powerhouse duo aim to assist Buccament Bay Resort guests with their individual goals, and also teach tips and techniques that can be utilized following the programme. 


Accommodations & Amenities
The seven-night Boot Camp programme includes luxurious accommodations that are situated among the lush tropical gardens or directly on the pristine beach. The selection of one, two and four-bedroom villas are equipped with spacious living rooms and sophisticated décor, providing a calming atmosphere and the perfect setting to rest and gear up for another day of conditioning.


And Finally…Relaxation
Because a Caribbean holiday to the beautiful island of St Vincent would not be complete without some relaxation, the programme allows for ample free time to take advantage of everything the resort has to offer. Keep active with water sports such as diving, kayaking and stand-up paddle-boarding, or invest in some beach time before heading back to the villa for a dip in the private deck's plunge pool. Boat enthusiasts can set sail on a sunset cruise or unwind at sea while deep-sea fishing. Those looking to treat those hard working muscles can book a visit to The Spa, which offers a selection of treatments with ESPA products in cocoon-like treatment suites, at the outdoor gazebo or on the beach.

Talk to one of our Travel Specialists on 0203 397 8891 or contact us here to discuss tailor-making your perfect healthy holiday.