Can Yoga Help You Lose Weight?
13 August 2018

13 August 2018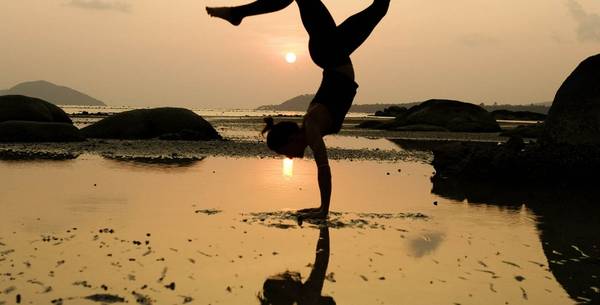 It is a common misconception that yoga is not fast-paced enough to rid you of those extra pounds. However, you don't have to look very far to find numerous testimonies of passionate yogis who swear by yoga, declaring it an extremely effective weight-loss technique. So, although to an outsider, yoga may appear to be just a series of light stretches and deep breaths, rendering it too low intensity to be an effective way to lose weight; for those of you who have already practiced yoga, you know that this is a severe misconception.
Yoga may not be as intense as a spin class or HIIT workout, but it is a continual activity in which your muscles are working constantly, strengthening and lengthening to tone your body and increase strength and flexibility. Yoga is therefore an incredibly effective way of losing weight and proof that you don't have break a sweat to melt the fat! If you're still not quite convinced, keep on scrolling to discover our top 5 reasons for why yoga can help you shed the pounds as well as our top 10 yoga holiday destinations, so you can kick-start your yogi journey in utter style and luxury.
Stop the emotional stress eating!
Yoga's ability to aid weight-loss is just as mental as it is physical. It is no secret that stress can often lead to a poor diet, causing you to comfort yourself with fatty foods and sugary drinks. Yoga is a mind-body practice with focusses on physical poses, meditation and controlled breathing to lower blood pressure and your heart rate thereby reducing stress and ridding you of your naughty stress-eating habits. By encouraging a healthier mindset, consistent yoga practice makes it more likely that you'll be able to maintain your weight loss, proving that you don't have to fight your body to change it.
Sculpt your body!
You don't need weights or even a gym to sculpt your body because regular yoga practice offers the perfect way to boost strength and build your muscular endurance in the comfort of your own home! With various styles, yoga is a great exercise for toning your body because it forces you to hold a range of poses for several breaths thereby helping to tone muscle fibres and increase definition. So, whether you're performing balance poses such as tree pose and Tadasana or doing core work with chaturanga and navasana, regular yoga practice is a sure-fire way to help you in the battle of the bulge as you tone and strengthen muscles that you didn't even know existed!
Get flexible!
While stretching doesnot typically contribute to weight loss, it does help to prepare your body for exercises that do help you lose weight, so you can get the most out of your workouts and yoga sessions. Child's pose, downward-facing dog and garland pose are all great yoga poses for flexibility that you don't have to be as bendy as a pretzel for. However, whilst a principal goal of yoga is to stretch out the body to make you feel longer and leaner, it is important to highlight that you do not need to be flexible to practice yoga. In fact, your inflexibility can work in your favour as it means it's much easier for you to feel a stretch than your expert yogi counterpart since you don't have to stretch as far or bend as low.
Listen to your body!
Yoga has a great focus on tuning into the connection between the mind, body and soul thereby encouraging you to listen to your body and its needs, not just during a yoga session, but in your daily life too. Learning to listen to your body can have a fantastic impact when it comes to curbing your cravings and sticking to a weight-loss plan. Things as small and simple as realising that you're dehydrated instead of hungry or feeling that your craving a walk can have long term health results by encouraging you to lead a healthier lifestyle.
Burn calories!
If you have yet to roll out the mat, you'll soon find out that yoga is a full-body workout that is guaranteed to burn fat and keep it off. The best yoga for burning calories tends to be power yoga and vinyasa flow as these are both fast-paced styles that provide the perfect mixture of cardio and strength-training. In fact, one hour of power yoga or vinyasa flow can burn anywhere from 400 to 600 calories per hour making it an excellent work out! If you're looking for a gentler approach, then don't worry as although gentle yoga burns less calories it is still a great way to nurture and care for your body and therefore contribute to the benefits listed above.
Our 10 Most Popular Yoga Holidays: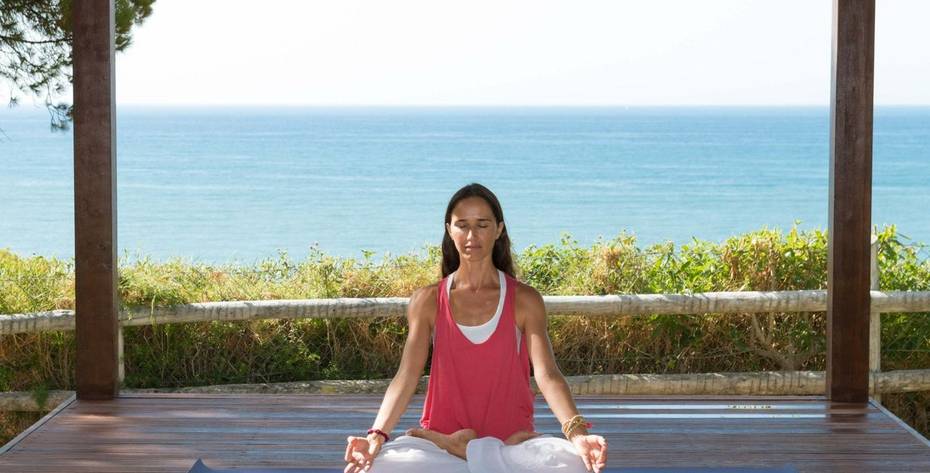 Begin your yogi journey on the vibrant and sunny Algarve coastline at Pine Cliffs Resort in Portugal. The resort focusses on the incorporation of nature into our everyday lives to improve both our physical and mental well-being. In a week alone, you will experience four 90-minute yoga sessions, an 80-minute abhyanga massage, Ila crystal healing face therapy and may more wellness gems to keep you cool, calm and collected during your weight-loss journey. Enhance your weight-loss holiday by picking up the pace with water sports, golf and tennis at the Annabel Croft academy before relaxing in the Serenity Spa to experience a range of detoxifying wraps and rejuvenating facials.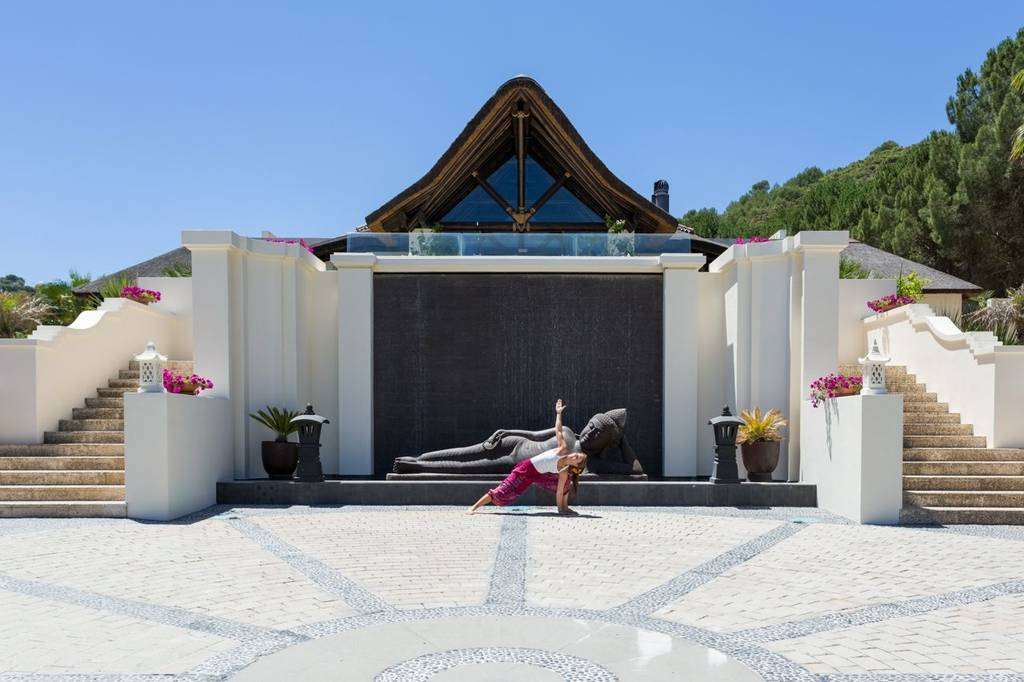 Lose weight on this idyllic yoga retreat in Malaga, Spain where you'll also leave behind life's everyday stresses with twice-daily classes in Shanti Som's beautiful yoga studio or outdoors in the pavilion. Let the physical, spiritual and emotional harmonise, affording you with a sense of inner calm alongside group meditation classes and revitalising spa treatments.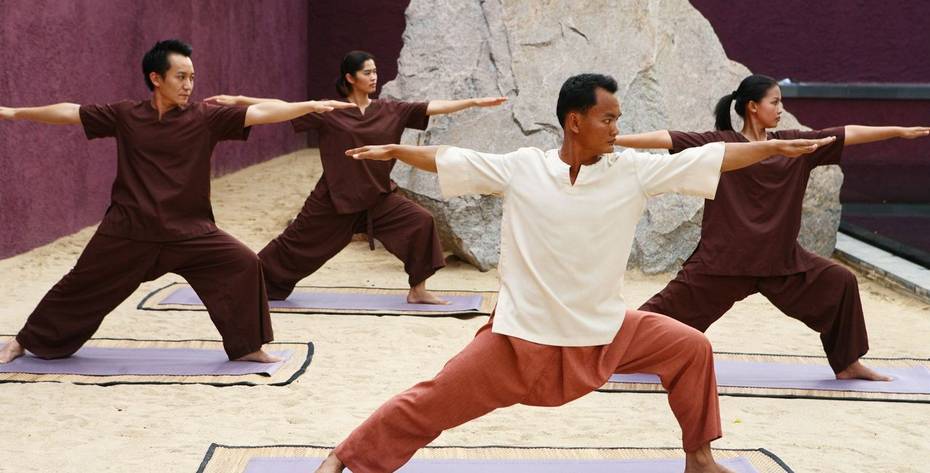 Downward-dog and bridge-pose your way to a healthier weight whilst rejuvenating your mind and body at the BARAI Spa in Thailand. This wellness destination offers the perfect setting for a refreshing holistic holiday and yoga experience that is sure to shed some pounds. This bespoke yoga programme allows you to create a getaway that suits your needs and desires to ensure that you are making the most out of your stay. The relaxing spa offers a range of massages including aromatherapy massages, crystal energy balances massages and deep tissues massages to ensure that your body is always feeling relaxed and prepared for your next yoga session.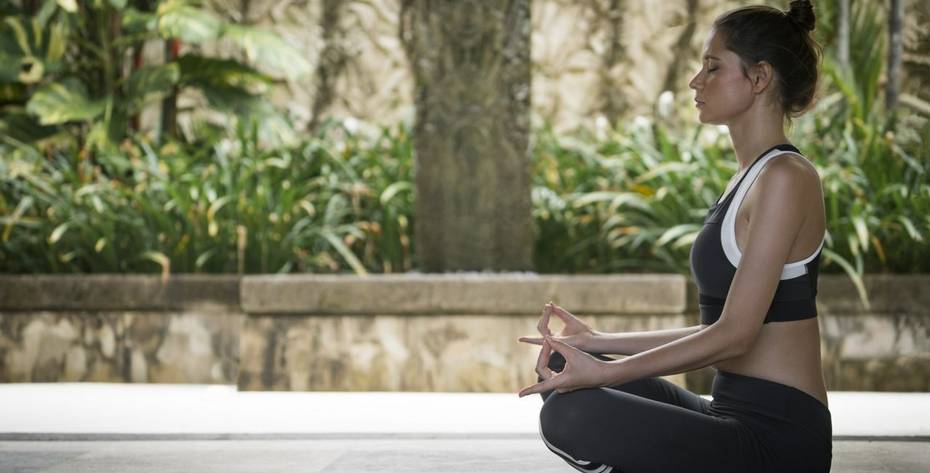 Embark on a yogi journey at REVIVO with the emotional balance programme in Bali for a true emotional healing holiday. Holistic practices such as candle-light meditation, reiki and of course, yoga, will get your mind in the perfect place for a spiritual weight loss journey that is sure to melt the fat away for good. Be sure to end each day by relaxing your muscles with a full-body healing stone massage, a salt floating session and ancient soul healing to harmonise your mind and body in preparation for your mental and physical transformation.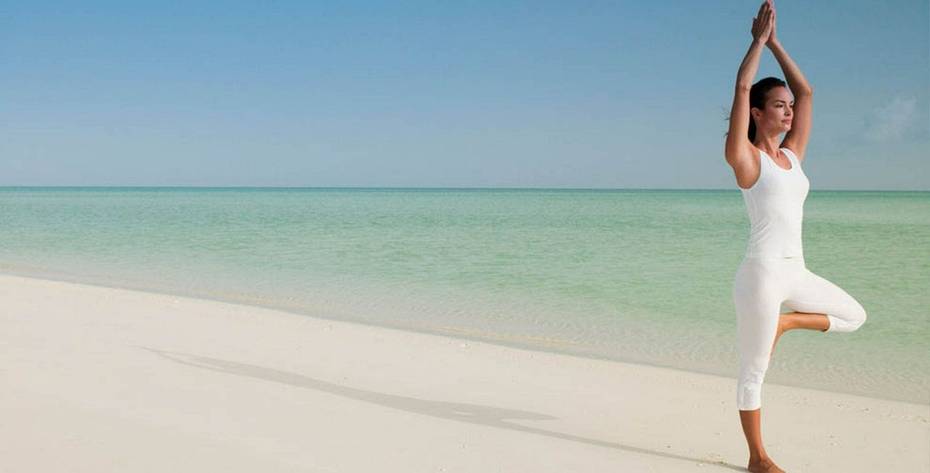 Discover paradise on the private island of Parrot Cay and feel the soft sand between your toes as you enjoy daily practice on a yoga and Pilates holiday that will de-stress your mind and tone your muscles. Further improve your knowledge as you open your mind and calm your senses through Vedic yogic philosophy and group discussions, before picking up the pace with mountain biking and windsurfing. In between sessions unwind in the luxurious spa and refuel with exquisite healthy cuisine.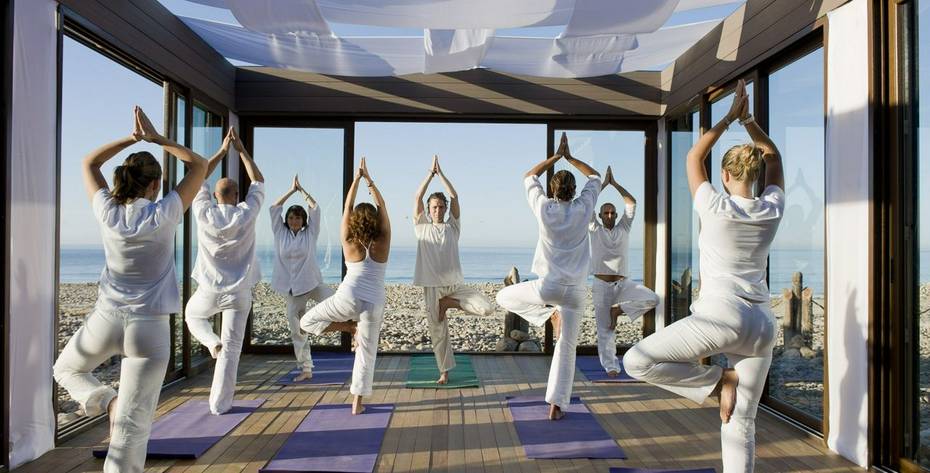 Practice daily beach yoga, from sunrise to sunset on Morocco's exotic coastline at Paradis Plage. Set on a private beach overlooking the ocean, the yoga pavilion is a breath-taking wooden construction with panoramic glass windows giving you an unparalleled view of miles of stunning coastline. Keep active on a beach spa holiday as you combine Manipura and aerial yoga with discovering the island through a selection of water sports, mountain biking and treks. Enhance your well-being after an active day in the traditional Moroccan Hammam and relax with therapeutic spa treatments.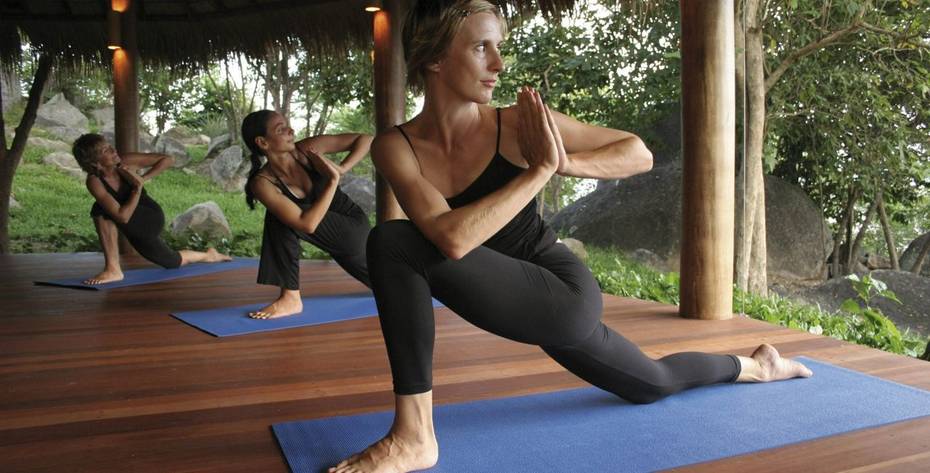 Built around an ancient cave that once served Buddhist monks as a place of meditation and spiritual retreat, escape to the luxury wellness retreat of Kamalaya on the tropical Thai island of Koh Samui. With one-to-one yoga sessions tailored to suit your goals and skills, this specialist yoga retreat is suitable for both beginners and experienced yogis alike. Gain expert instruction in asana (physical posture), pranayama (breathing) and meditation to have you returning home feeling renewed and inspired. Alongside your daily yoga practice, continue your holistic journey into relaxation and experience a true Ayurveda holiday with Kamalaya's reviving choice of award-winning Ayurveda spa therapies.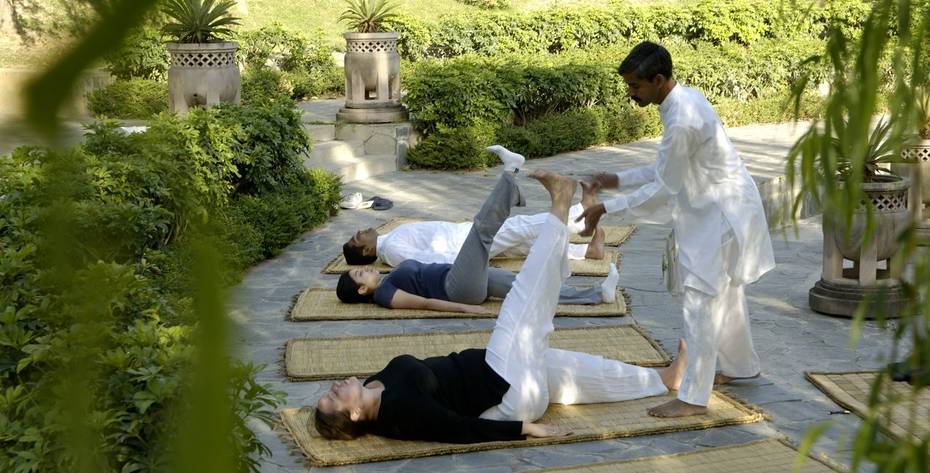 Escape to Ananda in the Himalayas and rebalance with yoga amongst the calming landscape of this exotic yoga retreat. Enhance the well-being of your mind, body and soul as you combine personalised yoga sessions and group classes, with discovering a taste of local culture through traditional Indian music classes and dance performances. For a true mindfulness retreat experience, make the most of complimentary Pranayama and meditation classes, before relaxing at the luxury spa with aromatherapy massages and reflexology.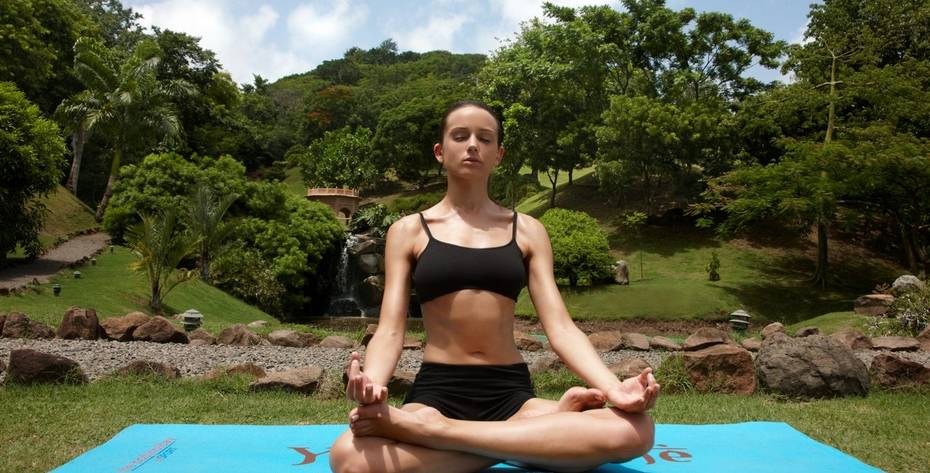 With one-to-one personal yoga lessons on this stunning Caribbean island your yoga will improve leaps and bounds as you finally take the chance to tune into your weight-loss goals. With an award-winning wellness centre providing daily spa treatments, replenish and pamper yourself after each yoga session with a selection of holistic therapies. Shake things up with a host of additional land and water sports, including tennis, cycling and kayaking. If you're going solo, make the most of the singles table each night as well as the wide variety of group fitness classes which will allow you to get to know like-minded individuals on the solo holiday of your dreams.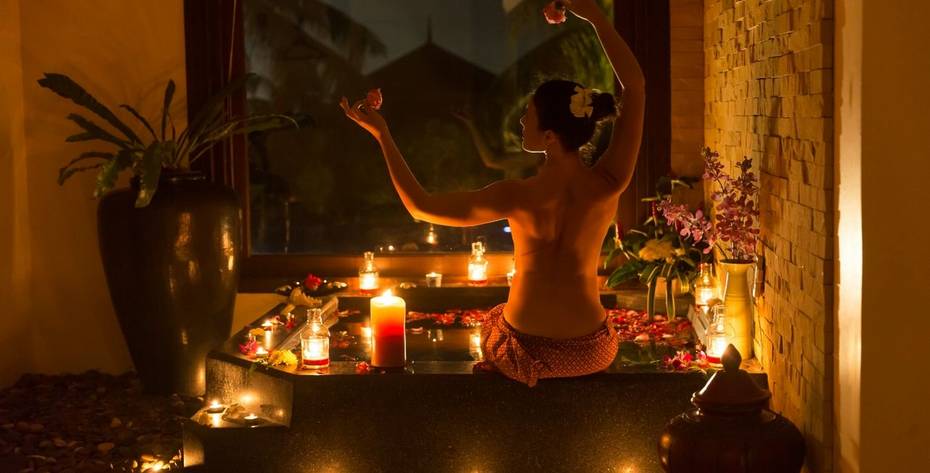 Enhance your flexibility and improve your overall well-being on a spa holiday on one of Thailand's most culturally rich islands. Boasting outstanding natural beauty, Mangosteen, offers a secluded paradise with stunning views of surrounding lush tropical gardens and hillsides making it the perfect spot for some relaxing yoga practice. With a range of holistic activities to choose from including vinyasa stretch yoga, nirvana Hatha yoga and meditation, this oasis of luxury is guaranteed to help you make that much-needed connection between your mind, body and soul. Being a nutrition-friendly retreat, aid your weight loss journey with food sourced from organic, local Thai ingredients and wheat grass booster shots to boost your immunity.
Talk to one of our Travel Specialists on 0203 397 8891 or contact us here to discuss tailor-making your perfect yoga holiday.