Healthy Holidays for December
12 November 2013

12 November 2013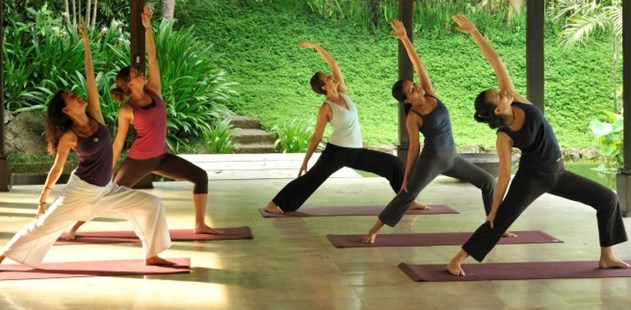 With the end of the year approaching fast, you may be feeling the fatigue which comes with the end of year push or dreading the Christmas parties and indulgent dinners that add to your waistline each year. So why not de-stress and refocus on one of our fantastic healthy holidays for December?
Escape the cold and embark on a personal journey in the sun at our carefully chosen beautiful wellness retreats that offer everything from daily yoga classes to contemplative meditation and sensual spa treatments. With so many options to choose from, we are sharing our top five December healthy holidays from all-inclusive luxury spa breaks in St Lucia to detox and fitness holidays in Thailand, to ensure you return home feeling replenished, energised and relaxed.  


St Lucia: The BodyHoliday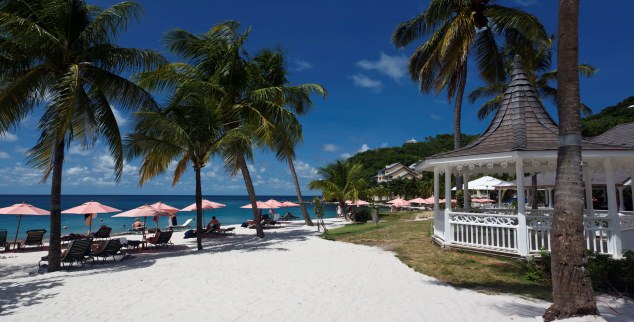 The beautiful beach at The BodyHoliday

Leave the cold behind and escape to the BodyHoliday, a luxurious award-winning health and fitness retreat surrounded by spectacular waterfalls, lush rainforests and a stunning coastline. If you're looking to keep active, relax and rejuvenate mind, body and soul, the BodyHoliday is the perfect island paradise for you, offering programmes from weight loss to de-stress, tennis to fitness and optimal wellness to detox. You can enjoy an array of sport and healthy activities ranging from Spinning, Yoga, aerobics, Pilates and Tai Chi and end your day at the sensual spa for complete relaxation and revitalisation with a daily spa treatment included. The resort is also in the perfect location for you to explore a variety of trips, from Pigeon Island to Rodney Bay Marina, you're sure to find exactly what you're looking for. After an escape at this healthy paradise, you will return home feeling energised, refreshed and restored.
Average December Temperature for St Lucia: 26°C 79°F
TOP TIP: Wine and dine in the resorts restaurant Tao, one of the best restaurants on the island delivering an exquisite dining experience of eastern and western cuisine.
Cost: Sharing from: £3,335 pp, Singles from: £3,365 pp

More information: View The BodyHoliday,St Lucia

Now Sapphire, Mexico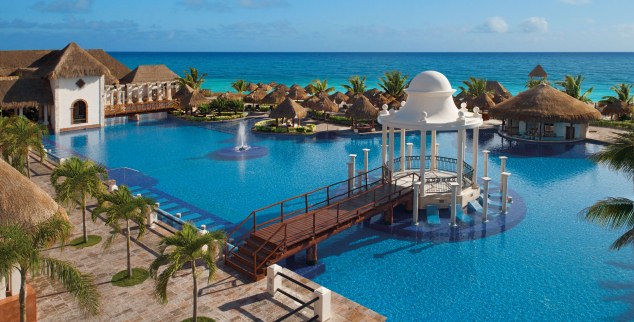 Take a dip in this pool with a view at Now Sapphire on the Riviera

Forget the stress of last minute shopping and travel to Mexico to stay at the beautiful Now Sapphire, an all-inclusive activity holiday surrounded by white gleaming beaches and the exotic barrier reef.  You can enjoy an array of energising activities and sports from the land to the sea, relax and unwind at the stunning spa and end your day by tasting the resorts exquisite cuisine. With four swimming pools and nightly entertainment, you will have to tear yourself away from the indulgent spa to enjoy it all. After unwinding and rejuvenating with one of the many treatments at the spa, if you feel like experiencing Mexican culture you can visit one of the local excursions which offer you the chance to snorkel with dolphin's or bike amongst Mayan ruins. After this dream escape, you are sure to return home re-energised and ready for the New Year.
Average December Temperature for Mexico: 24°C 75°F
TOP TIP: Don't miss the chance to visit Xcaret, one of the world's most famous eco-archaeological parks where you have the opportunity to snorkel and swim with dolphins.
Cost: Sharing from: £1,550 pp Singles from: £1,860 pp

More information: View Now Sapphire, Mexico


Chiva Som, Thailand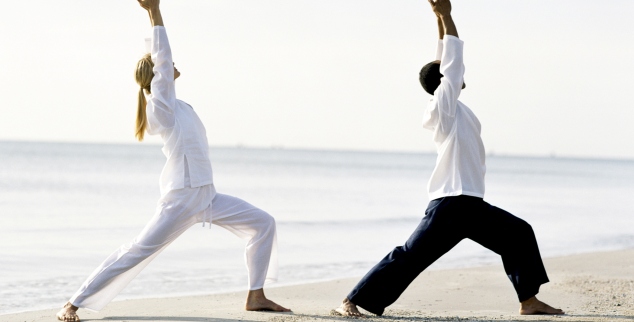 Peaceful yoga on the beach at Chiva Som

With the weather only getting colder, Thailand provides the perfect destination for a wellness holiday and the elegant Chiva Som is the perfect retreat to de-stress and cleanse mind, body and soul. Set in lush tropical gardens on the coast of Hua Hin, known as a secluded 'Haven of Life', it gives you a chance to escape the hustle and bustle of everyday life in a calm and tranquil environment. You can enjoy health activities such as yoga, Pilates and kickboxing or just relax and rejuvenate at Chiva Som's stunning spa to indulge in therapeutic treatments to leave you feeling refreshed, restored and energised. This luxury spa holiday has programmes to fit all needs, from fitness to weight management and detox to yoga and set in such a beautiful environment, it is the perfect chance to improve your health and well-being, so you come home feeling refreshed, revitalised and fully replenished.
Average December Temperature for Thailand: 26°C 79°F
TOP TIP: Make sure you wander down to the beach, which stretches out miles in each direction, it provides a beautiful place for relaxing whilst listening to the sound of the ocean.
Cost: Sharing from £3,750pp, Singles from £4,910pp

More information: View Chiva Som, Thailand


Abama Golf Spa Resort, Tenerife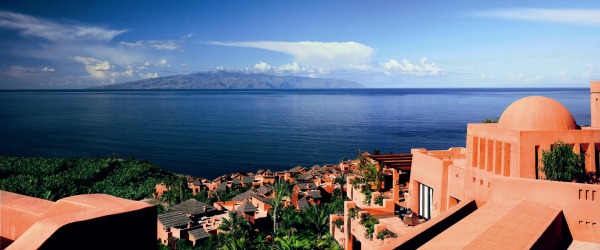 The glorious view from the rooms at Abama Golf & Spa resort

If you feel like warming up and rejuvenating closer to home, why not travel to the western coast of Tenerife and stay at the luxurious Abama Golf & Spa resort? You can try out the vast array of health and fitness classes such as aqua fit, yoga, spinning and belly dancing or enjoy morning runs along the sparkling beaches whilst watching the beautiful sunrise. With programmes that focus on rejuvenation, wellness and golf, you have the opportunity to submerge yourself in paradise whilst working on your health. The stunning spa equipped with a sauna, steam room, plunge pool, facilities for body cleansing and skin purifying alongside fabulous spa treatments, is the perfect place to ensure you find the perfect balance for your healthy break. Everything about your stay will leave you relaxed, re-energised and ready to tackle the New Year.
Average December Temperature for Tenerife: 16°C, 61°F
TOP TIP: Make sure you wine and dine at the resorts two award-winning Michelin star restaurants, MB & Kabuki, both are superb and serve exquisite cuisine.
Cost: Sharing from £625pp, Singles from £795pp

More information: View Abama Golf & Spa Resort, Tenerife


Parrot Cay, Turks & Caicos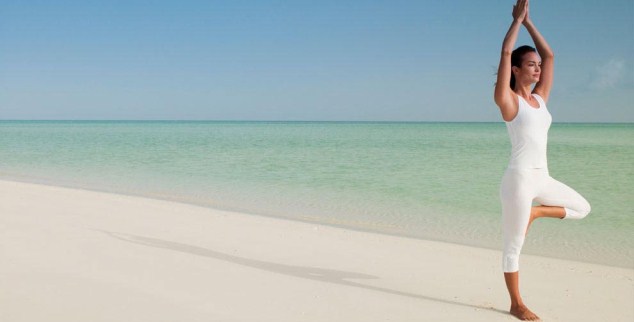 Try yoga on the beautiful sands of Parrot Cays beach

Leave the stressful season behind and keep fit, de-stress and relax at Parrot Cay, a health retreat in paradise which has ample activities to replenish mind, body and soul. Located on an exclusive private island home to one of the very best spas in the Caribbean, this is the perfect getaway for those looking for a luxurious well-being break in an exquisite resort. With daily yoga and Pilates classes, water sports and a gym with its own personal trainers, you are sure to achieve effective and noticeable results during your stay. You can also explore the magical island by foot or bicycle and end your day by soothing tired limbs at the therapeutic spa with world class treatments on offer. These top therapists will help you to discover your senses, open your mind and improve your health so you will return home feeling more energised and motivated.
Average December Temperature for Turks and Caicos: 15°C, 58°F
TOP TIP: Try out a session of Intuitive Counselling with the resorts counsellor, Susan King, as she has a unique approach to solving life dilemmas.
Cost: Sharing from: £2,225 pp, Singles from £3,465 pp

More information: View Parrot Cay, Turks & Caicos


Talk to one of our Travel Specialists on 0203 397 8891 or contact us  here   to discuss tailor-making your perfect healthy holiday for December.