Manuel's Snapshot Review of COMO Shambhala Estate, Bali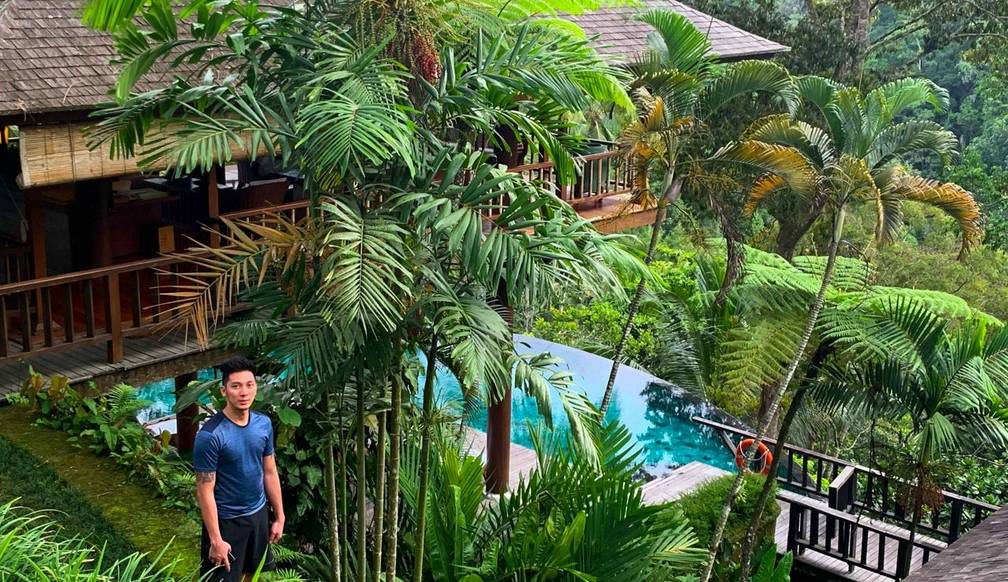 Travel Specialist Manuel spent 48 hours at luxury wellness retreat, COMO Shambhala Estate in Bali and this is his snapshot review…
COMO Shambhala Estate is nothing short of spectacular! A world-class luxurious wellness retreat in Ubud, Bali with breath-taking views of the dense tropical jungle. The award-winning wellness retreat creates an unforgettable experience for their guests. Whether you're a wellness newbie and kick-starting your wellness journey or you wanted to achieve optimal health on a fitness holiday, your stay at COMO Shambhala Estate will help you to reach your goals and boost your overall well-being.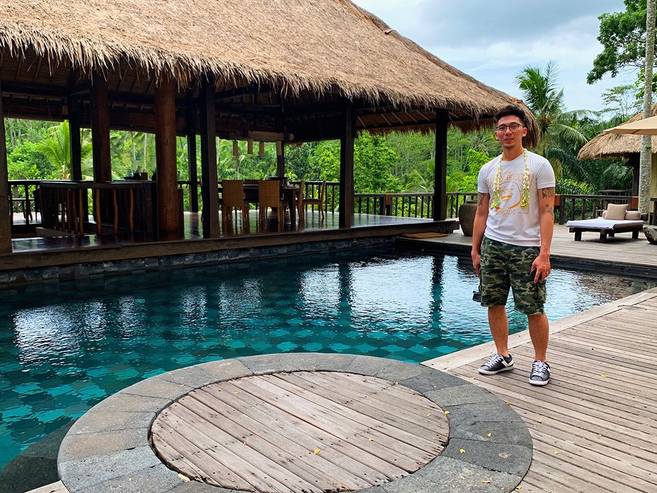 Health and Fitness Features at a glance
COMO Shambhala offers several wellness programs including; Ayurvedic, Detox, Fitness, Rejuvenation or if you're not quite sure which program suits you best, COMO team can create a bespoke program tailored to suit to your goals and preferences. Alternatively, you have the option to simply take part in daily scheduled activities including yoga, Pilates, hydrotherapy, rice field biking and more. And of course, another option is to just sit back and relax. This calming sanctuary is a great place to clear your mind while enjoying the pools and other facilities. Whichever option you choose, it will certainly feel like hitting the reset button. An opportunity for you to have a moment to focus on yourself.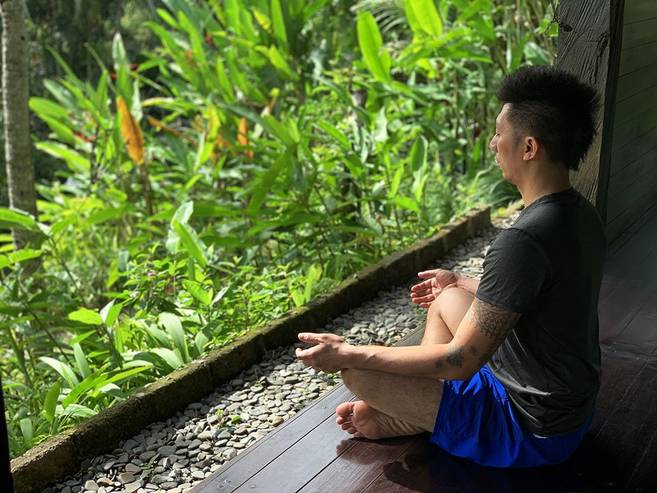 Complimentary daily activities; yoga, Pilates, meditation, Tai Chi and Qi Gong (subject to change)
Hydrotherapy Circuit (water jet massage) at Vitality Pool
Nature / spring walks
COMO Shambhala Cuisine
COMO Shambhala Spa
Tennis court
Sauna, steam rooms and outdoor pools
Residences shared and private pools available
In-room Invigorating bath salt
Ayurvedic treatments/sessions available
Indoor gym, jungle gym, yoga centers and pavilion
Personal training, private yoga and meditation
Guided outdoor activities are available including hiking, trekking, rice field walking or biking, canyoning and white river rafting



COMO staff and wellness team
The guest service here is outstanding, the team of wellness experts and trained staff make sure you are well looked after throughout your stay. I would like to specially thank our personal assistant Karti, she was exceptional! She was very helpful and did an excellent job taking care of us during our stay as she arranged and booked all of our appointments and daily activities. Our transfer from the airport and going back is also a highlight. COMO Shambhala is approximately 90 minutes from the airport, however we didn't get bored as our driver was also very friendly and informative. Wi-Fi is available in the car and they offer snacks and refreshments too.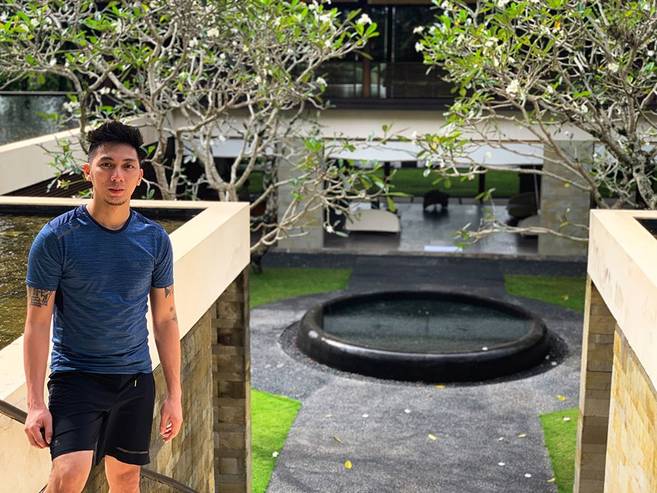 The personal trainers and wellness experts on site are also great at what they do. Taking part of the classes and activities was something special as they try to tailor each class/activity to meet your expectations or even go beyond. We had the privilege of having a lunch meeting and wellness talk with Paula who is the Tai-Chi and Qi Gong, yoga teacher and one of the Wellness consultants at COMO. Paula was very knowledgeable and very open to answering all of our questions, she shared her insights and approach to a healthy lifestyle which we can now incorporate into our daily life.
 

Accommodation
We stayed in a Garden room at the Wanakasa residence and it was incredible! Our room was at the far end side of the residence and it felt like a luxurious tree house. It was quite a long walk and some steps far away from the main entrance; however it was all worth it as it has a terrace and an incredible view of the jungle (and there is a buggy service if you prefer). It was also nice to hang out at the community lounge area, where you can have afternoon tea or even take your lunch and dinner if you wish. Tucked away below the community lounge area, you can unwind at the infinity pool overlooking the jungle. The bed was very comfortable, and I love that the front and both sides of the room are almost all glass, my wife and I enjoyed lying in the bed with a panoramic view of the jungle. There are also two big windows, which we opened first thing in the morning to hear the sounds of nature. The combination of the view and hearing the flow of the river plus the animals and trees every time the wind blows was very relaxing. It was a great time to do some yoga and meditation, so I added that into my daily routine while we were there as the room was spacious and we had our own yoga mats provided in our room.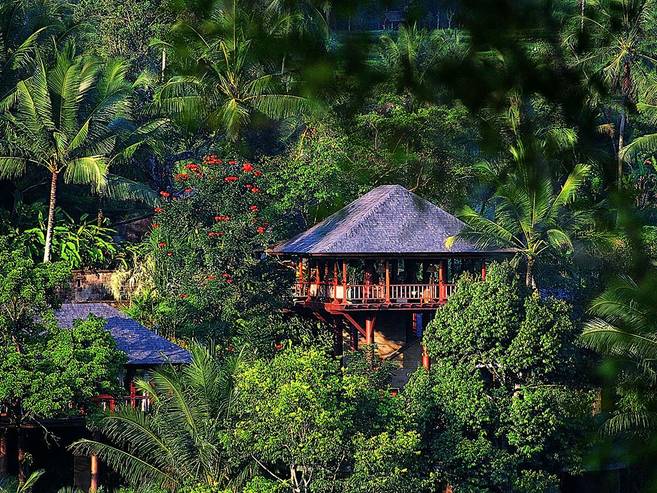 Notes & Recommendations
With a total of 9 hectares of land property, there is so much to do at COMO Shambhala Estate, from indoor facilities including state-of-the-art gym and yoga centres to outdoor experiences including the jungle gym and spring pools.
Complimentary shuttle service is available to Ubud town (at set times)
Food at Kudus and Glow restaurant are very special, nutritionally balanced and revitalising. 
Enjoy the Balinese dance and gamelan on Sunday afternoons
Join the cuisine and raw dessert making classes, you'd be pleasantly surprised how interesting they are and you can take home some recipes.
There are days that monkeys be seen on the estate early in the morning, looking for fruit from the trees. You'll be able to see them up close and it's a great opportunity to take some pictures or videos. However, keep in mind that COMO strictly forbids feeding the monkeys and you shouldn't approach them directly as they are wild.
Occasionally you might see other animals like squirrels and lizards.
Dare to take the Estate walk barefoot, it feels great to connect with the ground and be closer to nature this way.





How to Book
► Book Book through Health and Fitness Travel for a wellness package to suit your preferences. Choose from the Ayurvedic, Detox, Fitness, or Rejuvenation programs or we can tailor a bespoke program just for you.
To request a quote or for more information visit our Como Shambhala Estate page.
Talk to one of our Travel Specialists on 1300 551 353 or contact us here to discuss tailor-making your perfect wellness holiday.
Find out Why to Book with Us and further details on How to Book.


Fact Box


Best time of the year to go:  May/June - October
Months to book in advance for:  December
No. of Rooms:  30
Check-in/check-out:  2pm / 12 noon
Wi-Fi: Yes
Children: Yes
Reception/Room Service:  24 hours
Alcohol:  Yes
Nearest Airport: (DPS)
Airport transfer time: 1 hour 30 minutes by car
Address:  Banjar Begawan, Desa, Melinggih Kelod, Payangan, Kabupaten Gianyar, Bali 80571, Indonesia