Paul's Review of Marbella Club, Spain
31 October 2017

31 October 2017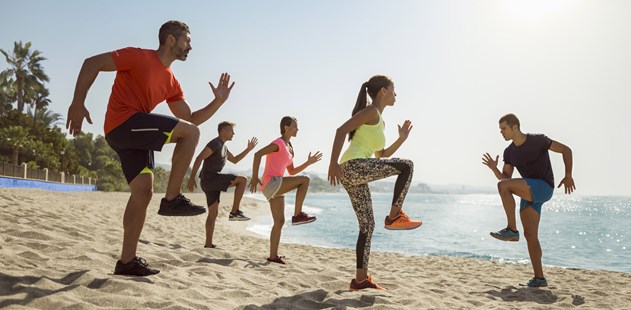 What is Marbella Club and who's it for?

Before I arrived, I knew Marbella Club was going to be special, it's one of those places where reputation precedes; a genuine "hall of fame" with a focus on tailor-made wellness programmes and excellent facilities. As soon as I stepped foot in the grounds, I got a sense of the infamous heritage, it was founded in 1954 by Prince Alfonso and grew into an exclusive beach club luxury hotel, and as I walked surrounded by palm trees, fresh air and sea blue waters, I could see why he created it. The architecture is beautiful, typically Spanish with beach and lavish gardens surrounding. Now, more than 60 years later the iconic Marbella Club has been visited by celebrities from across the world looking to escape the throngs of society whilst also indulging in luxurious exclusivity.


Getting There



Just 35 minutes from Malaga airport, Marbella Club's driver picked me up in a luxury air conditioned Mercedes and whisked me off to the resort.  Behind the gates of Marbella Club, a tranquil, secluded wellness escape opened before me. There's such a wonderful sense of calm at the resort, and you truly feel the air of exclusivity too, just walking around I found myself put to ease.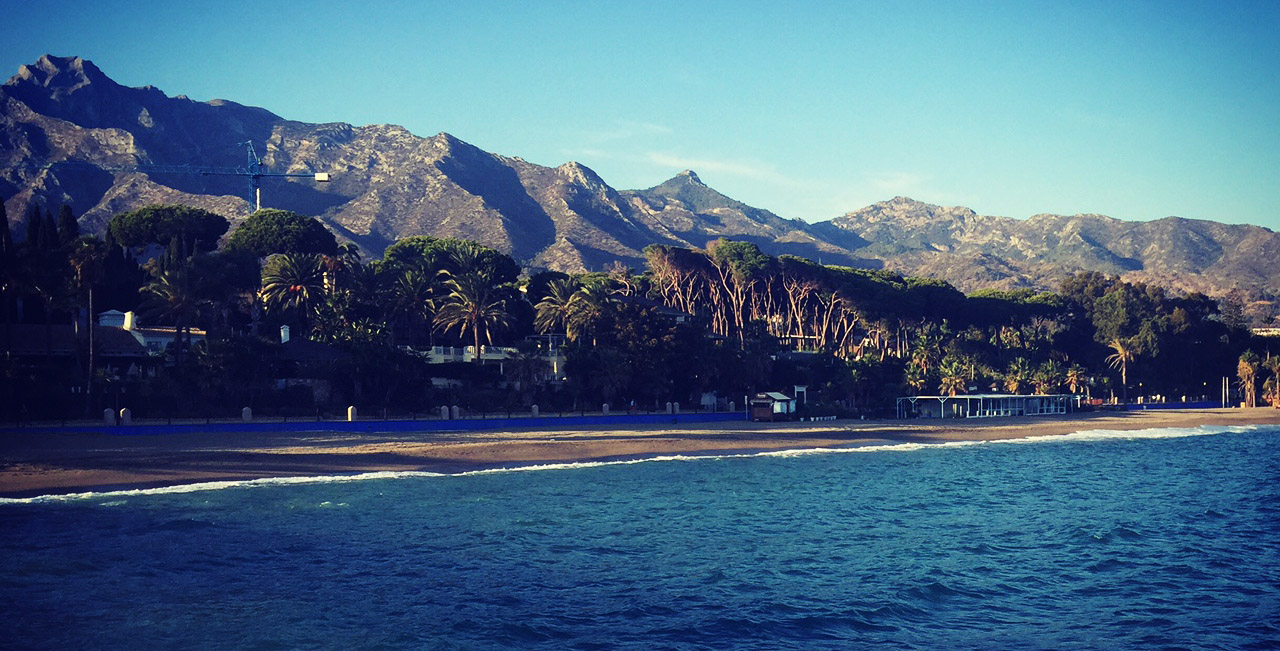 Enjoy beautiful scenery and a wonderful sense of calm at Marbella Club


The Hotel & Accommodation



The resort is quite big yet unfolds in a typically Spanish way with open courtyards, exposed brickwork and traditional white facades covered in climbing vines and rose bushes (the whole place is actually a botanical garden landscaped by the Prince's father). My room was plush and allowed enough space for someone with three times the luggage I had so no worries if you don't travel light! Most rooms have a private sun garden to lounge in too; and as you go up in quality, you can welcome sea views and all the mod cons you could need (the Wi-Fi works everywhere too including the beach).
It is a family friendly resort, but I barely saw any children during my stay and travelling outside of typical school holidays will certainly keep it an adult friendly zone. The quiet was mainly due to how the kids club ensures all children have a great time doing mini-wellness activities far away from the zen of the relaxing parents so if you are travelling alone I wouldn't worry about this.
The main atmosphere of the resort is one influenced by its history and I certainly felt a sense of refinement from over the years. Marbella Club is a real product of love and respects its heritage as much as it embraces the future with their new health and fitness programmes and a team of excellent therapists, Doctor, Life Coach, yoga teacher, Nutritionist and superb fitness team.
I loved the clean line décor that blends clutter free modern living with contemporary 50's design, it all adds an extra bit of classic luxury to your stay.


The Spa



With 800 sq. metres of spa, I couldn't have quite expected the level of luxury I was in for as I walked through the unassuming doors. The Thalasso spa centre has a therapeutic seawater pool which spans across a truly monumental view of the sea and I spent every evening in here relaxing before dinner which I highly recommend. Clients of Health and Fitness Travel can enjoy this daily without paying the entrance fee hotels guests do. There's also osmanic steam baths, saunas and 12 treatment rooms all offering extensive thalassotherapy sessions.
Upon arrival I was given my wellness schedule and my first appointment was in the pool ("YES", I thought to myself). Half an hour later and I was already feeling blissed out after my flight. Next was a vichy exfoliation – needless to say, this has to be one of the most soothing experiences I've ever had. Seawater is rained down on your body as your skin is exfoliated with salts and oils, all culminating in a full body algae mask. Simply, my skins never felt softer!
The following days I had medical and nutritional consultations all combined with a life coaching session, jet lag treatment and a holistic session. As far as wellness programmes go, I have to say this was really well put together. Each treatment seemed to naturally lead into the next, and I was always left wanting more.


The Fitness



Whilst I love to change up my workout routine with different exercises, one thing I can't do with out is an evening jog, and the 24-hour gym equipped with top quality fitness equipment certainly helped me stick to this. Marbella Club really provides for anyone who likes to workout outside of 'typical gym hours'. Perfect for sweating out an all too easily indulgent dinner. There's also options for functional fitness, cross training, interval training and even pre-birth workout sessions.
In my personal training session with Daniel Blanco, I was really put to the test with a whole heap of dynamic exercises that provided a great alternative to my typical workout routine. The yoga class was also great to take part in and really helped to relieve the stresses of my previous week. Top tip: If you're attending anything before breakfast, be sure to grab yourself a healthy juice from the buffet display –  they're super tasty and will really help your body recover!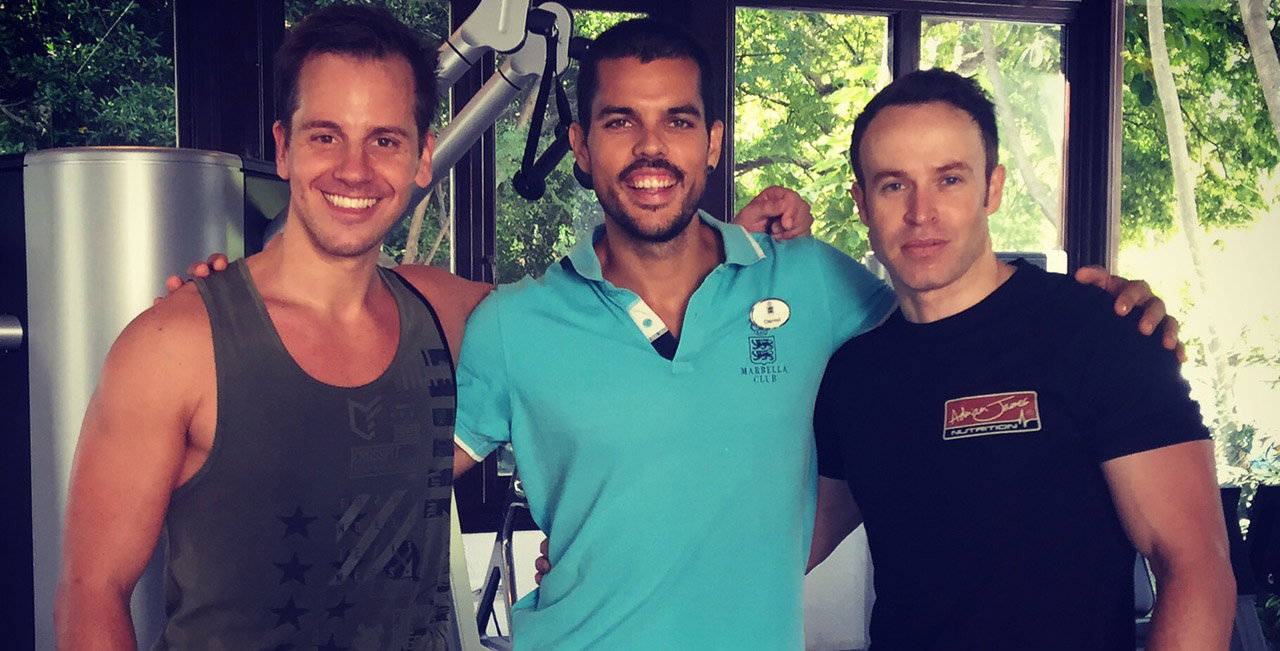 Paul with Personal Trainer Daniel Blanco Marbella Club


Food/ Restaurants



Marbella Club has four main places to eat: The Grill, Beach Club, Summer Bar and MC Beach. I was certainly never hungry or bored with the choices on offer. The slogan is 'refined yet relaxed' and I truly sampled some of the best food I've ever had in a wellness resort. It was both tasty, aesthetic and adventurous, I couldn't help thinking I was in some sort of healthy cooking programme.
The cuisine is typically Spanish in many ways, so prepare for some authentic tastes and passionate plates! As a bit of a smoothie-holic though, I made a point of trying as many blended wonders as possible. My favourite was the Lean Green (spirulina, yogurt, vanilla, spinach, banana, coconut water & chia) which left me feeling satisfied. Close second was the Metabolizer (fig, date, lemon, green tea, mint & cayenne pepper) which is vitalising from start to finish.
Marbella Club has also teamed up with award-winning nutritionist, Amanda Hamilton to create menus available at all the restaurants. This makes it easier to adopt a healthier lifestyle on holiday and at home. Dishes range from Citrus Scallops on Wakame Seaweed, Chilled Cream of Cantaloupe Melon with Iberian Ham Shavings or Grilled King Prawns with Roasted Vegetable Salsa to Pineapple Brochette with Seasonal Berries and Kiwi Carpaccio with Tangerine Jus.  

I also went to explore the onsite Health Academy and was surprised to see a full class of people working hard to prepare new dishes and learn something new. Everyone was laughing, eating new things and generally having a great time – it's certainly something I'd go back for!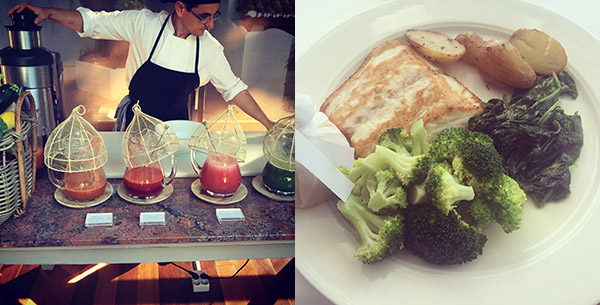 Grab a fresh juice before hitting the gym and later replenish your body with delicious 'refined yet relaxed' dishes at Marbella Club


Extra Facilities



Marbella Club has a huge legacy and with that is its gradual expansion to include facilities for tennis, golf and horse riding. One afternoon I took the 10-minute stroll up the road to see the tennis courts, what I was met with was something to rival Wimbledon! As it turned out, Wimbledon Champion Manolo Santana manages the grounds. The ten well-equipped courts, complete with an extra four paddle tennis courts, is host to a team of talented professional coaches all ready to help you improve.

A must see is the golf course (about a 20-minute drive away) and is set within an area of natural beauty. Don't worry if you have no interest in golf, the view stretches out from the rolling hills on which you stand to a Mediterranean seascape with the coast of Africa visible on most clear days, it's stunning! I took the shuttle just for the view if I'm honest. There's also the option of visiting the equestrian centre (again 20-minutes away). They provide horse riding lessons which are great for the kids or you can opt to go for an excursion around the area. 

On my final day, I went out for a small trek amongst the countryside and was really taken aback by the natural beauty of the area. Wandering around the Juanar Forest & Sierra Blanca with my guide I felt a great sense of calm. Imagine pathways lined with chestnut trees and dusty pine trees, all complete with a picnic atop a small mountain peak.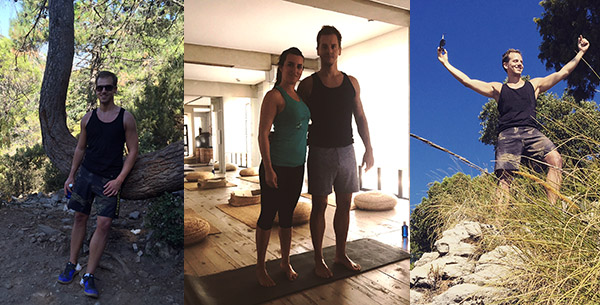 Paul with yoga teacher Maria and enjoying a hiking excursion in the Juarnar Forest & Sierra Blanca area with stunnings views
 
The Wellness Programmes
Marbella Club really pride themselves on offering the best quality wellness programmes from start to finish, so whether you want to get fit, de-stress or kick old habits, they've got a great range of pathways to follow:
Fusion Fitness 
Detox Body Rebalance 
Bootcamp 
De-stress Emotional Rebalance Wellbeing
Mediterranean Lifestyle 
Beauty 
Anti-Tobacco 
BodyBreak


The Staff



From the initial welcome reception to the last wave goodbye at the airport, I really felt like I was being served and treated like both a friend and royalty. I got the sense that the staff really enjoy working at Marbella Club and it certainly seems that everyone goes out there way to help you, many of the staff members in the restaurants have worked at the hotel for many years and welcome back repeat clients every year.


The Scenery & Surroundings



Just a 15-minute stroll down the beach is the chic boutiques and old town of Marbella, so if you want to escape it's always possible and easy to do. The resort itself is beach facing, and runs like a rectangle stretching back from the sea which certainly provides a typically Spanish feel to the place, as compared to how a new build hotel might do. Andalucía is an incredibly culturally rich part of Spain, so if you get the chance to explore, I'd recommend visiting the nearby city of Grenada (2 hours drive) and taking a stroll around some of the famed 'pueblos blancos' – a series of white villages set in the mountains.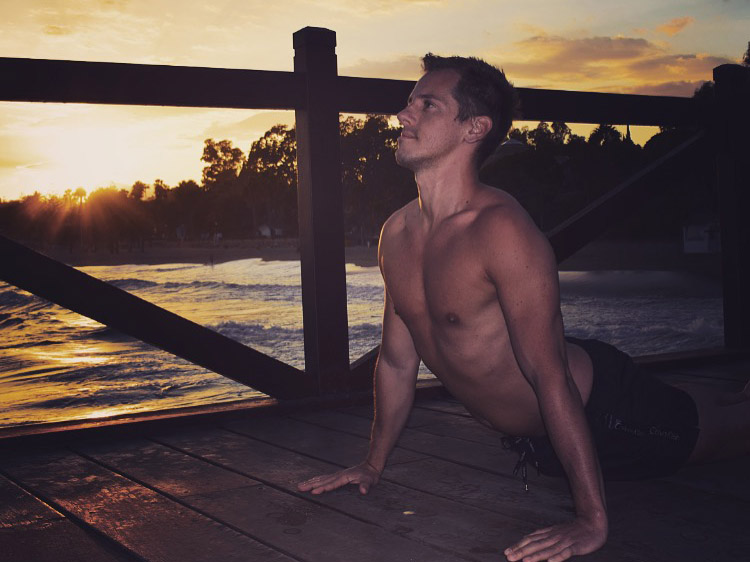 Paul practicing outdoor sunset yoga on the Pier at Marbella Club


Highlights



The Marbella Club Pier, enjoy a stroll on here at sunset or take a yoga class and listen to the waves
Enjoy the seawater pool with ocean views for a relaxing experience
The long beachside promenade in front of the resort, perfect for running or a power walk
Try the amazing tennis club or golf course for a lesson
Book a serene hike and discover the Andalusian countryside with views of the coastline
Enjoy the juice bar and fresh smoothies


My Summary & Verdict



Marbella Club is ideal for anyone looking for luxury and wellness - single travellers, couples, groups or friends and family. I'd recommend going there just to experience the lavish beauty of it all. From gold plated chandeliers to seaweed scrubs, this resort knows how to rejuvenate you. Yes, it's indulgent but that's what's brilliant about it. The huge spa menu features treatments from around the world and they complement this holistic approach with modern science, so it's a real must for anyone who's already had a wellness escape before. Even though not a wellness focused resort, the health programmes are effective and the team are very good.


How to Book



To request a quote or for more information visit our Marbella Club page
Talk to one of our Travel Specialists on 0203 397 8891 or contact us here to discuss tailor-making your perfect wellness holiday.
Fact Box
Best time of the year to go: April to October
No. of Rooms: 129 
Months to book in advance for: June and July
Check-in/check-out: 3pm / 12noon 
Wi-Fi: Yes - good throughout the entire hotel and complimentary
Children: Yes 
Reception/Room Service: 24h
Alcohol: Yes
Nearest Airport: Malaga
Airport transfer time: 35 minutes 
Address: Marbella Club, Bulevar Principe Alfonso von Hohenlohe, 29600 Marbella, Spain