Samantha's Review of Thanyapura Health & Sports Resort
28 August 2017

28 August 2017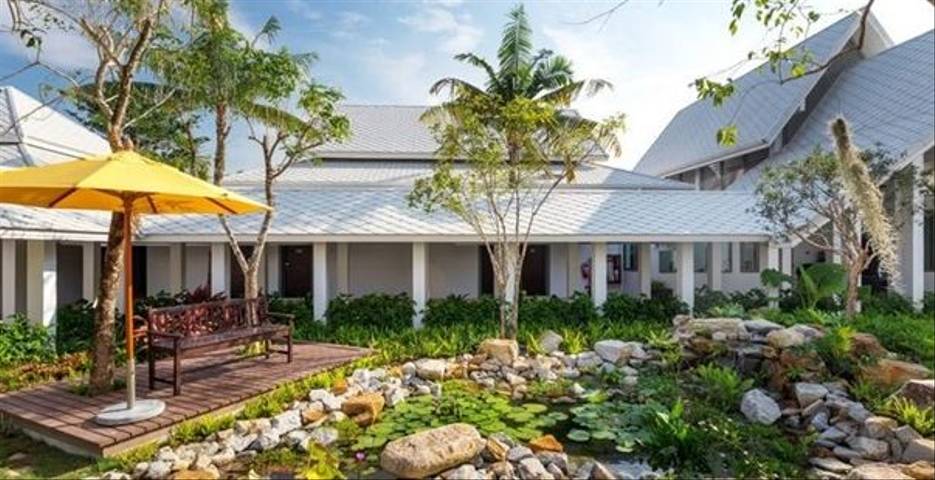 What is Thanyapura and who's it for?
Thanyapura Health & Sports Resort is a world-class facility with an extensive offering, ideal for anyone interested in optimising their sports performance, mental health or physical well-being. Perfect for a fitness or sports holiday, they now also offer a full range of health programs including detox, weight-loss and anti-ageing programs. Guests will have plenty of opportunity to meet other guests throughout their stay. However, there is no set meal times or set table for program guests so it would abe best to be a comfortable independent traveller.


Getting There and what's around it
 Within Asia direct flights operate from Bangkok, Singapore, Hong Kong and Kuala Lumpur with a short 15-minute transfer to the hotel. There will be a transfer representative waiting at the airport with the hotel name displayed, they will assist you with your luggage and connect you with the transfer car.
The hotel is surrounded by Khao Phra Thaew National Park. Complimentary shuttle buses are available which allow you to visit nearby beaches. Rental cars and motorcycles can be brought to the hotel if desired or the team can organise a trip for you at a relatively low cost.


Travel Specialist Samantha relaxing in the gardens (left) and enjoying the swimming pool (right)


The Hotel & Accommodation
Thanyapura Health & Sports Resort now comprises of two wings, the Pool Wing and the Garden Wing. The former has 77 rooms, including the largest suites in the property. Also, it has 25-metre recreational pool, which is also closest to the reservations and other facilities such as the main restaurant. The Pool Wing is best suited for those on a sports holiday or travelling with children.
On the other hand, the newly-renovated Garden Wing houses 37 ground-level rooms all featuring an outdoor terrace with views of either the national park or the lush green gardens. The recent renovations include guest rooms and suites, the Library, the Teaching Hall and Khun Khao, a dedicated plant-based restaurant (due to open in the high season) all completed in January 2017. Now, the Garden Wing offers a quiet oasis for health enthusiasts taking part in more holistic programs, or anyone seeking a more secluded stay. Our Travel Wellness Specialists can advise you on the best option for your wellness holiday


The newly renovated Garden Wing – Superior room at Thanyapura


The Mind Centre & Medical Clinic
At first glance, Thanyapura an enormous sporting facility, appears to be perfect only for an active holiday but they have so much more to offer. With a dedicated staff of yoga teachers, nutritionists, dieticians, expert mind trainers and coaches who can assist with individual counselling, stress management, meditation, changing habits including addressing addictions and mental health. 
The hotel has specialised rehabilitation facilities and on-site licensed Physiotherapists and Chiropractors to help improve your physical condition, including recover from any injuries or surgery and attain the peak of your fitness potential.
Thanyapura also has the facilities and a full team of medical staff and doctors to provide health services for preventative healthcare and to treat current illnesses. Each health program starts with a diagnostic personal consultation to review your personal circumstances and tailor accordingly. Also, there is an online aftercare that can support you as well.
Some of the medical facilities include:
Advanced diagnostics
Anti-ageing treatments
Weight management
Hormone testing and treatment
Diabetes care
Detoxification programs
Allergy and genetic testing
Heavy metal screening and chelation
Intravenous therapy (Vitamin C, Antioxidant, Nutrient)


The Sports Facilities & Classes
There are 80 scheduled fitness classes every week at Thanyapura including boot-camp, cardio, core, mind training, Pilates, Zumba, Muay Thai and yoga. The facilities are open daily from 06:30 – 22:00 and the 900 m2 air-conditioned fitness centre features the latest fitness equipment from Technogym, plus an extended range of free weights and cardio equipment.
The main facilities include:
-  3 x Swimming pools
-  6 x Tennis courts (4 undercover, 2 outdoor) perfect for a 
tennis holiday
-  Fitness, Muay Thai & Spinning studios
-  Futsal pitch Rugby/Football pitch
-  Volleyball courts
-   Athletics Track
See a sample of the activities here


Aerial view of Thanyapura, including the International School. You can see a map of the facilities here


 Food and Restaurants
DiVine, the main all-day dining restaurant serves a variety of international cuisine, with a focus on local, sustainable and organic ingredients. The menu showcases local Thai favourites, raw-vegan cuisine, Western, European and Asian specialties. Also, there is a Booster Bar café which serves a wide selection of drinks, snacks and desserts as well as an assortment of sandwiches and healthy dishes. They have all the ingredients on hand to make the perfect post-workout protein shakes. All menu items have their calories and macronutrients listed.
Detox and weight-loss guests receive a unique plant-based menu which may include some optional juicing days under guidance by the on-site nutritionist. To avoid any potential miscommunication, let the team know you are on a program when you arrive at the restaurant and they will bring your specified meal to you.
Opening soon, brand-new plant based Khun Khao restaurant is designed for guests staying on one of the nutrition focused programs in the dedicated Garden Wing and is for exclusive use of these guests only.  



Detox breakfast day 1 – Overnight oats and Ginger tea (left) and the new Khun Khao Restaurant (right)
The Sports & Wellness Programs
There are many options to choose from and we can create a tailor-made program for you in consultation with the team at Thanyapura, below is the current range of programs:
The Staff
As there are a lot of staff at Thanyapura, the English level varies. However, you will always receive service with a warm smile, and be able to find someone to assist you. Look out for Jay in reception and Best in the restaurant. The specialist consultants hail from all around the world and the on-site medical team are all very professional and able to communicate clearly and will put you at ease, especially the nurses Jenny, Dada and Om.


Highlights and interesting facts

- There are three Muay Thai trainers at Thanyapura, and several group sessions including ladies only training twice per week, each 1-hour class caters for students of all levels and are non-contact. A great opportunity to try the national sport and cultural martial art of Thailand.
- Thanyapura welcomes guests of all abilities and fitness levels, you don't have to be fit to visit. You can use this as your base to start and you will be suitably challenged and well-looked after.
- If your flight arrives late into Phuket, consider adding an extra night at the beginning of your program. We suggest starting your program Monday to Friday to access the full range of staff, weekends are more relaxed and Sunday is the perfect day to arrive and settle in.
- Live blood analysis is available for guests on longer stays however if you plan a shorter stay this can also be complete, ask us for more details
- Guests on full board can upgrade their meal plan to a plant-based diet if they choose to do so. If you would like to do this during your stay, we highly recommend a consultation with the nutritionist or we can arrange in advance for you.
-  Most of the sports facilities here cater children with separate classes, so if you're interested in any of our 
family holidays
, Thanyapura is one of the best options.
My verdict
Thanyapura is an exceptional centre for health and well-being in Phuket. It is a one-stop location which is often host to international sporting events and elite athletes but everyone is made to feel welcome. It is like an Olympic village that ebbs and flows with guests, some days are busy and others you will feel as though you have the entire place to yourself – lucky you! It is also exceptional value and great if you are looking for an affordable healthy holiday.


How to Book
►Book through Health and Fitness Travel for a wellness package to suit your preferences. Choose from (insert programs) or we can tailor a bespoke program just for you.
To request a quote or for more information visit our Thanyapura page

Talk to one of our Travel Specialists on 0203 397 8891 or contact us here to discuss tailor-making your perfect wellness holiday.

Find out Why to Book with Us and further details on How to Book.
We recommend booking a comprehensive sports or wellness program to make the most of the facilities on offer and to keep yourself occupied. This is not a fly and flop destination!
Fact Box
Best time of the year to go: December to March
Months to book in advance for: January to March
No. of Rooms:114
Check-in/check-out: 14:00 / 12:00
Wi-Fi: Available in rooms and most of the property, speed is sufficient. 
Children: Yes, all ages welcome
Reception/Room Service: 24 hours
Alcohol: Available
Nearest Airport: Phuket International Airport (HKT)
Airport transfer time: 15 minutes  
Address: Thanyapura Health, 120/1 Moo 7, Thepkasattri, Rd, Thepkasattri, Thalang, Phuket 83110, Thailand