Samantha's Review of Samahita
09 January 2019

09 January 2019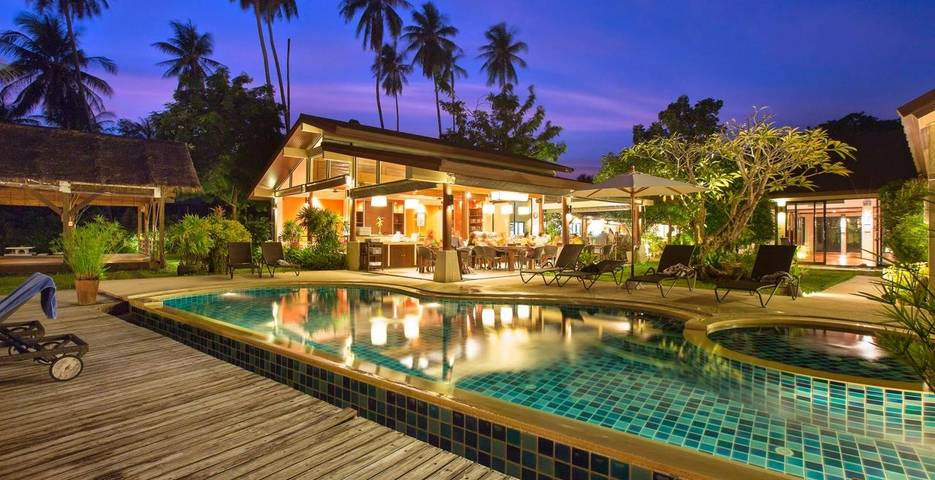 What is Samahita and who's it for?

Samahita, which is Sanskrit for centered, has its origins in New York in the 1990s where founder Paul Dallaghan established Centered Yoga and was exploring all elements of yoga, meditation, spirituality, health, nutrition, alternative living and more. This journey continued through India and Thailand, where along co-founder Jutima Chombhubutr they established the early Samahita, well known simply as Yoga Thailand, in 2003.
Paul, Jutima, and their very passionate team offer a home like environment for those seeking transformational change. For them, Samahita is a way of life and allows them to share incredibly beneficial practices, healthy and nutritious food, all within a relaxed and harmonious beachfront setting.
During my stay the guests were predominately female, varying in ages, some solo guests, friends traveling together, other guests were part of extended teacher training courses and there were also a few older couples. This retreat is highly recommended for a yoga holiday, yoga enthusiasts (all levels welcome including beginner yogis) and those who are open to transformational change. Samahita is a smoke and alcohol-free getaway.
Tip: Samahita is ideal for hosting your own group yoga retreat and benefits apply for groups of 10 or more, enquire with us for more details.


Getting There
Samahita is nested in the South of Koh Samui, they have their own fleet of vehicles and transfers will be arranged to meet your flights. The transfer takes approximately 45 minutes.


The Hotel & Accommodation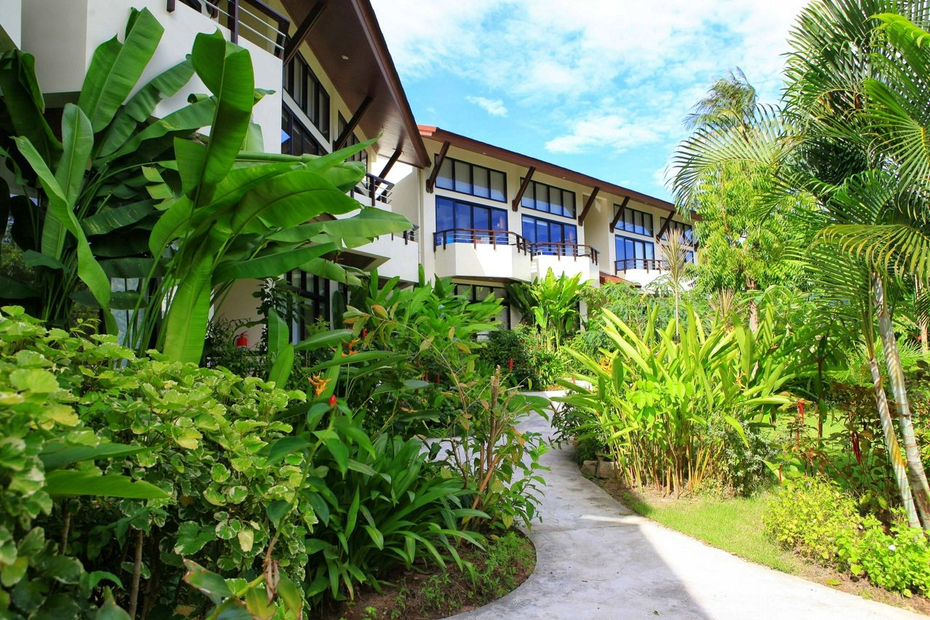 Samahita is beautifully situated on Laem Sor beach and has a beach home feel with plenty of nooks to curl up with a book and large community tables to allow you to connect with other guests in the open plan dining and living areas. The accommodations are modest, but modern and spotlessly clean. Located just opposite the main facilities, accessed via a quiet street, there are Private rooms best for solo guests and those on a detox, as well as Semi-Private and the Share Two- Bedroom Loft rooms, ideal for friends and the Deluxe One-Bedroom Suites are perfect for couples or  for a family holiday. Samahita welcomes guests of all ages but has restrictions in place to ensure the serenity of the retreat, for example children are only able to use the pool at certain times of the day, and they do limit the number of family bookings
Samahita also features salt water swimming pool and herbal steam room as well as:
2 x Yoga Shalas
Wellness centre + spa
Meditation garden
Eco-lifestyle shop
Juice bar
Beachside lounges
Far-infrared sauna
Wellness library


The Spa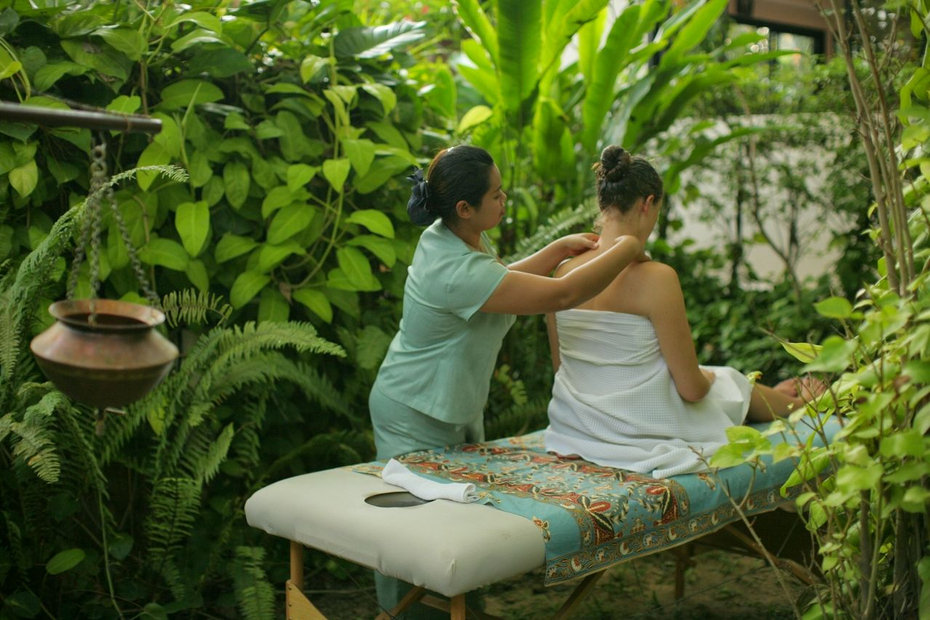 The wellness centre at Samahita Retreat combines modern technology with ancient Ayurveda techniques to heal and re-energise. Guests can benefit from emotional, spiritual and physical renewal and personalised health guidance from both in-house staff and visiting practitioners. Colonic irrigation is also available offsite for guests on a detox holiday.


The Fitness
While there is no gym at Samahita, daily cycle + core classes provide a blast of fitness each day, there are also excellent PTs on-site who can put you through your paces. Local staff member, So, led the way in my fun cycle classes and has vast experience in fitness such as free-weight training, body weight resistance training, TRX, kettlebells, as well as passion for sports like Muay Thai, Football and running, and with a sunny disposition he will make sure you have an enjoyable and challenging session.
Yoga is core to everything at Samahita and there are twice daily classes, a dynamic 90 minutes class in the morning and a restorative 60-minute practice each evening held in the beach Shala where you can hear the waves gently lapping onto the beach.


Food/ Restaurants
Samahita serves mainly vegetarian cuisine with fish and dairy options as well as specifically vegan and raw dishes. All meals are served buffet style, with the morning buffet available from 9:30 to 1pm each day. There is a variety of options available each day.
A snack is served at 3:30pm and dinner buffet from 6pm to 8pm. Eggs are available to order and are included in the brunch offering every day, and there are a variety of additional options available to order with the team.
 Buffets

 Available to order directly at the bar

(additional costs)

A full breakfast buffet with homemade bread, muesli and granola
Fresh fruits from Thailand
Homemade selection of nut butter and jams
Fresh and organic salads, sprouts and seeds
Homemade healthy salad dressings
Raw dishes, salads and pastes
Fermented probiotic rich veggies
Vegan milks, dairy milk, and homemade electrolytes
Freshly made juices and Thai herbal tea mixtures
Black tea and brewed Hilltribe Coffee
Freshly made egg options of your choice
Delicious variety of lunch items, Thai and international
Tasty and enjoyable variety of dinner items
Vegan, vegetarian and fish options
The Healthy Lite Corner for those on detox includes raw salad, fishbone broth, green detox soup, miso soup, steamed veggies and greens
For those that do not take fish or eggs, there is always an alternative protein option available.
Milk is available as well as home-made rice, coconut and soya milks

Organic hilltribe Thai coffee barrista style
Bulletproof (Keto) coffee
Mocha, matcha and vegan bulletproof coffees
Tea, chai, and matcha green tea
Fresh squeezed juice combinations
Wheatgrass and Gotu Kola Shots
Freshly made smoothies
Probiotic drinks
Whey protein, vegan protein, MCT oil, cacao
Homemade chocolate treats
Homemade energy balls and granola bars
Gelato homemade Italian-style ice cream
Take-away homemade spreads and treats
A LA CARTE food menu

 

 

 

 

  

 

 

 

 

  

The Wellness Programmes
The base programme here is the Yoga + Fitness programme which incorporates all group yoga, core and cycle classes, then each of the other programmes add to this. The schedule includes complimentary outings and there is a minimum stay of 3 nights, though many guests stay much longer.
The Staff
The staff are very friendly, many of the teachers and practitioners are past guests coming from locations all around the world such as Korea, Australia + Sweden. The in-house team are mostly Thai and everyone I encountered spoke English well, they also have an internal English training programme in place.


The Scenery & Surroundings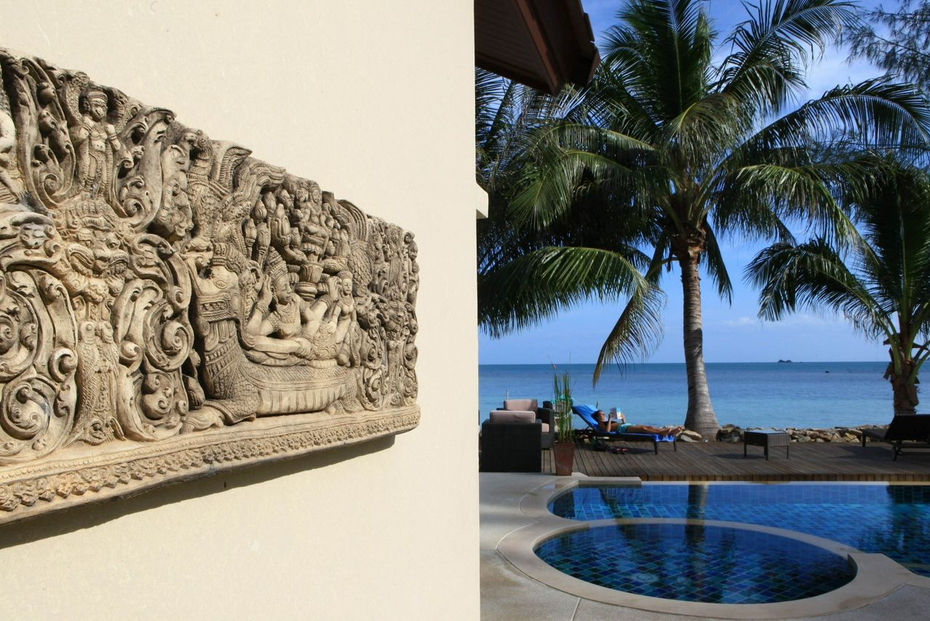 Samahita is in a quiet rural tropical setting located right on the beach in the South of Koh Samui that is far from everyday life, however they offer three complimentary excursions a week to guests to allow you to get out and explore the island:
Wednesday afternoon: boat and snorkelling trip (weather permitting), 1-4pm
Friday evening: transfer to Bophut night market, 6.20 - 9pm
Saturday evening: Walk to nearby Bang Koa night market, 6.20 - 9pm


Highlights
Meeting guests from all over the world and exploring the nearby villages during the walking street markets
Restorative yoga listening to the sounds of the ocean each evening
The Infrared sessions where I enjoyed sweating it out whilst watching Netflix in their state-of-the-art sauna.


Notes & Recommendations
Pack your own yoga mat + favourite drink bottle (they are also available for purchase on-site or there are a few yoga mats available) They do have a small number of mats to lend at reception or you can also buy a mat at the eco-shop shop. They do provide blocks, straps, cushions and bolsters.
Pack lots of yoga clothes, they are the main thing you'll wear though they do offer a laundry service with clothes returned by 6pm the following day
Take an eye mask and ear plugs if you are a light sleeper, as the blinds in the rooms do not block out all the light.


A Typical Day
Varies per programme, also all group classes and yoga sessions are optional. There is also a limited lite breakfast available for early risers as well as a la carte menu available throughout the day (extra charges apply).
7am – Silent Sunrise Cycle (25 min)
7:30 am – Meditation & Breath Class (60 min)
8:30 am – Vinyasa Yoga (90 min)
10 am – Breakfast, help yourself to the brunch buffet available from 9:30 to 1pm daily
11am – Spa or 1 on 1 session
12:30 - Lunch
3pm – Snack
4pm – Core Class (30 min)
4:30 – Fun Cycle (25 min)
5pm – Restorative Yoga
6pm – Dinner
7pm – Meditation workshop


My Summary & Verdict
The team at Samahita are passionate about wellbeing and the experience of living a healthy balanced life, they love what they do, they believe what they do, and it is reflected in their actions. Whilst initially I felt a little trepidation that I was not yet enough of a dedicated yogi, they welcomed me join them at my own pace. And even though I spent only a few days there I can see what a positive impact this retreat could have on your lifestyle and why they have so many return guests.


How to Book
To request a quote or for more information visit our Samahita page here.
Talk to one of our Travel Specialists on 0203 397 8891 or contact us here to discuss tailor-making your perfect wellness holiday.
Fact Box
Best time of the year to go: December to April
Months to book in advance for: December and January
No. of Rooms: 40
Check-in/check-out: 2pm / 12pm
Wi-Fi: Yes throughout the retreat
Children: 12 years and over accepted in resort
Reception/Room Service: No
Alcohol: No
Nearest Airport: Koh Samui
Airport transfer time: 45 minutes
Address: 55/20-24 Namuang, Na Mueang, Koh Samui, Surat Thani 84140