Top 5 Yoga Holidays; Namaste
09 September 2011

09 September 2011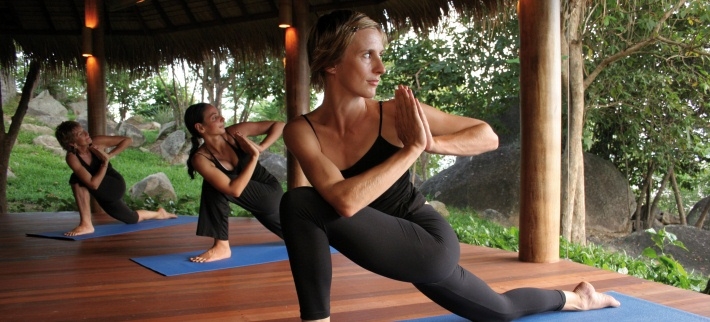 The benefits of yoga are endless; improve your flexibility, strength, balance, posture and breathing. Whether you are trying to relax, recuperate from an injury or tone up, yoga is very good for your mental health, overall fitness and also helps to control weight.
Yoga is a gentle form of exercise which trains you to understand your body as well as your mind, and when you start you can learn it at your own pace. Due to our fast-paced lifestyles that we lead today, we require an escape that allows us to feel refreshed in mind and body. On yoga holidays you can experience, learn or practice this invigorating tradition in a stunning location with expert yoga teachers, whilst enjoying healthy cuisine, various activities and spa therapies. 
So what are the benefits of doing yoga? The variety of yoga regimes consisting of postures, breathing exercises and meditation techniques can help manage or control several physical and emotional health problems. These problems can include high blood pressure, heart disease, anxiety and stress or being overweight, but yoga can also increase muscle tone, improve circulation and concentration, as well as helping to revive you, all whilst you're in a serene environment. 
There are different types of yoga depending on what level you are ready for. Hatha yoga combines mental strength with breathing and movement, making the practice ideal for a beginner to improve their awareness, flexibility and strength. For those looking for a faster pace, you can try Ashtanga yoga for a more physical challenge, or to build strength, and if you have a real sense of adventure Acro yoga combines traditional moves with acrobatics and Thai massage.
A yoga holiday also combines wellness activities with nutritional meals, detoxifying spa treatments, as well as professional support and guidance from health and fitness experts. So if you want to combine yoga with stand-up paddle boarding in Turks and Caicos or an Ayurveda Bolus Bag massage in India, then you may like to try one of our top five yoga holidays around the world:


Turks & Caicos, Caribbean
Escape to your very own luxury private island at Parrot Cay and experience a tranquil atmosphere in the heart of a tropical paradise. Guests can expect only the best from their daily yoga classes, some held on the white sandy beach. Andrea Scarborough, their resident yoga teacher has a wealth of experience spanning over 10 years and with her background as a competitive gymnast, she can provide unique techniques to improve your yoga experience. To get more out of your holiday, try the Pilates classes along with yogic philosophy group discussions, mountain biking or a relaxing shiatsu massage.


Thailand, Asia
This specialist yoga retreat at Absolute Sanctuary is perfect for those wanting to thoroughly enjoy and regain their spiritual, physical and mental balance. Up to 25 yoga classes take place daily at their fitness centre, meaning guests can choose from a variety. Yoga Styles range from Yoga for Beginners, Yoga Pilates, Ashtanga or Hot Flow (similar to Bikram Yoga). As if this amazing yoga hideaway is not enough, enjoy daily spa treatments such as an Absolute Thai stretch massage, along with healthy and delicious cuisine.


India, Asia
Secluded in the absolute serenity and beauty of the Himalayas, Ananda offers a wonderful well-being experience. Through a mixture of personalised one-on-one yoga lessons tailored to your every individual need, right down to the sensual spa treatments delivered for your comfort and relaxation, this stunning retreat offers the prospect of refreshing your entire lifestyle through ancient regimes of Ayurveda, yoga and Vedanta combined with other wellness activities. Stretch and strengthen your muscles through a series of ancient yoga postures whilst the breathing training helps re-energise your mind.


 Portugal
Modelled on an eighteenth-century Portuguese palace, Conrad Algarve is the pinnacle of style and luxury, all set within a 50-hectare estate in the stunning golf resort of Quinta do Lago. Their immersive yoga programme provides you with workshops, individual lessons, and spa treatments to leave you feeling re-connected, relaxed and with a clear mind. Enjoy a wealth of dining options with three restaurants and three bars to choose from, blending the best of Portuguese and international cuisine. Heinz Beck's Michelin-star restaurant, Gusto, is not to be missed, while the laid-back Sereno pool bar gives you the opportunity to relax by the pool and order food and drinks to your private cabana. With all that Conrad has to offer you are guaranteed an exceptional wellness and lifestyle experience and are sure to be inspired to find your own Algarve
Thailand, Asia
Whether you're a beginner or an experienced yogi, the Kamalaya yoga programme offers private one-to-one yoga sessions tailored to your individual needs or goals. This yoga holiday aids your interaction with different yogis meaning you learn something new to improve your technique from those with similar ideals. Health professionals are always around to give expert guidance on your posture (asana), breathing (pranayama) and meditation. Complement your yoga practice with refreshing spa treatments such as the Vital Essential Oil massage or the Kati Vasti.


Talk to one of our Travel Specialists on 0203 397 8891 or contact us here to discuss tailor-making your perfect healthy holiday.