Set in the rugged mystical Taygetus mountain range, Euphoria Retreat is somewhere you can escape to experience a true state of happiness and bliss. This Mediterranean retreat blends both Greek and Chinese healing traditions allowing you to embark on a journey of wellness and transformation. Re-focus and relax in the yoga and meditation hall, or strengthen and train in the state of the art fitness studio. The tranquil Euphoria Retreat SPA boasts water Kneipp therapy, utterly relaxing foot baths and an innovative sphere pool. With custom designed wholesome cuisine, beautiful surroundings, luxurious suites and comprehensive wellness programmes to choose from; Euphoria retreat is a real hidden gem.
Programmes at Euphoria Retreat
Location Overview
Nestled at the foothills of the mystical Mount Tayguets, with its own private pine forest, Euphoria Retreat in Greece exudes tranquillity and natural charm to keep you motivated throughout your healthy break. Inspired by the rich history of their monarchs, the property is designed with elegant architecture, featuring a seamless blend of Byzantine art and Zen design. The expansive garden has different areas dedicated to the five elements; water, wood, fire, earth and metal, where you can rebalance your mind. Otherwise enjoy the rugged surroundings keeping you entertained with biking and trekking.
Facilities & Services
Facilities

- Spa
- Fitness centre
- Salon
- Library
- Concierge service
- Garden
- Lockers
- Safety deposit box
- Luggage storage
- Gift and souvenir shop

 
Nearby
The traditional village of Mystras, a UNESCO World Heritage Site is set at your doorstep. The retreat caters to all your needs, however if there's something specific you need, you can find it at the nearing supermarket or convenience store.
Resort Address
Euphoria Reteat, Mystras, Greece, 231 00
Guest Policies
- Smoking is restricted throughout the retreat
- Only limited and light alcohol is served at the main bar and at Gaia restaurant.
- Use of personal communication devices is restricted at the Spa and at Gaia restaurant.
- Children between 14 -16 years of age will need their parents' consent and signature to use the spa facilities or to receive any treatment.
Accommodation Overview
Each of the 45 accommodation options on offer, reflect a clever combination of luxurious design elements with functional amenities to provide you a comfortable stay. Boasting of breath-taking views of the famous Mystras Castle and the Euphoria Retreats private forest, every room and suite features fine furnishings, underfloor heating and lavish bathrooms.
Classic Room
Superior Deluxe Room
Executive Deluxe Room
Euphoria Junior Suite
Euphoria Executive Junior Suite
Heritage Leoncini Junior Suites
Mystras suites
Byzantium Grand Suite
All Rooms Include
Air conditioning
Wi-Fi
2 x Daily housekeeping
Bluetooth speakers
Smart full HD flat screen TV
DVD and audio system
Freestanding hairdryer
Safe box
Mini bar
Tea making facilities with selections of herbal infusions
Pillow menu
Bathrobe and slippers
Euphoria signature bathroom amenities (aromatherapy and Greek herbal remedies)
Bathrobe and slippers
Yoga mat
Iron & ironing board (available on request)
Group Classes
- Meditation
- Yoga
- Mat Pilates
- Stretching
- TRX
- Qi Gong
- Creative dance
- Functional fitness
Activities
- Nature walks
- Trekking
- Creative workshops and talks
Diet & Nutrition
Following the scientific concept of Intelligent Mediterranean Metabolic Homeostasis Therapy (IMMOT), developed by Eucrasia as mentioned by Hippocrates, the father of modern medicine, the gastronomy offered at Euphoria Retreat promises to leave you nourished. The chefs also cater to the following dietary requirements:
- Gluten free
- Dairy/lactose free
- Wheat free
- Vegan
- Vegetarian
Wellness Approach
Every retreat draws inspirations from age-old Chinese and Hellenic healing traditions to offer you a comprehensive healthy holiday. Drawing upon both modern as well as ancient well-being practises, their philosophy of optimal well-being stands on two pillars; the older belief which aims to maintain and balance how energy flows within your body, and new scientific medical practises to identify any biochemical imbalances. Doctors, nutritionists and spa therapists work in close collaboration to help you revitalise yourself. Enjoy classes in Qi Gong, meditation and TRX, well-balanced meals and soul-uplifting spa therapies.
Euphoria Retreat prides itself with its research-based and scientifically proven medical test called the 3GL Therapy. This patented technique reflects the three most important biomarkers of metabolic health namely; glucose, glycogen and gluthione (the main endogenous antioxidant against free radicals). Every wellness programme is customised according to your 3GLTherapy test results, ensuring you experience a transformational break.
Typical Group Classes
Please note that all group classes and activities shown are examples only and are subject to change, such as seasonal adjustments.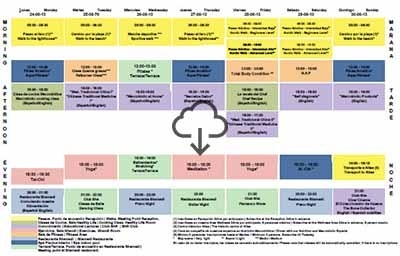 Additional Services
Rooms with special access for disabled guests are available
Laundry and dry-cleaning services are available at an extra charge
Complimentary Wi-Fi
Wellness Team
The extensive wellness team consists of experienced:
- Doctors
- Acupuncturist
- Spa therapists
- Nutritionist
- Physiotherapist
- Personal trainers and fitness instructors
Special Offers
Early Booking Offer
15% discount for bookings made 30 days before arrival for stays between 1 January - 31 December 2019 (Book by 28 February 19)
Offer not valid during following dates:
April 19 – 22 & 26 – 30
June 15 – 17
August 15 – 18
December 24 – 29