Joanna's Review of Euphoria Retreat, Greece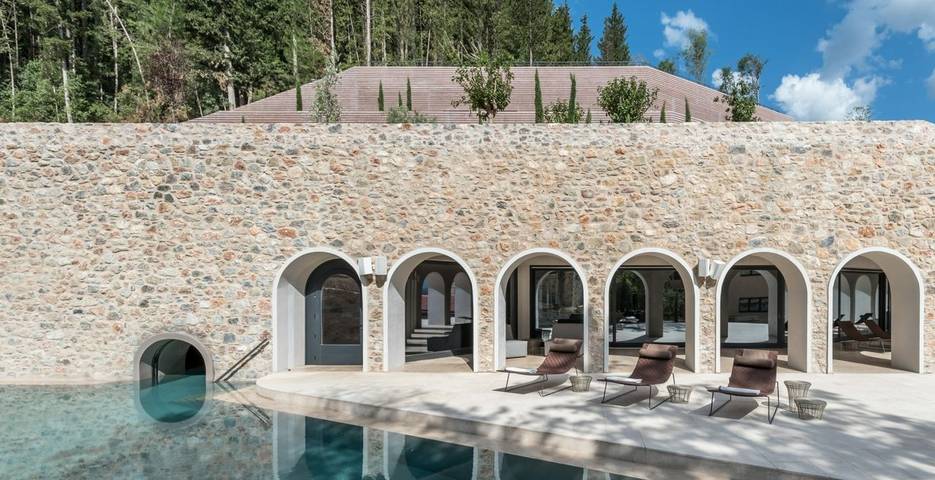 What is Euphoria Retreat and who's it for?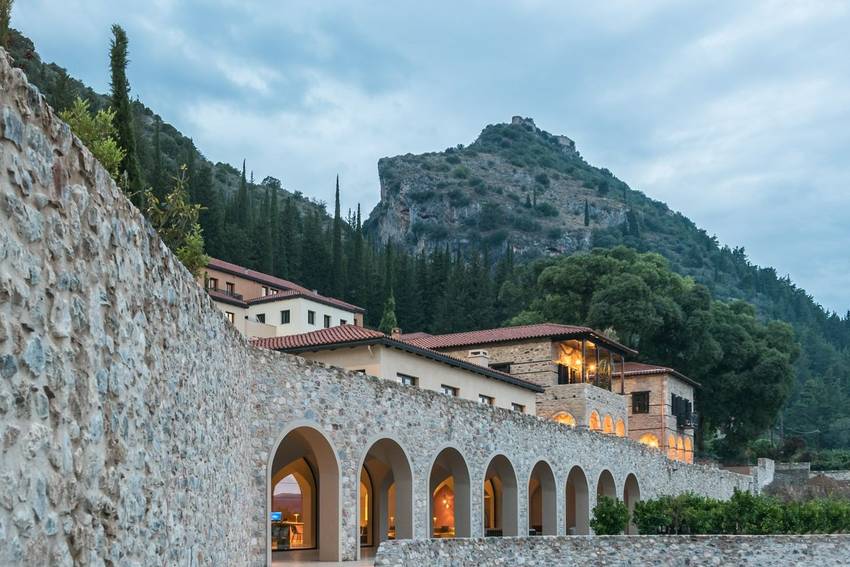 Euphoria Retreat is the dream, turned reality of the inspirational Marina Efraimoglou, a former chairwoman of a Greek bank. Two cancer diagnoses led her reevaluate her life and retrain in Chinese medicine, which allowed her to reconnect with herself and create her vision of a holistic and well-being destination spa. Here, the philosophy is centered on rebalancing the body's energies and emotions of the five elements of Earth, Fire, Water, Wood and Metal; emotionally, physically and spiritually.
'Euphoria' is a feeling or state of happiness and bliss, and if your focus is to reset and rejuvenate in a peaceful setting, there's no doubt that the holistic healing haven of Euphoria Retreat, within settings of historical ruins, is one of the best places to do so.
Getting There
Euphoria Retreat is just under an hour's drive from Kalamata airport, where direct flights depart from the UK twice a week from April to October. Out of season, you can fly to Athens airport, which is a 2.5 drive to Euphoria on a good straight road. Located in the heart of the Peloponnese, the Southern Peninsula is bursting with history and surrounded by authentic natural beauty.
 stayed in Athens for a night to visit its historical ruins, to add on a bit of culture. Our driver pointed out the ancient sites of Sparta, through roads of olive and citrus groves, before arriving at the edge of 13th century Byzatine village of Mystras.
The Wellness Programmes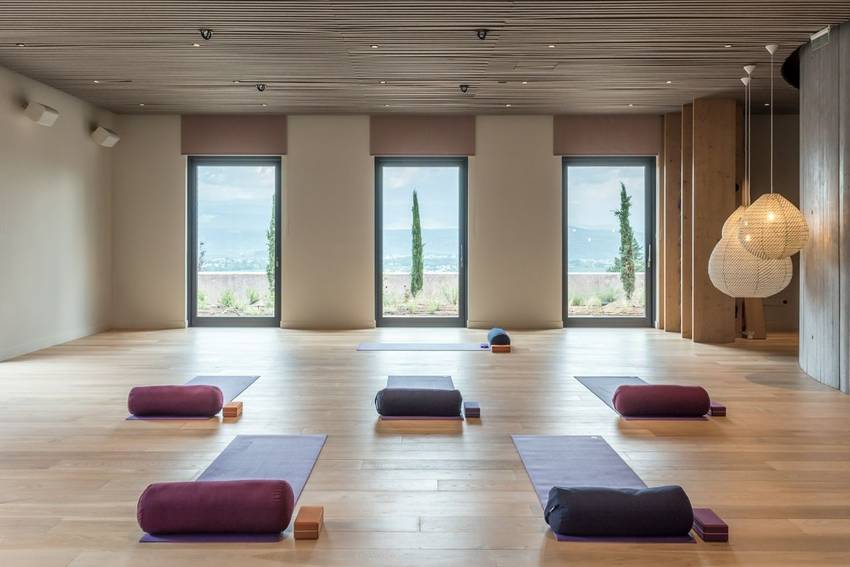 The wellness programmes are inspired by a unique blend of Chinese Taoist and Greek Hellenic healing philosophies, combined with modern medicine.
You can be as busy or as quiet as you like here. I would recommend choosing a shorter length programme to spread over a longer length of stay, to take advantage of the activities on offer.
Euphoria offers many different types of wellness programmes including:
The Hotel and Accommodation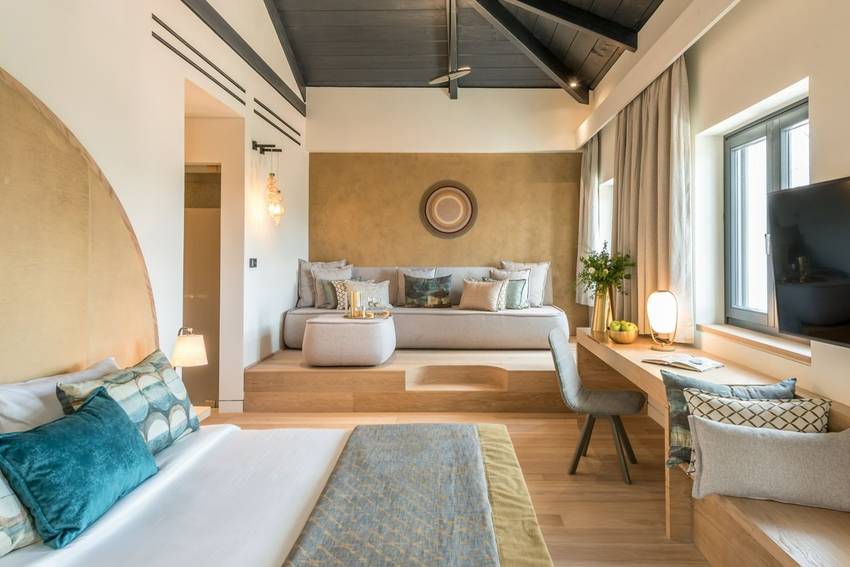 It's easy to forget about the outside world as soon as you step into the retreat. Embraced by a forest of towering pine trees, Euphoria Retreat has been carefully designed in harmony with the surrounding environment. 
With just 45 rooms, set within 3 uniquely designed buildings which draw inspiration from the Byzantine architecture, the rooms are decorated in a neutral theme with warm and earthy colours, with every intention of creating a Zen atmosphere. This infuses perfectly with the spectacular views of Mount Taygettus, the ancient Mystras castle and the pop of colour from the orange and lemon trees.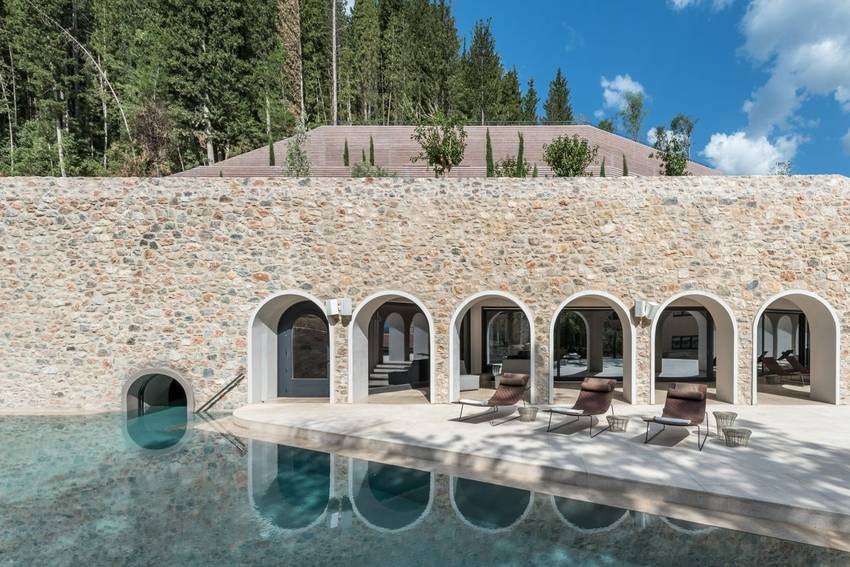 I stayed in a Superior Deluxe room, which was spacious and very well equipped with all mod cons, yet still set in a minimalist style. There were locally made toiletries provided in the bathroom of fragrant citrus smells combined with the soft touch of olive oil.  One thing to note is that only some of the rooms have baths, so ask your travel specialist to request one of these, if your preference. My room had a large terrace, overlooking the forest, which was the perfect place to meditate and sip a cup of herbal tea to start the day.
The complimentary WIFI is only offered in rooms, spa reception and lobby area in order to follow Euphoria's principle of creating a space of tranquility and silence.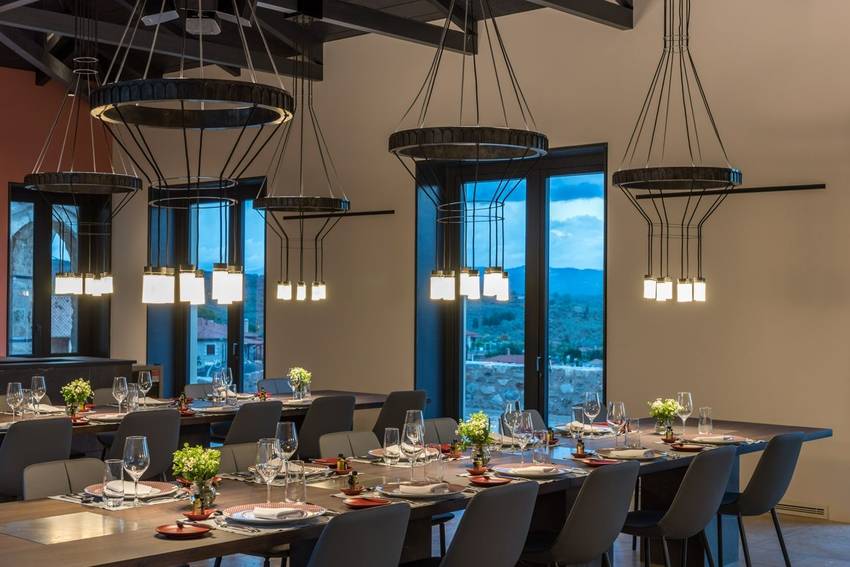 The Spa
I love spa holidays and the spa is where I spent most of my time, yet everyday, I still didn't want to leave this oasis of serenity my daily routine had adjusted to.
Rising over four levels, the spa is built around a well with a 25m empty cylinder rising up from the base, which is said to represent the light and the emptiness at the core of us all.
The spa circuit starts on the ground floor, with a circle through the hot and cold footbaths, intended to boost circulation, before reaching the first floor which offers an array of facilities including a Tepidarium, Byzantine Hammam, Salt Room, a marble steam room, outdoor California hot tub and a Finish sauna. The indoor to outdoor pool homes a hydrotherapy circuit and a 4-metre-deep womb like sphere, with the sound of whales and dolphins calling under its surface.
I booked the Relax and De Stress programme which was filled with restorative therapies from energy balancing, to mind detoxifying meditation sessions which left me feeling lighter mentally and in total serenity.
From my consultation, Dr Alexandra, told me my 3rd chakra was blocked, and all my treatments were focused on unblocking this and rebalancing my chakras throughout. 
One of my favourite treatments was the incredibly relaxing 5 Elements Balancing Treatment which is intended to restore the harmonious flow through the channels and organ systems of the body, where each element has a different massage technique due to the differing energy flow.
The majority of the wellness programmes starts with 3GL analysis and a wellness consultation. The 3GL analysis involves a simple pinprick of blood to analyse your glutathione levels, which is the core of your metabolic health. As everybody's levels decrease as a result of aging, diet, stress and toxin exposure, the dietary concept of Euphoria is based on eating appropriate portions and often to ensure the balance of the body's metabolic needs.  
Following this, a daily personalised mid-morning smoothie and mid-afternoon snack is left in one of the two relaxation areas, filled with the necessary antioxidants to regulate the glutathione levels.
The Fitness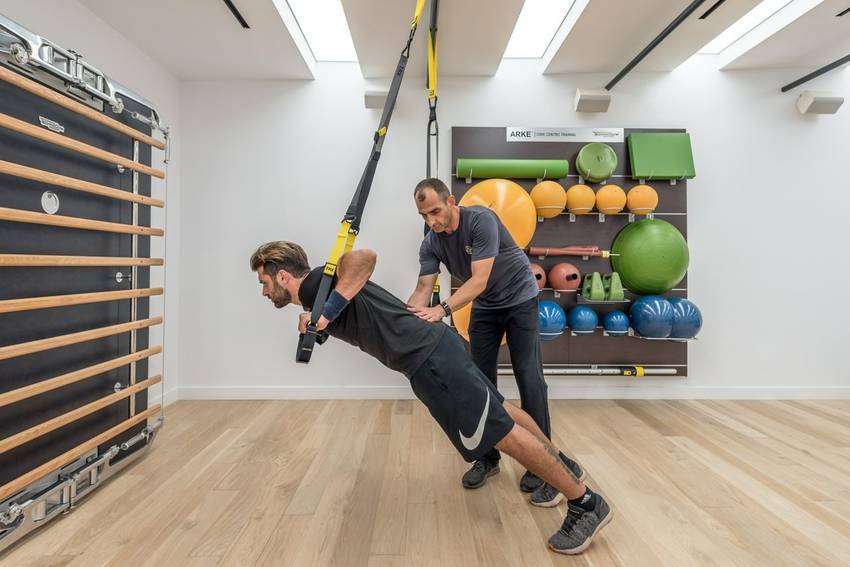 The staff are encouraging and offer opportunities to take advantage of the surroundings, as I found out when I saw another guest hanging upside down in the olive trees for their ariel yoga lesson.
But that doesn't mean that you should miss the impressive gym, which is very well-equipped state of the art Technogym equipment and includes a reformer Pilates machine and TRX. There are also two yoga studios on the third floor of the spa, with large windows offering views of the snow-covered mountains.
Euphoria offer at least 3 fitness classes and lectures a day, including hikes in the Taygettus Mountains, yoga, Chakra dancing as well as nutritional lectures. I particularly enjoyed the walk up to Mystras castle, which was filled with historical sites and fascinating stories.
Food/Restaurants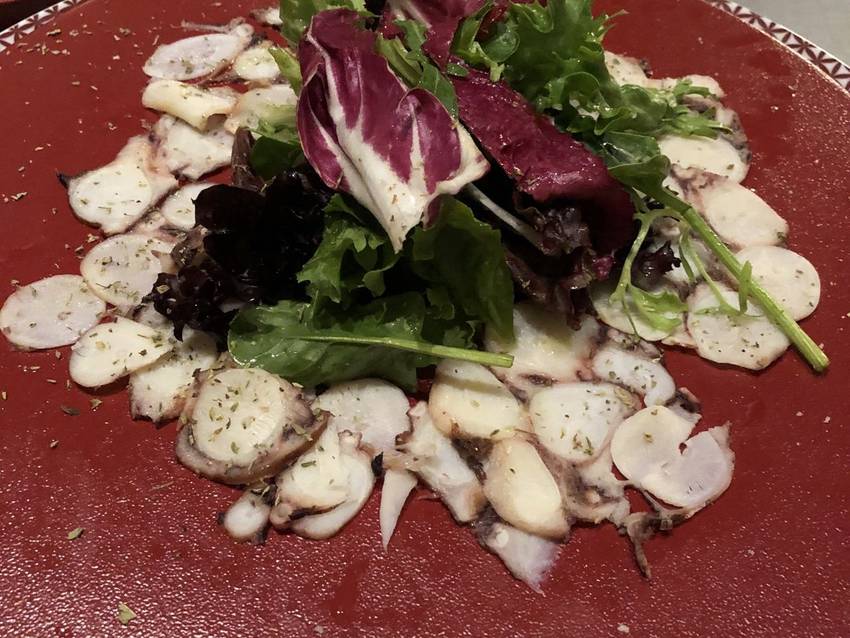 Meals are served in Gaia restaurant, where the nutritionists and chefs collaborate seasonally to create a nutritious and flavoursome menu, inspired and Greek and Mediterranean cuisine. The ingredients are organic and locally sourced with an excellent vegan and vegetarian menu, filled with antioxidants.
The nutritionists coordinate with the restaurant to make them aware of any allergies/ dislikes, and the restaurant staff will be sure to let you know the ingredients and offer an alternative. 
Breakfast is a la carte, while the menu is the same through lunch and dinner. There is such a wide range of options on the menu, it's hard to get bored of what seems to be a limitless menu. Enthused by the menu with so many healthy takes on my favourite meals, I found it difficult not the order the same dish again, in fear of missing out on another. Coffee and alcohol are discouraged, but available at a small bar in the reception area.  
The restaurant is layered with tables of two at the back and lined through the centre with long tables to encourage communal dining for solo travellers. In the sunnier months, there is an outdoor terrace available, overlooking the terracotta roofs and citrus groves.
Highs and lows
If you like history, Euphoria Retreat's unique location also provides access to a wide range of ancient archaeological sites and civilisations to visit.
There isn't much to do directly outside of the retreat, so the majority of your time will be spent in the spa or your room. In the village of Mystras, there are a handful of restaurants and shops.
My Summary and Verdict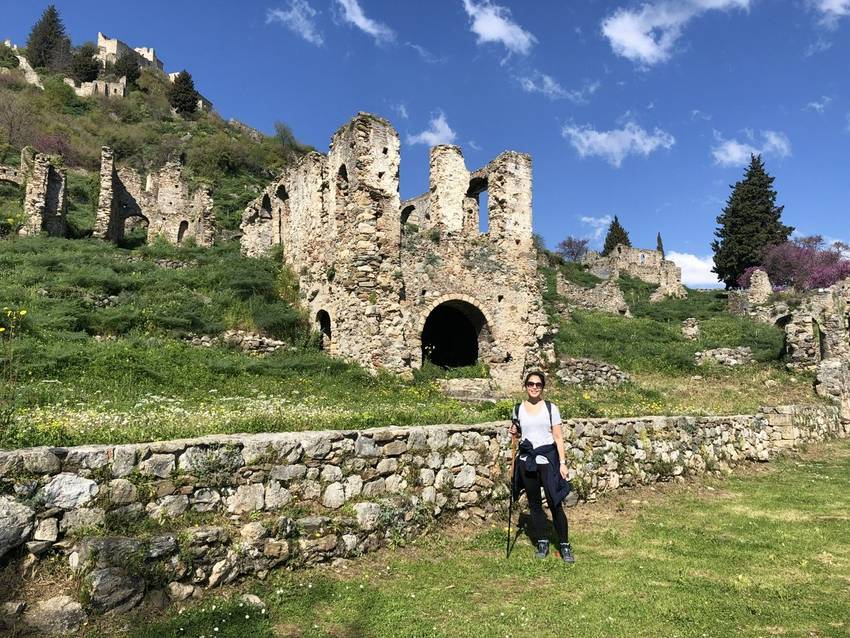 A wonderful mélange of wellness and luxury, Euphoria is the perfect escape if you're looking to balance the mind, body and soul in a calm and peaceful setting.
Having already been awarded Iconic Hotel of the Year within its first year of opening, there's no doubt that Euphoria Retreat has made its mark on the wellness scene.
How to book
To request a quote or for more information visit our Euphoria Retreat page.
Talk to one of our Travel Specialists on 0203 397 8891 or contact us here to discuss tailor-making your perfect wellness holiday.
Fact Box
Best time of the year to go: April to June and September to October
Months to book in advance for: May – September
No. of Rooms: 45 rooms and suites
Check-in/check-out: 3pm and 12pm
Wi-Fi: Complimentary WIFI in rooms
Children: Over-14s are welcome but need parental permission for access to the pool and spa.
Reception/Room Service: Yes
Alcohol: Available at the bar
Nearest Airport: Kalamata (50 minutes transfer) and Athens (150 minutes transfer)
Airport transfer time: 50 minutes to/from Kalamata
Address: Euphoria Retreat, Mystras, Greece, 231 00