10 Best Beach Destinations for Well-being Honeymoons
22 September 2014

22 September 2014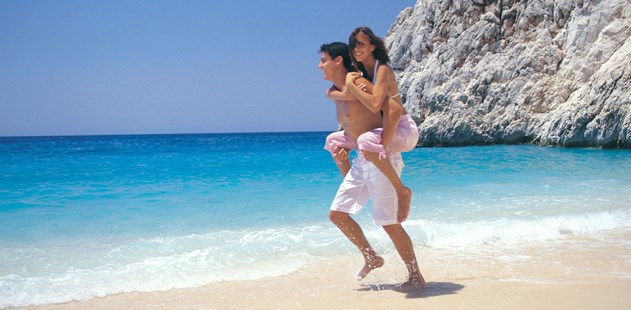 The tranquil and idyllic nature of our beach wellness honeymoons is what makes them a forever favourite amongst newlyweds. Opt for something a little different by incorporating elements of health and well-being, for a truly unforgettable healthy honeymoon.
Our idyllic hand-picked destinations, from Thailand to Costa Rica, and the Middle East to the Caribbean, are home to some of the world's most beautiful stretches of beach. Luxury spa treatments, nutritious cuisine, fun fitness activities and adventurous excursions will complement your beach holiday, for a healthy honeymoon with the well-being factor. From horseback riding on the beaches of Costa Rica, diving in the crystal clear waters of the Caribbean, or relaxing on the white sands of Vietnam, these unbeatable honeymoon beach destinations will provide you with the wellness honeymoon of a lifetime.
Read on, as we highlight our 10 best beach destinations for well-being honeymoons. Escape on one of our exquisite exotic wellness retreats and feel rejuvenated a whole world away from home.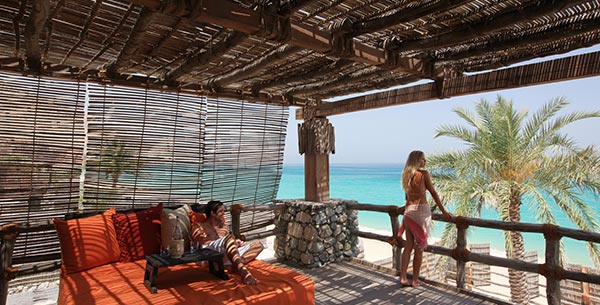 Beach view at Zighy Bay

Paraglide over breath-taking views of rugged mountains and 1.6km of private sandy beach, to this luxury well-being retreat in exotic Oman. The secluded nature of this healthy honeymoon destination provides you and your loved one with an air of tranquillity like you've never experienced before. With this healthy holiday offering snorkelling, kayaking, water skiing and wake boarding, you can revel in the sparkling blue waters. Perfect for a luxury spa honeymoon, make the most of the calm atmosphere by indulging in rejuvenating and balancing 'East meets West' treatments at the Six Senses Spa. After a day on the beach, enjoy a romantic candlelit meal for two in the majestic mountains.


More information: View Zighy Bay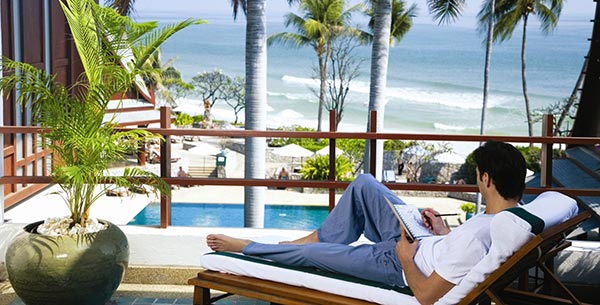 The beach front at Chiva Som

Escape to a luxurious all-inclusive haven and pristine beach, ideal for sun-seeking couples on a December honeymoon. This exclusive sanctuary set upon the coastline of Hua Hin in Thailand will make newlyweds feel like royalty. With a backdrop of green hills, unwind on exotic soft sands and take a dip in the tropical warm waters of the Gulf of Thailand. The retreat's tailor-made well-being programmes will help you commence your happily-ever-after with a lifestyle transformation. Benefit from consultations with expert therapists and start your journey towards healthier living. Indulge in daily inclusive massages and don't miss out on the luxury Chiva Som signature treatments for a healthy honeymoon to remember.


More information: View Chiva Som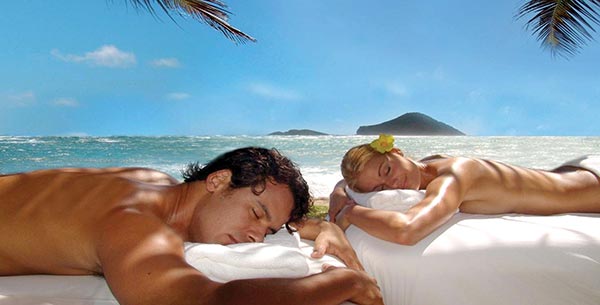 Spa treatments on the beach at The BodyHoliday

For elements of fitness and activity to complement your well-being beach honeymoon, venture to this world-class wellness retreat in St Lucia. Situated in a private cove with gentle warm waters and pristine sandy beaches, honeymooners can mix up relaxing in the sun with water sports, yoga, trekking, mountain biking and volleyball, to name just a few. This luxury honeymoon beach spa holiday allows you to be as relaxed or active as you wish, making it an ideal honeymoon activity holiday. Indulge in luxury spa treatments that sound good enough to eat side-by-side at the award-winning wellness centre and end your day in well-being paradise with romantic candlelit dinning on the beach.


More information: View The BodyHoliday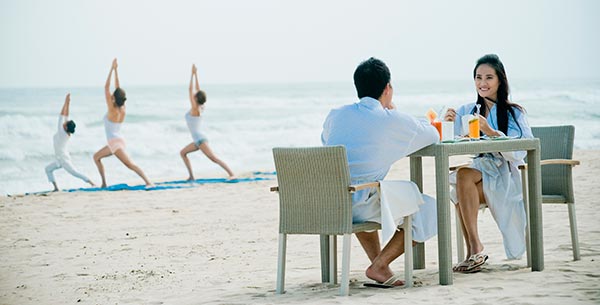 Breakfast on the beach at Fusion Maia

Visit one of the world's most beautiful beaches in Vietnam for an ultimate luxury wellness honeymoon in paradise. The beachfront setting of this healthy honeymoon plays host to a wide range of water sports you and your loved one can enjoy - explore the warm waters by venturing on diving and snorkelling excursions to local Cu Lao Cham Island. The romantic breakfast 'any time, any place' philosophy at the retreat means honeymooners can begin the day enjoying your meal on the exquisite white sand beach. When you finally tear yourselves away from the gorgeous beach, take advantage of the two inclusive daily spa treatments and truly unwind on this luxury beach spa holiday for optimal well-being.


More information: View Fusion Maia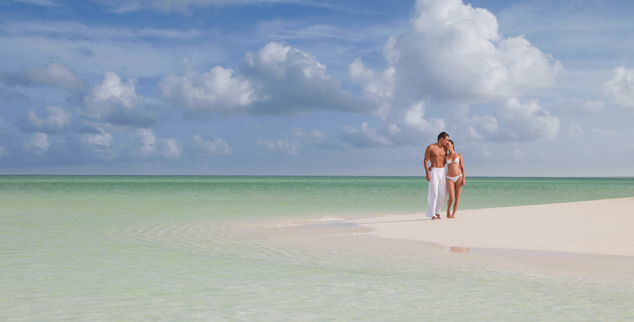 Escape to paradise at Parrot Cay

For an undoubtedly romantic and secluded well-being honeymoon on a paradise island, escape to this exquisite private Caribbean health retreat. The picture perfect turquoise sea and soft white sands of the beach will make you feel like you're in healthy honeymoon heaven. Enjoy exploring the beautiful sea and learning about the island's exciting past with pirates, as you kayak, snorkel or stand-up paddle board through the gentle warm waters. Enhance your well-being and complement your days on the beach by taking advantage of the tranquil environment to join in yoga classes, a dream yoga honeymoon. Visit the outdoor Jacuzzi garden and unwind together after your day in the sun.


More information: View Parrot Cay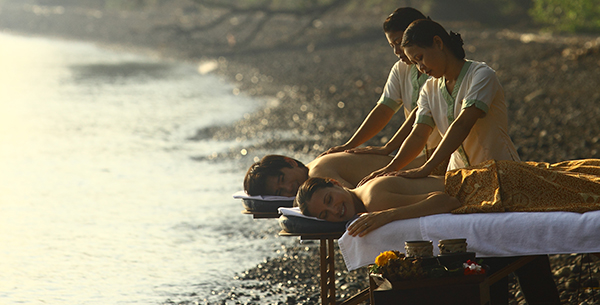 Couples massage on the black volcanic sand beach at Spa Village Tembok

This secluded luxury spa honeymoon in beautiful Bali blends exquisitely into the island's natural landscape. Stunning natural surroundings include lush vegetation, spectacular volcanic mountains and a unique black sandy beach. You and your newlywed can absorb unforgettable views of the beach from the blue infinity pool and gorgeous open-air ocean view restaurant. A dream well-being destination for a cultural wellness honeymoon, excursions including squid fishing on a traditional Jukong, will leave you feeling enriched and enlightened. Rejuvenate with luxury spa treatments on your honeymoon that all begin with The Segara Giri - where your feet are cleaned with the local black volcanic sand. End your day with some romantic starlight gazing beside your newlywed.


More information: View Spa Village Tembok
 
A romantic dinner on the jetty at Carlisle Bay

Escape on a beach wellness honeymoon in ultimate luxury at this luxury retreat in Antigua. This stylish escape is home to a private white sandy beach fringed with palm trees and magical turquoise waters, perfect for a water sports holiday. Spend your days in paradise snorkelling, sailing or water skiing through the idyllic sea and working on your tan on the sun-kissed beach. Relax on your healthy honeymoon in a couple's treatment room at the award-winning Blue Spa. For extra-special romance, enjoy champagne and a five course dinner for two on the jetty by candlelight, and then cuddle up as you watch a film in the luxury cinema room.


More information: View Carlisle Bay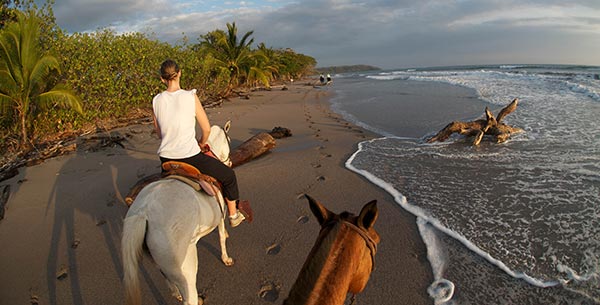 Horseriding on the beach at Florblanca

Located on the magnificent sands of the Nicoya Peninsula of Costa Rica, and with a backdrop of unspoilt tropical jungle, this luxury boutique boasts world-famous surf and an idyllic beach. A perfect choice for an adventure and wellness honeymoon, head to the beach with the excellent surf school to catch waves in the world-renowned surf, or feel closer to nature horseback riding along the soft sands. The luxurious two-storey honeymoon house offers some rustic romance as you wake up next to your newlywed amidst the tree tops. Take in views of the sparkling water and beautiful beach on your well-being honeymoon escape as you enjoy a romantic drink on your very own private terrace.


More information: View Florblanca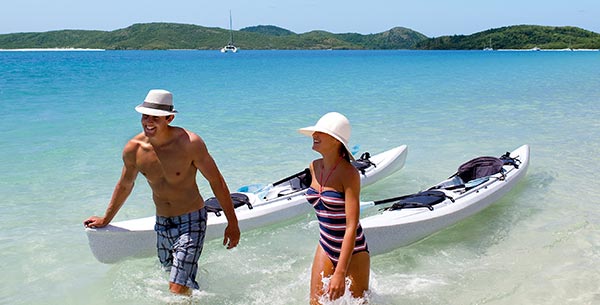 Kayaking at Qualia

Surrounded by the best of Australian coastline and landscape, on the northern tip of the idyllic Hamilton Island, this paradise on earth is the ultimate destination for a tranquil well-being beach honeymoon. The alluring aquamarine sea invites honeymooners to experience snorkelling, diving and catamaran sailing and to absorb the breath-taking scenery. Enjoy adventurous excursions to the Great Barrier Reef and paddle a twin kayak off the stunning Whitehaven beach. You and your newlywed can also enjoy a romantic sunset cruise around the Whitsundays Islands, or enjoy the exquisite cuisine with an intimate poolside dinner. Tailor-make your experience with our healthy honeymoons service, to see all your dreams come true.


More information: View: Qualia
 
Snorkelling at Buccament Bay

Escape to one of the 'jewels of the Caribbean' when visiting this luxury beach honeymoon in St Vincent. Encircled by lush green mountains and vibrant rainforest, this well-being honeymoon retreat boasts an exquisite beach of white sands and year-round crystal clear waters. Relax on the sun-kissed sands with your loved one, before exploring some of the fantastic diving and snorkelling locations and keeping fit with the retreat's selection of high-standard sports academies, for an ideal activity holiday. Make the most of your idyllic surroundings whilst enjoying romantic beachfront dining, including an exclusive four course menu, champagne, a private waiter and a candlelit table, right by the sparkling ocean, making this a honeymoon holiday to remember.


More information: View: Buccament Bay
Talk to one of our Travel Specialists on 0203 397 8891 or contact us here to discuss tailor-making your perfect Healthy Honeymoon