8 of the Best Yoga and Spa Retreats
17 September 2015

17 September 2015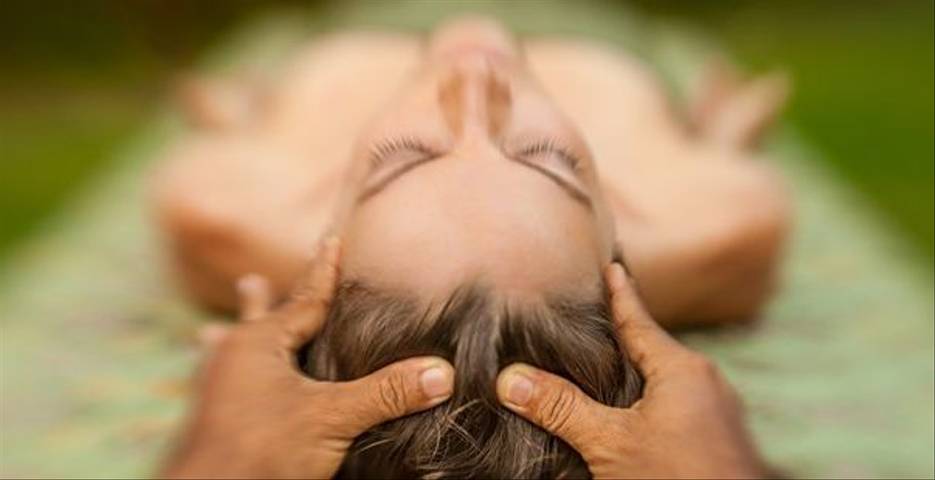 The crème de la crème for any yogi looking for an added touch of luxury relaxation, by combining the expert instruction of yoga retreats and the rejuvenating therapy of spa holidays, achieve optimal well-being with our 8 best yoga and spa retreats. The perfect way to rebalance body, mind and soul, spa enthusiasts can relax even further by giving their mind some love and care too. With personalised yoga sessions and heavenly spa treatments to replenish in each day, our yoga and spa retreats will help you to feel renewed both on the inside and the outside. From St Lucia to the Philippines, discover our top picks for worldwide yoga and spa retreats, which offer the perfect platform for yoga and spa enthusiasts to unite their passions.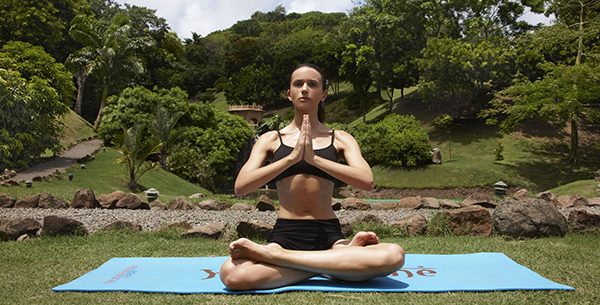 Unwind with yoga in the Caribbean at The BodyHoliday

With one-to-one personal yoga lessons tuned to your individual goals, your yoga will improve leaps and bounds on this stunning Caribbean island. With an award-winning wellness centre providing daily spa treatments, replenish and pamper yourself after each yoga session with a selection of holistic therapies. Shake things up with a host of additional land and water sports, including tennis, cycling and kayaking. A great destination for a singles holiday, with a hosted singles table each night and a variety of group fitness classes, meet like minded individuals on this reviving yoga and spa retreat. 

More information: View The BodyHoliday Yoga or Pilates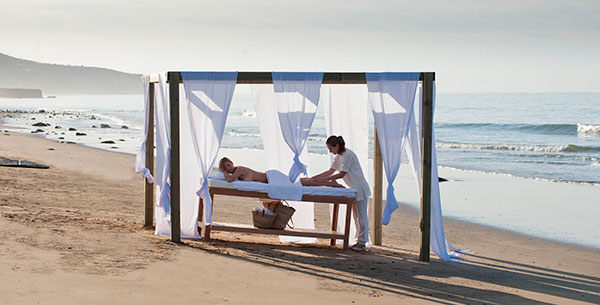 Enjoy a massage on the beach at Paradis Plage

With over thirty different holistic spa treatments and three daily group yoga classes in the beachfront yoga pavilion, beginner and experts alike will be in yoga and spa retreat paradise at Paradis Plage. Offering both traditional French and Moroccan spa treatments, and with nine different treatments included in your yoga and spa holiday, you'll never want to leave this new found paradise. A great destination for a yoga & surfing retreat, opt for additional surfing lessons to return home having improved your yoga technique and experienced a variety of what Morocco has to offer. 

More information: View Paradis Plage Spa & Yoga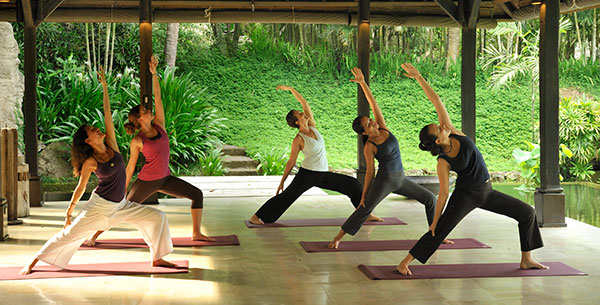 Practise yoga amidst a tropical setting at The Farm

Set within a tranquil rainforest setting in the Philippines, luxury yoga and spa retreat, The Farm, offers guests group and private yoga sessions, combined with holistic and natural spa treatments. Built around a 250-year-old mango tree said to possess healing powers, this luxury yoga and spa retreat is ideal for a healing holiday, relaxing every soul with the power of yoga and specialised spa treatments. Sourcing only natural and organic ingredients for its spa treatments and award-winning raw vegan cuisine, embrace a philosophy based around natural energy. From Yin to sunrise yoga, lose and find yourself again on a relaxing healthy holiday at this tropical yoga and spa retreat.  

More information: View The Farm Yoga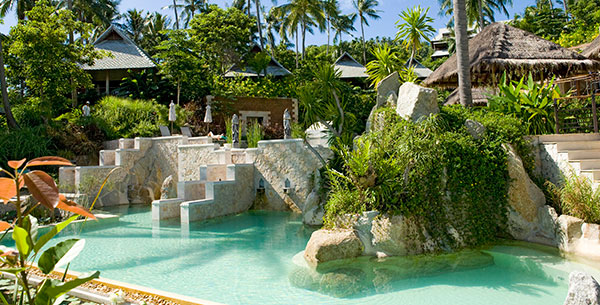 Practise yoga and enjoy the spa at the beautiful Kamalaya

For the ultimate experience in personal yoga and luxury spa retreats, head to Kamalaya in Thailand, where yogis can customise one-on-one sessions to their individual needs. With instruction on asana (posture), pranayama (breathing) and meditation, you'll vastly improve your technique and have the opportunity to fulfill a range of goals, from addressing physical limitations, to deepening existing practice or developing a regular home practice for beginners. Ideal for a de-stress holiday, after enhancing your practice, continue your relaxation with an extensive choice of Ayurveda spa therapies and treatments at the award-winning spa. 

More information: View Kamalaya Yoga Synergy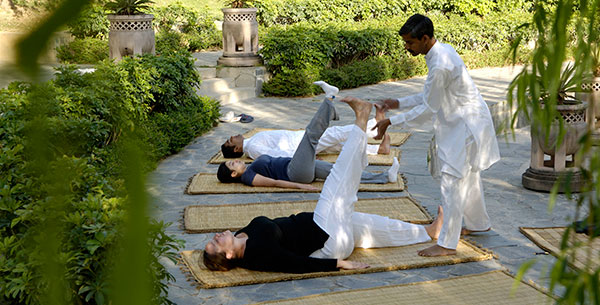 Get the help you need to become an expert yogi at Ananda

Thousands of miles from your usual yoga classroom, escape on a yoga and spa retreat in the Himalayas, as you stretch and strengthen your muscles in front of a stunning mountain backdrop. With personal yoga sessions and lessons in pranayama (breathing), you'll be a skilled yogi when you return home. Set in the birthplace of this ancient Indian life science, this is the ideal destination for an Ayurveda spa retreat. Striving to achieve harmony between your mind and body, revive your well-being with Ayurveda therapies and holistic practices, including Reiki.  

More information: View Ananda Yoga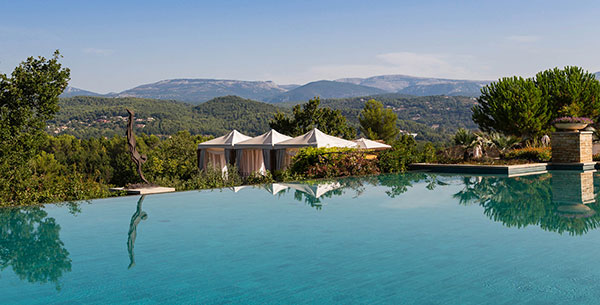 Enjoy stunning views by the pool after a relaxing massage at Terre Blanche

Sure to deliver fantastic yoga results and pamper you in luxury, escape to the south of France on a relaxing yoga and spa retreat. Ideal for a relaxation and pampering spa retreat, following the results from your initial body performance analysis and balance test, experience a spa retreat that personalises treatments to your bodies needs. Enjoy daily yoga in the beautiful spa gardens, and experience an array of beauty and therapy treatments, from rejuvenating body scrubs to lymphatic drainage massages. Situated in one of the most picturesque destinations in France, you'll want to return here year after year to unwind and re-boost your well-being.

More information: View Terre Blanche Yoga, Pilates & Spa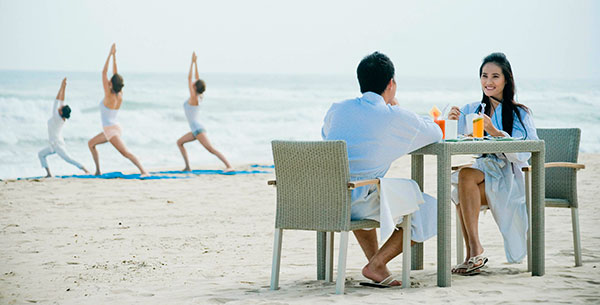 Enjoy a spot of breakfast or morning yoga on the beach at Fusion Maia

With its own signature yoga style, reconnect at this luxury yoga and spa retreat set upon Vietnam's idyllic east coast, ideal for a beach spa holiday. With daily private and group yoga sessions, experience the both of best worlds before making the most of two daily spa therapies, from a choice of over 20 treatments. Enhance your well-being with daily tea talks covering a range of inspirational wellness books and daily explorer opportunities, such as a Tai Chi class from the summit of Vietnam's renowned Marble Mountains and visits to the local market for a taste of local culture.

More information: View Fusion Maia Yoga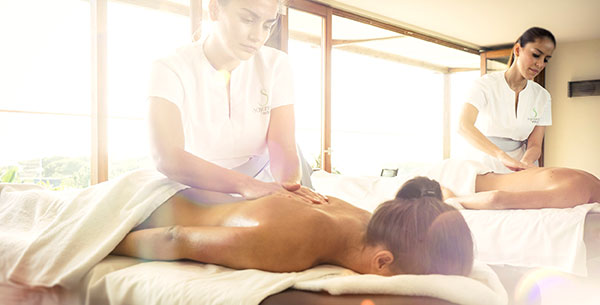 Enjoy a rejuvenating massage at Epic Sana set on Portugal's Algarve coastline

With the philosophy that harmony is the key to inner happiness, rebalance a healthier and happier you at this luxury yoga and spa retreat, set upon the iconic coastline of the Portuguese Algarve. A great destination to learn yoga on holiday, learn to counteract the stresses of your hectic lifestyle through this healing practice. You'll be given all the tools to continue these excellent techniques at home, so that you can reap the benefits of yoga for the rest of your life. From breath and meditation workshops to deep tissue massages, this yoga and spa retreat will leave you feeling utterly relaxed. 

More information: View Epic Sana Yoga
Talk to one of our Travel Specialists on 0203 397 8891 or contact us here to discuss tailor-making your perfect yoga holiday.