Adam's Review of Chiva Som
07 June 2013

07 June 2013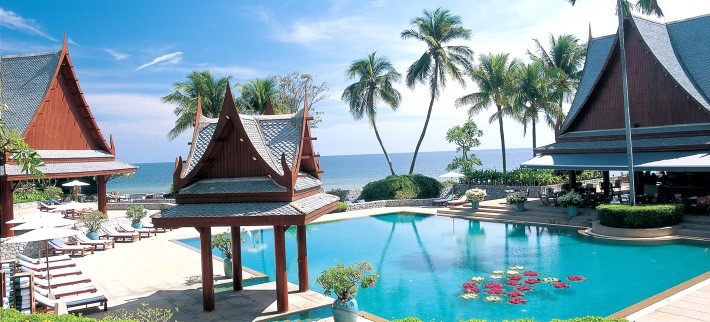 Destination Spas don't come much better than Chiva Som. It prides itself on being a truly International Health Resort located in one of Thailand's thriving destinations in Hua Hin. On my arrival I was welcomed into a lounge overlooking a truly beautiful landscape view. Within no time my schedule for the afternoon had been arranged, with the first of three wellness consultations to reflect on my personal health.
I stayed in an Ocean View room, the smallest of all room types; ideal for a single traveller but sufficient for two, located close to the large pool and beach (see resort map), and right next to the spa and restaurants. The rooms had everything I wanted - gown, robe, daily fresh fruit, and everything else you would expect from a prestigious resort. All other room types are individually separated around the grounds for privacy and quietness.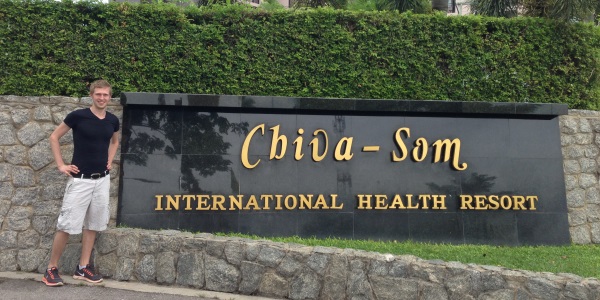 Adam at the entrance to Chiva Som

There are two types of stays at Chiva Som; the first is a credit-based stay for 3 nights or more offering a daily massage and credit which you can spend on treatments of your choice, or the second is a programme that's based around a wellness theme such as Fit for Life or Weight Management. When you choose a programme at Chiva Som, you're not bound by it, as your first consultation you give the opportunity to select the best programme for you or swap treatments if you choose or agree with recommendations made. I chose Natural Healing which was also recommended by my Wellness Advisor, and although chosen, I swapped specific treatments and upgraded some.

I recommend making the most of the complimentary consultations for physical, skin, facial, fitness and hair tests. Recommendations are made for each respective area in ways to promote better health and reduce signs of ageing - the most interesting I found was the skin facial analysis that showed 8 different aspects of the skin to measure its health and youthfulness. You can view the style of the skin analysis results here. Chiva Som knew no boundaries when it came to beauty treatments; it offered an astounding range of modern technology with over a dozen pieces of equipment ranging from winkle reduction and red vein removal.



A panoramic view of the beach at Chiva Som


I was amazed by how spectacular the resort was, with beautiful architecture and stunning high glass walls to fresh flowers scattered all around giving off a pleasant natural scent. It's ideally situated beside the beach and close to the main market of Hua Hin; I felt the freedom to wander out of the resort to the beach and town, with complimentary shuttles to and from the town throughout each day, the easy access to come and go and with security and privacy a high priority, made me feel relaxed. The beach is so vast you can walk for hours in either direction; the tide moves out up to 100m and in up to the exit steps. At night I really enjoyed sitting outside and just listening to the sound of the ocean.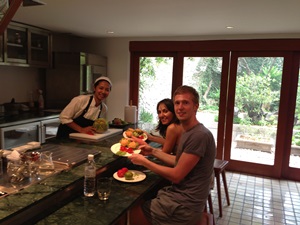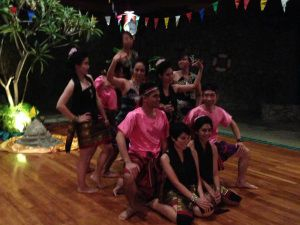 Fruit carving class  (left) Songkran at Chiva Som (right)

Alongside my wellness programme the weekly schedule of classes was superb with excellent variety (I counted 41 different types of classes), ranging from Tai Chi and yoga in the morning, to cooking classes and fitness classes such as Thai boxing and TRX suspension training, to some I had never even heard of before such as Gyrokinesis (incorporating yoga, dance, gymnastics an Tai Chi), making it an ideal choice for a luxury fitness holiday.

In the early mornings I usually went to Tai Chi followed by yoga before indulging in some well-earned breakfast. Classes were all 45 minutes, giving me enough time to do classes side-by-side - on one day I managed 5 classes! (Although one was a fruit carving class). Every day offered a new set of classes to attend and the choice meant I always had something to do; the teachers were very experienced and professional. Daily schedules for the next day were always delivered to my door in the evenings as a reminder of my wellness programme schedule.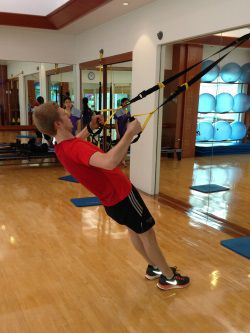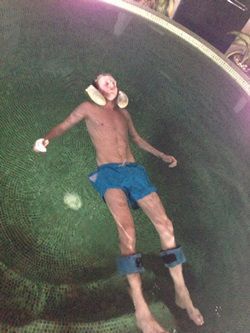 TRX training in the fitness centre (left) An Aquatic Therapy (Watsu) experience (right)

If you're looking for an unrivalled spa holiday in Thailand, Chiva Som is unquestionably close to perfection. On arrival I had a photo taken of me so the staff could recognise me, who had not yet met me. The spa is split into male and female areas each with their own FAR infrared sauna, Jacuzzi, steam room, plunge pool and relaxation area. I either arrived early or stayed for a while after a treatment to enjoy the peacefulness facilities I could only dream of having at my local gym. My favourite treatments included the invigorating massage, traditional Thai massage and acupuncture. I tried Aquatic Therapy (Watsu) treatment; a passive technique using the buoyancy of the water to support me while I was gently stretched, and drifted through the water sending me into deep relaxation.

The facilities were second to none and offered absolutely everything from a Pilates studio, dance studio, kinesis room, bathing pavilion, multiple outdoor pavilions for holistic classes, watsu, fitness centre, massage pavilions, library, separate male and female spa areas and swimming pools. The facilities don't stop there, with extensive spa and hydrotherapy options located in either the spa or the bathing pavilion, Chiva Som is a complete and comprehensive wellness destination.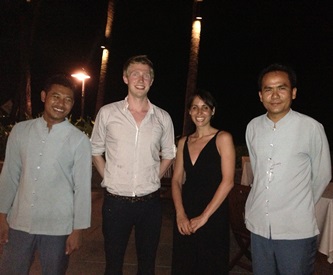 The friendly staff at Chiva Som


The staff were attentive and unobtrusive, they gave me the space I desired and were willing to get whatever I wanted. They were very friendly and knew suitable levels of English and by the end of my stay I'd naturally built some rapport with many of them. By the end I was sad to say goodbye. Some luxury resorts have staff that surround you but here the space to breathe was well balanced. My stay happened to be during the Thai New Year, Songkran, and all the staff celebrated with the guests with a parade and traditional water throwing at each other. Then at night it was celebrated with a special outdoor buffet with all the tastiest Thai food you could imagine!

Dining offered two choices; one for international cuisine located in the main building (the Emerald Room), and the second offered Thai cuisine that overlooked the beach by the pool (Taste of Siam). The Thai food was absolutely delicious, so most of my time was spent indulging at the outdoor restaurant. The food was excellent at both restaurants, with menus for all three meals including a buffet for breakfast and lunch. There was a singles' table where I usually met and spoke to some of the visiting master practitioners, of which at least 5 differing experts were available, usually in unique and rare areas such as oriental and occidental healing, Pilates method for mental and physical training, and classical homeopathy and energy healings, which gave even more diversity to Chiva Som's wellness offerings.

After dinner I relished retiring to the Emeralds lounge after an active day (and relaxing) to listen to the live pianist where I played chess and gave my body its deserved opportunity to rejuvenate, or occasionally I would watch a DVD from their enormous collection of films in my room.



The accommodation at Chiva Som


By the end of my week-long stay I found a new level of fitness and well-being I hadn't experienced before by combining the wellness holiday elements of the Natural Healing programme and the fitness classes throughout the week. What I thought was incredible was the sheer comprehensiveness of health and wellness treatments available. With 70 treatments rooms and an unmatched variety of treatments, if you're looking for a one-stop healthy holiday, this is the place for you.

Chiva Som is a truly world-class experience and one that I personally rated as one of the best as it maintains its status internationally and quite rightly so.
Talk to one of our Travel Specialists on 0203 397 8891 or contact us here to discuss tailor-making your perfect wellness holiday.