Adam's Review of Santani Wellness Resort & Spa in Sri Lanka
19 February 2019

19 February 2019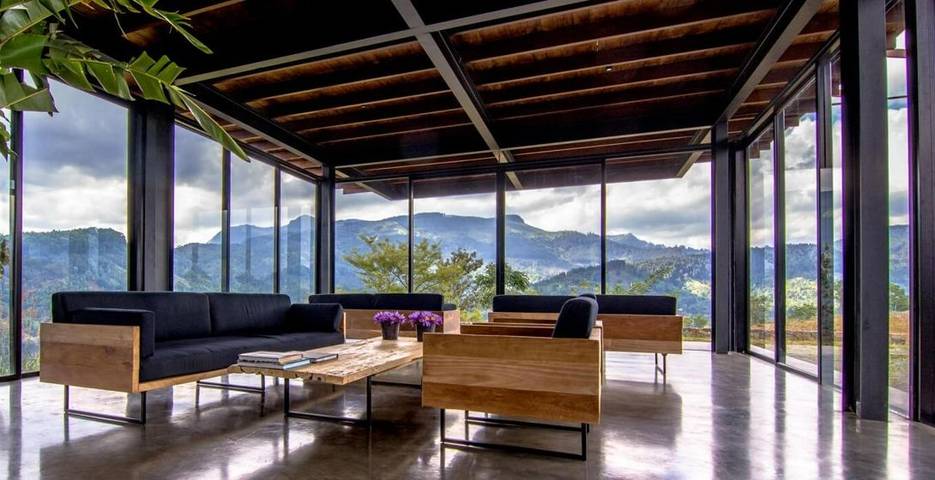 Overview of Santani Wellness Resort & Spa
Santani Wellness Resort & Spa in Sri Lanka, is a success story for the wellness traveller. It's a boutique wellness retreat offering minimalistic luxury in a nature-rich setting for those seeking healing through quietude, yoga and Ayurveda. Santani is not a strict health retreat and gracefully doesn't feature a heavily-packed daily schedule. It's a place that lends back time as any healing holiday should.
The Resort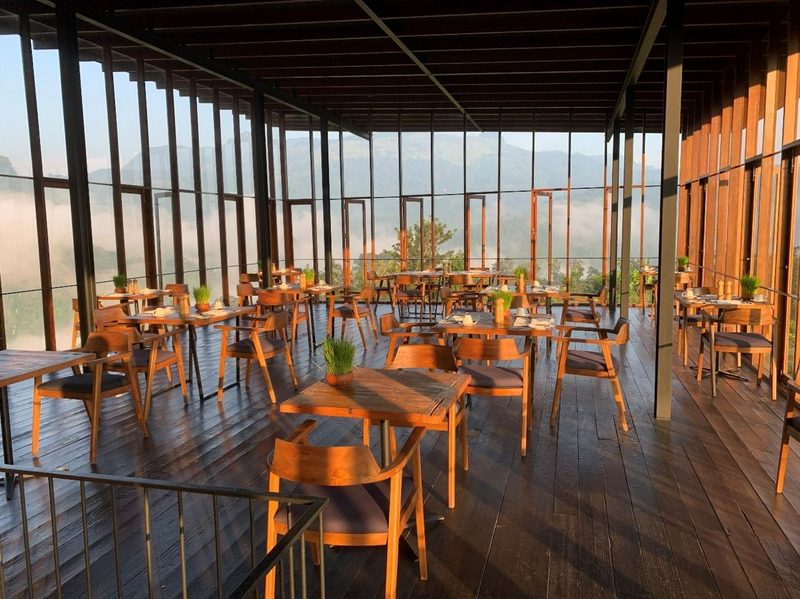 The tree-top restaurant at Santani
Santani is Sanskrit for harmony, something this hotel oozes. Absorbed by 48-acres of lush green surroundings, Santani has been developed to ensure sustainability that's achieved through its intelligent design and ethos. Completely devoid of air conditioning, only architecturally well-ventilated rooms are permeated by the cool hillside breeze. Situated 900m above sea level, it's a few degrees cooler than at sea level that helps makes this possible and totally comfortable.
With polished concrete flooring, elegant furnishings and the use of reclaimed wood, Santani creates a contemporary ambience that complements its nurturing essence.
I found the minimalism begin to calm my central nervous system down as I started to melt into each day with a great sense of ease. All too often you can find yourself jumping between one activity to the next treatment, and never really finding the time to do nothing and just reflect, read a book or absorb the beautiful nature around you, but at Santani you can.
Getting There
Santani's nearest airport is Colombo International Airport (CMB) located approximately 4 hours' drive from Santani. We include return private transfers in our quotes, though I would recommend requesting us to organise you a sea plane (Cinnamon Air) from Colombo to Kandy if the option is available, based on your arrival time into Colombo. There are usually only two connecting flights a day departing around 10am and 2pm which would then take a 1-hour transfer, cutting out a lot of the general road traffic. The first three hours are not very windy, it's just a wide single lane road with lots of overtaking. There are opportunities to stop, rest and to take in the views. Direct flights into Colombo are generally available from major route hubs such as London and Dubai.
The Wellness Programmes
Santani offers a range of wellness programmes where you receive a personalised consultation with the Ayurveda doctor to establish a tailored programme of treatments, meal plan and lifestyle guidance.
Accommodation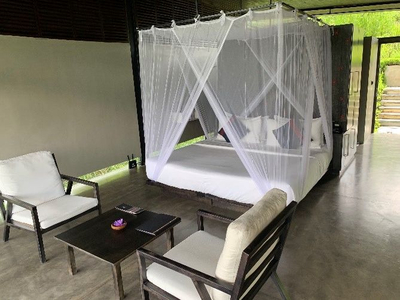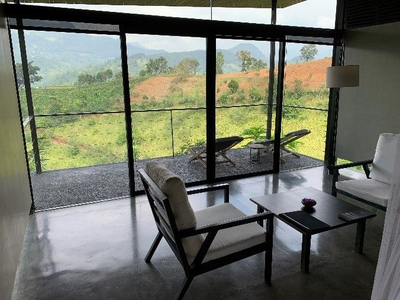 A view from inside the chalets
Santani consists of 20 chalets, 16 Mountain View and 4 Garden View, both of which can be turned into a large king-sized bed or two single beds. The Mountain View chalets feature spectacular mountain views filled with tropical forest. The Garden View chalets views face lush vegetation with unique outdoor bathrooms. Every chalet embraces floor-to-ceiling patio doors that open to a private balcony. The rooms are clutter-free and persuade you to soak in nature. For a fuller view of the mountain make sure you request a riverside Mountain View chalet!
I particularly enjoyed the low lighting in the evening in the chalets and restaurant which helped to improve my sleep by increasing the body's natural production of melatonin. At night you can hear the pleasant tropical sound of insects that serve as a sleep-inducing white noise. If you don't mind quiet distant noises (i.e. you're seeking the perfectly quiet room) then the 'open' nature of the rooms will be a unique experience. If you are looking for a sleep enhancement retreat, then Santani offers a very comprehensive sleep programme.
Walking around is easy and you're no more than a few minutes' walk to the restaurant from the Mountain View chalets, and no more than 10 minutes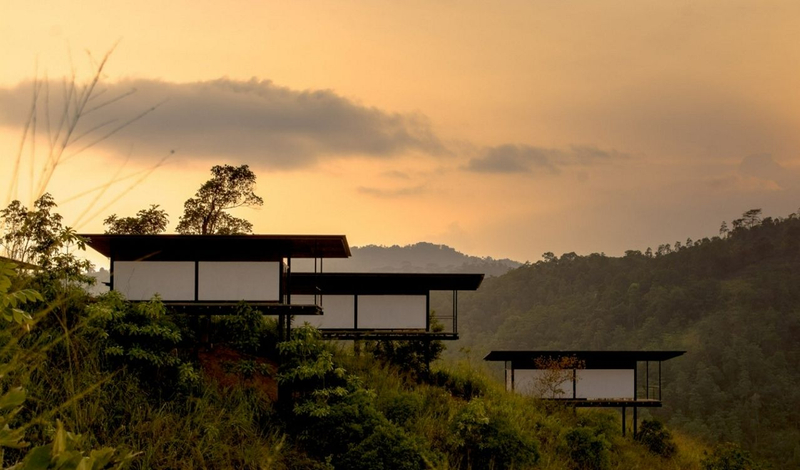 The stunning Mountain View chalets
The Spa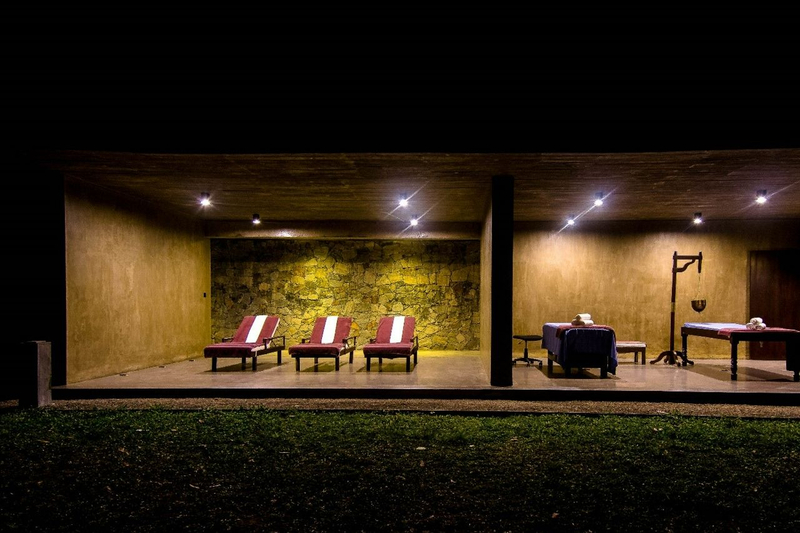 The Spa's relaxation area (left) an treatment room (right)
The three-tiered Spa is small but intimate and treatment rooms are open-aired (three walls) so you're pleasantly connected with nature. You'll find many different species of birds tweeting, gliding and playing - a joyful and meditative experience to observe. A wide-range of Ayurvedic treatments are available, alongside popular international treatments. Ayurveda is the traditional approach to healthcare and Santani encompasses this ethos in all of its departments making it an ideal Ayurveda holiday. The Spa's facilities include a salt-water hydrotherapy pool, sauna, steam room and relaxation area.
Close to your arrival all guests will met with the resort's Ayurvedic doctor, who discovers your personal Ayurvedic dosha. Combined with your wellness goals and any pre-existing conditions the doctor will put together a plan of treatments for your stay and decide on your personalised meal plan.
My therapist, Upendra, was very kind-hearted, being both attentive and experienced. She always checked with me that I was happy with everything – I'd highly recommend choosing her as your therapist if she is available.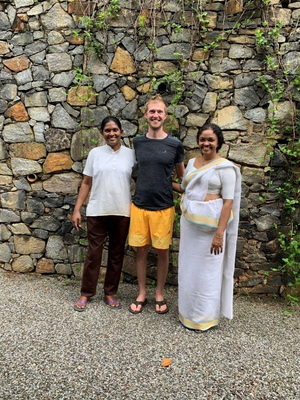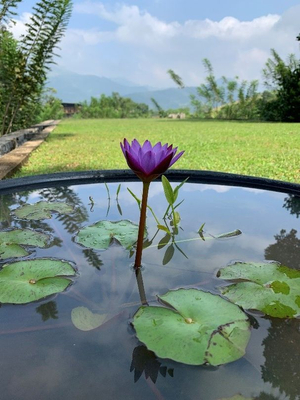 Myself with Upendra and Doctor Mudeetha (left) and a beautiful lotus flower (right)
Yoga & Walking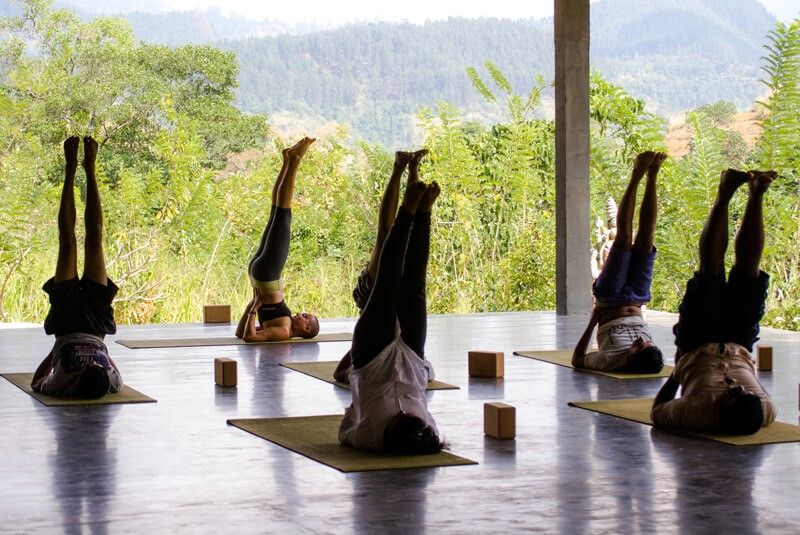 Twice daily yoga classes (7am and 4pm) are complimentary and held in an open-air shala, each lasting an hour and a half, with meditation or yoga nidra often making up the latter part of the class. The standard of yoga is beginner to intermediate, and classes were both energising and relaxing.
Daily walks are included down to the river (around 3-4km round trip) where you can choose to go for a dip in the river. On all the walks the informative guide shared his knowledge of the rich diversity of wildlife and food-harvesting plants and trees. Additional hikes to a local hanging bridge (7km round trip) are also included complimentary only when booking through us – I highly recommend this walk as it finishes at the intersection of rapid white waters where we sat for a short meditation. Half way through a local worker came down from a Kithul tree so I could taste raw and untreated treacle (though it definitely tastes better in the shops!).
The Food
The restaurant is the focal point with stunning views. Tables and flooring are made from reclaimed wood from a disused factory and you're welcomed to walk barefoot. The dining experience for me was a real highlight since food has such an impact on our health and it certainly contributed to the peace-inducing retreat.
The food here really is amazing. It's elegantly presented, nutritionally balanced and aspirational for keen cooks, each meal offering variety with adaptations in style. There's no menu since your meal plan is decided by the doctor, though you can still make requests. You also won't find a buffet here which happily meant that I stopped overeating - something I do regularly at home with so much food available!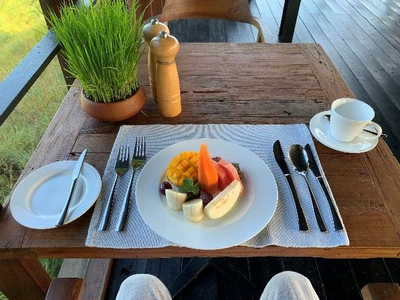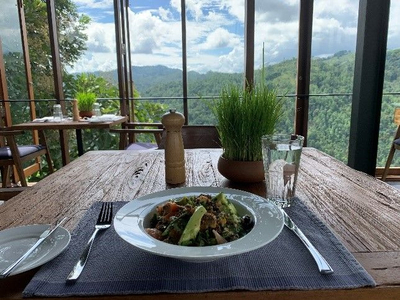 The restaurant service was snappy. This was great and meant I didn't spend so long waiting around in the restaurant each day. With a team of around 8 working in the kitchen, given there's only 20 rooms you'll receive an excellent service.
Breakfast was often served with fresh fruit which, since most of it is grown in Sri Lanka, it was unbelievably tasty, particularly the bananas, papaya, pineapple and mango! For dinner, I highly recommend their flagship Sri Lankan curry, where it's typically served on either your arrival evening or last dinner. Delicious!
The Staff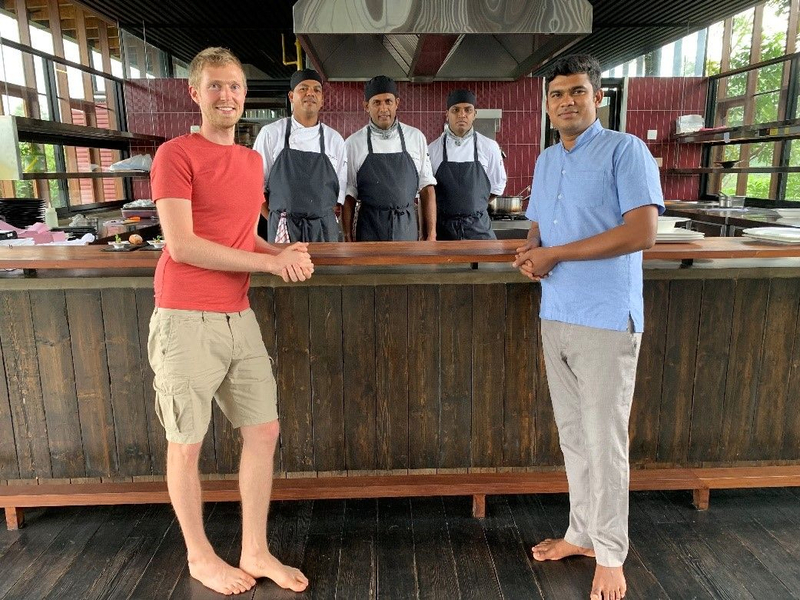 Santani's intimate retreat atmosphere meant relationships with staff naturally evolved. I personally felt that my time and space was carefully respected, and my experience of all the team was one of warmth. There isn't particularly a main reception, though any member of the team would act as a receptionist for you.
Nearby & Surroundings
Sri Lanka has a tropical climate so outside of the resort expect at some point to see an array of wildlife, including dogs and monkeys, but mostly birds and insects. Immediately to one side of the resort is a tea forestation with regular leaf-pickers at work. The hanging bridge walk offered a chance to come close to the rice paddy fields and other local life.
Situated 1 hour from Kandy, visiting Santani also gives an opportunity to explore Sri Lanka's Buddhist heritage by visiting its UNESCO Sacred City of Kandy and its Temple of the Tooth. One other highlight if you're into nature and gardens was the phenomenal Royal Botanical Gardens located 7km outside of Kandy, historically dating as far back as 1371 – an array of the most astounding and immaculately mainted gardens I've ever visited, featuring more than 4000 species of plants, including orchids, spices, medicinal plants and palm trees.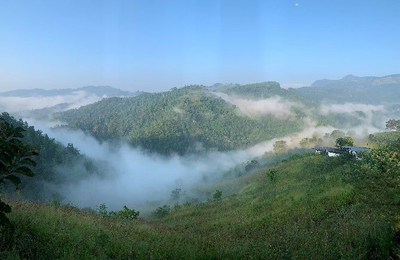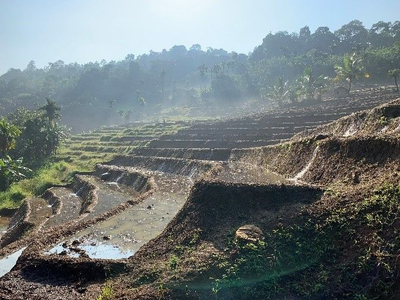 Highlights
Staying at Santani was very peaceful for so many reasons. For me, I love it when it rains. Perhaps I'm not your typical traveller! The sound of the rain on the chalet's rooftop was very calming – I stayed in November during the rainy-season and watching the rainfall across the undisturbed valley view was mesmerising. Though it didn't rain often, just heavily when it did.
Swimming in the pool is also tranquil with its backdrop of mountains and greenery. The display of birds and even eagles chirping and swooping in the air every day was relaxing and enjoyable.
Notes & Recommendations
Being a solo traveller my experience of Santani was solo-friendly thanks to its boutique size. Though there isn't a large communal table where guests sit together, many of the guests were also on a week-long wellness programme and I naturally started chatting with some after yoga and around the pool.
You're encouraged to quieten and relax your mind so plan to minimise your internet usage. Wi-Fi is available on request where you'll receive a wireless router that connects to the internet via mobile broadband. It currently uses a single shared 4G service, meaning that it suffices when only a few people are using it, but when shared with more I found the service a bit slow and it regularly disconnected. When 5G arrives in Sri Lanka probably sometime around 2020, the speed of internet will be much faster and more reliable.
My Summary
Santani met my expectations after seeing its stunning photography. If you're looking for a wellness retreat getaway in natural surroundings that offers a chance to strip back over-indulgent luxury to settle and unwind, you've found the right place. It's a unique wellness brand and one of the first of its kind in Sri Lanka.
► Book through Health and Fitness Travel and receive a private yoga session (60 min) and 20% discount on all additional spa treatments.
How to Book
To request a quote or for more information visit our Santani Wellness Resort & Spa page.
You can also talk to one of our Travel Specialists on 0203 397 8891 or contact us here to discuss tailor-making your perfect wellness holiday.
Fact Box
Best times of the year to go:  January, February, July, August
Typical rainy season months: October, November
No. of Rooms: 20
Check-in/check-out: 2pm / 12pm
Wi-Fi: Yes (in rooms only)
Children: 13yrs +
Reception/Room Service: 24h
Alcohol: Yes
Nearest Airport: Colombo (CMB)
Airport transfer time: 4 hours 
Address: Aratenna Estate, 00013, Sri Lanka