Hollie's Review of Borgo Egnazia, Puglia Italy
08 August 2019

08 August 2019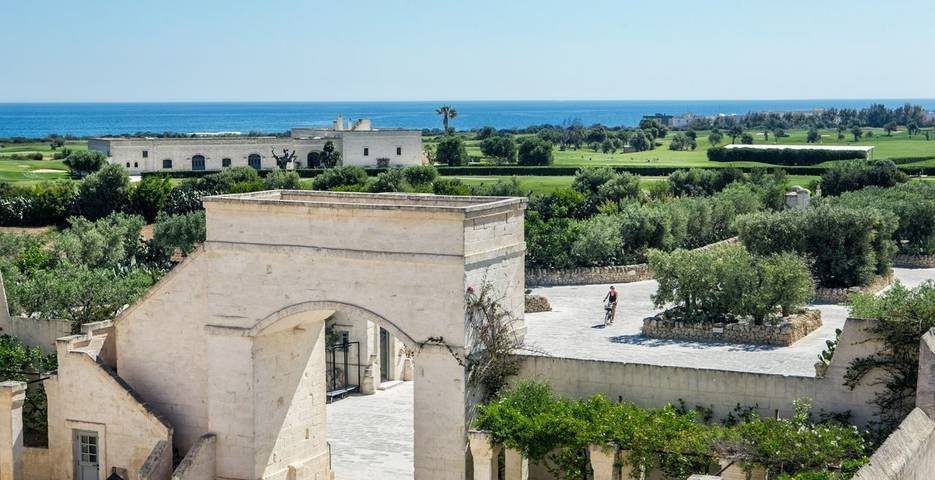 What is Borgo Egnazia and who is it for?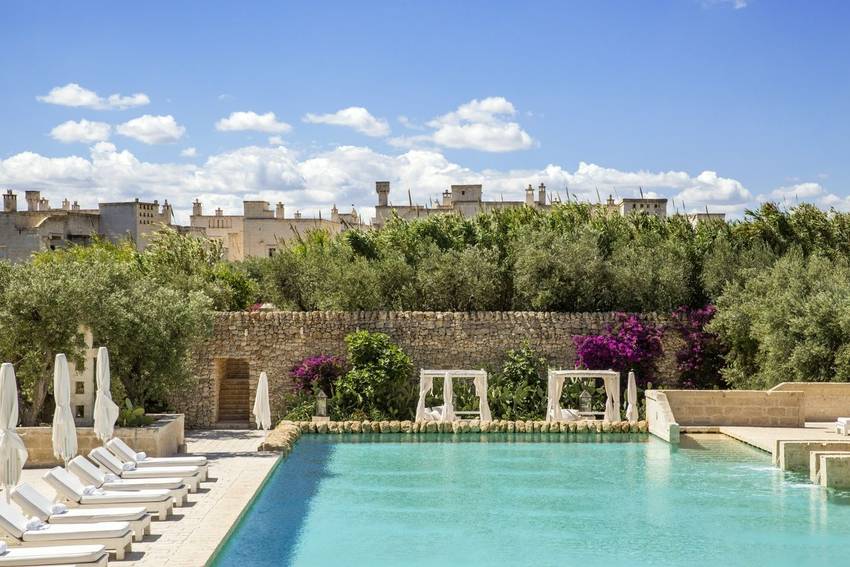 A family-owned luxury lifestyle hotel in the heart of rural Puglia, Borgo Egnazia is castle-like and candle-lit, built in the style of a traditional with luxury additions of a Michelin Star restaurant and an award-winning spa.
Getting There
Borgo Egnazia lies between two airports (Bari and Brindisi) and is a little under an hour's drive from Bari, where we were met by our private chauffer in a comfortable Mercedes. The straight highway soon dissolves into a rural lane bordered with poppies, cornflowers and wild grasses. The road hugs the coastline for the last few miles on one side with olive groves, golden hay bales and archaeological Roman 'turello' remains on the other.
The Hotel & Accommodation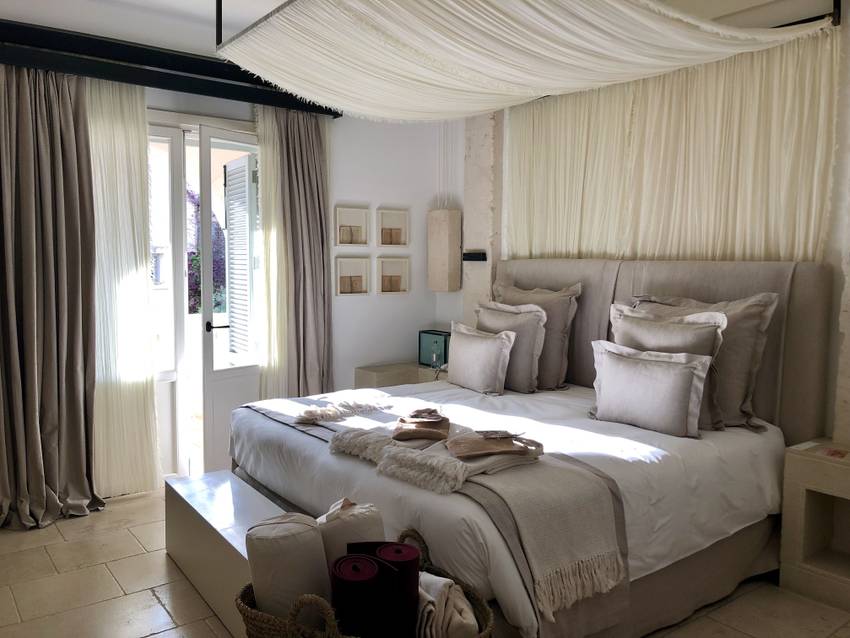 Purposely designed and constructed nine years ago by the family owners, Borgo Egnazia is a hotel village composed of restaurants, pools, villas and the main residential and spa building. A championship golf course and two private beach clubs (one sandy, one pebbly beach) lie a walk or short bike ride away. The accommodation is comprised of La Corte, Borgo Village townhouses and the villas, so an array of choice for families, groups, solos and couples.
Upon entering the reception, the medieval majestic hallways are illuminated with hundreds of candles, which radiate warmth and comfort. Each guest is assigned a 'friend', a female host wearing long blue robes who guides us around the resort and checks us in within the cosiness of our room - gone is the old fashioned waiting to check in and giving in your passport to be photocopied at a reception desk.
The initial impressions of the reception and grand staircase leading to the main accommodation wing exude the wow factor – even the AC is filtered with pure essential oils. The hotel prides itself on celebrating the local land with the design comprising of solely natural materials, fibres and simple white candles (of which thousands are lit each day) – a thread which is woven through each department and touch point of the guest. The gently weathered sandstone changes colour depending on the sunlight touching it and breathes a warmth into the rooms externally and internally. The building has been cleverly designed with heating elements hidden within the stone, so even with the grand high ceilings and wide corridors; a snug temperature is maintained throughout the property.
The designer purposely created the layout with twists and turns, where you inevitably get lost, only to stumble upon hidden corners of cushions, white blankets and sofas to curl up in and go undisturbed…
Our room was exquisitely furnished with natural woven fabrics, soft white blankets and a sofa with pillows to sink into. Yoga mats, blocks and straps had been especially placed for us in light of our chosen wellness programme and a balcony overlooking bougainvillea and prickly pear was a sunny place for morning practice. Our wellness amenities consisted of luxurious homemade body oils, rosemary-infused water and sugared almonds – a most welcome refreshment.
The Spa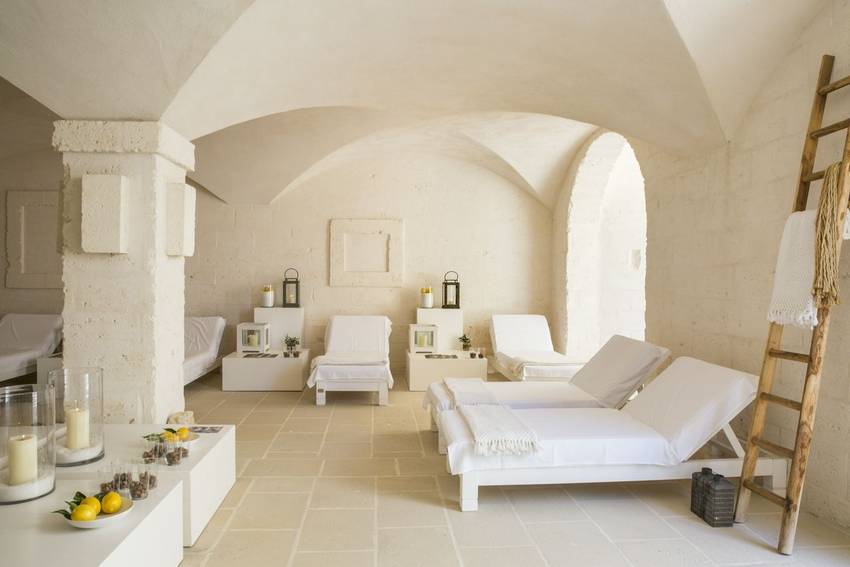 The award-winning Vair Spa gave me truly the most immersive and seductive of spa experiences to date, making this the perfect destination for a luxury spa holiday. The spa uniforms, reminiscent of Roman Goddesses tie together the utopian surroundings and set the tone for the wellness journey.
For a unique spa experience, we tried as a couple, one of the Roman bath rituals which included a candlelit soak in their stone-clad suite of baths; a tepidarium, a caldarium and a frigidarium, plus a bio-sauna, hammam and flotation pool, all guided by our therapist nymphs in red robes.
Music, designed by an eminent psychologist and music professor, wafts over you during massages and facials and is unique to suit each individual treatment. After each treatment I would be gently guided, in a rather blissful daze, to the relaxation area where warm white cocoon beds, homemade almond milk, sweet goodies and candles greet you. It's difficult to leave and made me want to curl up in the womb of the spa and nest for the night.
Fitness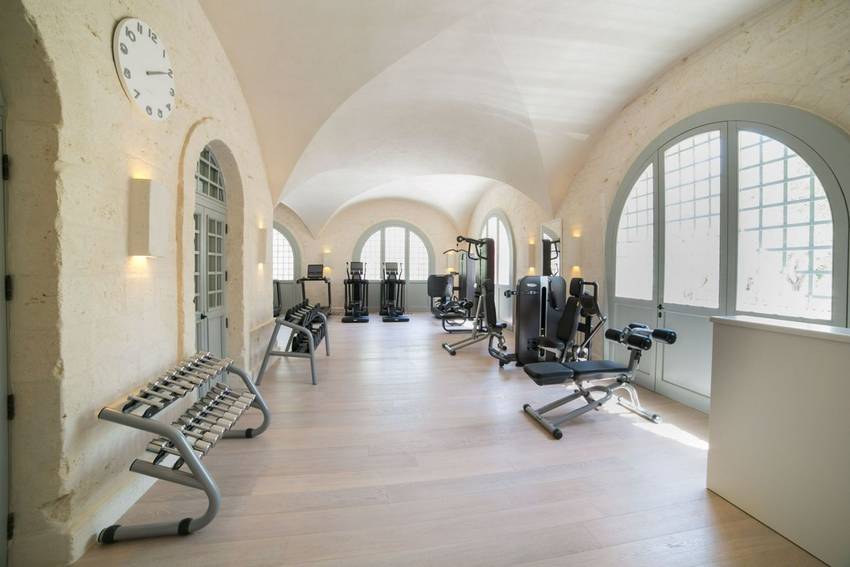 Light, elegant, sleek are not words one would usefully describe a hotel gym. This gym is different. Sunlight pours in through large windows onto wooden floorboards and onto every piece of Technogym equipment you could imagine.
An indoor pool circumnavigates the gym floor, with no smell of chlorine or loud splashes – the gym exudes tranquillity and makes you want to work out!
Rosemary and citrus water is offered when you leave the gym area, so I always felt refreshed and hydrated.
Each morning I met with Roberta, the sweet and passionate Personal Trainer, who took us cycling along the coastline, picked fresh chamomile for tea infusions and guided us through al fresco stretch classes and gym personal training sessions.
There are 3 large outdoor pools – one of which is heated and was mainly used by families in a different area of the property. The other two pools lie beneath the main building, surrounded by crisp white loungers, waterfalls, white parasols and citrus trees bursting with juicy lemons. Pool boys are ever attentively on hand to deliver your every whim with lightening speed.
Yogis like me can rejoice! The resort has a state-of-the-art yoga studio manned by a team of highly qualified instructors from Puglia, all with an in-depth understanding of and training in Iyengar yoga. 
Food/ Restaurants
We all have different ideas of heaven. One of mine is walking into a beautiful breakfast room to be greeted with a slab of dripping honeycomb, ready to be devoured and slathered on spelt toast or gracing the ridge of homemade yoghurt and local succulent berries.
There are 5 different restaurants from which to choose, and all feature locally foraged or homegrown produce. La Frasca is a rustic and homely restaurant overlooking the pool, serving traditional Puglian cuisine. The Senatore Cappelli linguine pasta dish looked simple but was exquisite – an elevation of simple ingredients to mastery.
For lunch I preferred creating my own salad and fresh juice in Il Porticato, which feeds my senses to perfection with white bowls filled with purposefully plucked crisp colourful vegetables, pulses and homemade dressings.
The main restaurant is the Michelin Star Due Camini, which reminded me of an opulent and paradisiacal journey down Alice's rabbit hole. Neutral colours endowed by tufa rock, soft lighting and white furniture add up to a serene setting; glass bottles suspended from the ceiling, lanterns, tables laid with fruit baskets, and newspaper wrapped flowers, keep things characterful. I could write a whole feature on this restaurant but there are some surprises like the science and botanical matched tea experience, or how you choose your dessert, or indeed where you consume the delectable petit fours. Pure magical mastery.
The Wellness Programmes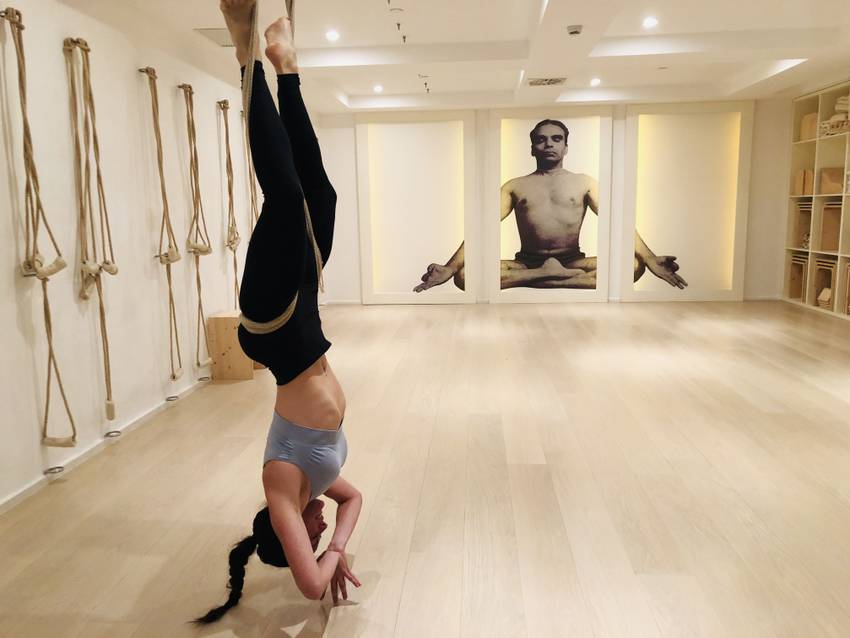 Before we even arrived at Borgo Egnazia, we had filled in a questionnaire on our health, preferences and goals with which the wellbeing team had created an agenda and dietary suggestions pack, that was waiting for us in our room upon arrival.
An initial 'happiness consultation' combined with my 'aromatic experience', created according to the latest science of happiness, was designed to prepare me and implements suggestions of lifestyle habits, physical activity and anti-inflammatory meals. My nutrition plan was tailored for my personal needs and tastes to promote my healthy circadian nutrition, based on local, seasonal, organic produce eaten more during the day and less during the evening.
Choices from the menus of the various restaurants were picked and assorted into my plan, all to encourage rest, peace and stress-relief.
Borgo Egnazia offers different wellness programmes which include:
Longevity Programme by Blue Zones
The Staff
The elegance and Roman style of the hotel is also reflected in the staff uniforms – flowing replicons of a bygone age where grace and femininity were adored and celebrated. Each staff member warmed us with a genuine smile, and nothing was too much trouble.
My favourite connections were with Emanuela in the spa and Roberta, the Personal Trainer. Emanuela took us for a gardening experience and foraging tour by bike which was the highlight of my trip.
The Scenery & Surroundings
The beautiful and unspoilt surroundings are echoed throughout the Puglian architecture of the hotel. During May we were constantly greeted with the sensual smells of jasmine and geranium, the latter a happy bright yellow plant which seemed to radiate joy to everyone gracing it with their presence.
Built almost into the sea and tittering above rocky outcrops are the local seafood cafes and restaurant – you may not been able to find an English menu but with broken Italian, sign language and gesticulations you will be served with the fresh fish or seafood yes to have passed your lips. Fisherman's' huts lie adjacent to these local restaurants, surmising centuries of tradition.
Olive trees tower like sentients over ruby soil and wildflowers of poppies, cyclamen, orchids, marigolds, elder and chamomile.
Highlights
Cycling through the quiet country lanes exploring with a basketful of fennel, zucchini and arugula, ready to give to the chef to prepare our spring salad.
Sinking into the huge bathtub in our room with specifically oil infused sea salt.
The fig and carob mask during my facial which smelled like a marriage of wooden saunas and chocolate. It is not socially acceptable to lick your face during a spa treatment, so I restrained myself, barely.
My Summary & Verdict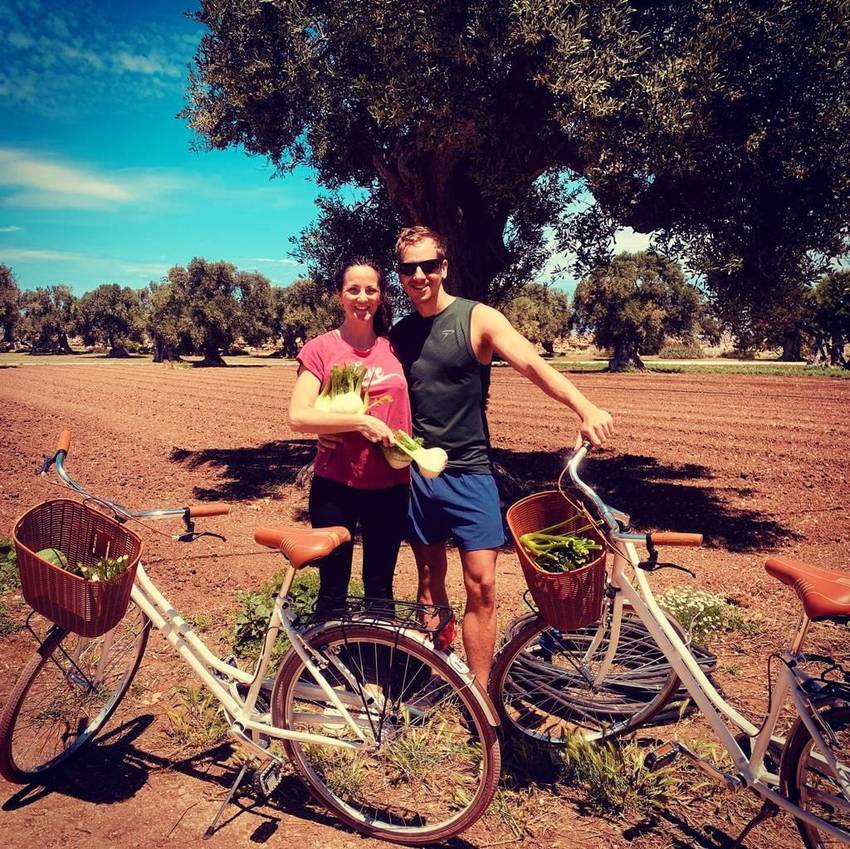 When are we free to return? Borgo Egnazia is a fairy-tale village resort set on shore-side olive groves, with every attention to detail carefully composed. Rather than a hotel, it is a patchwork of experiences, expertly crafted around the central idea of happiness.
How to Book
To request a quote or for more information visit our Borgo Egnazia page. Talk to one of our Travel Specialists on 0203 397 8891 or contact us here to discuss tailor-making your perfect wellness holiday.
Fact Box
Best time of the year to go: April to November 
Months to book in advance for:
No. of Rooms: 184
Check-in/check-out:  15:00 / 12:00
Wi-Fi: Yes
Children: Yes – kids club also provided
Reception/Room Service: Yes
Alcohol: Yes
Nearest Airport: Brindisi or Bari
Airport transfer time: Brindisi 40 minutes / Bari 50 minutes
Address: Strada Comunale Egnazia, 72015 Savelletri di Fasano BR, Italy